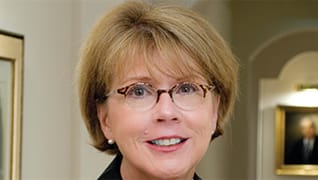 Photo by: Eric Shinn
The Politics of Nice
Kathleen Trafford has made a career of keeping it clean
Published in 2008 Ohio Super Lawyers magazine
By David Searls on December 21, 2007
Kathleen Trafford doesn't seem nearly intimidating enough to have earned her reputation as a killer litigator. A tall, slender woman with an easy smile and a soft voice, she apparently draws her power from skill rather than intimidation.
"She's the epitome of the collaborative lawyer," says Art Marziale, executive director of the Ohio State Employment Relations Board and a former client from the attorney general's office during Gov. Bob Taft's administration. "Very easy to get along with. She works well under stress and loves a good joke."
As Tom Rosenberg, another former client—and one-time employee—puts it, "She is a wonderful person to work with. Very smart. One of the hardest-working lawyers you'll see. And she couldn't have been nicer."
This niceness always seems to come up in conversations about Trafford.
Fellow litigator Kent Shimeall, a section chief with the Ohio Attorney General's office, has gone up against Trafford in the past, and describes her as being "very polished, always prepared. A very worthy opponent." And in court, he says, Trafford is "very professional. No antagonism or yelling."
In other words … nice.
Even Trafford herself says, "Sometimes someone will call and say they want the meanest lawyer in town. I'll say, 'When you want the smartest lawyer, call me back.'"
And the phone does ring.
Think about the most headline-generating political crises in Ohio over the last couple of decades—Trafford has accepted the call on many of them, on behalf of Democrats and Republicans. As a deputy attorney general in a Democratic administration, she defended the state of Ohio in litigation resulting from the savings-and-loan crash. Later, as a top litigator at Porter, Wright, Morris & Arthur, she went to bat for Taft's right to withhold certain working documents from public scrutiny in light of the so-called "Coingate" state investment scandal. And, in a pro bono role, Trafford also fought for the Democrats to ensure that the state held a fair presidential election in 2004.
A Matter of Credibility
After earning her master's degree from Kent State University in 1971, the former Kathleen McManus of upstate New York became a city planner in Ohio. While addressing townships and village councils on the virtues of regional planning and fair housing, Trafford noticed that the local politicians "were looking to their lawyers rather than me for advice."
In order to earn similar credibility, Trafford began attending evening classes at Capital University Law School. She graduated cum laude in 1979, and joined the state's attorney general's office, eventually becoming a deputy chief counsel.
Among Trafford's favorite cases at the attorney general's office was Ohio Civil Rights Commission v. Dayton Christian Schools. It involved married and pregnant teacher Linda Hoskinson, who was refused contract renewal and told she should end her employment to stay home and raise her child. When she sought legal representation, she was fired for ignoring the "biblical chain of command" through which she was supposed to seek dispute resolution.
Hoskinson filed a grievance with the Ohio Civil Rights Commission, claiming sex discrimination, and the school argued it had the right to refuse employment under religious freedom grounds. While that investigation was still ongoing, the schools brought the case to federal court, seeking an injunction to stop the state case.
Trafford became interested in what she calls the "sub-issue" of whether the federal courts had the right to try the case while the state's investigation was ongoing. It's that sub-issue that ended up at the U.S. Supreme Court. Not bad for a "nice" attorney.
"The process leading up to the hearing is terrifying," Trafford says. "But once the trial started, I've never been so calm and collected."
The Supreme Court ruled unanimously that the Ohio Civil Rights Commission could indeed investigate the case—and then sidestepped the issue of whether the schools could then challenge any charges on the grounds of separation of church and state.
Trafford's win was ultimately a hollow victory. After a seven-year war waged in various courts, Hoskinson dropped the case, saying, "My questions have more or less been answered and it was time for me to decide what to do."
But one result of Trafford's brief time before the highest court in the land is evident: "I'd love to go back," she says.
Another favorite case is that of Wendell Humphrey. In the late 1990s, the Ohio corrections officer refused an order to cut his hair. The Shoshone-Bannock tribesman considered his long locks an expression of his culture and religious beliefs.
Trafford was sharing a commute with her husband, Buzz—a fellow litigator and partner-in-charge at Porter Wright—on the day she heard the case was under consideration for pro bono representation.
"He started telling me about it, and I said that I didn't want to take it," Trafford recalls. "We couldn't possibly win." After all, the haircut mandate was part of a grooming policy aimed at all correctional officers, not just the members of a singled-out religious group.
While she figured they couldn't win the case in federal court, Trafford decided to argue that the state should give broader protection under an older federal test of freedom of religious expression. The case wound its way up to the Ohio Supreme Court in 2000, and Trafford earned a hard-fought victory.
Poll Worker
When Tom Rosenberg was working for the Democratic National Committee on behalf of the Kerry-Edwards presidential campaign, he put in a call to Trafford, his former boss. As almost anyone who has entered a voting booth knows, the state of Ohio in 2004 was almost as closely watched as Florida four years earlier.
The DNC chose Trafford as a legal watchdog in its precinct-by-precinct scrutiny, and the Dems found two counties to challenge for excessively long and slow election-day lines.
Trafford sprang into action (once she made her way through her own long voting line) and got a U.S. district judge to order that the polls in the challenged counties stay open as long as necessary to accommodate the overflow.
But that was only the beginning. The Republican secretary of state and attorney general kept the case alive through appeals, looking for a judgment that would declare that the ratio of polling booths per voter in the counties in question were in alignment with federal law.
Trafford and the Democrats fought to end that skirmish before such a judgment could set precedent that might affect litigation in 2008 and beyond.
"Kathleen thought she was donating a day or two of her time, but it turned into more than a year," says Rosenberg. "We'd have five, six, eight people on a conference call trying to figure out what to do, and she never once complained about what we'd dragged her into."
Coingate
Despite all of the friends she must have made in state and national Democratic circles, she might have lost just as many when she went to work for Taft, the epitome of conservatism in Ohio.
The attorney general's office retained Trafford to represent the state's then-governor in an effort to keep the memos between Taft and his staff from public view during the 2005 Coingate scandal. The controversy concerned the exploits of Tom Noe, a Republican fundraiser, friend of Taft and dealer of rare coins, sports memorabilia and—most deliciously—Beanie Babies. Noe had been given $50 million of the state's money to invest—with disastrous results.
Once a shocking amount of cash had melted away—more than $10 million was found to be missing and Noe was eventually convicted of embezzlement—Ohio Attorney General Marc Dann made a fuss. In the finger-pointing that followed, Dann demanded to see the governor's paper trail.
Trafford used the justification of executive privilege to counter, claiming Taft was exempt from public-records laws when communicating with his staff. The case went to the Ohio Supreme Court, where the justices sided with Trafford, granting a qualified executive privilege for the first time in Ohio's history.
No wonder some Democratic feathers were ruffled.
As Rosenberg says, "I understood the legal issues, but it removed her from consideration [from working with the party] in 2006 [elections]."
Those legal issues, says Trafford, had nothing to do with protecting a Republican governor from political fallout, and everything to do with the office itself.
As Mark Rickel, Taft's press secretary, insisted at the time, "The issue is not about the governor, but future governors and their ability to effectively communicate with cabinet members and staff."
Republican Marziale, who served as senior deputy attorney general under Taft, shrugs off Trafford's work for those other guys. "I never had any concerns about that. You have to [work with] lawyers who understand government."
Speaking for the DNC, Rosenberg projects a similar sense of understanding and goodwill.
"The Democratic presidential candidate would run to Kathleen again [in 2008]," he predicts. "Unhesitatingly."
Search attorney feature articles
Helpful links
Other featured articles
How David Gair went from teaching to tax law
Kevin Napper finds folk art irresistible
Lawsuits will increasingly be about the technology designed to prevent accidents
View more articles featuring lawyers
Find top lawyers with confidence
The Super Lawyers patented selection process is peer influenced and research driven, selecting the top 5% of attorneys to the Super Lawyers lists each year. We know lawyers and make it easy to connect with them.
Find a lawyer near you