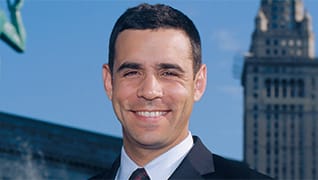 Photo by: Larry Marcus
The Storyteller
Jonathan Leiken remembers Sept. 11 a little differently than most
Published in 2005 Ohio Rising Stars magazine
By David Searls on July 20, 2005
There's this story about a guy who loses his wife. It starts with a beautiful, late summer day, the sky is intense blue and there's a touch of morning crispness in the air.
And then the world explodes in a thunderous roar and shrieks of metal, followed by showers of glass and bodies, plumes of smoke and clouds of dust.
A momentary, awful silence follows, as thousands of minds try to come to grips with the smoking hole in the skyline. For the young man in the story, in Midtown Manhattan, there's no time for full comprehension. He's got to find his wife, eight months pregnant and out there somewhere near the epicenter of the firestorm. His cell phone stays ominously silent.
He can do nothing but return to their empty apartment and wait. Four hours pass in a purgatory of television replays and unresponsive phones.
Finally, the lost wife stumbles in the door. Tired and terrified, but safe. She's walked the length of the city, her cell phone as dead as her spirit.
"I can't feel the baby," she tells him, and he feels his world start to plummet. Like those two immense buildings he's endlessly watched on every channel.
But he stays cool, and so does she. They find a cab, somehow convince a cop manning a barricade to escort them to a nearby hospital, siren screaming on a day full of screaming sirens.
And on September 11, 2001, a healthy baby girl, Caleigh Rebecca, is born by cesarean section to Erika Friedman in a Manhattan hospital still awaiting the onrush of injured that never comes.
That's more or less how the story goes. It's Jonathan Leiken's story and that of his wife and daughter, and he's a damned good storyteller.
He's also a fine trial attorney, especially for someone who's only 33. His twin skills, storytelling and litigating, dovetail as long as you understand that the tales Leiken weaves before juries consist of cold, hard facts.
"He's fascinated by facts," says David Zornow, Leiken's former boss in the white-collar criminal defense group at Skadden, Arps, Slate, Meagher & Flom in New York. "He has an ability to weave complicated facts into a story a jury can follow."
Leiken started out defending corporations and CEO types at Skadden before switching sides to serve as a prosecutor with the United States Attorney's Office in the Southern District of New York. For a three-year period starting in 2001, he performed before juries as first chair in five felony trials.
Most notably, he helped the Drug Enforcement Administration put away a violent heroin and cocaine kingpin for life. He won the conviction of a nonprofit trade association president up on embezzlement charges. And he worked behind the scenes to collect victim stories for the penalty phase of the Zacarias Moussaoui terror conspiracy trial.
In 2004, he re-entered private practice as senior associate in the white-collar and corporate compliance division of Squire, Sanders & Dempsey's litigation group in Cleveland. By then, Leiken had established a savvy enough reputation to get appointed by Mayor Jane Campbell to co-lead the investigation into allegations of overtime pay abuse within the Cleveland Police Department. His report led to the sudden announcement by Police Chief Edward Lohn that he'd take early retirement. The investigation is continuing into the role of individual police officers, and a special prosecutor was recently named. (Leiken recently left Squire Sanders and joined Jones Day's national corporate criminal investigations practice in Cleveland.)
"These are significant achievements for a practitioner only seven years out of law school," says Fred Nance, senior partner at Squire Sanders.
Law wasn't even Leiken's first passion; it was acting. He performed in high school in Shaker Heights, and in college at Brandeis. He's written and staged plays; was a regular on "The Writing Place," a locally produced PBS children's television program about creativity; and had a weekend job with a professional Philadelphia production of an off-Broadway play while attending law school at the University of Pennsylvania. Even while clerking for U.S. District Judge Sam Bell, he was a member of the Cleveland Shakespeare Festival.
Leiken describes how his love for theater prepared him for his current occupation. "Like acting, being a lawyer — even a corporate lawyer — requires sensitivity to human nature and an ability to persuade an audience to understand and adopt your point of view. Lawyers must also be playwrights, investigating the history of an event and crafting the facts into an effective written or oral presentation on behalf of the client."
Time out for the sort of cutesy plot device that was so successful for Spencer Tracy and Katharine Hepburn: while Leiken was defending white-collar types and then prosecuting them as a fed, wife Erika was a public defender with the Legal Aid Society. Think that didn't make for some interesting after-work banter?
"It's always been a very lively conversation between us," admits Erika Friedman, diehard defender.
"She's a true believer," says Leiken. "To her, a defense attorney is a defense attorney. She could never be a prosecutor."
Says Erika: "He's personable, upbeat, animated, charismatic and passionate. If anyone was going to be a federal prosecutor, it should be Jon."
The couple met in fourth grade. "We were boyfriend-girlfriend in fifth grade," says Leiken.
But the relationship didn't last. They drifted apart, seeing other people. Called it quits before junior high and went on to separate colleges and law schools. Then both came home to Cleveland after graduation to study for the dreaded bar exam.
Or at least that's what they were supposed to be doing. "I should have probably been studying that night, but I went out with friends," says Erika.
So did Jon. They wound up at the same bar and found that their fifth-grade differences were long ago but their fifth-grade attraction was not. They've been together ever since.
Leiken loved his time in New York, but the birth of two kids, the tug of relatives, and Erika's horrific memories of Sept. 11, not to mention the accompanying anthrax scare and varying threat level alerts, all conspired to pull the young family (now joined by son Jaren) back to the Cleveland area.
Today Leiken sits in a smallish office at Squire Sanders on the 44th floor of downtown Cleveland's tallest and arguably most stylish office building. He's paid to keep clients compliant with regulations that will safeguard them from the same kinds of trials he prosecuted in his former life — and to defend them when they are alleged to have strayed.
He's a slender man with expressive dark brows and an easy manner. In one corner there's an acoustic guitar he can actually play, and stacks of files here and there.
He prefers to control the tale. He doesn't wait to be asked questions. He starts from the beginning, emphasizing such plot points as his father's local reputation as a lawyer and law professor ("the smartest man I know"), his early plans to become a professional actor, and his view that the government has gotten too heavy-handed since Sept. 11 and the Enron scandals ("These are the kinds of cases that make careers — they're sexy.").
"To me, criminal law is the most exciting. It's all about human frailties and temptation, but it can also be about our strengths."
It's a little difficult imagining the friendly and upbeat Leiken as a hard-nosed prosecutor intent on incarcerating and throwing away the keys — which he's done. He's variously described as "a nice guy," "terrific" and "incredibly funny."
Friend and former work partner Elliott Jacobson understands the dichotomy. "Jon is serious in court, hysterically funny out of court."
As a seasoned trial lawyer in the U.S. Attorney's Office, Jacobson was paired up with Leiken on the younger man's third case. Jacobson, who still works in the office, was so impressed with the young litigator — "he relates very well to juries" — that he requested Leiken's help on another trial.
The born ham made his reputation in New York in other ways too. When, for unfathomable reasons, a relative left him with a puppet theater, Leiken brought it to work one Halloween to put on a show for the kids of the staff. On a later occasion it came time for him to deliver the traditional rebuttal of the roast given him upon his resignation, and Leiken once again dusted off the puppet stage.
"He had different voices for each co-worker, judge and defense attorney who'd taken part in the roast. It was hilarious," Jacobson recalls. "Jon does great imitations."
Not that he made the perfect workmate.
"He's a slob," says the fastidious Jacobson with undisguised glee. "You'd find him working in someone else's office, someone on vacation, and he'd say, 'I can't work in my office anymore.' In his place you'd find his guitar, stacks of CDs and papers, a partially eaten lunch …"
You gotta believe that story made the roast.
Search attorney feature articles
Helpful links
Other featured articles
Hee Jin Chang is South Korea's youngest-ever Olympic swimmer
Zachary Hiller's new hobby is years in the making
When he's not a family law attorney, Tyler P. Brown is an NCAA basketball referee
View more articles featuring lawyers
Find top lawyers with confidence
The Super Lawyers patented selection process is peer influenced and research driven, selecting the top 5% of attorneys to the Super Lawyers lists each year. We know lawyers and make it easy to connect with them.
Find a lawyer near you