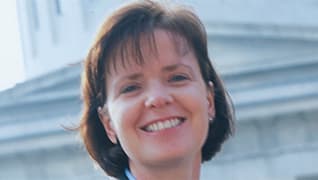 Photo by: Roharik Photographic
Tour de French
Judi French: Without Limits
Published in 2005 Ohio Super Lawyers magazine
By John B. Kachuba on December 27, 2004
Some attorneys need absolute silence when they're preparing for a case, but not Judi French: she rehearses her cases while listening to the soundtrack from the movie Gladiator. She says the haunting music inspires her, but it's hard not to notice that it's "Gladiator" she's listening to, and not, say, "Peace in the Valley." There was certainly something of the gladiatorial spirit at work when French, until recently chief legal counsel to Governor Bob Taft and now a judge in the 10th District Court of Appeals, successfully argued the critical school voucher case before the U.S. Supreme Court in 2002.
As if battling opponents of school vouchers wasn't tough enough, French was attacked by an ally — conservative attorney Clint Bolick from the Institute for Justice in Washington. He disagreed with then Attorney General Betty Montgomery's choice of French as chief counsel. In an interview with The Plain Dealer of Cleveland, Bolick said, "You don't have a rookie play in the Super Bowl."
French took the insult gracefully and brushed it off with a joke, but she was concerned that Bolick's careless remark had undermined her position as lead counsel, even before the case had been heard in court.
"I had confidence in my own ability enough to know that he would be proven wrong," French says. "I knew that, but also felt that his comments could hurt what we were trying to do with everybody else. I had to make sure that the dozens of other common-interest groups out there didn't lose confidence in our ability to argue the case. That was my concern and, because that comment was out there, it took extra time away from the actual preparation of the case. So that was added pressure on me."
Added pressure aside, French went on to win the high-profile case, which meant that Ohio was able to provide tuition grants for private or religious schools to Cleveland students. Ohio Attorney General Jim Petro says of French, "She's a terrific lawyer who has demonstrated time and again her professional expertise as a powerful advocate for the state of Ohio."
Arguing a case before the U.S. Supreme Court is a dream come true for any attorney, something akin to a high school track star's vision of Olympic gold. For French, who grew up in the small town of Sebring, Ohio, a town where many of her neighbors were also her relatives, it may have seemed an impossible dream. Washington, D.C., was certainly a long way from the sixth-grade classroom where French's teacher, Miss Martinelli, inspired her interest in history and politics by assigning her class to watch the television news each night and report on it. Yet, there she was, in 2002, before the Supreme Court.
"It's so cool," French says. "It's a wonderful experience for any lawyer. The court is actually a very intimate place. You are close to the justices, with this beautiful wood bench curving around you, so that there is a justice in your peripheral vision at either side. Someone once described it as more of a conference table than a bench and that was very comforting. It feels much more comfortable, not as imposing as one might think."
French felt confident that the oral argument skills she had learned at Ohio State University, especially in the classroom of Lawrence Herman, who remains a mentor and friend, would put her in good stead. Still, the tradition and ceremony of the Supreme Court are awe-inspiring and could cause an ill-prepared attorney to go weak in the knees. French's knees never buckled.
"I do a lot of visualization, but I had never done it to that degree before. I did it to the Gladiator soundtrack. I visualized every aspect, even starting with my hotel. I knew where I was going to be staying, I knew I would walk a few blocks over to the court, and I visualized all of that. It was in February; what if it's snowing? What if there are crowds of people? What if someone approaches me? What if there's nobody? I visualized going in the side door, going up in the elevator, right up to walking into the courtroom for the first time, and then finally being called to the podium before the chief justice. That was the moment I knew I could not get nervous. I recognized it as a cool moment in my life that I didn't want to mess up."
French's personal life at that time further complicated matters. She was 39 years old, had been divorced for nine years, and was a single parent to daughter Julia, then 11 years old. Although a dedicated and committed career woman, French has never lost sight of her role as mother. She's always made sure that there was time for Julia, even going so far as to have her daughter play the part of the chief justice as French practiced her appearance before the court.
"Ever since I've been a single mother, I've never worked past 5:30, since day care closed at six. I've had to be very organized," she explains. "Time management was rule number one. I had wonderful help on the case and had a commitment from Attorney General Betty Montgomery that allowed me to work on almost nothing but that case for months on end. The best thing that Betty did was to allow me to be isolated in my office, listening to my soundtrack through my headphones, even while I was writing. That was a real luxury."
French would have what she calls "normal evenings" at home with Julia until her daughter's bedtime. Then it was back to work on her laptop computer. French's co-counsel on the case was renowned attorney Kenneth Starr, whom French says she "would work with again in a heartbeat." Just before she left her office, French would e-mail legal briefs to Starr and his associates at his Washington office. They would comment on them and send her their comments later that evening. Her return comments would be waiting for them when they got back to the office in the morning.
"After a while, we kind of got it down," she says.
Starr is enthusiastic in his praise of French. "She performed in a spectacular manner before our nation's highest court. Her rebuttal, in particular, was stirring and stunning. She was a perfect 10 in the high-court Olympics," he says.
An unforeseen event added yet another layer of complexity to her life. French met Ed Skeens, a Franklin County magistrate judge, on a blind date in October 2001. A romance blossomed. "I would practice my argument out loud as I drove the 23 miles to his house," she says. 
In May 2002, between the time the case was heard and a decision rendered, the couple married. A new family emerged; French and Skeens, his 7-year-old son Joseph, Julia, and Cody, a Golden Doodle puppy, a cross between a golden retriever and a Standard Poodle.
That same month, French moved from the Attorney General's office to become Governor Taft's chief legal counsel. "I rely on Judi's legal advice every day," the governor says, citing her "thorough understanding of the law."
French cites several role models who helped her learn the discipline and organizational abilities that have led her from private practice at Porter Wright, to legal counsel at Ohio EPA, to assistant Ohio attorney general and to chief legal counsel to Governor Taft. Two were her professors at Ohio State University, Williamson Murray and Lawrence Herman. They fostered her confidence in her abilities as a writer and advocate. She also remembers her grandmother Macel, who came to Ohio from humble beginnings in West Virginia and was widowed at a young age, as someone with a strong personality.
"I looked up to her," French says, with a laugh, "even though she was several inches shorter than I am. She never doubted that I, or any other grandchild, could do whatever we set our minds to do.
"I grew up in a very religious, very fundamentalist family and community, so there was always somebody there, if I got out of line, to discipline me as if they were my parents. In particular, they were women who were just strong, funny women. I was always surrounded by strong women, my mother included."
French hopes to continue that tradition for her own daughter, Julia. "College is a given, a career is a given," she says, "but I've been encouraging her to go into something she loves, rather than something that just sounds like a good career."
French doesn't yet know what that career might be, although Julia has talked about going into medicine. "She's a big Blue Jackets fan," French says. "She'd probably love to be a trainer for a hockey team."
New careers have opened up for French as well. She decided to stand for elected office for the first time and won a judgeship in the 10th District Court of Appeals. "I've always wanted to be a judge, but not necessarily a candidate," French said before the election, "and, although the nomination comes as something of a surprise, it's a great opportunity."
It seems French's new career is right on track, since she would ultimately like to be seated on the bench of the Ohio Supreme Court. French says, "Ohio state government is full of women who are wonderful mentors. There's no glass ceiling, there's no limit to what you can do."
Search attorney feature articles
Helpful links
Other featured articles
The Tampa attorney is a master at keeping bankrupt companies in the game
Qusair Mohamedbhai tackles civil rights and employee rights in post-9/11 America
Genevieve Jenkins came to housing law through her work on South Africa's Constitutional Court
View more articles featuring lawyers
Find top lawyers with confidence
The Super Lawyers patented selection process is peer influenced and research driven, selecting the top 5% of attorneys to the Super Lawyers lists each year. We know lawyers and make it easy to connect with them.
Find a lawyer near you