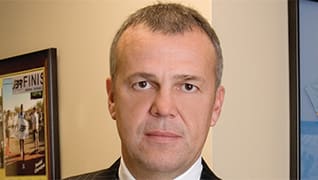 Photo by: Gary Kessler
Walking the Walk
Attorney and agent Bret Adams may be loud and ornery, but that's just what such clients as Nuggets Coach George Karl love about him
Published in 2007 Ohio Super Lawyers magazine
By Tami Kamin-Meyer on December 22, 2006
Bret Adams has never had a problem speaking his mind. Whether he's talking to opposing counsel, the management of the Denver Nuggets or the Ohio Supreme Court, Adams isn't shy about making his feelings known.
In 2004, he sued all seven of Ohio's Supreme Court justices, arguing that a state rule prohibiting lawyers from utilizing client testimonials in their advertising was unconstitutional. Adams wanted to run a print advertisement featuring an endorsement from former NFL and OSU linebacker Chris Spielman, now a sports radio anchor in Columbus.
"When I became a lawyer, I didn't abrogate my rights of free speech," he says.
Less than a year later, the Ohio Supreme Court changed its tune.
"I sent a deposition notice to [Chief Justice Thomas] Moyer, and the next thing I knew they rescinded that rule," says Adams. On Jan. 24, 2005, the Ohio Supreme Court ordered all of the state's legal disciplinary boards to stop enforcing the provision of Ohio's attorneys' code of ethics banning client testimonials.
According to Franklin County Municipal Judge Harland Hale, who's known Adams for more than 25 years, "Bret has always been willing to speak his mind and tell things the way they are, even at the risk of impacting relationships with other people in the industry."
Columbus City Attorney Stephen L. McIntosh, who met Adams in the mid-1980s when the two were on opposite sides of criminal prosecutions, agrees. "Bret has no hesitancy" to make his voice heard, he says, adding, "He has always been vocal about regulations and rules of the Ohio Supreme Court" that he finds unfair.
Adams, an intense advocate for the merit selection of judges, sent Moyer a letter in 2006—just two years after suing him—highlighting his various suggestions for overhauling the legal system in Ohio. According to Adams, he eventually received a form letter response from the chief justice. But Adams remains undeterred. "We need judges who aren't politicians, and judges who have actually tried cases. We can't continue to elect former prosecutors who've never tried a civil case," he says.
Adams asserts that his intentions are pure, driven solely by his love of the law and his intense desire to improve the legal system so that it serves all citizens evenly and fairly. Jack Guttenberg, dean of Capital University Law School in Columbus, says he believes Adams' motives are genuine. "He clearly indicates and exemplifies a desire to improve the legal system," says Guttenberg, who has served alongside Adams on the Ohio State Bar Association's Ethics Committee for several years.
But Adams doesn't spend all his time advocating for the good of the Ohio legal system. He's got other clients to represent, and the list is awfully impressive, including Denver Nuggets coach George Karl, CBS sports analyst and former NBA and Ohio State basketball standout Clark Kellogg, two-time Olympic gold medalist and WNBA star Katie Smith and MLS Columbus Crew goalie Jon Busch.
A charmed life
Longtime Columbus lawyer Bradley Frick, who not only has known Adams for more than 20 years but also lives in his neighborhood, says Adams is "ornery and stubborn." But there's no doubt he's lucky, too.
On Labor Day 2005, while riding his Harley-Davidson on State Route 23 south near Columbus—helmetless, as usual—Adams was in a horrific accident that nearly took his life. According to Adams, an RV suddenly pulled into traffic, causing a chain reaction mishap involving Adams' motorcycle and three other vehicles. The driver who caused the accident fled the scene, but witnesses followed him and recorded his license plate. He was soon apprehended. Meanwhile, Adams lay on the side of the road, suffering from multiple skull fractures, a brain concussion and a jaw fracture that required him to have his mouth wired shut for six weeks. He lost 29 pounds. "I was brought to the hospital in critical condition with bleeding in my skull. The trauma doc told me later I could have died," he says. While his outward wounds have since healed, the accident rendered Adams deaf in his left ear. He may undergo surgery to correct the problem, but for now, he's too busy to take the time off.
"That's become a joke. I say I can't hear my wife when she's complaining," he says.
After spending 10 days in the hospital on two separate occasions following the accident, Adams spent approximately four months recuperating at home. As his health improved, he resumed his law practice in short spurts, relying heavily on the Internet and the telephone to maintain contact with clients between painkillers and naps. He returned to practice full time last January.
John Ivanic, a weekend news anchor for a Columbus television station, has employed Adams as his agent for the past five years. "Bret is a bulldog. He'll fight and scrap for everything he thinks you deserve," Ivanic says. "He exemplifies what a zealous advocate should be for his client, regardless of the monetary value of the deal.
"The guy's cheated death. You'd think he has every right to be a conservative, high-priced power broker, but he's just a regular guy," Ivanic says. "Bret isn't going to let a little thing like a near-death accident keep him from riding."
Ivanic is right. Despite the accident, Adams continues to ride his motorcycle—without a helmet. "I've ridden for 31 years and that was my first accident," he says. But he won't let his children near the things, even with a helmet. "Too dangerous," he says.
Big-league deals
Denver Nuggets coach George Karl has been involved in various business dealings with Adams for more than 20 years. Adams has been Karl's agent for the past 12. "He might be rough, surly and pushy, but he's honest on a daily basis," Karl says. "That's what I need. I feel good about him."
Considering that the Denver Nuggets exercised a three-year option on Karl's contract last October, extending his stay with the team through at least the 2009-10 season, Karl has millions of reasons to feel good about his agent and longtime friend.
In addition to doting on his wife, Diane, and three children ("I try to make it to every one of my kids' games"), and his rally to reform the practice of law in Ohio, Adams is immersed in a myriad of big-ticket, or simply big-hassle, projects.
For example, he has invested a large chunk of change—he declines to say how much—in BoMA, the Bar of Modern Art, located in a former Baptist church just east of downtown Columbus. The 23,000-square-foot entertainment mecca that opened last year is a multi-floor, multi-bar art gallery that Adams and his partners hope will convince the populace that Columbus is a "cow town" no more. Adams personally supervised the enormous restoration/renovation project, offering design suggestions he hopes will attract an energetic, well-heeled and financially supportive audience.
During his months of recuperating from his accident, Adams adopted another cause célèbre. "I had never watched Judge Judy, but during the months I was recovering from my accident, I did. I thought she was the most outrageous embarrassment to the legal profession. She is a mean-spirited woman," he says. And that, he says, "pissed me off."
In true Adams fashion, he filed a formal grievance against Judge Judy Sheindlin with the Board of Judicial Review in the state of New York, where she is licensed to practice law. "I appealed to every board member," he says. As of press time, the board denied his motion, citing a lack of jurisdiction.
But Adams, as always, remains undeterred. "I am not one to shirk from that," he says.
Search attorney feature articles