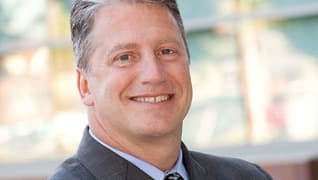 Photo by: Ross Van Pelt
When the Officer Says 'Step Out of the Car'
Jon Saia casts doubt on the results of field sobriety tests, and advocates for less convoluted OVI laws
Published in 2014 Ohio Super Lawyers magazine
By Nancy Rommelmann on December 4, 2013
It's Sunday afternoon, and Jon Saia stops by the High Beck Tavern in Columbus' Brewery District. He wears an acid-yellow cycling jersey. If Monday, Wednesday and Friday mornings at 6:30 a.m. mean basketball before work, weekends are for rides from his home on the north side of Columbus to his office, sometimes a drink at the High Beck two blocks away.
"Despite what I do, I am still most comfortable talking in a bar," says Saia, ordering a rye, neat. A managing partner at Saia & Piatt, the 51-year-old defense attorney has carefully studied the mechanics that ensnare those convicted of driving or operating a vehicle under the influence. He doesn't like what he sees in DUI/OVI laws, particularly when it comes to alcohol breath-testing machines. In 2011, he won a case that requires the state to allow test results to be challenged. It's the first time such a challenge has been allowed in 27 years. Currently he awaits a decision from the 4th District Court of Appeals, following an Athens County Municipal Court judicial ruling that found, in Saia's favor, that the director of the Ohio Department of Health neglected to draft qualifications, as required by law, for operators to run the Intoxilyzer 8000.
"That case virtually shut down the use of 800 newly purchased breath testing instruments in Ohio," says Saia, "and a program that cost the taxpayers about $7 million."
One can imagine the howls: money down the drain to make it harder to convict those accused of drunk driving? Well, yes, when the laws in Ohio can be labyrinthine and politically motivated. When lawmakers introduce anti-drunk driving bills to shine their stars. When the consequences of a drunk driving conviction, or even an accusation, have the potential to derail a person's life.
Which brings Saia to a dark story of his own.
He grew up in coal mining country: Plains, Pa. "Large Italian family—I'm the youngest of five, lots of cousins," he says. "Sunday dinners lasted all day." His father had a job at a shoe factory, but died of multiple sclerosis a few days before Saia's first birthday. His mother worked in a dress factory by day, as a waitress at night.
One night when Saia was 8, the police showed up at the family's door. They had found broken windows at the high school. The cops said Saia's 13-year-old brother Jimi had done it.
"The only problem for the police was that Jimi was in California at the time. So they accused me," says Saia. "They woke me up and questioned me about my whereabouts for the evening. It was at that moment that a criminal defense attorney was born. I wanted to do nothing else."
There were stops along the way. The man who became Saia's stepfather, a heavy equipment operator, taught Saia to stand up for what he believed in, which resulted in Saia getting into a fair number of fistfights. There were after-school and summer jobs: paper route, pizza baker, a stint at an aluminum factory. He was "a saw man, pushed a button for eight hours a day," he says. "My worst day as a lawyer is heaven compared to that job."
Saia wrestled in high school ("kept me out of trouble") but turned down a Division I scholarship because wrestling was not part of his future plan. College was. Law school was. He grabbed at opportunity, including a funded exchange program through Capital University Law School that sent him and another student, fellow Ohio attorney Tom Taneff, to the University of Copenhagen. The kid whose family "couldn't afford to travel very much further than a tank of gas would take us" was headed to Europe.
"Denmark reinforced what I always wanted to do," says Saia. "Individual rights are extremely important to the Danes. That was right up a criminal defense attorney's alley."
Saia graduated in 1986 and focused on general practice until a 1997 trial when, he says, "I got caught with my pants down and decided to never let that happen again."
The trial involved a police officer testifying about field sobriety tests. "There are really just three," says Saia. "One is the Horizontal Gaze Nystagmus Test—HGN. This is eye movement. There is the walk-and-turn: nine steps up, nine steps back. There is the one-leg stand, foot six inches off the ground for 30 seconds. The officer said, 'Based on these tests, your client was drunk.' I cross-examined him, not very effectively—and I lost the case. I said, 'That's it,' and I dove into these field sobriety tests."
He read every study he could find, and looked into how it was funded. He learned how to administer the tests, became certified to do so and became an instructor on how to administer tests.
And he became convinced they were impossible to pass, even when sober.
"If I administer those tests to you right now, I guarantee you would fail," he says. The tests have to do with balance and coordination. "If I told you to stand on one leg, your response would be to lift your arms," says Saia, demonstrating. "But the officer tells you: put your arms at your sides at all times, lift one foot off the ground; keep it six inches off the ground, keep both legs straight. When the officer demonstrates, he keeps his knee bent a little. When you lock both your knees and keep your hands at your sides, you're going to sway or put your foot down."
Add to this the anxiety most people feel when pulled over by the police, plus ignorance of the law—are two glasses of wine OK? Three? What are my rights standing here on the side of the road in the dark? Saia appreciates that people feel afraid, that they don't know the law. Unfortunately, he says, neither do those administering the tests.
"Officers routinely testify that field sobriety tests have to do with impairment. I don't think I've been involved in a hearing myself where an officer hasn't said that, … he says. "FST has nothing to do with impairment whatsoever. They have to do solely with the percentage of probability that your client will test over the legal limit of 0.08 BAC [blood alcohol content] if he exhibits so many of these clues during the tests."
Saia thinks the numbers are curious, and sometimes deeply flawed—the 0.08 percentage, for instance, "assumes everyone is a 180-pound white male," he says—because legislators (and one might add, much of the public) want things both ways: tough drinking and driving laws, but also to drink and drive.
"We have a situation where the people responsible for making laws, and lobbyists, still drink and drive," says Saia. "DUI laws are some of the most convoluted in our entire judicial system. The DUI law in Ohio—the statute is something like 14 pages long. They just keep adding to it and adding to it; switching it around. The murder statute is only a half-page long!"
"If I were charged with a DUI/OVI, Jon is one of the few attorneys in Ohio I would hire to represent me," says Shawn Dominy, who has served for several years with Saia on the DUI Committee of the Ohio Association of Criminal Defense Lawyers. "Jon is incredibly thorough in his research and investigation. He also has a knack for explaining complex issues in a way that make them easy to understand."
Making things easy to understand is also behind a test Saia runs several times a year, when he gathers those who deal with DUI/OVI matters, gives them alcohol, then has them perform the field sobriety tests drivers are subjected to.
"I had a group of public officials, 12 or 13 of them in my office drinking because they wanted to see what their levels would be," he says. "I'm doing the FST on them, they're blowing into the machine…"
The result? "They all failed the FST," he says. "And I think all but one of them drove home."
Advocating for better systems are part of a day's work for Saia. The National Highway Traffic Safety Administration has suggested lowering drunk-driving thresholds. But if Saia were in charge of Ohio's drunk driving laws?
"Scrap what's out there, burn everything, start over," he says. "It would probably be based on—just so you don't think I'm some kind of genius here—California law. And that is: If you test under a 0.05 BAC, you cannot be convicted of a DUI. If you have a BAC of 0.05 to 0.08, there is no presumption of impairment. If you test over a 0.08, there is a presumption of impairment. I think it's the most logical law out there."
This is asking logic to rule the day, when DUI/OVI offenses do not always invite logical response. This is not a clear legal landscape.
He talks about a front-page article in The Columbus Dispatch. "It was about an accident involving a drunk driver, and how they are trying to trace [culpability] back to the bar, charging the bartender, the bar owner," he says. "The National Highway Traffic Safety Administration gives these huge grants to the states. Last year, Ohio got $800,000 to train officers in 'drugged driving'—to figure out which drug the person is on, which is bogus. I was trained in that eight years ago. MADD [Mothers Against Drunk Driving] donates money to pay officers overtime, [and] gives the trooper who makes the most DUI arrests—not convictions; arrests—a brand new Charger."
Pile-on laws, financial incentives, flawed testing and a wide moral net were all in play recently when a 27-year-old nursing student came to see Saia. She had, he recalls, done everything the officer asked—exited her car calmly, no staggering, no slurring. Still, she had blown a 0.271 on the breath test.
"That's very substantial, three-and-a-half times the legal limit," says Saia. The woman had also submitted to a roadside FST—and failed. She had her license suspended, and was told to start rehab. The woman did; she felt she had no choice. But she insisted to Saia that she'd had two or three drinks, and none within several hours of driving. Her friends corroborated this. Saia knew the 0.271 could not be accurate; that this would have meant the woman, who was quite small, had consumed 17 or 18 drinks, he estimates. 
"Most lawyers would have seen the one test and said, 'There is nothing I can do for you.' But I own a breath machine and know how flawed they can be," he says. He also knew the county where she'd been arrested was "very, very tough on drunk driving."
Saia read the woman's arrest report. The officer who pulled her over had been waiting in a dark parking lot, what Saia calls "a sneak-in."
"The woman signals, she stops at the light, she makes the turn—and he stops her for going over the double yellow line," a line Saia says curves down a hill and was nearly impossible not to cross. He tried numerous times in broad daylight and could not do it.
"I filmed cars crossing over the yellow line," he says. "The police crossed the double line six times, without ever not crossing the double line."
Saia went to court and showed the judge his findings, how it was nearly impossible to avoid crossing the double line. "My guess is the judge has done this himself—he lives [in the area]," says Saia. "And I talked about FST not having to do with impairment, and how everything else [the woman had done] was appropriate, and the judge suppressed all evidence coming off that hill. He found it was virtually impossible not to go over that yellow line, that all other signs and her driving were fine."
"She was going to school to become a nurse. And with that OVI, it would have delayed her," Saia says, heading into the evening. "She went from being looked at as a chronic alcoholic drunk driver, to coming out of the case with nothing against her. This probably changed her whole life."
Search attorney feature articles