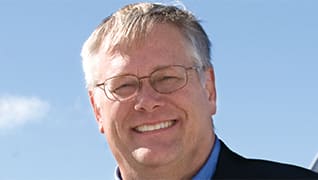 Photo by: Gary Kessler
Where in the World is George von Mehren?
Whether he's in London, Prague or Madrid, von Mehren stays plugged in
Published in 2007 Ohio Super Lawyers magazine
By David Searls on December 22, 2006
Barbara von Mehren has a pretty good idea where her husband is tonight. At least she has his location pinpointed to the correct continent. "He's in Texas. I don't know the city, but it's near Galveston."
That's close enough. With appointment calendar in hand, she can track her husband's travels as far back in time as the previous five weeks. "Let's see … Prague, Paris, Washington, D.C., Madrid, Florida and Boston." Then, of course, that nameless city in East Texas.
An after-hours phone call to most spouses might be a sign that a meeting ran long or the whole gang went out for drinks afterwards. But former emergency room nurse Barbara von Mehren is not in a typical marriage. Her husband calls her from Prague.
No, wait. That was last month.
If Today Is Tuesday, This Must Be …
Despite being partner and head of the international dispute resolution practice group at Squire, Sanders & Dempsey in Cleveland, von Mehren doesn't spend a whole lot of time in the home office. That's just not where the action is.
He works in association with trial attorneys at Squire Sanders, whose 30 offices are scattered from Beijing to Budapest, to litigate international court cases and handle arbitrations.
Just what do we mean by international? In two recent cases, von Mehren represented the Czech Republic against a Japanese investment-banking firm before Swiss arbitrators in hearings that took place in London and Paris. "[Transnational] investment disputes have exploded in less than 10 years," he says.
With everyone trading with everyone else, disagreements are virtually guaranteed to arise. And that means von Mehren is always on a plane headed for somewhere, as are his two young Cleveland-office protégés, associates Sarah Rathke and Stephen Anway.
"I've been with him to France, the Czech Republic, Madrid, Luxembourg—sometimes multiple visits to each place," Anway says.
"We just got back from Prague," says Rathke. "We've got gigs coming up in Kyoto, the Dominican Republic and Ecuador. I had no idea how much traveling this job would involve. George is all over the world. When I'm not with him, I can expect to get e-mails all times of the day and night."
Ah, yes, the e-mails. And the cell phone calls. And von Mehren's newest discovery, voice-over-Internet. "I just put on these …" he says, eagerly donning geeky-looking headphones to demonstrate the magic of long-distance calls via dirt-cheap online delivery.
With today's communications technology, it can sometimes seem like he's not really gone at all.
"One time the sprinkler man called him in Madrid," says Barbara.
All the guy knew was that he had a local phone number for reaching his customer—not that the cell phone was parked in a suit pocket in a courtroom or law office in Spain.
Von Mehren can also help his two younger kids, Reed, 12, and Paige, 15, with their homework from afar (eldest daughter Amanda is in college). "We can both be looking at the same Web site while we're talking."
Of course all of that easy, state-of-the-art access has a downside.
"Toward the end of the day, Egypt is getting active," says von Mehren. "And Beijing is plus or minus 12 hours away."
Is he ever quite sure what time it is?
"On our law firm Web site, there's a clock for every office, so I can pop in there if I ever get confused," he says.
With clients in literally every time zone, 24/7 workdays could become a problem, but von Mehren and his wife have things pretty well worked out.
"She leaves me an e-mail before going to bed, and I answer it by the time she gets up." Or vice versa. And it should be mentioned that Barbara has joined her husband of three years for work-and-play reunions in Paris and Prague.
Transcending Borders
The Convention on the Recognition and Enforcement of Foreign Arbitral Awards—better known as the New York Convention of 1958—laid the foundation for a system whereby the nations of the world could transcend boundaries and legal systems to efficiently settle arbitration awards.
Countries and their corporations add a provision to their trade agreements to bring their commercial disputes before binding third-party arbitrators, who tend to be lawyers or law professors. Rarely are there long-distance conference calls or video conferences. If a hearing is scheduled to take place in a Fleet Street hotel or law office, that's where von Mehren will be.
Recently, he's represented a European energy company in a price-adjustment dispute concerning long-term contracts with liquefied natural gas producers. He's gone to bat for a Latin American country having difficulty getting paid by a foreign investor building a power plant. And he's taken on the cause of a European entity running into payment obstacles for gas meters sold to an Egyptian company claiming product defects.
"It's a constant learning process," says von Mehren.
Arbitration agreements specify the language of arbitration. One recent hearing was held in both English and Spanish. Then there are witnesses who might be speaking additional languages. Add three arbitrators from yet another spot on the map, and teams of interpreters and internationally based attorneys all hard at work over a conference table in a meeting room in London, and it can look and sound like a United Nations subcommittee in session.
"There can be some linguistics challenges even with interpreters present," says Anway. "But logistics problems are even more common. LexisNexis isn't available when you're in the Czech Republic."
One constant challenge is getting up to speed on the commercial laws of client nations whose legal system could be based on common or civil law. Von Mehren gets assistance in this regard—as well as with the language barrier—from his firm's foreign-based attorneys. But even with help, every case is a crash course.
He's most proud of the time in Paris when he cross-examined the dean of the leading law school in France until the witness finally had to admit that he wasn't an expert in his nation's contract law. He backed down to von Mehren, who knew "enough to fake him out," the American lawyer says with a chuckle.
Ingenuity with a Suitcase
Von Mehren has been international since childhood. His late father, Arthur von Mehren, was a highly respected Harvard Law School professor and international law expert whose reputation led to something of a peripatetic childhood for George and his brothers.
"I spent first grade in Japan. The summer after third grade we were in Germany, seventh grade in New Delhi, the summer after 10th grade in Norway and Denmark. For college, I was in Rome while Dad taught. I spent two years at Trinity College in Cambridge, and then on to Harvard."
With that kind of a background, traveling was no impediment when von Mehren began focusing solely on international law about five years ago.
"He's a brilliant guy who clients seem to take to very well," says Anway. "One of his greatest attributes is the way he can simplify extraordinarily complex issues for the tribunals."
Of von Mehren's work for the European energy company, Anway says, "The decision will change how natural gas is sold in Europe."
In conversation, the lawyer is soft-spoken and unassuming. He speaks in measured tones, his sentences ending abruptly or in a slight chuckle as he nears the end of a thought. It's hard to imagine him mesmerizing a courtroom audience, but he grabs them with his intelligence, preparation and command of the situation.
As Anway puts it, "He's not pounding his fist at a table, but everybody listens."
Von Mehren's firm often gets the call even when international cases go through a foreign court system rather than arbitration. There's a reason for that.
"People in many countries think the U.S. court system is barbaric," he says, citing the high plaintiff awards, the concept of punitive damages and that weird anomaly known as a jury trial. "They think the jury system is nuts."
And yet, it's the quirky U.S. legal system that makes American litigators like von Mehren so highly sought in foreign courts. "We're true advocates for our clients. In Europe, lawyers are more concerned with explaining what the law is."
It's his theory that European lawyers are less impassioned than their Yankee counterparts because they're used to delivering to a judge intellectual recourse on the intricacies of law. Americans, on the other hand, have to hard-sell their case to a jury as easily swayed by spectacle as by legal scholarship.
Furthermore, says von Mehren, "The American style is thought to be extremely practical. We don't get tied up in the theoretical stuff."
If his American legal approach is practical, you should see the no-nonsense way von Mehren packs. Somehow his entire wardrobe ends up either on his back or in a single carry-on suitcase, no matter how long he'll be gone or how formal the occasion.
Call it another example of American ingenuity at work abroad.
Search attorney feature articles