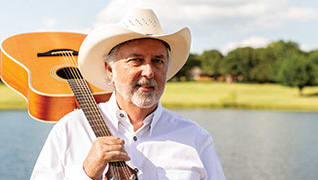 Photo by: Shane Bevel
Collective Wisdom
John Kenney knows how to speak to juries—and country music fans, too
Published in 2018 Oklahoma Super Lawyers magazine
By Nancy Henderson on October 11, 2018
One afternoon early in his career, John Kenney decided to drive to an accident scene where a plaintiff claimed a broken tire rod had caused him to crash into a tree. The case against Kenney's client, a large auto manufacturer, didn't seem particularly winnable, especially since it had been tried and lost before by another attorney—and then had the verdict set aside. For two hours, Kenney walked around the neighborhood, and left without noticing anything that might bolster his argument. 
Then, during the trial, the opposing attorney and a witness mentioned a mailbox bearing a specific image. "I remembered, when I was out there, that that mailbox wasn't down where the plaintiff's lawyer was talking about. It was several hundred feet back up the roadway, and that didn't quite ring true," says intellectual property litigator Kenney, 69, who handles complex business cases at McAfee & Taft in Oklahoma City. 
That evening, he looked up the address and called the resident. "Yeah, that guy ran right over my mailbox that night. He was drunk," the homeowner told Kenney. "I remember it well."
After hearing the neighbor's testimony, which clearly debunked the driver's assertions, the jury found for the defendant. "You just can't know everything you need to know," Kenney says, "unless you have gone to the scene."
Four decades later, Kenney is still a detail-oriented researcher who parlays his former life as an engineer into his legal practice and often visits factories to see how products in question are made. He's also an inventor, with nine patents to his name; and a country songwriter, with two albums on the market. At his day job, he focuses on technical and scientific issues, including intellectual property, products liability and environmental matters. He has handled cases throughout the U.S. and in several foreign countries, and written briefs for appeals to the U.S. Supreme Court. Kenney is also a frequent speaker and strong supporter of STEM education, advising teachers at the University of Oklahoma's K20 Center for Education and Community Renewal.
He has served twice as a temporary judge with two other appointed lawyers on the Oklahoma Court of Appeals, an experience that taught him the value of collaboration. "I came to realize that maybe there is something to this collective wisdom that is important, that maybe I'm not quite as smart as I thought I was by myself," he says. "That has carried me a long way as I've gone through life."
Ralph G. Thompson, retired U.S. district judge for the Western District of Oklahoma, regularly presided over Kenney's trials for many years. "John Kenney ranks easily among the absolute tops of the excellent lawyers I have known in my entire 32-year career as a United States district judge," Thompson says. "His keen intelligence, engineering and legal educations; and his admirable professional, civil and courtly manner distinguish him."
An Oklahoma native, Kenney moved often as a child due to his dad's job as a county agent with the Farmers Home Administration, but he spent most of his teenage years on a farm in Purcell. Perceived by some classmates as nerdy, the straight-A, bespectacled student didn't necessarily fit the stereotype. "If you want to know the truth," he says, "I was more proud of the fact that I was all-district in basketball and won some medals in track than I was of being the valedictorian."
Nevertheless, it was his knack for science and math that led him to study industrial engineering at the University of Oklahoma. His mother, a nurse, instilled in him a love of learning; his unassuming father taught him how to conduct himself in the world. "He never raised his voice and was just a role model in how to behave—not try to cast yourself in the limelight, but be willing to sit back and let others do that," says Kenney.
After graduation, he married his college sweetheart, Jane, and took a job with Westinghouse in Norman, intending to go the MBA route. He hoped one day to own a small manufacturing company. But when his younger brother, Bruce, suggested they go to law school together, Kenney agreed to take the admissions exam. If law didn't work out, he reasoned, he could always use a J.D. as an advanced business degree. 
It worked out. "The thing that I learned early on is that the problem-solving that you go through as an engineer—you break it down into its parts and you put the problem back together in its components and end up with a result—is essentially the same thing you do as a lawyer, especially a trial lawyer that's involved in litigation," he says.
While attending law school at the University of Oklahoma, Kenney clerked at a small plaintiff's personal injury firm, sparking an interest in trial work. After graduating in 1975, he joined Baker & Botts in Houston and began trying products liability cases. His future focus—IP and patent litigation—was not yet a blip on his radar, nor that of most attorneys.
Kenney chuckles as he recalls his first court case, in which the officer who had arrested his client for a traffic violation failed to show up. "I won my first case never doing anything except saying, 'Your honor, we ask that this case be dismissed,'" he says. "I was kind of a hero because I had gotten this guy off his problem ticket."
The next one, he adds, actually counted. As second chair at a personal injury trial, Kenney watched his team ace every point for its corporate client, while the disheveled, clumsy opposing counsel appeared to be in over his head. "But lo and behold," Kenney says, "the verdict came back, and we lost. And what I learned from that is that you can actually win each battle in the courtroom too well. I think that, in that case, the jury felt sorry for the guy's client because they thought he was represented by someone that wasn't very good, and here was this big firm with all these really good lawyers on the other side, and he just didn't have a chance to have his real day in court. So they gave it to him."
In his first case as lead counsel, however, Kenney—representing a large auto manufacturer—used a faux pas by the opposing side to his advantage. The plaintiff's attorney, who claimed a door latch had failed, allowing the door to open during an accident, tried to demonstrate the defect—but the latch worked. "The 'click' sound in the otherwise very quiet and engaged courtroom was the focus of my final argument," Kenney says. "I learned that, number one, you'd better have your exhibits function properly and you'd better try everything before you take the chance of using it in the court, and number two, little things can make such a huge difference in the course of a trial." 
Such thoroughness has not gone unnoticed among Kenney's peers. "His cases were consistently very complex, usually patent, intellectual property and scientific in subject matter," says Thompson. "For a terminally non-scientific trial judge, often in non-jury cases, they were very difficult. John Kenney had a gift for making them manageable, thanks to his impeccable preparation, scholarly briefing, mastery of the law and facts, and ability to communicate. I was always grateful for those extraordinary skills."
In 1981, Kenney and Jane returned to Oklahoma to raise their daughter, Lauren (now a pediatrician) and son, Graham (now an Austin lawyer). Kenney joined McAfee & Taft; it was there that his patent work, protecting client inventions ranging from dental equipment and horse trailers to oil and gas machinery, blossomed. 
In one case, he and his co-counsel obtained a jury verdict of $9.9 million, plus more than $2 million in prejudgment interest and costs, for the inventor of a medical device who went up against a global medical technology company. In another case, a foreign firm allegedly infringed on the design of a guiding table used for sawing, made by an Oklahoma factory. The jury awarded Kenney's client over $2.1 million, keeping the local business afloat. 
Most often, Kenney goes to bat for individual inventors and owners of small- to medium-size businesses. "Usually, the technology that the patent represents is key to their livelihood," he notes. "And it's usually key to the livelihood of a lot of just normal people that work for the company. It isn't always that you win at trial. Sometimes you get something resolved, and that's just as important, I think. I've been able to see companies survive that wouldn't have survived without either the technology that they're using or the right to the technology that is out there. And that's been a lot of fun."
In the courtroom, Kenney admits, he's as nervous today as when he tried his first case. It just doesn't show. One thing has stayed the same: his resolve to be true to himself. "I don't try to be mean and nasty, because I'm not a mean and nasty person in real life. I think you have to be genuine or the fact-finders will not trust you."
In the early 1990s, Kenney's interest in patents took a personal turn. A lifelong tinkerer, he was working in his garage one day when he got the idea for an electric cord-reel mount that wouldn't tangle when someone tried to open the door. His handy brother-in-law built it, and the two filed for a patent. Since then, Kenney has won eight more patents on his own, involving software technology and business methods. More recently, he invented a new type of paint roller that keeps it rolling—rather than sliding—when applying heavy paint. He now has an application pending for another paint product. 
Unlike the detective work required for his day job, these ideas just popped into his head. "The only work," he says, "was to reduce them to practice."
About 10 years ago, Kenney was sitting in the Houston airport when a young, bare-midriffed woman walked by with a cowboy wearing an oversized belt buckle. During his flight, Kenney jotted the tongue-in-cheek lyrics for "Low Ridin' Lady," which begins: It's hard to get a hug from a low ridin' lady when your belt buckle's been out in the cold all night.
He had never written a song—or had much musical training, for that matter. "When I was a kid, I took piano lessons, like a lot of children do," he says, "and I really never learned to play the guitar; but since then I kind of halfway can strum a little bit. I'm not really musical."
One of Kenney's partners introduced him to Bob Fraley, a former Los Angeles country singer-songwriter who was itching to get back into the business. The two became fast friends, with Fraley writing the music and singing Kenney's tunes for Fraley's Bootjack Romeo album, which debuted in 2013. Kenney doesn't record himself singing his lyrics because, he claims, "I can't sing in a way that anybody would want to listen to."
Three years later, Kenney recorded his own spoken-word memoir album, My Top Advice, on the Bootjack Productions label. Each song, from "Momma Always Said" to "I Heard Him Today," delivers a positive message, and giveaways of the CD in exchange for donations have raised thousands of dollars for local charities. Kenney is currently writing a collection of children's songs based on Bible stories.
Songwriting, he says, is an escape from the intensity of law. It also relies on "exactly the same process that I go through when I'm preparing an opening statement or a final argument or writing the first paragraph of a brief," he points out. "You have all these ideas. The trick is to get it into a few sentences that tell your story."
Search attorney feature articles
Helpful links
Other featured articles
The Tampa attorney is a master at keeping bankrupt companies in the game
Local Counsel with Diego A. Gutiérrez
As outside counsel to the Mormon church, Von G. Keetch has been called every name in the book
View more articles featuring lawyers
Find top lawyers with confidence
The Super Lawyers patented selection process is peer influenced and research driven, selecting the top 5% of attorneys to the Super Lawyers lists each year. We know lawyers and make it easy to connect with them.
Find a lawyer near you