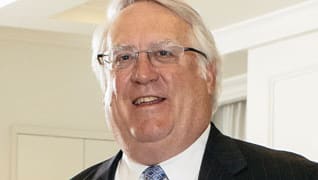 Photo by: Shane Bevel
Marshaling the Evidence
Drew Neville does his homework. And then he does it again
Published in 2013 Oklahoma Super Lawyers magazine
By Carlos Harrison on October 14, 2013
Drew Neville recalls his first case vividly. His blind client sued her neighbor, whose new fence encroached on her strawberry patch.
"She was very offended at this," he says. "Of course, the issue came up about how in the world could my client knew there was encroachment if in fact she was blind."
She lost the suit and paid him with a large chocolate cake. "I ate every bit of it."
That was decades ago. These days, Neville, a partner at the Oklahoma City firm Hartzog Conger Cason & Neville, no longer gets paid with cake.
He was involved in a precedent-setting ruling shielding tribal nations in Oklahoma from state infringement; he sought damages for the family of a plane crash victim in an accident that brought sweeping safety innovations to the aviation industry; and he defended the Las Vegas Hilton against allegations of negligence in the infamous Tailhook sexual assault case.
In his 40 years of courtroom experience, Neville has been on both sides of civil suits and criminal prosecutions. He represented Carl Icahn in his takeover attempt of Phillips Petroleum, protected Canadian Imperial Bank of Commerce from accusations in the Enron case and, just recently, got Mike Morgan's co-defendant cleared in the bribery case against the former leader of the Oklahoma Senate.
For Neville, the intricacies and risks of such cases are what drive him.
"The Enron case as an example is totally different from the Tailhook case," he says. "The legal theories are totally different. The factual situations are about as far apart as you could ever hope them to be. Their common theme is the complexity and the difficulty of marshaling the evidence, analyzing the facts and the law, and puzzling your way through the complex strategy of what you're going to have to do in front of the jury."
Neville's voice has a soft-spoken intelligence reminiscent of another Oklahoma native son: Bill Moyers. He has a self-effacing reflex that makes him deflect praise and shift the focus to the people around him.
His offices are at the top of the eighth-tallest building in Oklahoma City, one block from the federal courthouse where he first argued cases as a young assistant U.S. attorney. Just past the federal courthouse stands the Oklahoma City National Memorial & Museum,  once the site of the Alfred P. Murrah Federal Building. Massive gates of granite and bronze frame the memorial to the April 19, 1995 bombing, symbolizing the time before and after the 9:02 a.m. blast. There are also 168 glass-bottomed chairs—one for each of the victims. 
Neville worked on two memorable cases in the aftermath of the bombing. The first concerned Kenneth Trentadue, an inmate at the Federal Transfer Center in Oklahoma City. His family contended that Trentadue was mistaken for a co-conspirator in the Murrah building bombing. He died during interrogation by federal agents.
Neville represented the warden of the Federal Transfer Center during the Trentadue case in the case.
Tom Linn, one of the first responders at the bombing, also investigated the Trentadue death. "The Trentadue family later sued the federal government for conspiracy and complicity in Kenneth Trentadue's death," Neville says. "And GQ magazine covered that like a blanket. They came out with an article that in essence named Tom Linn as not only a conspirator, but complicit in the death of Kenneth Trentadue, which of course he had nothing to do with. … I had such an admiration for Tom Linn." He had to take Linn's libel case against GQ. The magazine eventually settled for an undisclosed amount.
Another landmark case for Neville was a lawsuit following the 1985 crash of Delta Airlines Flight 191. The airliner ran into a thunderstorm and wind shear as it came in for a landing at Dallas-Fort Worth International Airport. It hit a car on the highway, bounced into a two million-gallon water tank and exploded,  killing 136 of the 163 people on board. Neville represented the family of Oklahoma City businessman Curt Schwartz, one of those lost in the accident.
In the wake of the crash, the aviation industry made far-reaching safety changes.  Planes and airports now have forecasting and detection systems to help flights avoid wind shear and microburst conditions.  (A microburst is a strong downdraft: a strong localized air current that hits the ground and spreads, causing wind to rapidly change direction and speed.) 
But for Neville, the case was centered on the family Schwartz left behind. "I can't really claim that we advanced aeronautical aviation in any fashion," he says. "We were there to take care of a family who had lost a father."
Neville was born in the same city where he practices now, in Oklahoma's Cross Timbers region—where the golden prairies of the West meet the rising green forests of the East. He moved to Lake Worth, Fla., at the start of junior high school and stayed through the ninth grade, but then returned to Oklahoma City.
During adolescence, his future profession became a fixed goal. It started when he took a debate class. Something clicked into place. "There really wasn't any deliberation about it," he says. "I wanted to be a lawyer, and I wanted to be a trial lawyer."
After high school, Neville was accepted to the U.S. Air Force Academy, but flunked the physical, diagnosed with a racing heartbeat. He ended up at the University of Oklahoma where he studied business, then went straight into law school there to get his J.D.
When he graduated in '72, after ROTC service, he was commissioned as a second  lieutenant in the Army Signal Corps (passing the physical this time, a fact he laughs about now). He went on active duty, serving his time in Georgia, never called to go overseas. 
After a year in the service, he went back to Oklahoma City, as an associate at the firm where he had interned during law school, the same place where he was assigned the case with the blind client and her endangered strawberries.
"They offered me a job, and I didn't even look elsewhere. I was just so thrilled that anyone would want me," Neville says.
He argued in court so many times in that first year, he says, "I don't even know how many car wreck cases I tried, or how many divorce cases I tried."
Then one day in December of 1973, his college roommate walked into his office and asked him if he wanted to go to Washington. He said they were getting ready to impeach the president. 
He soon was hired as a legislative assistant for Sen. Henry Bellmon and drove his three-speed Mustang to Washington, D.C. His job: to evaluate and analyze the evidence in the Watergate case and advise Bellmon in preparation for a trial to impeach President Nixon.
"I knew that Washington was not going to be a career place for me," Neville says, "but that was an opportunity that I couldn't turn down… It was unbelievably exciting .… Maureen Dean was as beautiful as she was on television. I attended most of the Watergate hearings, and it was quite an event." 
After Nixon resigned, Neville stayed in Washington a few more months before heading back to Oklahoma City, where Bellmon helped him land a job with the U.S. attorney's office.
"When I left Washington D.C.," he says, "the first thing I did was box up all of the Watergate committee transcripts that I could get my hands on. I didn't do a great job of getting the testimony, but I have all of the Watergate binders for all of the exhibits that were part of Watergate. It was a really exciting time for a guy who was 26 years old."
At the U.S. Attorney's Office in Oklahoma City, Neville found himself working in the federal equivalent of county court: prosecuting DUI cases against military folks at Fort Sill.
"I was the low man on the totem pole," Neville says. "I would try DUI cases off the seat of my pants, having never interviewed a witness or officer in charge. We just tried them ad seriatim for four or five days."
However, he advanced quickly to handling more complex cases, including prosecuting what was then the largest seizure of marijuana in the state's history, and winning convictions against five federal prisoners accused of murdering a fellow inmate at the Federal Correctional Institution in El Reno.
Before he left 20 months later, Neville was called to join the team that prosecuted Oklahoma Gov. David Hall on extortion and conspiracy charges. Hall was convicted and  earned the dubious distinction of becoming the first governor in the state's history found guilty of criminal acts while in office. He spent 19 months behind bars.
When one of the U.S. attorneys he had worked for went into private practice a short time later, he asked Neville to come and join the firm.
At Linn, Helman, Kirk & Burkett Neville defended Billie Sol Estes' secretary, Sue Goolsby, against federal fraud charges. The larger-than-life Texas scammer—with rumored ties to Lyndon Johnson—had already made his name in a complicated mortgage fraud scheme. Eight years after he got out of prison, he was charged with mail fraud. Goolsby was  charged along with him, but Neville got the charges dismissed.
"It was a circus," he says. "It was covered by every major television network, and it was my first experience with having to go into a courthouse that was actually ringed with press."
It was the beginning of his involvement in the string of high-powered cases that would cement his reputation as one of the top attorneys in the state.
Neville has an easy smile, a ready chuckle and the ability to make his point with a folksy simplicity. But there's lots of hard work behind making it sound simple.
"There is no case too big or too complex for him," says Ralph Thompson, former chief judge of the U.S. District Court for the Western District of Oklahoma. "Certainly, there's nobody better."
"He is just, and always has been, an extremely bright fella," says U.S. District Judge Lee West. "He reads and studies enormously."
"Nobody is going to out-prepare Drew Neville," says former U.S. attorney and current U.S. District Judge David Russell. 
Neville's most recent high-profile case was representing Martin Stringer, a prominent Oklahoma City attorney and co-defendant  of former Oklahoma Senate leader Mike Morgan, who faced 62 counts concerning allegedly accepting bribes. With Neville defending him,  the court dropped its 33 counts against Stringer for lack of evidence, and he was cleared of the rest at trial.
"I commented when I first read about that case that Martin Stringer was extremely well represented," says Judge West, "and I think that turned out to be correct."
Despite his intensive preparation for so many high-profile, complex cases, Neville found the time to research and write a book about his mother's and father's experiences during World War II, Jack's 45th. After his mother died in 2000, Neville discovered scrapbooks she'd kept of the 45th Infantry Division Thunderbirds' movements during the war. Jack's 45th was published by the Oklahoma Heritage Association in 2008.
"I actually would like to write another book," he says. "I haven't had time to do that yet."
Search attorney feature articles