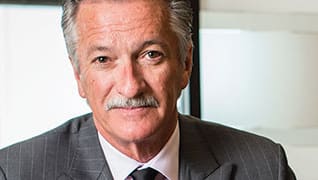 Photo by: Shane Bevel
On the Side of the Angels
Tulsa litigator Joe Farris' clients range from laid-off employees to activists bent on scuttling a nuclear power plant
Published in 2014 Oklahoma Super Lawyers magazine
By Michael Corcoran on October 9, 2014
In 1978, the Public Service Company of Oklahoma decided to build two GE nuclear reactors near the tiny town of Inola. A couple of things stood in the way of the planned Black Fox facility: a determined group of community activists and Tulsa attorney Joe Farris, just two years out of law school and five years out of the military.
With Farris' help, the grass-roots campaign became the first citizens' effort to successfully halt construction of a nuclear plant in the United States. The story went national.
Farris had another memorable, if less weighty, case in the late '70s. He represented a man who wrestled a bear—and put that hairy beast on its back—but never got the Camaro he was promised in a "tough-guy" challenge.
"The deal was that if anyone could get the bear on his back, for just a second, they'd get the Camaro," Farris recalls. The challenge was sponsored by a local outdoor-sports promoter. "They were claiming my client didn't do that, but what the promoter didn't know was that a woman had taken a Polaroid photo of the exact moment that the bear was on his back." With that smoking gun, the promoter caved. The client got the Camaro and was booked for a return appearance. And Farris worked out a way to cover his attorney's fee: "We got 30 front-row tickets to the next 'tough-guy' contest, plus all the beer we could drink."
Today, Farris is a "lawyer's lawyer," quite literally, having defended attorneys against nearly 300 claims of legal malpractice over the years.
"I take it as a high compliment," he says, "that other lawyers want me to represent them."
He is also one of Oklahoma's top divorce attorneys, often representing high-net-worth clients. Once, he received a case of fine wine in addition to his hourly fee.
"I would hate to be a one-dimensional lawyer," says Farris, sitting in his office overlooking downtown Tulsa. "I love the variety of cases I do. It keeps things interesting."
Farris' friend and sometime courtroom adversary Mike Atkinson of Tulsa's Atkinson, Haskins, Nellis, Brittingham, Gladd & Fiasco puts it this way: "He's the only attorney I know who could defend Ford in the afternoon, right after arguing a high-dollar divorce case, and before handling a product liability case. And argue each one exceptionally."
Farris has spent his entire 38-year career at the midsize, full-service firm where he's now a partner. Franden, Woodard, Farris, Quillin & Goodnight, which opened its doors in Tulsa in 1921, has a strong foundation in the field of transportation, representing a number of interstate trucking companies. The family law sideline came almost by accident.
"I was new at the firm and one of the partners asked me to represent his maid in a divorce," says Farris. "I said, 'You're the boss,' and did it. But I ended up being really interested in the case. A lot of our clients are sophisticated users of legal services. We don't have to walk them through the process. But in divorce cases, there's a lot of explaining to do."
He enjoys the plain-speak and the hand-holding. The more personal the work, the better.  "Joe's incredible to watch in the courtroom," says partner Paula Quillin, adding that Farris knows everyone at the county and federal courthouses by name.
Farris had never seen a court proceeding until his first jury trial in 1976. He represented a driver who had rear-ended another driver. Not an easy case to win, but Farris pulled it off, he says, by getting the jurors to open their minds. "It was a bit of an out-of-body experience," he says of his courtroom debut. "But everything was coming out the way I wanted it to."
After that victory, Farris says, he thought he "was God's gift to the legal profession," but his first loss brought him crashing down. "The night I can't sleep is not before the trial, it's the night after," he says. "I become consumed with wondering if I could've done this thing or that thing better." It happens even when he wins. The worrying ends at daybreak when he wakes for another day at the office.
Trim, athletic and well-dressed, Farris has a suave style—both inside and outside the courtroom—reminiscent of David Niven. "He's got a quick wit, yet he's so personable," says Quillin. "He makes it fun."
Atkinson says Farris' greatest strength is "a sense of humor he uses to disarm his opponents and gain favor with the court." A self-proclaimed "yellow-dog Democrat in a red state," Farris has learned to get along with everyone.
The two were adversaries in a 2010 case in which Atkinson's small-business client sued its insurance company for refusing to pay a fire loss claim. According to the lawsuit, the company's manufacturing equipment had been damaged in a Mexico City factory fire. Even after the discovery deadline had passed and the case was getting ready to go to trial, Farris flew down to Mexico City, got access to the burned factory and came back with photos which he argued showed the equipment was not as badly damaged as claimed. As a result of that extra effort, Farris was able to negotiate a very favorable settlement for his client.
"Joe just doesn't give up," says Atkinson.  
The son of a traveling patent-medicine salesman from small-town Arkansas, Farris graduated from the University of Missouri on June 1, 1969. Famed playwright Tennessee Williams was present at Farris' graduation ceremony to accept an honorary degree. But the next day it was Farris on a hot tin roof, as his draft status notice arrived. He was 1A, which in 1969 meant a high potential for an all-expenses-paid trip to Vietnam.
"I was a child of the '60s," says Farris, who was a big Jimi Hendrix fan. "I thought the war was ill-advised and I didn't want to die. But I also felt like it was my duty. I had a lot of misgivings."
Farris enlisted in the Army before he was drafted so he could apply to officer's candidate school. After a grueling boot camp experience—Farris says it was true to An Officer and a Gentleman—he became a military intelligence officer stationed in Germany, with eyes and ears on the Soviet Union. Training for that specialty helped hone a pinpoint-questioning style that has served him well in court and depositions. "They used actors who were instructed to answer each question with as few words as possible," Farris recalls. "So any question that started 'Do you know…?' was always answered just 'yes' or 'no.'"
Boot camp also instilled a daily fitness ethic. Farris has run footraces and participated in triathlons, but in his late 40s he switched to golf. Time on the links, as well as following his beloved Mizzou Tigers, are twin passions that take his mind away from legal concerns.
After receiving an honorable discharge from the Army in 1973, Farris attended University of Tulsa College of Law. "I had graduated from college and spent four years in the military," he says, "so law school was a piece of cake." After monitoring the Cold War, Farris relished his studies.
During his time at law school, Farris fell in love with Tulsa and went to concerts at Cain's Ballroom, the home of Bob Wills and His Texas Playboys, which can be seen in the distance from his office window. To a kid from Batesville, Arkansas, Tulsa was a big city, but not overwhelming.
Farris joined his current firm during his last year of law school. Two years later, a nurse and neighborhood activist from Claremore named Carrie Dickerson came to the office in search of a lawyer to help her fight the planned Black Fox nuclear plant. The partners gave the case to the new kid, who had briefly studied engineering as an undergraduate.
"So I had a little background, but when I started the Black Fox case, I studied like I was going to be a nuclear physicist," Farris recalls with a laugh. "It was like cramming for a zoology test and then two weeks later you can't remember a thing about zoology."
One of Farris' key victories in the case was persuading General Electric to release confidential safety report information, a first for a nuclear licensing proceeding. Farris credits a trio of experts, including former GE engineer Greg Minor, with convincing him the report could be picked apart.
Fearing the potential for a nuclear meltdown and the possible health effects of nuclear waste, Dickerson rallied a group called Citizens Action for Safe Energy. The protests drew worldwide attention in 1979 when nearly 500 people were arrested at the proposed site. Facing mounting costs and public pressure, PSO finally scrapped the plans in 1982. Dickerson wrote a book on the victory called Aunt Carrie's War Against Black Fox Nuclear Power Plant, which mentions Farris prominently.
Another landmark case in which Farris was the lead attorney involved 1,200 former employees of McDonnell Douglas who accused the defense contractor of closing its Tulsa plant in 1994 to save $27 million in pension and benefits. Farris and his team of attorneys convinced a federal judge that the company chose to close Tulsa, instead of another plant, because the workers were closer to retirement age. In Farris' opinion, "that was just utter corporate greed."
Victory didn't come easy, however, even after a federal judge ruled in Farris' favor in 2001. The case dragged on for another three years of appeals before he was able to negotiate a favorable settlement. 
"They fought us tooth and nail on that one," he recalls. "But it helps when you're on the side of the angels."
Farris comes from a hardworking middle-class background; his childhood ethics have served him well in his diversified practice. And having gone through a divorce makes him more empathetic to the family law side, he says.
He married his second wife, Sandy, a Realtor, in 2000. Each brought two children into the marriage. They now have 11 grandchildren.
"When I met Sandy, she was very involved with Meals on Wheels," Farris says. "But she had to deliver to some rough neighborhoods, so I said, 'Why don't I come along with you?'" What started as simple concern soon became a beloved Tuesday ritual for the couple for about a decade. These days, work and grandchildren take up almost all their time.
Farris loves never knowing what challenge might come walking through the door.
"We used to have the IRS on our floor, and you'd see them all dash to the elevators at 4:30," he says. "I was thinking how sad that must be, to have a job where you're watching the clock."
Search attorney feature articles