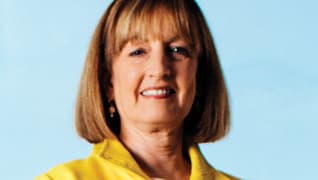 Photo by: Shane Bevel
Pillar of Strength
Widowed at 28, Judy Hamilton Morse battled her grief by going to law school. Now she's one of Oklahoma City's leading litigators
Published in 2012 Oklahoma Super Lawyers magazine
By Nancy Henderson on October 15, 2012
With just three years of practice under her belt and a wealthy client who could easily come across as the bad guy, Judy Hamilton Morse was worried about how the jury would respond. Even so, it was obvious that the concrete contractor being sued, a man with a fourth-grade education and no reading skills, had done a shoddy job of building a tennis court for the affluent homeowner. The court sloped so badly that a ball placed at one end would roll to the other.
But she had one more thing on her side she hadn't anticipated.
"Ladies and gentlemen of the jury, I'm sure you've noticed that the plaintiff has a little lady lawyer—a little pregnant lady lawyer," said Morse's opponent during opening remarks. "I'm gonna have to get rough and tough, and I want to know if any of you are gonna hold it against me."
"There were about four women on the jury, and I could see their faces were just frozen," recalls Morse, 66, now director of the Oklahoma City office of Crowe & Dunlevy and a respected litigator and bankruptcy attorney. "And I'm thinking, 'You just evened up my odds.'"
Morse's adversary continued to refer to her as "the little pregnant lady lawyer" throughout the trial. Morse won.
Since 1979, Morse has represented both plaintiffs and defendants in industries ranging from financial services and real estate to trucking and energy, including nearly 40 oil and gas producers in the SemCrude bankruptcy, a public trust authority in the Lehman Brothers bankruptcy pending in the Southern District of New York, and major grocery store chains undergoing Chapter 11 reorganization. Both in the courtroom and at the negotiating table, she is calm and focused. "It's not my personality to be bombastic," she says. "I'm fairly low-key. 'Just the facts, ma'am.' Basically, my style in court is a conversational style. That kind of approach has always been the way I've tried to try cases."
"She's certainly not a bragger, but she's able to convey a quiet confidence and a strength that [lets you know] your clients are in good hands," says Karen Henson of Henson & Marshall in Shawnee, who met Morse in law school in 1976 and often refers clients for federal court litigation, including creditor rights litigation in the federal bankruptcy court. "I've always admired her for being a person of her word. She's honest in her assessments, not in a blunt way but in a very tactful way. She's always a lady."
A petite, outdoorsy girl who loved riding horses, playing the piano and cheerleading, Morse grew up in the town of Wilburton in the eastern part of the state with an older brother who went off to college when she was 5. Her mother was an elementary school teacher, her father a county school superintendent, so when she enrolled in the local junior college, she surprised her career counselor by stating, "The one thing I don't want to do is teach."
"I'd kind of grown up in that lifestyle," Morse explains. "When you're that age, you think you want to conquer the world, do something different."
After earning a B.A. in interior design from the University of Oklahoma, she worked in that field to put her husband Bill Hamilton through medical school and raise their two small sons. Then, in 1974, the unthinkable happened. One night while making his rounds at the hospital, Hamilton checked in on a patient with a gunshot wound before walking to an isolated part of the building to retrieve his mail where he suffered a cardiac arrhythmia. He died instantly.
"When you've got little children you have to stay in the moment, and I just got busy," recalls Morse, then 28. Her boys were just 4 years and 17 months old. "I had to keep moving because otherwise it was just too depressing." She went back to work part-time, earned a second degree in psychology from her alma mater, and with a friend's encouragement, took the LSAT just to see how she would fare. By the fall of 1976 she was attending the University of Oklahoma College of Law and graduated three years later at the top of her class. On graduation night, she had her first date with David Morse, a fellow law student who would become her husband in 1981.
Assuming she'd make her mark as a business attorney—as a young single mom, she felt it would be less demanding on her time than litigation—she had taken every related class offered in law school. But when she joined Crowe & Dunlevy in 1979, Morse admits, "The first business department deal they put me on, I thought I would die of boredom. So I literally fled to litigation."
In her first trial, Morse represented a large furniture retailer that had hired a "fly-by-night" company to re-coat the roof. She and her co-counsel successfully argued for a jury verdict, which compensated the client for the leaking mess he was stuck with. The win hooked her on her practice area even more. "It's a puzzle," Morse says of trial work. "You have to figure out your case and how best to posture it to try to reach the best and most cost-effective result for your client. Sparring with the other side and [feeling] those competitive juices—I find that fun."
Morse was recently made partner at Crowe in 1984 when, quite by accident, she shouldered her first bankruptcy case for Kelly-Johnston Enterprises Inc., which operated and franchised restaurants. One day she stopped by an associate's office to invite her to lunch and found the attorney reading intently at her desk, clearly stressed by the document she'd just been handed. The court order required her to take five simultaneous depositions the next day for a case she knew little about.
Morse offered to help. She became the partner in charge for the Kelly-Johnston case, and after that, she found herself handling similar cases.
Her litigation experience gave her an edge over some other bankruptcy lawyers who didn't know how to collect evidence or put a witness on the stand. "You could get some pretty darn good deals," she says, "because people knew that you could try [the case] if you needed to."
In one of her most complicated cases, Morse represented 38 producers who hadn't been paid for the oil and gas they sold to SemCrude, a subsidiary of Tulsa-based SemGroup crude oil and natural gas company, which filed for Chapter 11 protection in 2008. Aspects of the case are still pending in Delaware, but Morse and her team finagled a "decent" negotiation for her clients.
Likewise, in connection with what is now considered the largest bankruptcy filing in U.S. history, Morse went to bat for an Oklahoma public trust authority caught up in the financial crisis at New York's Lehman Brothers bank as a result of interest rate hedge agreements with Lehman. After deciphering convoluted contracts and interest rate swap deals she'd never dealt with before, she snared a favorable arrangement for her client.
Just as exciting for Morse was a bankruptcy case she handled in Delaware for a large grocery chain. "Debtor cases are almost like playing poker," she says. "Somebody that's on your side on one issue might be your worst enemy on another issue. So you always have to be looking pretty far down the road as to how things are going to play out."
After attending the evidentiary hearing and submitting a 12-page confirmation order, Morse received a call from the judge who asked, "Who prepared this order?"
"My partner and I did," she replied, half-expecting some sort of reprimand.
"Well, I just wanted to compliment you on it," the judge said. "It is so much better than anything I ever get. I get these 50-page orders and I just hate them."
Succinct writing is, in fact, one of Morse's strong suits, says Henson. "If you have motions or briefs that need to be submitted—in bankruptcy court for example—or complicated contractual matters or matters that need approval through federal court, she has not only the gift of writing and the gift of understanding, but she also has the credibility with the judiciary. And that's important."
Intuitive, with a warm sense of humor and an unhurried manner that tends to set others at ease, Morse frequently mentors female attorneys in her firm, especially young moms trying to juggle a number of responsibilities. She often shares with these budding leaders the insights she learned the hard way: "Your children are going to grow up and be just fine. You don't need to be beating yourself up and feeling guilty all the time."
The newest generation of female attorneys, she says, rarely experiences the kind of "little pregnant lady lawyer" remarks she heard from her brash opponent years ago. "But truthfully, even with lawyers that would tend to be jerks to most people," she says, "I've just kind of made it my mission in life not to let them be a jerk to me, to try to find some way to win them over."
Search attorney feature articles
Helpful links
Other featured articles
From the minutia to the big picture, Deborah J. Caruso has it covered
Jany Martinez-Ward's personal tribulations inspired her to help the immigrant community
How Ryan O'Connor and a team of attorneys changed Oregon law
View more articles featuring lawyers
Find top lawyers with confidence
The Super Lawyers patented selection process is peer influenced and research driven, selecting the top 5% of attorneys to the Super Lawyers lists each year. We know lawyers and make it easy to connect with them.
Find a lawyer near you