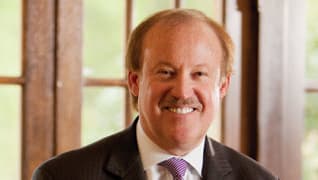 Photo by: Shane Bevel
The Common Man's Lawyer
Reggie Whitten's straightforward style results in multimillion-dollar verdicts against the kinds of companies he used to defend
Published in 2011 Oklahoma Super Lawyers magazine
By Nancy Henderson on October 17, 2011
Shortly before jury selection in Burgess v. Farmers Ins. Co., Inc., the defense lawyer told his opponent, Reggie Whitten, "I think your case is too boring and too complex, and you're asking for too much money."
Whitten simply nodded. Later, as he questioned potential jurors in the class action, breach-of-contract case in Comanche County, he repeated his adversary's comments. "Here's the Achilles' heel of my case," he admitted. "I've been told it's complex and boring. Will you hang in there and not rule against me for that reason?" One by one, they agreed, so Whitten continued: "We're asking for a lot of money, but the number we came up with is based on the amount the insurance company cheated these policyholders out of. If we can prove they withheld many millions of dollars, will you agree that part's not my fault?" Again, the jurors promised him they would.
A week later, they awarded $130 million to the plaintiffs, setting a state record. "We tried it clean. We didn't exaggerate. We tried it honest," recalls Whitten, a partner at Whitten Burrage in Oklahoma City. "And I guess they liked our side of the case better."
Such candor has translated into success for this easygoing plaintiff's litigator, who now sues the same type of insurance providers he once defended, taking them on in some of the nation's most significant class action and individual cases. "I'm just an ordinary guy. I think like the common man does," he says. "I'm living proof that you can try cases honestly, without misrepresenting anything. You can win, and win big, by being straightforward."
Whitten grew up in a blue-collar family in Seminole; his father was a used car salesman and his mom ran a shoe store. After school, he swept his dad's car lot and washed and repaired automobiles; in college, he operated a backhoe on a construction crew. "We were just ordinary, hardworking people," he says. "I remember feeling sorry for myself because my parents were making me work while a lot of my buddies were out playing golf. Well, it wasn't until later that I realized they did me a big favor."
A Baptist revival prompted his first career choice. "I remember the preacher scared me to death and said, 'The Lord will probably want you to do whatever it is you least likely want to do.' And I knew that I least likely wanted to be a preacher, especially since I couldn't talk, I was so shy." A year later, he joined the high school debate team to learn public speaking and fulfill his ministerial destiny. It was there that, armed with the state debate championship, he grew enamored with the idea of cross-examining witnesses in court and, he says, "before the eighth grade ended, I was out of the preaching business."
The first in his family to attend college, thanks to multiple student loans, Whitten excelled in moot court at the University of Oklahoma College of Law, and in 1978, two years before earning his J.D., he began clerking at Foliart, Mills & Niemeyer, where he assisted senior partner Earl Mills. The first time Whitten accompanied his mentor to court on a corporate fraud case, he was terrified. "When I got out of court every day, I'd go home and it felt like I'd been beat up," Whitten says. "Just sitting there with all your muscles tense all day long in a courtroom is actually a lot harder than I thought it would be."
After graduation, the firm hired Whitten full time and his nerves calmed as the lawsuits grew in size. "In the early days, we were trying sometimes a case a month," he says. "We were really rockin' and rollin' and I was putting in 80, 100 hours a week. … I never once looked at my watch and said, 'Man, I can't wait till the day is over and I can go home.' I enjoyed every minute of it."
For two decades, Whitten focused on civil defense work for major insurance companies and other corporations. In the early 1980s, he successfully defended the maker of a uranium hexafluoride cylinder that exploded near Gore, Okla., releasing a thick yellow cloud of toxic uranium hexafluoride that floated above busy Interstate 40. "We ultimately won on summary judgment and got the manufacturer completely out of the case without paying a dime," he says of the mass tort, explaining that the user of the cylinder knew the pressure limits of the cylinder, yet exceeded those limits. "That was really pretty exciting for a young kid from Seminole."
Years later, a fellow attorney asked him to serve as co-counsel in a case against the insurer of a pizza company that had denied payment on a claim involving a 16-year-old female employee who had been raped on the job. Whitten initially balked at the invitation. At the time, "I was going around lecturing insurance companies and helping my clients stay out of bad faith," he says. "But what this insurance company did just looked so wrong to me." He tried the case and the jury awarded the plaintiff $1.5 million.
After that, Whitten dabbled in similar plaintiff's cases and gradually drifted away from defense work. "Having done both sides, I really think it's an advantage to me because I know how insurance companies and corporations think," he says. "I know how to defend them, and so I think that gives me an advantage to know how to prosecute them."
The firm had morphed into Mills & Whitten by 1984 and, over the years, underwent several name changes. It is now Whitten Burrage. Years before the two attorneys forged their partnership in 2008, Whitten had appeared before Michael Burrage, then a federal judge for the Eastern, Northern and Western Districts of Oklahoma, on a bad faith insurance case. "I was very impressed as a judge with his work, with his legal ability, with his candor, and how he used common sense," Burrage says of his colleague. "He has an uncanny ability to communicate with jurors and judges and make something that is extremely complicated simple to understand. That's a trait very few people have, in any profession."
The trait was on display in Burgess v. Farmers Ins. Co., Inc., Whitten's most challenging case so far. In 2006, class action proceedings began on behalf of tens of thousands of homeowner policyholders who sued Farmers Insurance Co. for knowingly failing to pay benefits for general contractor services, thereby cheating the policyholders out of the full amount to which they were entitled for those services. The hefty $130 million verdict, ranked No. 17 in Verdict Search's "Top 100 Verdicts of 2008," likely set a precedent in subsequent class action suits involving similar general contractor breach-of-contract issues. "I don't know for sure if it did, but I haven't heard of anybody else cheating on this issue since then," Whitten says. "It was a case that nobody gave us a chance of succeeding on, and the other side pretty much just mocked us. It's rare that you don't even get a settlement offer, and to go from that to winning resoundingly—that doesn't happen very often."
Just as extraordinary is Whitten's commitment to spend much of his time and income on helping young people. The motivation for this work comes out of personal tragedy. "Brandon was born four days after I turned 21 and I had no experience with children at all," Whitten says. "I'd never really even held a baby or seen a baby." A single dad, Whitten grew increasingly proud of his son Brandon's good looks, athleticism, and achievements as homecoming king and football star. "By the time he got out of high school I thought my job was done," Whitten says.
One night near the end of his college and football career, Brandon wrecked his car, killing his girlfriend. He had been drinking and downing Valium pills, a practice that, he later conceded to his father, had started in the college locker room when a teammate challenged him to wash down one pill with a shot of whiskey from a flask. "Brandon evidently had a sweet spot, genetically, for Valiums, and so he got addicted to these things and he couldn't wean himself off them," Whitten says. For three years, Brandon struggled with his disease and the guilt over his girlfriend's death. In May 2002, he fatally crashed his motorcycle into a brick mailbox about 100 yards from the house where he lived with his dad. "And that was the beginning of the end for me, too, and my family," Whitten says. "I felt it was the end. I thought my life was over; and my family suffered, too. I felt like a walking dead man." 
Six months after Brandon's death, a friend talked Whitten into going with him to war-torn Uganda, where he met a nun who harbored refugee children and taught them vocational skills. "It became a passion of mine to help her," Whitten says. "It was therapy."
Determined to change the lives of young people like Brandon, in 2007 he co-founded the Whitten-Newman Foundation with the intention of funding a scholarship in his son's honor. Soon the organization was sponsoring the "ExplorOlogy" science program at the Sam Noble Oklahoma Museum of Natural History in Norman. Then came PROS FOR AFRICA, an international relief agency that partners with athletes, business professionals and doctors to take food, water, clothing, medicine and other necessities to poverty-stricken kids; and Pros 4 Vets, which aids veterans facing substance abuse and other challenges.
Most recently, Whitten launched FATE (Fighting Addiction Through Education) in an effort to steer Oklahoma youth away from drug use. "I just want to give these kids a chance to make good decisions," he says. "My son never knew that he could take a little blue pill and lose his willpower and become a slave. I never told him that, and I didn't believe it was possible. But I believe it now.
"I still practice law, and I practice law a lot, but my real passion now is charitable work," Whitten adds. "It's sort of an obsession with me. Helping people is what keeps me alive."
Search attorney feature articles