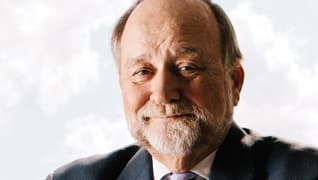 Photo by: Shane Bevel
The Kid Who Didn't Sit Down
Pat Cremin took a chance on law school after a career in journalism
Published in 2012 Oklahoma Super Lawyers magazine
By Nyssa Gesch on October 15, 2012
Pat Cremin, a Tulsa native, knew he'd regret it if he didn't try law. Now 67 and a partner at Hall Estill, Cremin says that making the switch was the right choice—and has no plans to retire anytime soon.
Q: What inspired you to choose law?
A: I was working in the war on poverty, one of [former President] Lyndon Johnson's programs to try to make things better for impoverished people, chiefly minorities, and I got totally frustrated 'cause we were unable to do anything. My brother is about six years older, he had the GI Bill and he said, "Let's go to law school. If you don't like it, you can quit." The first week I hated it, after that I loved it. Stayed in and have loved being a lawyer ever since. It's a great job.
Q: What did you hate about it the first week?
A: I had been kind of a manager in this poverty program and I could direct people to do things, and suddenly teachers were telling me what to do. … It felt like I was back at square one for the first week. But once I got used to it, I was all right.
Q: What was it about law that you enjoyed?
A: I loved the use of words. I was a journalism major, I liked to write, I wrote for magazines, newspapers, did a lot of writing, and when I got to law school and I realized that it was mostly the use of words, it changed everything. I loved it.
Q: Had law entered your mind before then?
A: I knew a lot of lawyers and I was around them a lot. I thought that their ability to communicate was exceptional, and they had always had a place in my head, but I remember the day I decided to go. I was working in my poverty war office and this fella who was kind of our accountant for the program said, "Cremin, are you going to law school or aren't you?" I said, "God, Bruce, when I graduate, I'm going to be 29 years old." He said, "Well, how old will you be on that day if you didn't go to law school?" I said, "I'll be 29!" He said, "But you won't have a law degree." And I said, "That's it, I'm going." I thought that was an amazing, logical, compelling comment.
Q: How did you choose your practice area?
A: This is a really curious story. By the time you hang up you're gonna say, "What a storyteller! This guy just has stories."
My wife was the employee relations manager for a company called The Williams Companies [which was a client of Hall Estill] and she said, "Look, I think you'd really do well at Hall Estill." I had had a promise of a job at Hall Estill from Walter Hall so I came over here and I started working, and he made me do mainly transactional law, [matters in] Pakistan, Alaska, nonemployment stuff. The guy who was doing the employment stuff said, "Look, Cremin, I'm doing [employment law], and working with your wife; it makes a lot more sense for you to do it and travel with your wife." So I started doing that kind of work—mainly in those days it was discrimination and some pure labor—and it was kind of cool because I got to talk to my wife and charge Williams. I have said from the day she retired from that job that now I have to talk to her for free.
I ended up getting [to Hall Estill] in an odd manner. We were having the semifinal round of moot court and it was on a Sunday morning at the courthouse. Three senior lawyers in Tulsa—Walter Hall; Rooney McInerney, who had been chief justice of the Oklahoma Supreme Court and had just left the court; and a guy named John Arrington—[were involved and we were told:] "Now these guys haven't read your briefs, haven't had time; they're very busy lawyers, so you may need to take a little more time with them." My partner in that effort was a complete goofball and he didn't even know which side we were representing for the argument. … I got up to do my argument and Walter Hall says, "Counsel, I've read your brief. And I was just shocked. It's absolutely without merit. So if you don't have anything else to say than your brief, you may as well sit down and let me get home sooner to my family on a Sunday morning." I thought, "Well, he's not going to bluff me into sitting down," so I said, "Well, perhaps you would be interested in what legal scholars have said about"—I even remember what the topic was, commonality under rule 23, class action rules—and started off on a string of cases and law journal articles and finished. They came back and we lost. Walter Hall said, "Well, you lost, but, Mr. Cremin, I have to tell ya, I've been doing this for 10 or 15 years and every time I say that, the kid sits down; you're the first one that didn't sit down, so call me and you've got a job."  
Q: Was there anything that you transferred over to your practice from your days in the war on poverty program?
A: A great deal. It helped me help employers understand issues that, when I was trying to do it from the outside working in the poverty war trying to get employers to open up hiring practices—I mean, this is the '60s I'm talking about—they were sort of resistant. But when they hire you at several hundred dollars an hour, they're going to listen to you. And I think it's been a very rewarding career. Not all of it is defending lawsuits; a great deal of it is counseling employers on how they deal with problem employees and figure out ways to work with them so things work better. That's about half of my practice. Nowadays, it's really hard to get trials, you know. And in the old days it wasn't.
Q: Do you have a most memorable case?
A: I had a case where a woman alleged that her boss fried up a donut—she worked in a donut house—in the shape of, this is her words, "a male penis," and made her eat it, and when she objected, he fired her. [Her boss was the store manager and I represented him and the company that owned the donut shop.] He was Iranian and it was during the period of time that the Ayatollah had taken Americans hostage, so of course he was not very well-received by people, and he was terrified that he was going to get, he believed, deported, just because he was Iranian. He was scared to death. [The plaintiff] had an eyewitness, and the eyewitness claimed she saw the entire event, and testified in deposition and then again at the trial. Well, believe it or not, the eyewitness and the plaintiff couldn't get their stories together. My first question to the plaintiff was, "How long was this phallic-shaped donut?" The judge said, "All right, approach the bench." I approach and he said, "We're not going to be salacious, are we?" This is a true story; I'm not making this up. I said, "Well, your honor, I'm going to establish that she and her eyewitness can't get the length of that phallus even close to one another." He said, "You're not going to win this case by proving that a woman can't tell the length of a phallus." I thought I was gonna choke. But he let me go ahead.
I went into ultimate detail. [The plaintiff claimed it was] a bread donut, fried, that it had [testicles]. She had drawn a picture of it and everything, and even had it cream-filled. Her eyewitness had it a cake donut, half as long, no testicles—major problems. Plus, they both swore that the event occurred on Halloween, because the sprinkles on the testicles were black and orange for Halloween and that was the only day they had them. They argued and insisted, and I made a big deal, "How can you possibly be certain?" When they finally said, "There's no way we're wrong," I then handed the eyewitness her timecard for that week and she didn't work on Halloween.
Needless to say, the judge tossed it out at the end of the plaintiff's case and even told the two young ladies he never wanted them back in his courtroom because he despised liars.
The judge re-enacted that case around the country, talking about sexual harassment cases and how you really have to hear the evidence. It demonstrated the importance of good discovery that you can then use at trial by showing that eyewitnesses do not necessarily really know what they're talking about. I was invited, several times, to have my group put on the examination of the plaintiff and her eyewitness at things like the Southwest Legal Foundation labor conference. … In many ways, that was one of my very most interesting cases because there was no way the court would throw it out based on summary judgment because she was saying it happened and he was saying it didn't happen. The lawyer on the other side said, "I'm not offering any kind of settlement money; nobody's gonna rule in favor of your Iranian client," which I thought was pretty racist. But, guess what, they did.
Q: What have been the biggest changes in your practice in recent years?
A: Well, for me, the No. 1 change has been the impact of insurance on employment law. There were times in my earlier years where a client would say, "I don't care what it costs; we have to win this 'cause we have to make a point." I remember I had one client who got sued five times in about a two-year period, and we tried and won every one of them because they wanted to prove to their employees that they would fight. That's much different now. Not that insurance companies are bad, but their guiding issue is what is the most cost-effective way to resolve the case, and they're not super interested in making a point for a particular workforce. They will if it's really important to a company, but the net effect of that is cases are settled more often than they used to. Now, a lot of what you do in a case is directed toward getting a good, legitimate, solid, unshakeable summary judgment motion filed in the court before you go to the mediation, which every court now makes you go to. The mediation often is more effective after you've filed a quality motion for summary judgment, so in effect, court-ordered mediation has driven us to work harder on quality motions for summary judgment. The concern on the part of the ex-employee or employee is: If I don't take this settlement offer, I might get thrown out of court, I may not even get my day in court. The concern for both sides is: Once it goes to a jury, you can't predict it. Those lawyers who tell me they can predict what a jury's gonna do, they're a heck of a lot smarter than I am.
The second biggest change is: When I started the people doing what was in those days generally referred to as "a personnel function" probably had never met a lawyer. Unless they had a relative who was one or they had to maybe get divorced. Nowadays, the people in the HR function, many of them are lawyers, they've certainly taken multiple courses and attended a substantial number of employment law seminars on legal issues of employment. The kinds of questions I was asked in 1976 are radically different than the kind of questions I'm asked in 2012. Radically different. They were so naïve in their questions [back then]. They've gotten much more sophisticated and I don't say that as a bad thing, I say that as a good thing; they much more understand the issues they have to deal with, and they are much better at dealing with issues of race and gender. It's not perfect, but it's much, much better than when I started.
Q: What do you do in your time off?
A: I love to cook. I always say my wife hasn't fixed dinner since 1984. And I play golf, which I never thought I would do—I always made fun of people that played golf—but I find it's a very relaxing thing to do. … If you had a particularly difficult time with a particularly unpleasant opponent, it sure is nice to get out there in the fresh air and walk and forget about it. 'Cause one of the real negatives about being a lawyer is the opponent who thinks the way to deal with cases is to be a complete jerk to the other side. I don't think that's the right way to do it.
Q: Do you run into that often?
A: Mhm. Everybody always says, "Well, it's just the younger lawyers." No, it's not.
You don't have to treat people poorly. There's no reason to belittle someone who is suing your client—they have a right to sue your client, and they have a right to tell their story and you tell your story. I just don't care for that Rambo law practice. Maybe it's because I'm small and grew up in a family of seven. [Laughs] You had to learn to get along. With six siblings, you had to learn how to deal with people. And when you were one of the smallest ones, you weren't going to win by being tough.
You have to treat your opponent, the litigants, everybody, decently, give them their dignity. And if you do that, practicing law can be a wonderful career. On the other hand, if you belittle people, treat them as if they're substandard, give them constant impediments, I think it'd be a crappy career—I'm glad I didn't learn it that way. And I'm really glad I became a lawyer.
Search attorney feature articles
Helpful links
Other featured articles
Aida Macedo's search for the perfect practice
Walking through his favorite Buffalo haunts
Greg Westfall repurposes photos into bold pops of color
View more articles featuring lawyers
Find top lawyers with confidence
The Super Lawyers patented selection process is peer influenced and research driven, selecting the top 5% of attorneys to the Super Lawyers lists each year. We know lawyers and make it easy to connect with them.
Find a lawyer near you