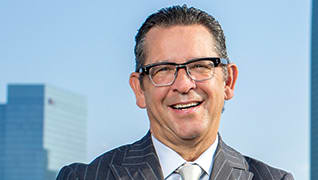 Photo by: Shane Bevel
The Power of Positive Thinking
Joe White's personality can fill up a courtroom
Published in 2021 Oklahoma Super Lawyers magazine
By Nancy Henderson on October 21, 2021
About a decade ago, Joe E. White Jr. was rising to deliver his closing argument against bat maker Louisville Slugger on behalf of a pitcher smacked so hard by a batted ball that it shattered the front of his face. 
Spotting his dad—Dr. Joe White, a well-known educator, football coach, and president of Carl Albert State College—in the front row of the courtroom, he instantly knew what to say.
He confessed to the jurors that, in the second grade, he developed the habit of picking up half-smoked cigarettes off the ground. "I called them snipes," White explained. "And if I had me a book of matches, I'd relight one and smoke a little bit more of it until I got it down to the butt end, and then I'd step on it and go on about my business." 
Emboldened, he started acquainting his friends—first the school board president's son, then his buddies at the community swimming pool—with the fine art of snipe-smoking. One day, White was hurrying through the family living room when he spotted the gold box of cigarettes on the coffee table. "I thought Dad had gone to work, so I reach in there and get me a handful of those Winston 100s, because I'm going to hotfoot it down to the swimming hole, and to heck with smoking those snipes. Just as I was opening the door to go outside, it felt as though the heavy hand of God landed on my right shoulder. And I spin and look up, and it's my dad.
"'J.J., you got anything in that right hand?'
"I looked him square in the eye and said, 'No, sir.'
"And he reaches down, unfolds my right hand, and out fall about eight Winston 100s," White told the jury. "He took me from the front door into the laundry room, got the paddle out that he used as a high school principal, and literally beat the lying out of me. And, from second grade to today, I've never lied to my dad. Today, I need you to be that heavy hand upon Louisville Slugger's shoulder."
The jury returned a $1 million verdict in favor of his client.
Now senior partner at White & Weddle in Oklahoma City, White, 59, no longer smokes—"99 percent of the time," he admits—but the youthful mischievousness lingers. He prefers to call it an ornery streak. Like his father, he is 6 feet, 3 inches tall, is an impeccable dresser and can make a perfect stranger feel like the most important person in the room. He doesn't meet many of those, however, as he seems to know everyone in Oklahoma in a Six-Degrees-of-Kevin-Bacon way.
While personal injury cases comprise about half his work, White is first and foremost a civil plaintiff and criminal defense litigator who has garnered numerous multimillion-dollar verdicts and settlements against insurance companies, nursing homes, and dozens of other defendants. He is further considered an authority on education law.
"He is the most effective cross-examiner I have seen, and I have seen many," says his law partner Charles Weddle. "I have seen him cross-examine children, high-priced experts, company executives, judges, district attorneys and FBI agents. No matter the type of witness, Joe seems to stay in complete control."
A lifelong Oklahoman except for a brief stint in Roswell, New Mexico, White grew up in Elk City, Sentinel, and Poteau. He spent Saturday mornings shoveling down bowls of cereal before playing football in the front yard with his brother, King.
His father, Joe Sr., known for wearing red, white and blue patent leather shoes, served as president of Carl Albert State College for 33 years. "He was somebody I loved dearly, even when I was getting every whooping he gave—which I needed desperately," White says. "It shaped me immensely."
White had no idea what a big deal his father was until the VIPs of Elk City threw the elder Joe a going-away party at a hotel with an indoor pool. "It was something like I'd never seen," he remembers. "They had speakers and they were really throwing it on thick for Pops. I figured out then, 'You know, he is something.'"
Following his sophomore year at then-Central State University in 1982, White sustained an injury that would require surgery if he intended to continue playing football. "But after we won the national championship, I figured this was as good a time as any to get out," he says. White instead turned his sights to politics, co-creating a Young Democrats Club at the college. Before long, he was running for president of the statewide organization. With only 12 voting members at Central compared to the incumbent's 50 at the University of Oklahoma, however, the odds were stacked against him. 
But then he got a taste of his father's influence. At the YDC convention, White watched as two buses from Carl Albert rolled up with about 75 Young Democrats, ready to vote for him at his dad's behest. 
White won, but never ran for another political office. Instead, he clerked for longtime state Sen. Gene Stipe while earning his J.D. at OU's College of Law in 1988. The clerkship fueled his desire to be a trial attorney, as did a trial technique class; he still has the video of himself arguing a mock case. "In my mind, I thought I was F. Lee Bailey," White jokes. "I was a far cry from that."
His first boss, attorney Carl Hughes, helped tone down that bravado while teaching him the art of how to cross-examine a witness, try a criminal case and, after a judge sustained 25 consecutive hearsay objections from the opposing attorney in White's first evidentiary hearing, circumvent such rules. "He taught me how to ask appropriate questions, which is something I'm still learning to this day," White says.
In 1995, White ventured out with a colleague, but the firm grew too quickly for his liking. So he started over in 1997, hiring Weddle, then a first-year law student whose mom White had helped with a legal matter. He refers to Weddle as "the Joe Whisperer," the one who can calm his high-strung tendencies. The firm's other attorney is White's wife, Kate. "I don't do anything without Charles and Kate," says White. "Without them, I'm not worth two nickels."
White had five children with his previous partner of 31 years, Kim, who collapsed in their kitchen late one night in 2016. Despite White's efforts to save her using CPR, she died of sepsis. "At 2:30 in the morning," he says, "I had to break the news to my kids that they lost their mom."
Kate, who had worked in Gov. Brad Henry's office and aided the First Lady Kim Henry in supporting Oklahoma educators, joined the firm in 2012 to help with its caseload for the Oklahoma Education Association (see sidebar). She and White started dating a few years after Kim's passing, and they exchanged vows in their backyard last October during the COVID-19 shutdown—the same day they received a $13 million settlement for Cameron Public Schools from an insurance company that refused to pay after an electrical fire.
"When Joe gets on his feet in the courtroom, you can hear a pin drop," Kate says, adding: "His dad was amazing, and he had such a charisma. He was just so positive, and Joe is that person. When you have it, you have it."  
Asked about his most memorable cases, White rattles them off with such speed that they seem to blur into one: a victorious three-week hip-implant case made even more difficult by the volume of witnesses and documents; the unsuccessful televised defense of a district court judge facing removal from the bench; a negligence case in which a patient with advanced Alzheimer's sustained spiral fractures to both wrists at a nursing home, resulting in a $15 million verdict in 2014. 
Another involved a hospital cafeteria worker injured in a head-on automobile collision, resulting in a partial knee replacement. White sued the insurance company that refused to pay her $10,000 policy. "And I'll be dadgum if the jury didn't give us $4.5 million in actual damages and $4.5 million in punitive damages," he says. "To this good day, they still bring me about 12 sweet potato pies on Thanksgiving and Christmas."
Tim Martin, a trial attorney at Durbin, Larimore & Bialick in Oklahoma City, has faced off against White in personal injury and insurance bad-faith cases for 30 years. "Joe has a presence that is impossible to miss," Martin says. "He looks and acts like a trial lawyer who has an air of confidence without being arrogant. He is a warrior."
Recently, White accepted an invitation from Carl Albert State College Foundation to become a trustee. "Of course I'm going to participate in what my father assisted in creating, because the purpose of that foundation is to raise money to help these kids that need an education that can't afford it," he says. "Maybe we pass along those ideals that Dad passed along to me, that laid the groundwork for the person I am."
For example: On the mirror, where his father would see it every morning when he shaved, the elder White had taped a quote attributed to motivational author Norman Vincent Peale: Anything can be a positive.
"If there's a motto I've got in my life, it is what Dad instilled in me, and that is: the power of positive thinking," White says. "If at all possible, try to find the good in everything, whether you're talking to a jury or going to the church and watching your pastor, even through death and the darkest of dark days."
---
Advocating for the Educators 
When the trial for an Elk City schoolteacher and Oklahoma Education Association member charged with participating in lewd acts with a student resulted in a hung jury, Joe E. White Jr. contacted the OEA to discuss the possibility of legal reimbursement for his client. Little did he know that his conversation with Richard Wilkinson, then-associate general counsel for the organization, would lead to a long partnership and, in 1996, the creation of the OEA's Personal Legal Services Program. 
The program, the only one of its kind in the nation, provides free services for wills, uncontested divorces and misdemeanor criminal charges, along with reduced-rate representation for felonies, personal injury cases and other matters. White & Weddle manages the program, and has handled thousands of civil and criminal lawsuits—and other matters—for OEA members.
"These teachers are under so much pressure today," White says. "They're getting falsely accused daily [because of] money grabs by parents trying to sue them for all kinds of 
crazy stuff."
Says Wilkinson, now OEA's general counsel, "Joe has not only been an excellent advocate for our members, but also a great ambassador for OEA and our legal services. He has achieved outcomes for our members in many cases that would likely not have occurred without his representation."
One such matter involved a janitor accused of an undisclosed crime committed at work. As soon as the jury began its deliberation, White stepped outside to smoke. "Before I could get that cigarette lit, at the base of the stairs at the Cleveland County Courthouse, the bailiff comes out and says, 'We got a verdict,'" he says. 
"That's how quick it was."
For the not-guilty decision and the work that went into it, Wilkinson says, "Joe did not charge the support employee anything, despite a low six-figure bill. He has done that several times, and those gestures go unnoticed most of the time."
Search attorney feature articles