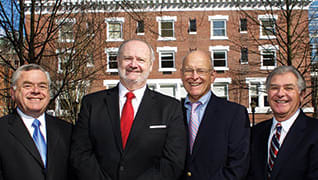 Photo by: Craig Mitchelldyer
Boutique Buddies
Four of Oregon's top attorneys, from different practice areas and boutique firms, have been getting together for decades
Published in 2015 Oregon Super Lawyers magazine
By Nancy Rommelmann on June 29, 2015
The lobby of the Arlington Club, a private Portland organization founded in 1867, is both grand and subdued, and nearly silent on a late Monday morning in early March. On the third floor, however, laughter fills the Field & Stream Room. That laughter continues almost without cease for the next 90 minutes.
"I'm a water guy," says Ward Greene, after the waiter asks what he'll drink.
"That's because it's free," says David Markowitz.
Attorneys Greene and Markowitz, along with Ed Harnden and Albert Menashe, have gotten together several times a year since 1983. Sometimes they meet for dinner; sometimes for overnight trips; sometimes a Timbers game, where Markowitz's firm, Markowitz Herbold, has season tickets. But often it is lunch at the Arlington, where Harnden and Menashe are dues-paying members and where, no one in the group would hesitate to point out, Greene is not.
"I am notoriously cheap," Greene admits with a smile.
"I've got a Ward notoriously cheap story," says Markowitz. It's a story that involves the men traveling to Canada, where, on the cab ride to the hotel, Greene showed off a wad of Canadian $1 bills he purchased in the States at a good exchange rate. "When we got out of the cab, Ward said, 'Let me do the tipping.' He was so pleased because he was able to tip a dollar and it only cost him 75 cents. I said, 'You know, Ward, they probably know it's only 75 cents.'"
The attorneys rib one another with a familiarity born of 30-plus years spent learning the ropes and riding out hard times. The group started when Greene and Menashe first talked by the elevator of the downtown Portland office building in which they launched their respective firms—today known as Greene & Markley and Gevurtz Menashe. Markowitz, who practices business litigation (Greene and Menashe practice commercial and bankruptcy law, and family law, respectively), was quickly invited into the conversation.
"And I joined because I do employment work," says Harnden, managing partner at Barran Leibman, "and they wanted to know if they could pay their secretaries in Canadian dollars."
The laughter pings off the walls of the dining room, which is decorated with stuffed mallards and fishing rods. If today's lunch is not as critical as some early ones, when the information exchanged could have a direct impact on the day-to-day lives of the men's respective firms, the intimacy developed over the years is very much on display.
"These are the only guys I ever talk to about what I earn, what my partners earn," says Greene.
Markowitz nods. "Same here."
"Whether it's compensation or things you're doing outside, or support," says Harnden, "it's good to have three people to whom you can say whatever you need to say and not worry that it's going to hit the street."
"Big firms have a battalion of people doing that stuff. None of us had that," says Menashe. "We were all small firms at the time, and we all trusted each other. We shared information openly and never divulged it to anyone."
Like all small business owners, the four attorneys had to make many moving parts work in sync. How much do you compensate people? What kind of benefits do you offer? How fast do you want to grow? What are the requirements for partnership?
"And there's no book you can go to, to figure out the answers to all of those questions," says Markowitz.
"I think it worked because these three people—and hopefully me—are pretty good at their craft," says Harnden. "You're dealing with other people who you trust to have made good decisions. If you can pick up some of that information, it works pretty well."
"What originally attracted the three of us, and then Ed, was we all thought they were pretty good guys and pretty smart. Plus, we had practices that didn't compete with each other," says Menashe. "I honestly believe to some degree that the union of the four of us, supporting each other, promoting each other, and helping each other, has helped all of us be even better."
"Absolutely," says Markowitz.
"These guys made me a better lawyer," Menashe continues. "Just learning the right way to do stuff from them. The byproduct, which I don't think any of us thought about on day one, was we became friends."
Lunch is ordered: crab salads and lingcod. Though Menashe is an oenophile, nobody drinks anything stronger than iced tea; it's a workday. They talk about current cases. Markowitz is representing the state of Oregon against Oracle Inc., one of the entities in the Cover Oregon health care debacle. Greene was recently quoted in the Portland Business Journal as saying that legal issues on the upswing include "activity related to the marijuana industry … and same-sex divorces in the future." The attorneys are all busy, engaged, most billing as many hours and bringing in as many clients as ever. Still, the lunches are not, and never have been, for the business of law, but, as Markowitz says, "the business of business."
"For us to come in as two- and three-lawyer law firms and grow to 15- to 25-lawyer law firms, and take that market share away from the big boys—that was what we were trying to figure out how to do," he says. "And we're four for four. All of us are very successful boutique firms at the top of our particular area."
Growing essentially in tandem has been tremendously rewarding. And when, in Menashe's words, "we stub our toe a few times," the opportunity to discuss better outcomes with people outside their own firms has been invaluable.
"The good news is," says Markowitz, "that hasn't happened as much as you'd think."
"Although in fairness," says Greene, "we're not all married to the same people we were married to when we started."
"Good point," says Markowitz. "Three of us are on second wives."
He seems to want to say something more.
"Please," Greene says, and the others break into laughter.
"He's on his second if you don't count the two mulligans," says Markowitz.
"The life stuff surrounding the firm, too," says Harnden, who is married to his first wife. "It's such a big part of all of our lives."
"Over the years, we've grown and shrunk," says Menashe. "I think for a time Ward's firm was the largest, and then David's got bigger, and then ours got bigger."
"Opened offices, closed offices," says Markowitz. "I think one of the most challenging issues we've dealt with over the years is how to bring new people into the partnership. We were all founders, and we took the risk and we had the ideas. And then, 10 or 15 years later when everything is stabilized, people who have been well paid to be associates in the firm now want to be owners. And if you don't make them owners, they disappear."
It is not, they stress, just about money and equity; it's about the culture of the firm and who they want to help steer where the firm goes.
"As you grow, it's hard to keep that happy culture," says Menashe.
Yet they manage. Greene's legal secretary has been with him 34 years; Markowitz's 35, Harnden's 37. Menashe's paralegal has been with him 31 years, and his secretary of 27 years retired today.
The cohesiveness of the group extends beyond the professional to community involvement. Together they support dozens of civic, arts, education and environmental organizations. Harnden especially devotes his time serving on the board of directors or as a member of a dozen groups, from the Campaign for Equal Justice to the Portland Business Alliance to Camp UKANDU, a program for kids living with cancer.
"This guy's the Energizer Bunny," says Menashe, of Harnden's endemic involvement. "He shows up everywhere, for everything."
"It's almost creepy," says Markowitz.
Harnden smiles. "We pretty much help everyone else in their endeavors," he says. "If Dave called and said, 'I need X dollars for some function,' I wouldn't have to second-guess."
"Sometimes we can't compete at buying a table at an event, like a big firm can, so the four of us will team up and share things," says Menashe. After a beat, he adds, "There are downsides to it … "
"Why do I know this is going to affect me?" asks Greene.
"Because Ward wants to pay in Canadian dollars!" Menashe says.
And lunch is served.
The men are closing in on 70 years old. They may carry more pounds, and less hair, than when they met. There's a sore leg, a tennis elbow. None of these issues negatively affects their performance; but as they head into what will likely be the last decade of their careers, today's lunch topic veers toward the inevitable.
"The exit's very difficult," says Harnden.
It's not just the exits that concern them. What is going to happen to the firms when they're gone? And what will their relationships to the firms be then? How do the firms envision the next 30 years when the founders may play a part in only the next five?
"I imagine in 15 years, there may be one of us still practicing, but probably not more than one," says Markowitz.
"Who's that?" asks Harnden.
"Ward will be the last to give it up," Markowitz answers.
"I know all you guys still work very hard," says Greene. "What is remarkable is that I suspect we all still bill more hours than other lawyers in our firms."
"Not me, I'm reducing hours," says Markowitz. "This is the first year I've done a 20 percent cut."
"With all due respect, do you really believe you'll be able to do that?" asks Greene.
Markowitz pauses. "In the first couple of months I have not been very successful at it."
"I would think not," says Greene.
"How do you take those jets that propelled you to where you are and say, 'OK, I'm happy; I just want to level off'?" asks Menashe. "[That's] the thing I've been struggling with. … because now you have a reputation as being one of the top guys at what you do. You don't want to be less than 100 percent efficient."
"You have to move somewhere in that direction, because you don't want to be 80 years old and drop dead sitting at your desk," says Harnden. "The hard part is, those [big] cases come by; you say you're working toward that 80 percent, but you take the case because you've always taken those cases."
"There's no way to say no," says Markowitz. "You get a dozen great cases in your career. To have one at the end of the career … " His nod seems to indicate that the Oracle case is a sweet gift to round out an already sweet career, including State of Oregon v. Philip Morris, et al., in which Markowitz helped secure an $80 million payout from Big Tobacco to Oregon under the 1998 Tobacco Master Settlement Agreement. 
"The size of a case is perhaps less important when you are selecting one that is the highlight of a trial career," says Harnden, adding that he was recently honored to represent a "legendary trial attorney who was challenged by the bar association for his handling of a tremendously complex business and securities transaction." It was a case that required Harnden to use, he says, "all of the tools that trial lawyers accumulate over the years, including dealing with the obvious emotions that flowed from the indignation at the charges; locating expert witnesses to establish the national norm for the handling of the underlying type of case; cross-examining multiple attorney witnesses; and then following through with a succinct argument." The Oregon Supreme Court ultimately decided the trial in his client's favor on all aspects of the case.
Client confidentiality prevents Menashe from sharing the details of his career-defining family law cases. As the former president of the Multnomah and Oregon State Bar Associations, a former member of the Governor's Task Force on Family Law, a founding member of both the Multnomah Bar's Mentor-Mentee program, and the Family Law Section of the Oregon State Bar, Menashe says he hopes he's "spent my career promoting the practice of family law and developing great lawyers to represent families in Oregon."
Greene was one of the first lawyers in Portland to successfully reorganize a local company under Chapter 11. That experience led, he says, "to the realization that small businesses and individuals needed specialized help when they were in financial distress." Recently, he sued a large, multinational company after it confiscated the assets of a client. The jury awarded the full amount of his client's damages, plus $3.5 million in punitive damages.
"The best barometer on whether to take an assignment or a case is your gut," says Menashe. "Sometimes you sit there as a new lawyer, somebody comes in, you need business, you've got student loans, but you know it's a case that's going to compromise your ethics and your professionalism."
"Or just ruin your time," says Markowitz.
"That was one of the things we talked about in our earliest meetings," says Menashe. "We always said making a good living becomes a byproduct of being good at what you do. If you set making money as your goal, you can have some short-term hits, but you're going to crash and burn. Just put your nose to the grindstone and try to be the best you can be."
"When I get a call from a new client, I'm still excited," says Greene. "I say, 'What mischief have people managed to create?'"
The talk turns to extracurricular activities. Harnden mentions the at-risk kids he tutors, and Greene adds that the 501(c)(3) he founded, Senior Advocates for Generational Equity, recently received a $40,000 grant from the Meyer Memorial Trust. There are congratulations all around.
"I think that's the natural evolution of things," says Menashe. "When we first started, we borrowed so much money to start our law firm, our motto was: Failure is not an option. We work to just keep afloat. And then, once you're economically independent, you want the respect of your peers. And then you get to be our age and what you really want is to figure out how to help other people."
"We started out as ambitious youngsters, a lot of ideas were untested," says Markowitz. "Now we're all looking at end-of-the-career issues, and how we are going to figure out how to pass it to the next generation."
The lunch plates are cleared. There is not even the consideration of coffee or dessert.
"We've been very lucky, gentlemen," says Greene, as the men walk down the hall.
"And it's been fun. I mean, it hasn't really been work," says Menashe.
"And you cannot discount the luck factor," says Markowitz.
"Plenty of that," says Greene.
"It's all that luck that you get at 2 in the morning on the weekend, when you're looking at those briefs," says Markowitz.
Greene pushes the down button for the elevator. The men continue to talk as they wait for it.
Search attorney feature articles