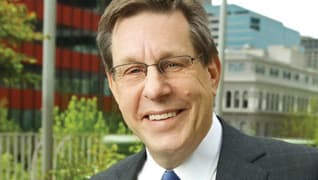 Photo by: Craig Mitchelldyer
Hometown Hero
How Robert Weaver helped free Central Oregon from the clutches of a red-robed cult
Published in 2012 Oregon Super Lawyers magazine
By Susan G. Hauser on July 10, 2012
It was October 1985, and Bhagwan Shree Rajneesh had just been arrested in Charlotte, N.C., as he tried to flee the country in a rented Learjet. Robert Weaver, chief of the criminal division of the U.S. attorney's office for Oregon, was about to see two years of relentless investigative work come to fruition with the capture of the cult guru and some of his henchmen, who had been wreaking havoc in Central Oregon.
But there was no time to exhale. During his five-week stay in Charlotte, Weaver changed hotels frequently as a safety precaution. He had uncovered startling details about plots hatched by the red-robed members of the cult, including indications that a plan to assassinate Weaver's boss, U.S. Attorney Charles Turner, had come frighteningly close to succeeding.
"To be truthful, we were scared," says Weaver, now in private practice at Garvey Schubert Barer in Portland.
Starting in 1981, about 2,000 Rajneeshees, having met with resistance from police in their native India, settled on a huge ranch near the town of Antelope, determined to make Central Oregon their world headquarters. The Rajneeshees bused in homeless people to vote on matters including a successful change of the town's name to Rajneeshpuram. When local authorities resisted the cult's expansion plans, its leaders responded with intimidation, biological terrorism and death plots. With the feds closing in by 1985, some of the organizers tried to flee to Bermuda via North Carolina, where they were caught. They were returned to Oregon, where the Bhagwan was deported; the commune fell apart.   
Former Oregon Court of Appeals Judge Ellen Rosenblum, then an assistant U.S. attorney general, recalls the days when Weaver was chief federal prosecutor in the Rajneesh case. "I tell you, that was a scene and a half," she says. "We worked in the [now-called Gus J.] Solomon Courthouse, and the Rajneesh hotel was just a few blocks away. Our courthouse was full of Rajneeshees constantly because there were so many legal matters. I don't want to say single-handedly, because a lot of people took part, but Bob was very instrumental in that era coming to a close. It was a very sorry era that needed to end."
Weaver laughs when he recalls how his former colleagues at the Department of Justice wrote him off when he moved to Oregon in 1979 to work for U.S. Attorney Sid Lezak. "A lot of people at Main Justice wanted to advance their careers by going to a U.S. attorney's office, and they wanted to go to places like Newark or Miami, where the action was. When I told them I had been hired by the U.S. attorney's office in Portland, Oregon, they felt sorry for me."
Judge Edward Leavy, who heard the cases against the Rajneeshees, goes so far as to call Weaver a hero. "The Rajneeshees, from my perspective, would have gotten out of the country without prosecution had it not been for Weaver. He may be too modest to tell you that, but if Weaver hadn't been decisive, it would have been too late. In my mind he was a hero."
Judge Leavy holds a special place in Weaver's heart for two reasons: No. 1, he's a Notre Dame football fan and a fellow alumnus of Notre Dame Law School; No. 2, Leavy is the friend and mentor who gave Weaver the advice that inspired his move to private practice in 1987, a decision from which he never looked back.
"As great as the experience was that I had in the U.S. attorney's office," says Weaver, "I felt that I was going around the same track for the third time. I spoke with Ed Leavy about it. He has this way of cutting right to it. He asked me, 'Do you think you're a better lawyer today than you were a year ago?' And I think my answer was, 'I'm not so sure now.' And he said, 'As a lawyer, you either get better or you get worse. You can't just rest on your laurels and go around being the guy who got the Bhagwan.'"
"I believe this," affirms Leavy. "You either get better or you diminish in your skill. If you get into a position where you get so routine, you can destroy your skills if you don't really strive. I've taken it to heart myself."
So did Weaver. After he discovered a firm—Garvey Schubert Barer—that supported his resistance to being pigeon-holed in one practice area, he stepped over to the other side. Since then, he's built a sterling reputation in the fields of white-collar criminal defense, complex securities fraud, and business and tax litigation.
"One thing that I think is really great is that he can see the forest through the trees," says Kathleen Bricken, his colleague at Garvey Schubert Barer (and another Notre Dame Law School alum). "He's able to take complex matters and reduce them to their essence, which I think is the real challenge."
Bricken says Weaver is more interested in doing his part than in bringing attention to himself. "He works in teams, and I think that's great for everyone here because they can see how the sausage is made, so to speak," she says. "He can act as a mentor to lots of people. They're lucky if they're able to go along with him when he's actually in court or meeting with prospective new clients."
Says Multnomah County Circuit Judge Henry Kantor, "He had an incredible reputation as a federal prosecutor and a civil trial lawyer, always considered to be at the top of his field. I got a chance to see it for myself as a judge when he was defending Taco Bell in a very large and complex wage-claim class action. It was a very difficult case to manage through five years of litigation and three trials. About halfway through the third trial, the case settled.
"During that time I saw a lawyer with the finest skills, managing an extremely complex case with professionalism, with good humor all the way through, being fair to his opponents, working cooperatively with the court. To me, he's the best and the brightest."
Along the way, Weaver became known as the go-to guy for public figures or celebrities in a bind. When figure skater Tonya Harding was being scrutinized after her rival, Nancy Kerrigan, suffered a hit-and-run knee bashing in 1994, Harding hired Weaver. His longtime friend Ron Hoevet was retained by the skater's ex-husband, Jeff Gillooly.
But Hoevet says the bizarre case never hurt his friendship with Weaver. "While the public thought that we were at war with each other, what they didn't know was that Bob and I were very good friends behind the scenes. So while we may have been fighting in the public arena, defending our respective clients, we remained friends."
With reporters from around the world covering the Harding circus, Weaver found himself the subject of intense media attention as well. "Initially, the first 24 hours, it was kind of exciting," he recalls. "Then that immediately wears away and makes it very hard to do your job."
He remembers the media deluge as never-ending. "I would come home late at night and my 8-year-old would be talking to Katie Couric on the phone, who was trying to get to me to get to Tonya to get an interview. That happened all the time.
"So I've not sought those cases. Sometimes I've been introduced as a lawyer who does high-profile cases. I hate that!"
Asked about his favorite cases, it's not the celebrity names that trip off his tongue. He cites a class action case that he worked on pro bono with Disability Rights Oregon in 2000. The case, filed under the Americans with Disabilities Act, was on behalf of hundreds of Medicaid-eligible, developmentally disabled young adults who at the time were receiving no services from the state of Oregon. In fact, says Weaver, Oregon ranked 48th in the nation in the delivery of services to this population.
The toll on the parents was what affected Weaver: seeing how exhausted and defeated they looked after receiving no assistance and no breaks from their full-time caretaking. But at a 10-year anniversary party celebrating the $350 million settlement, Weaver was gratified to see the changes in those same people and the lease on life that services paid for by the settlement had brought to them and their children.
Another pro bono case took Weaver in 2005 to Guantanamo Bay, where he began representing two Syrians who had been captured in Afghanistan in 2001 by U.S. forces. With no evidence of any crime, both men were cleared for release shortly after Barack Obama became president. Weaver helped relocate one man to Germany, where he and his family now live.
In 2009, Weaver was considered the leading candidate for a U.S. District Court judgeship, but the appointment slipped through his fingers. There was some talk that Weaver might have lost the appointment because of a controversy that surrounded his vigorous defense of Portland Mayor Sam Adams against charges that the mayor had sex with a young man when he was a minor.
"I thought Bob did a great job," says Hoevet. "Of course, he got the most significant piece of evidence, which was an affidavit from Beau Breedlove [the young man] that there had been no sexual contact between him and the mayor before he turned 18. That's why the mayor didn't get prosecuted."
Hoevet traces the controversy to public remarks made by Oregon Attorney General John Kroger, who said Weaver had "poisoned the well" by quickly getting Breedlove's affidavit, thus damaging Kroger's case against Adams. "Any defense lawyer worth his salt would have been out there talking to witnesses against the mayor," says Hoevet. "Bob did a brilliant job. I think the criticism was off base and unfair. I don't know what happened, but my guess is that controversy played a role. But it was a shocker to a lot of people that Bob was not appointed to the bench."
Weaver is philosophical about it all. "As with many things in life, you find that the things you have your heart set on that don't happen, something else really good then happens."
In addition to a fascinating and fulfilling career, Weaver has a century-old house in Portland's Irvington District to restore, as well as a garden that didn't much interest him until a few years back, when the neighborhood garden club invited him to join. "I didn't know a rhododendron from a carburetor," he says. "But little by little, bit by bit, they kind of educated me. So now I really enjoy it."
He and his wife, Hannah Callaghan, a lawyer at Legal Aid Services of Oregon since 1979, have two daughters. Emily, a schoolteacher, is 31. Clare, 26, is applying to nursing school.
Off the job, he's active in Catholic Charities. And he enjoys playing the piano and fly-fishing.
"He's an awesome piano player," says Steve Connolly, managing director of Garvey Schubert Barer's Portland office. "He thinks he's a good fly fisherman, but that's questionable.
"But as good an attorney as he is, I'd say he probably missed his true calling. With his wit and humor and uncanny ability to tell a story, he probably could have made millions as a stand-up comic or a late-night talk show host. He could replace Leno or Letterman in a heartbeat."
Weaver has no further career switches in mind, beyond the change from government prosecutor to private practice. But every year, he still follows Leavy's advice and asks himself the same question: Do you think you're a better lawyer today than you were a year ago?
"Yes," says Weaver. "The answer is yes."
Search attorney feature articles
Helpful links
Other featured articles
Local Counsel with Diego A. Gutiérrez
Andrés Correa believes that's an ideal worth striving for
The real estate attorney helps guide Portland through its growing pains
View more articles featuring lawyers
Find top lawyers with confidence
The Super Lawyers patented selection process is peer influenced and research driven, selecting the top 5% of attorneys to the Super Lawyers lists each year. We know lawyers and make it easy to connect with them.
Find a lawyer near you