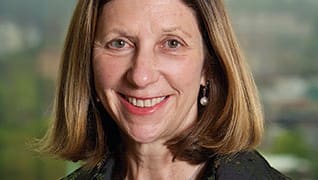 Photo by: Craig Mitchelldyer
Schroer as in Prayer
Appellate attorney Janet Schroer on repair work, staying in Oregon despite a gubernatorial directive, and why you have to know everything about everything in the case
Published in 2015 Oregon Super Lawyers magazine
By Erik Lundegaard on June 29, 2015
Q: How are you?
A: My gosh, I've had a heck of a day. It's one of those days where you come in expecting to do one thing, and things take a turn.
Q: Is this still a good time?
A: [Sighs] I think it's as good a time as ever.
Q: [Laughs] You sound like you're about to sit down for a dental appointment.
A: I feel that way. I'm that way with photographs, too.
Q: This is out of left field, but how do you pronounce your last name?
A: Schroer. Like "prayer."
Q: Married name or … ?
A: That's my real name. I got married 30-umpteen years ago and never considered changing it.
Q: Husband's last name?
A: Williams.
Q: So you could've gone with …
A: Pronounceable, spellable. It's like an IQ test and I fail. But my name is distinctive. You see it, you know it's me. You call in the state of Oregon, there are no other Janet Schroers. There's not many in the whole world. So I guess you trade one thing for another.
Q: Are you mostly an appellate attorney?
A: I am, but I do a good variety of other things.
Q: Med-mal defense, professional liability …
A: And in appellate work, I do everything: plaintiff's work, defense work, employment, personal injury, slip-and-fall, business, divorce, wills and tax. I did a dom rel [domestic relations] thing last week in the Court of Appeals.
In the rest of my practice, yes, I do med mal. I've done legal malpractice since 1992. I do repair work.
Q: Repair work?
A: So our insurance company in Oregon—with mandatory legal-malpractice coverage for every lawyer who practices here—they have a program that allows repair work. If a lawyer makes a mistake, they will hire someone like me to come in and fix it, so the client doesn't have a legal-malpractice claim. That is, they put them back in the same place where they would have been had the mistake not been made. So I come in and do that work. If I win, they're back where they were, and just move forward, often with the original lawyer. Oregon's the only state that has a mandatory legal malpractice—everybody has to belong to the same professional liability fund for their first layer of insurance—and I think it's unique in this repair program as well.
Q: You're like Harvey Keitel in Pulp Fiction. You come in and fix things.
A: I fix them and people are happy. A lot of times, if you do dom rel work, no one's happy. Even if you win, then they paid you too much, or they paid you and they wish they hadn't. But in this work, most people are happy with you.
Q: Can you give an example of repair work?
A: I'll give you an example on appeal. So somebody wrote a brief, responding to somebody else's brief, and then started to write a cross-appeal, because their client had been harmed as well, and in doing so realized, "Oh, I missed the time to file my cross-appeal. What do I do?"
They called the PLF, Professional Liability Fund, their malpractice carrier. The malpractice carrier hires me to see if there's anything we could do to save it.
In the case of this person's appeal, I was able to drive down to the town where the case was and find out that the judgment in question that was appealed wasn't an appropriate final judgment. Therefore, the whole appeal was flawed. I was able to get the appeal dismissed, and my client started over again.
In trial, I recently had one where a case was dismissed for not being timely filed. My client refiled it in accordance with a certain set of rules that said you can refile cases under certain circumstances. The judge denied that, and entered a judgment against his client. [The lawyer] complained to the legal-malpractice carrier, they hired me, and I got the judge to set aside his dismissal and reinstate the case. It's moving forward right now.
Q: How did you get the judge to reinstate the case?
A: I did a motion for a new trial. I said the court erred because there is a statute that allows you to refile a case under certain circumstances. My client had cited it. The judge just told him, "No. I don't believe that. There's no way there would be such a rule." [With me], the judge said, "Hey. I was wrong. Should have read it. Didn't read it. Never heard of it. I get it now. I'm reversing myself, and case reinstated."
Q: How long do repair cases generally take?
A: That's one of the lovely things about it. When you have an appellate practice, there are months, if not years, between events. Repair things, you could get a decision in days or a couple of weeks. In appellate, you hardly ever talk to anybody. You occasionally go talk to three judges sitting on a panel somewhere, wearing robes. Whereas repair work, you have to kind of bob and weave, evaluate things, go to trial courts, then go to the trial court and argue and meet the clients. Two completely different things, but fun, and they balance out for me.
Q: How often are you able to fix what's broken?
A: Usually.
Q: Meaning 75 percent or more?
A: Yes, 75 percent or more. And a little trick there: I am asked to evaluate cases for repair, and before it's agreed that we do one, there has to be a reasonable shot at winning. So they don't just say, "Well, this is broken. Here you go." They'll not agree to do it unless there's a reasonable shot at it.
Q: Do you often work with trial lawyers early in your appellate cases?
A: I do. Sometimes [with] trial lawyers outside of my firm, but most often the trial lawyers within my firm. We have a busy trial practice. I wouldn't say every case here has an appellate lawyer involved from the beginning, but yes, many of the cases here I start that way.
Q: Anticipating that it's going to be appealed and you need X, Y and Z on the record.
A: Right. And even if we didn't from the very start, almost always when they get toward trial, we advise relating to the verdict form, the jury instructions, the pretrial motions. Many times I'll get a call about something that's happening in the trial and, "What should I say? How do I preserve the error that's going on here for later?" So one way or another, we are often involved in the cases.
Q: You argue a lot before the 9th Circuit, the Oregon Supreme Court and the Oregon Court of Appeals. Do you have a preference?
A: No. What I find remarkable is—given the volume that those courts carry and the volume of paper we present them in any given case, and the fact they're sitting on any given day on many more than one case—they are all remarkably prepared for argument. I hear some judges aren't; but in all the courts where I've appeared, the appellate judges have been very prepared and engaged.
Your client likes to know they've been heard. Even when you lose, they know that the court heard you because they asked intelligent questions at argument, and read your briefs and understood your position. That's a good thing.
Q: So if a young lawyer or law student was interested in appellate work—as opposed to regular trial work—what qualities would they need?
A: Analysis, writing and organization of thought. A person can be brilliant and have really interesting thoughts, but they have to be able to write it down in a way that's pithy and cogent.
Q: How did you get involved in appellate work?
A: I started out in a large firm [Schwabe, Williamson & Wyatt] that had a large appellate practice and I enjoyed doing it. I ended up running the appellate department for a while when the senior people weren't there anymore. Then in 1992 we started our own firm [Hart Wagner], and I was the appellate department. I did every appeal until I was able to hire some other folks to help me as we expanded.
Q: Did you have a particular mentor that helped you?
A: Trial side, Jerry Banks was my supervisor. He was very good to me, and shared a lot. John Hart was somebody I tried cases with as well, and he's over here now. On appellate stuff, Dick Foley ran the department for a long time. Jack Faust was also a member of that appellate department, who has always been very good to me.
Q: What did you learn from them?
A: One thing I learned, particularly in the appellate arena, is be thorough and start at the bottom and don't assume anything. Come into an appeal with an open mind, and you'll find things that other people didn't find.
When I go to the Court of Appeals, I have everything. I have the transcripts, I have the rules, I have the pleadings. It's not easy to bring all this stuff down in the really big cases, but I almost always use them in preparing and in argument. Something always comes up. You have to know everything about everything in the case. Because you win some that you otherwise wouldn't have won.
Q: Any of your appellate cases stand out for you?
A: Gaston v. Parsons sticks out in my mind. It's a statute of limitations on medical malpractice cases. It set the standard for that. I remember every part of it vividly. I argued it in the trial court, the Court of Appeals and in the Supreme Court—and I did lose that. I felt very strongly that we were right at the time, but it served injured people of Oregon well, so I am proud to be a part of that process—even if I'm the losing party on that one. With time, now I see the wisdom in [the court's] thinking.
Q: And what is the statute of limitations now for med mal cases?
A: It's two years from the date of discovery. The trick being, "What's discovery?" That's what Tim Gaston's case established. It gave a test for when the court determines whether the patient has discovered negligence, and in the case of that, whether a physician's assurance that the bad thing that happened was going to get better. Does that extend the discovery time? The court found that if there were assurances from the physician that it was going to get better, then they get that extra time.
[I'm also proud of] the constitutional cap cases. The Legislature has chosen that, in certain personal injury cases, damages are capped. Either all of their damages are capped by an overall cap, or the noneconomic portion of the damages in certain kinds of other cases are capped. I have a bunch of cases related to the caps—mostly upholding the caps in the various cases, or applying the cap.
It's interesting pushing the limits of this and what the Legislature has a right to do, as opposed to what the constitution requires, based on what happened in 1857. Jurisprudence requires you to go back and examine what existed in 1857. So that's kind of challenging and interesting.
Q: 1857?
A: That's when Oregon's constitution was adopted. So based on what the common law was in 1857 is a large part of the test as to the constitutionality of the cap in any given case. So there's all kinds of different things—looking back on various scenarios as to what did or didn't exist in 1857, as best we can piece it together—to ascertain whether the Legislature can or cannot mess with the damages available to a plaintiff.
Q: Are you an expert now on what Oregon was like in 1857?
A: I'm expert in trying to piece together what it was like in 1857. One of the problems with the whole jurisprudence, which we've been trying to challenge for a long time, is it wasn't very well documented. It's very difficult to tell. And it doesn't appear that our constitutional adopters cared that much that anyone understood what they were doing or why they were doing it. They were just adopting the constitution from Indiana.
Q: You grew up in the '50s and '60s, before modern feminism. Did you feel there were barriers in your way, or were you encouraged to do what you wanted?
A: I wouldn't say I was particularly encouraged to do anything, but I refused to accept barriers. I just didn't see them. I didn't feel like I was some big conqueror. I have always just plowed ahead.
Q: Where did you grow up?
A: Hackensack, New Jersey.
Q: And undergrad in Ohio. What made you come out to law school in Oregon?
A: Fleeing the Midwest and the New York City metropolitan area. My dad worked in Manhattan and took the train, the tubes, the subway to work every day and back. It was a rat race. I didn't like that. I loved the out-of-doors. Ohio is flat and boring, and I never wanted to live there. So I looked for a law school at a place where I might want to live. I'd never been to Oregon, [but] I was attracted to environmental law and Oregon was highly rated in that.
At that time, Tom McCall, our governor, said, "Come here and visit, but don't stay," and that sounded like an invitation to me. So I applied [to University of Oregon School of Law], drove across the country sight unseen, and never looked back.
Q: You ignored the second half of Tom McCall's directive.
A: And I was glad. They were right: Go to school where you want to practice. I met great people and met my husband there. I never want to go anywhere else but Oregon.
Q: What kind of volunteer work do you do?
A: Serving on legal committees, and, at the moment, volunteering as a pro tem judge, circuit court judge. I started that last year with Clackamas County, and three years ago with Multnomah County. Sometimes it's onerous, other times not so much, but it's regular. I do it once a month, generally speaking.
Q: Could you see yourself becoming a full-time judge?
A: That's not as appealing. I love being an advocate. I think I'm a better advocate because I put on the black robe every now and again. I can understand better where the judges are coming from, and I think I have been able to fashion some of my advocacy in a way that is different than if I had not had the black robe on myself, from time to time. But I don't foresee myself wanting to go over to that side.
Q: You've been practicing since '81. Beyond the technological, what are some of the biggest changes you've seen in the practice of law?
A: Well, regrettably, legal services have become so pricey that they're out of reach for many people, and it makes it difficult on regular people to obtain representation. That's regrettable. Fewer jury trials happen, so there's a lot less opportunity for newer lawyers to go out and try cases like I was permitted to do in my first and second years after becoming a lawyer. You don't do that any more. Our clients don't allow that. And the cases many times settle, so even if you were, for instance, on the plaintiff's side, and the plaintiff hires you as a new lawyer, most of the cases settle. There's mandatory arbitration, mediation, all kinds of things that effectively remove the opportunity for newer lawyers to get trial experience, and I think that's regrettable for them, as well as for the public.
Q: Is there anything you'd like to talk about that I haven't asked?
A: I know [the interview] is about being a lawyer, but I have a great family. I have three boys who are just darling boys that I just love, and I've been privileged to be able to both practice law and raise my boys. I tell people, "You can't have everything," but I think I had a setup that was as close to ever as being able to allow me to practice law and be there for them and to participate very meaningfully in their lives. I'm proud of them, and proud to have been able to do that.
This interview has been edited and condensed.
Search attorney feature articles