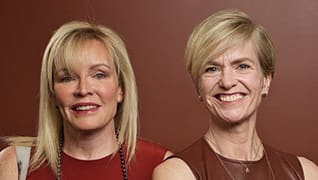 Photo by: Craig Mitchelldyer
Sullivan for the Plaintiff, Angeli for the Defense
How two employment attorneys from across the aisle joined forces
Published in 2016 Oregon Super Lawyers magazine
By Nancy Rommelmann on July 11, 2016
As a student at New York University School of Law, Dana L. Sullivan never took an employment law class. "I had no interest in it," she says. 
By her second year at the University of Michigan, after taking a class taught by feminist legal scholar Catherine MacKinnon that examined early case law in sex discrimination, Courtney Angeli knew the field was for her. "I took every [employment] law-related class my school offered: individual employee rights and responsibilities, labor law and employment discrimination," she says. 
A clerkship with a federal judge convinced Sullivan that an employment-plaintiff practice had, she says, "a lot of the same human-interest stories and righteous cases as legal aid and indigent defense"—her initial focus. By 1997, she was in Portland, practicing employment law exclusively.
Meanwhile, Angeli was also in Portland, working for a firm "on some timber contract case that I just hated," she says. She soon left for Stoel Rives, which had a designated employment law group. 
That's when the two attorneys began seeing each other across the aisle: Sullivan for the plaintiff, Angeli for the defense. 
Each was young and married. Each was adept at handling, in Angeli's words, "the panic calls that are a hallmark of both sides of the employment situation."
And each admired the other. "When you're a defense lawyer, you have a certain stereotype of plaintiff's lawyers sort of taking anything," Angeli says. "Dana always had good cases; she was clearly more selective. And her written product was excellent." 
"Courtney was tenacious but reasonable—a refreshing combination," says Sullivan. 
 Eventually, they joined forces. In 2008, the two helped found Buchanan Angeli Altschul & Sullivan in Portland. While often on opposite sides of the aisle, they're now in the same hallway. 
None of it would've happened if Angeli hadn't gotten bored. 
"After doing 15 years of exclusively defense work, I was feeling like, 'I need a change of pace,'" she says. "I liked Dana's practice. I liked the way Dana interacted with other people. … But I was really scared to do it because I didn't know how to do it, so I tagged along with Dana on some cases. Still do. 'What would you do with this?' That's very much what we do as a firm, with all of our cases. We're always running them by each other." 
Sullivan concurs. "I've had little exposure to how businesses work—what their goals are, what their fears are," she says. "[Now] I can pop into Courtney's office and say, 'Here's what I'm struggling with in this case: what do you think?' She'll have eight ideas—that I never would have dreamed of—of making the employer terribly uncomfortable, because she knows what makes her terribly uncomfortable."
The firm is busy, turning down three cases a day, says Sullivan. This, after a fairly intensive screening process by staff that lets the attorneys know whether the case is worth the investment of time, and whether there's a possible conflict of interest, which, Sullivan says, "we obviously need to be really stringent about avoiding." 
Angeli mixes in some plaintiff's work with her defense practice, as does co-founder Andrew Altschul. Paul Buchanan does about 95 percent defense work and 5 percent plaintiff's work. Sullivan is the only partner solely for the plaintiff.
The partnership of plaintiff/defense gets noticed. In November 2012, the Portland Trail Blazers hired Angeli as lead outside counsel, and among the reasons, says Ben Lauritsen, senior vice president of legal and corporate affairs for the NBA franchise, was the makeup of the firm. Each partner, Lauritsen says, had big-firm experience, but they had "set up a practice that had the nimbleness of a small operation." He also felt that Angeli was the person "we would want to be 'the face' if we did end up in some ugly court dispute."
Which has not happened. In those three years, the organization and its related entertainment business, made up of 220 full-time and upwards of 1,000 part-time employees, have never gone to trial. Angeli, knowing how to play both ends of the court, has been a big part of this.
Says Lauritsen: "Being able to call Courtney and say, 'This is what the employee is alleging. Would you take this case if the employee called you?' Usually she's like, 'No, there's no case; don't be worried about it.' If Courtney would say, 'We'd take this case and kick your ass with it,' we'd settle quickly."
The camaraderie and snap between Angeli and Sullivan is on display one morning at the firm's conference table as they talk about the day's headlines—including the NFL, after some creative accounting, owing the players union more than $100 million.
"How shocking to hear that about the NFL!" Angeli says, with a look of mock horror.
"They're generally so above board," adds Sullivan.
If the attorneys started out adversarial, they now finish each other's sentences. 
"We've tried several cases together," they say at the same time.
"It's an emotionally charged experience to go through a trial. It's just a heckuva lot more fun doing it with someone else," says Angeli. "We're very different lawyers but working on a trial, we just sort of divide it up and do it."
"From an entertainment-value standpoint," says Sullivan, "if they don't like my shtick, they'll like Courtney's shtick. We have complementary styles."
Trial consultant Sari de la Motte has prepped both Sullivan and Angeli. Her company, Forte, uses a house-pet analogy to categorize nonverbal behavior. 
"The cat is oriented to, 'What's at stake? Get to the point,'" says de la Motte, "whereas the dog is, 'How's everybody doing? Are we all OK?' Courtney is very much a cat, very direct, whereas Dana tends to be a dog: 'Is everybody happy here?'"
De la Motte says it's standard for her to advise that the same attorney do voir dire and opening. "You're basically communicating to the jury that you hear them, that you care, that you want to make sure you get what they are saying in voir dire so that they will extend the same courtesy to you in opening," she says. "Hard to do when some strange person shows up in opening after you've laid such great groundwork."
At least in one trial, however, Sullivan and Angeli chose to break up the tasks, which surprised de la Motte not at all. 
"Dana did voir dire, and Courtney, opening," she says. "And it worked out very well for them."
The cases Sullivan and Angeli see most often involve accusations of discrimination: sex, race, age and disability. Portland, they say, adds its own peculiar spin.
"I represented a guy who was originally from Africa," Sullivan says. "He was brought out from Texas to Portland for a very high-level position, and he said, 'I have never experienced discrimination—in Texas or anywhere—comparable to what I experienced in Portland.' … He said he'd been called the N-word for the first time in his life in Salem, and what he was dealing with at work was being evaluated on a whole different set of criteria than his peers."
This goes against the city's image of itself as a place where progressive politics and bike lanes somehow produce citizens with more integrity.
"It's so homogenous, though," says Angeli. "When I first moved here, I was so struck by how white it was. I think people here are often well-intentioned, there's just an element of lack of familiarity that really lets unconscious bias in."
"It's a much-discussed concept these days, academically and in the legal profession, this notion of implicit bias," says Sullivan. "And it's very real. And the challenge is to convince judges and juries that it's real."
The challenge is similar in sex-discrimination cases. 
"What I have seen a lot of in recent years are highly placed professional women, often doctors or lawyers, who have gotten where they are because they're very hard-charging," says Angeli. "Maybe [they're] not as political as women are expected to be, or as soft-spoken as women are expected to be, so they're evaluated under a totally different criteria—particularly in the medical field. … Women who really have gotten where they are because they operate in ways that are stereotypically male are still dinged for that."
Sullivan agrees. "When you're in an operating room, you're a female surgeon and your female nurse is not doing what you need her to do, you're going to speak pretty harshly to her because you're in a crisis situation," she says. "Under stress, sometimes people are very verbally demanding."
"And no one would think twice about it with a man," says Angeli. "I think especially female staff feel far more freedom to complain about female bosses. We see that over and over again. Males are behaving in the same fashion, but you don't hear complaints about that."
Can it change? Angeli and Sullivan, along with Lauritsen, have served on the board of Girls Inc. of the Pacific Northwest, which works to empower girls to succeed. 
"I met Courtney as she was sliding off the board and Dana was sliding in," says Lauritsen. "The two of them, I think, are the perfect embodiment of the [Girls Inc.] motto: 'strong, smart and bold.'"
"I love Girls Inc. so much," says Sullivan. "We all share this notion of pay it forward. If we can be role models for these girls, that's a wonderful thing."
The hope is that someday it will make obsolete the gender-discrimination cases they see now.
"There was an article I was reading, a study of [better] performance of companies with a larger percentage of women on the board," says Sullivan. "People are starting to think it's not just legally advisable to have more women … "
"To me it's just sort of a 'well, duh,'" interjects Angeli. "It's what we get out of [the firm], having people approach things from different angles. It's in our financial self-interest to have different minds at the table. Why wouldn't that translate to corporate America?" 
---
Worst-Case Scenario
I think the wackiest case that I ever had—that I didn't take—was a woman who was having an extramarital affair with a supervisor in a parallel department; his sister and wife also worked for the company. [The woman] could have had a promotion and reported to him directly—and she wanted the promotion—but he convinced her not to apply because then they couldn't, under the anti-nepotism policy, continue to have sex. He said, "I'll make sure you get a promotion somewhere else," and they continued the affair.
The person he did hire left six months later, so the opening was available again; and in the meantime he hadn't placed her anywhere else. So she said, "Now I really want the promotion. If it means we stop sleeping together, I'd rather go with the promotion." He hired someone else, so she complained to HR. The guy had worked for the company for 25 years. They fired him the next day. 
What the woman came to me about was, a) "I want that promotion now," and, b) "his wife and sister are being really mean to me." They had been having sex in the conference room—I mean, it was sordid—and I said to her, "Do you think maybe this tale of your relationship with this supervisor gave them any legitimate reason to question your judgment?" She didn't know what I was talking about.
— Dana L. Sullivan
Search attorney feature articles