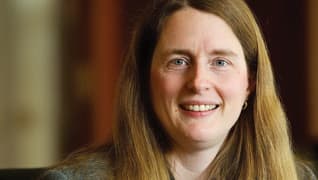 Photo by: Craig Mitchelldyer
We Are Repeat Players
Bankruptcy attorney Teresa H. Pearson knows it's all about practice, practice, practice
Published in 2013 Oregon Super Lawyers magazine
By Susan G. Hauser on July 10, 2013
Since high school in Gillette, Wyo., Teresa H. Pearson always liked to be part of the band. Clarinet was her instrument, marching with the woodwinds in heavy uniforms.
Looking back, it makes sense to her: The work of the marching band was similar to the work of bankruptcy law. Both band and the law were subcultures. Everyone had their particular practice area—woodwinds or percussion. In bankruptcy law, as in band, "we are all a bunch of repeat players," she says. Connections were formed getting the song right, just as bonds are formed making, or arguing, a case. "It's the same lawyers I see all the time. So you become friends with them and people don't treat each other like jerks."
She met her husband in the University of California, Berkeley band, before she went on to law school at Duke University. Now Pearson, 42, is a partner at Miller Nash in Portland, and one of 10 Oregon business bankruptcy lawyers given the stamp of approval by the American Board of Certification.
As she explains it, the bankruptcy bar in Oregon and Washington is as harmonious as a marching band because there's no advantage to being adversarial. Even after opposing one lawyer on a case, you may soon be teamed up with that same person on another case. As an undergraduate at Berkeley, she remembers, "We had a saying in the band, 'Adapt and perform.' It's amazing how much I've used that in my life."
The clarinet was needed, repeatedly, just like the bankruptcy litigator.
At Duke she was recruited by Portland attorney S. Ward Greene, now Greene & Markley's managing partner. After flying to Durham and interviewing many students, he recalls, "The clear standout was this young woman you could fairly describe as having the wide-eyed innocence and smiling face that I knew was masking a brilliant mind."
Greene offered Pearson the job and remembers that she took to commercial law "like a duck to water." He saw her as instinctive, smart, inquisitive and careful. He set out to teach her everything he knew. "She knew that and much more by the time she was done. She sort of outgrew the work we had."
In 2001 Pearson was hired by Miller Nash. There she caught on quickly.
"I was the head of the insolvency team when she came over," recalls John Casey Mills, a Miller Nash partner. "She's smarter than me so she kind of went off on her own. It didn't take that long. She's one of those people who are very smart and very practical and she has the ability to think four or five moves ahead. And that makes her very efficient and very creative."
Pearson says her work in business bankruptcy doesn't call up a lot of emotion, as compared to consumer bankruptcy. "Most of the people I work with are pretty rational and they're just looking for an economic solution." She explains that one reason business bankruptcy work is low on the angst and sorrow scale is that by the time the lawyers get their hands on it, the damage has already been done. Their job is basically to salvage something from the ruins. And that, says Pearson, is where the strategy lies.
Howard M. Levine, partner with Sussman Shank, notes that Pearson can "see through problems to find solutions that work best for her client without necessarily doing damage to the other side." Brandy A. Sargent, of counsel at Stoel Rives, says, "She's not the kind of person who turns the knife."
David W. Hercher, a partner at Miller Nash, says when he first met Pearson while opposing her on a case, what most impressed him was her demeanor. "Some attorneys feel like they have to be unpleasant in order to advocate for their clients," he explains. But Pearson tries to keep everything as harmonious as possible, even if the cases are heavy with dissonance.
With a focus on business bankruptcy, Pearson generally represents lenders, receivers, trustees and creditors in cases that lead to reorganization or receivership. Pearson has built her reputation handling high-profile cases such as the Sunwest Management Inc. bankruptcy, which involved a chain of assisted living homes and was concluded after more than three years in 2011. Pearson says it was so complicated she hung a big chart on her wall to keep track of the several affiliated cases for the dozen lenders she represented. Then there was the Chapter 11 reorganization of the Archdiocese of Portland in Oregon, filed in 2004 in response to multiple claims regarding clergy sexual misconduct.
Albert N. Kennedy of Tonkon Torp likes to mention another endeavor they worked on together that was a bit out of the ordinary. It involved financing a 2009 film called Transylmania, which was a flop. The plot, according to the Internet Movie Database, involved a group of college kids on a semester abroad in Romania who come to realize that "if the partying doesn't kill them, the vampires just might!" Kennedy says the film, an attempt at comedy, was worthy of "zero stars. The worst movie ever made."
Pearson is attracted to dismal situations seemingly destined to make losers out of all parties. She cites the case of a Lake Oswego dental practice that had been abandoned by its owner, leaving fellow dentists, hygienists, patients, not to mention creditors, in the lurch. Pearson was able to set up a receivership and keep the business going, eventually selling it for half a million dollars and paying the creditors.
Pearson says bankruptcy law is a field where, "there are lots of places where you can take something ugly and make it better."
In February 2009, she took on the bankruptcy case of Orchards Village Investments. Orchards Village was a Vancouver senior living community. Pearson represented the receiver in the case, taking several years, involving several states and several competing plans for resolution, and in the end benefiting many. Tara J. Schleicher, a partner at Farleigh Wada Witt, who also worked on the case, remembers that through their mutual efforts the elderly people who'd put down deposits for the failed enterprise were able to get money back. "It isn't always just about the high profile cases for Teresa," Schleicher says. "She finds the right folks to advocate for people she sees as downtrodden."
Just as in the days of band practice in Wyoming, Pearson's still a joiner. She's a member and former chair of the Oregon State Bar's Debtor-Creditor section's Executive Committee and she's a frequent contributor to their quarterly newsletter. For the past few years, she has organized the section's annual conference. She's also a volunteer for Credit Abuse Resistance Education, addressing high school students about the hazards of credit cards and the merits of building good credit.
On rare occasions she combines the musical side of her life with the legal side. A few years ago at a firm event, Pearson played a duet with Geoffrey Groshong, an oboe player who is also an insolvency lawyer with the Miller Nash Seattle office. Rumor has it, they put on a stirring performance.
Search attorney feature articles
Helpful links
Other featured articles
After cancer, Scott Lundberg became Iron Man 
Pierce Hamblin's tactical weapons include humor, listening skills and powers of persuasion. Plus an Elvis shrine
Beth Terrell takes on cases and causes for those without a voice
View more articles featuring lawyers
Find top lawyers with confidence
The Super Lawyers patented selection process is peer influenced and research driven, selecting the top 5% of attorneys to the Super Lawyers lists each year. We know lawyers and make it easy to connect with them.
Find a lawyer near you