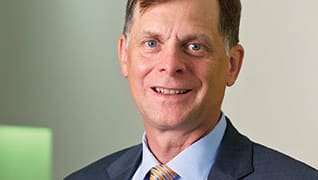 Photo by: Craig Mitchelldyer
When You Say "I Do," But Now You Don't
Family law attorney Tom Bittner tells his clients, "It's never going to hurt me like it hurts you"
Published in 2014 Oregon Super Lawyers magazine
By Nancy Rommelmann on July 9, 2014
The fifth floor conference room of Schulte, Anderson, Downes, Aronson & Bittner has one of the best views in Portland: a wall of windows that overlooks the Willamette River—deep teal this afternoon and running fast—and 100 miles to the east, Mt. Hood covered in snow.
"The firm has some nice conferences in here," says Tom Bittner, rolling the office chair he's in right up to the window, like a kid getting close to the TV. Quick to mention that after 25 years of practice he is "not necessarily the old guard, but not the new guard," Bittner, 54, nonetheless has the loose-limbed energy of a college kid, an energy confirmed when he later asks if a visitor wants to see "my really cool bike"—a Fuji he's been riding since his undergrad days at Lewis & Clark.
Bittner still rides that bike to the office ("Uphill both ways—no, it really is!"), and he still identifies as an Eastern Oregon boy who grew up in Pendleton and raised his three kids "doing all the things parents do—coached soccer, scout leader." But he spends his work days in less idyllic climes.
"I'll tell you what I really like about family law. I really like working with people," he says, rolling back to the head of the conference table. "When they're in pain, I like to try to help them. I have a little bit of the helper personality."
His mother was a nurse, his father a primary care physician who took his son along on house calls. The stress of divorce, Bittner says, "is right up there with death and loss of spouse," and he sees it as his job to lead people through the worst of it, even when they sometimes don't want to go.
"It's an intense personal relationship, your marriage, and the dissolution of it," he says. "You're hiring me to give you objective advice, OK? I say, if what you want is just someone to get on a soapbox and be mad, then you do it, because I can never be as mad as you at your spouse; it's never going to hurt me like it hurts you. Because if I become you, I've lost my objectivity. And I need to remain objective so I can give you advice to see where things are going to go."
That message can be hard to get through to clients in extremis, people for whom the pain is so bad that foremost on their list of demands is acknowledgment of their suffering.
"They want me to feel their pain, they want their spouse to feel their pain," says Bittner. "I use the medical model a lot: Here's the prescription, here's what I think we ought to do. When the client says, 'No, I'm not going to take that pill' or… 'Whose team are you on? We're just giving in!'—ask 10 family law lawyers how often they hear that —I say, 'No, we're not giving in. We're being objectively reasonable.'"
"Tom is extremely reasonable," says Nicole Deering, a family law attorney in Portland. A colleague of Bittner's for 20 years as well as a former lunchtime workout buddy ("He was one of two guys in the step aerobics class," she says), Deering says Bittner is "down-to-earth and pragmatic" during the turbulence of proceedings.
"We are asking people to make lifelong financial decisions at the lowest time of their lives," she says. "It's the opposite of what therapists advise—don't make any big decisions when you're experiencing grief! Tom can really empathize with both sides. He's always looking for a best outcome for both parties."
Doling out the right medicine at the right time began before Bittner even considered law school. His first job after college—he graduated in 1982 with a degree in psychology—was as a caseworker for a nonprofit.
"The goal was to get people who were chronically institutionalized for mental illness, primarily schizophrenics, to transition into independent living," he says. "It was fun." He might have stayed longer had he not topped out at the pay scale opening day: $750 a month. His next job was selling real estate, which a neighbor convinced him he'd be good at. And he might have been had he not decided, "I did not want to sell real estate in Pendleton, Oregon the rest of my life." He also had a girlfriend moving to Portland to start her career.
"I knew a partner in this [law] firm, and he happened to have a case that involved some real estate closings," he says. "I had this real estate license so … close enough." Bittner spent a year going through thousands of boxes of documents. "I was essentially Benny in the mailroom, and I thought, I could do this. My wife and I decided to get married two weeks before law school started."
Bittner graduated magna cum laude from Lewis & Clark Law School in 1989, then secured a judicial clerkship for Judge Mary Dietz in the Oregon Court of Appeals.
"I loved that job," he says. After another year working for the late Otto R. Skopil Jr. in U.S. Court of Appeals for the Ninth Circuit, Bittner "had to decide where I was going to go, and I came back here." He made partner in 1999.
When he first began to practice, Bittner says he "kept a foot in each ring: civil and family," but soon migrated solely to family law.
"It fits people that need high stimulation; it's really sort of helter-skelter," he says, of family law. "People are emailing, people are calling, 'My husband cleared out the bank account, my wife didn't bring the kids back; I need to hear from you!' Lots of short bursts—I like that. It works better for me than sitting through eight hours of deposition on a product liability defect case."
Bittner's fast emotional synapses and desire to hear clients out were recognized by the firm, as well. "When I was a fairly young associate, there was this one client the senior partner put me to work on," Bittner recalls. "She was a handful. She called a lot. You'd listen-listen-listen. I told her, 'Look, here's the deal. I charge for these phone calls.' And she said, 'Oh, I know that, sweetie. But you're a much better listener than my therapist and you're $25 an hour cheaper.' I said, 'All right! As long as we're clear here.'"
Bittner says clients' needs, when it comes to the talk-talk-talk factor, often break down along gender lines. "That is so true, that men are from Mars or whatever," he says. "Women want to process, men want solutions. That's not universally the case, but I will say that family law is the petri dish of the battle of the sexes. It is the battle of the sexes. Every. Single. Day."
For Bittner, this yields the ancillary pleasure of family law attorneys forming a sort of comrades in arms.
"One day I've got the girl, and one day I've got the boy, so family law lawyers are familiar with both sides of the issue," he says. "If you're the prosecutor, you wear the white hat, and if you're the criminal defense lawyer, you wear the black hat. My experience with them is, they get pretty jaded in their views. If you're a criminal defense lawyer, the man is out to get you. In plaintiff personal injury work, it's the same: The plaintiff lawyers all think the insurance defense lawyers are a bunch of scumbuckets and vice versa. But everybody in the family law bar, we do both sides. We don't become polarized against each other."
"I consult with Tom regularly for good advice," says Deering. "We've both been doing this long enough that we want to try to get both parties what they want, and most of our cases settle—Tom is very good at that. Not all lawyers are good at listening. Tom is. Really good."
Steadiness and a cool head are things Bittner says he learned from William Schulte, now of counsel to the firm. "I feel very fortunate to have Bill Schulte as a mentor. He taught me how to be a lawyer," he says. "[The goal] is not to beat the other side into a pulp. And that's not to say I can't do a good job in the courtroom and deliver the knockout punch. Sure, I've had my moments and still will when the right case calls for it. But if people are looking to use a lawyer to achieve their own need to punish or pulverize the other side, then I feel like a tool. It's not something that I derive satisfaction from."
All things must come to an end, even divorce, but for clients this is often the most difficult step: into the unknown.
"This may be hell" for his clients but, he points out, it is their own hell. "I've talked to a lot of lawyers and psychiatrists about it," Bittner says. "The case is coming to an end, and you have to make decisions and settle, and people can't. They don't want it to end."
But is has to. That's why they've hired Bittner, to get them through as unscathed as possible.
"Clients believe sometimes that we don't want to finish our cases. Believe me, lawyers like to see a case done," he says. "I don't think we can measure our cases by the outcome. Did I win? It's a really dangerous thing to say but I'm not in it to win it. I'm in it to make sure the surgery is done right and you're on your road to healing."
Search attorney feature articles