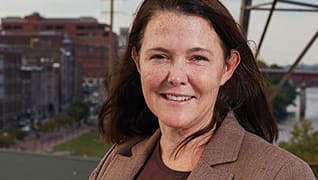 Photo by: Phillip Parker
For the People
Nashville plaintiff's attorney Kathryn Barnett is a fearless advocate for her client
Published in 2016 Mid-South Super Lawyers magazine
By Nancy Henderson on November 8, 2016
Kathryn Barnett had just joined Lieff Cabraser Heimann & Bernstein in Nashville when, in February 2002, news broke of a north Georgia case that seemed straight out of a Stephen King novel. 
Rotting corpses—334 in all, some thrown into pits, others lying on the ground, in body bags or caskets or in the open air—were found at Tri-State Crematory in the tiny town of Noble. Operator Ray Brent Marsh, at some point, and for unknown reasons, had simply stopped cremating bodies. The story became nationwide news, and Barnett teamed up with a college friend who practices in Dalton, Georgia, not far from Noble, and filed suit. A year later, in March 2003, the class action was certified, and her firm was appointed lead counsel on behalf of more than 1,600 families. She'd joined her firm, in part, to get on the national stage. Now she was—as the case's lead trial lawyer. 
"It was very daunting for me to speak on behalf of 1,600 families, some of whom I hadn't met," says Barnett, 49, now managing partner at Morgan & Morgan's Nashville office. "It was a big, sprawling piece of litigation that was incredibly difficult and hard for the families. … It was so horrific that it was just a matter of getting through the procedural hurdles and getting to trial."
In the end, Barnett and her team wrangled a series of settlements, totaling $120 million, against the crematory, the Marsh family and 80 funeral homes that had delivered bodies to Tri-State—plus another $18 million from Georgia Farm Bureau Mutual Insurance Co., the property's insurer. Marsh, who in 2004 pleaded guilty to 787 felony charges—including abuse of a corpse, making false statements, theft and fraud—was released from prison in June after serving 12 years.
"These mass mishandling cases are horrifying," she says. "People have no idea, no way of knowing, how their loved one was treated or where they rest. And I don't think people understand just how devastating that is."
Fast-talking, with girl-next-door looks and a down-to-earth demeanor, Barnett regularly battles insurance companies and other corporations. She's won numerous verdicts and settlements topping $1 million in class action, consumer protection, personal injury and product liability cases. She also has a rep for genuinely caring about her clients. 
"I'm pretty fearless," she says. "I believe in what I'm doing, and I really believe in my clients and that they put so much trust in me. I'm not about to let them down."
But she wasn't always so confident. 
A self-described nerd from North Carolina, Barnett landed a small role in Oliver! in fourth grade, then went on to play the mirror in Snow White and an ugly stepsister in Cinderella. "I was painfully, painfully shy as a kid," she recalls. "Community theater gave me an outlet to go and be comfortable being someone else."
At the same time, she didn't aspire to Broadway. "I wanted to help people," says Barnett, who volunteered on church mission trips at a young age. "And I was not going to have the chops to be a doctor. My trigonometry teacher pronounced me mathematically insane when I was in high school."
At Davidson College, she did so well in a two-year humanities program that her professor encouraged her to major in philosophy. "It turned out to be great preparation for law school," she says. "Being able to think about concepts that abstract and complex, and write about them in a meaningful and persuasive way, made reading the cases, saying what they said and understanding legal principles much less challenging."
During Barnett's final year at Vanderbilt Law School, she worked in the public defender's office, where she stayed after graduating in 1992. In an early felony trial, she defended a man accused of aggravated robbery. The evidence against her client was overwhelming—multiple witnesses picked him out of a police lineup, and he had a long criminal record—but he refused to accept a plea bargain, insisting that he was an unarmed career shoplifter. She tried the case, lost and admits, "I cried." But she says the client told her afterward, "Plenty of lawyers would've tried to force me into taking a settlement. Thank you for giving me my day in court." 
"If you're trying cases, you're going to lose some," Barnett says. "As long as you know you've done the best for your client, and they understand the risks, and they want to go forward, it's really important to do. … There's something really meaningful and noble about that."
Even so, by 1996, Barnett was worn down. "The clients I was representing had such deep mental health and substance-abuse issues, and there were precious few resources for any of them. So you could get them a deal or probation and they would go right back to the same circumstances that they had come in from. You would see them again and again." So she joined the boutique firm of Branum & Day, where she discovered an affinity for catastrophic plaintiff cases and commercial litigation. 
"It felt like I could help people, and they could actually make use of the help," she says. 
After a young girl with spina bifida lost her sight, Barnett sued the doctor for malpractice. The monetary reward paid for a special audio computer, household accommodations and other adaptive equipment. 
"I've always been for the underdog," she says. Her position with Branum & Day, she notes, "allowed me to be able to fight for people who really needed help, and make a difference. And then the commercial litigation was fantastic because it was intellectually challenging, but it didn't wring your heart out in the way that plaintiff cases do. So it gave me a nice balance."
When Lieff Cabraser came calling in the fall of 2001, though, Barnett couldn't resist the chance to work on large, complex class actions like the Tri-State Crematory case. Included in the multimillion-dollar settlement was the stipulation that, because it was impossible to find all the scattered remains, the property be allowed to return to its natural state. "I think that was huge for the families," she says. "The monetary relief was important in showing this was wrong, this shouldn't happen again, no other family should have to go through this. But getting that land transferred over [to a Georgia land trust] and treated with dignity and respect for all time was important."
In 2003, Barnett filed suit against Nashville medical examiner Dr. Bruce Levy and The Learning Channel after Levy, without permission from the survivors, allowed a reality television show crew to tape up-close footage of several autopsies, including that of a 21-year-old man killed when he stepped into traffic. "I represented a number of families who heard about it when someone called and said, 'Hey, we saw your family member being autopsied on TV,'" Barnett says. "It was horrible." The cases settled for confidential amounts without going to trial.
Soon, Barnett was managing Lieff Cabraser. In 2006, when the Florida Supreme Court decertified a groundbreaking 1994 class action alleging that R.J. Reynolds and other tobacco companies had deliberately concealed the lethal effects of cigarettes, as well as their addictive properties, class members filed thousands of individual lawsuits against the manufacturers. Because of her substantial trial experience, Barnett was called in to help. 
She ended up trying eight cases under tough conditions. Without the benefit of voir dire, which Florida doesn't allow in federal court, Barnett couldn't question prospective jurors, and her team was given just 18 hours to present each case. "Figuring how to hone that down, how to make it understandable, was a huge effort," she remembers. To Barnett's dismay, in one of the first trials, the jury agreed that the cigarette companies caused the death of her client's husband but awarded the client no monetary damages. One case resulted in hung juries, and Barnett lost a few others.
"They were dark days," she says. "But that probably tested my mettle more than anything else in terms of staying with it and fighting through it and finding a way to win those cases. So I turned it around at the end and started winning." In 2013, in Searcy v. R.J. Reynolds Tobacco Co., a jury ordered R.J. Reynolds and Philip Morris USA to pay $26 million in damages ($6 million compensatory, $20 million punitive) to a woman whose mother, a lifelong smoker, had died of lung cancer. "Searcy was the culmination of an awful lot of work," says Barnett. "Eventually, just the law of averages is going to get juries who will listen, which is all you need."
Barnett still hurls herself headlong into each case, practicing with focus groups before explaining intricate details to jurors. "I may not be the smartest or the most charismatic lawyer, but I will not be outworked," she says. 
In 2014, Barnett was hired to launch Morgan & Morgan's Nashville office. "What appeals to me about this firm is the real belief in trials," she says. "If you're not willing to try cases, you can't get real justice for your clients."
"We wanted to open [our Nashville office] with a person of prestige and accomplishment, and that was her," says John Morgan, the firm's founder. "I think her biggest strength is her ability to take a complex matter, synthesize it and present it to laypeople in terms they can understand. She can take a class action or a tobacco case, which are very complicated and complex, and make those understandable to jurors."
Barnett frequently lectures on trial, complex litigation and other matters, and as former president of Nashville's Lawyers' Association for Women, often mentors young female attorneys. And she can't get away from the dead bodies. She currently represents more than 1,200 families in an ongoing class action against Galilee Memorial Gardens, a Memphis-area cemetery accused of placing multiple bodies in single graves when it ran out of burial space. "There was a witness who saw them running over caskets with a backhoe," says Barnett. "The records were a mess, so there's no way to tell where anybody is buried."
"Awkward and unathletic" as a child, she now enjoys running half-marathons with her son, Christopher, 14, and practicing taekwondo with her 10-year-old daughter, Ella, both of whom are advanced red belts. 
"I think it's very difficult for someone as successful as Kathryn is to balance everything, but she seems to be able to do it," says Harold Donnelly, formerly of Donnelly Law and now general counsel at a private company. "I really appreciate how she's nailed the balance between family and work."
Her family helps with that balance. When Barnett was struggling with the prospect of trying one more Florida cigarette case after leaving Lieff Cabraser, Christopher told her, "Mommy, you have to do this. You're their best hope. They need you." 
Search attorney feature articles