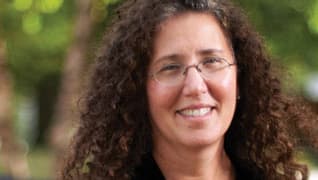 Photo by: Phillip Parker
Music Rows
Nashville entertainment lawyer Linda Edell Howard goes to battle for clients
Published in 2012 Mid-South Super Lawyers magazine
By Nancy Henderson on November 9, 2012
Linda Edell Howard was managing a fledgling rock band when she got the idea to set up a free "clinic" for entertainers in the back booth at The Stone Pony, a popular nightclub in New Jersey's Asbury Park. On Sunday nights, musicians, managers, producers, agents and actors would bring in their legal questions and contracts and ask for Howard's advice.
"It became my office," says Howard, who was a year out of college at the time. "For a slice of pizza and a beer, I would review their contracts and give them counsel."
The club was a hangout for many young artists, including Bruce Springsteen, Jon Bon Jovi and Cyndi Lauper. And as it turns out, Howard has spent her career working with the famous.
Howard, 52, is now the entertainment and new media team leader for Nashville's Adams and Reese, and a respected authority on digital copyright issues. She currently represents Grammy Award-winners Lady Antebellum and Charlie Daniels as well as other recording artists, plus a number of key executives, publishers, songwriters, producers and investors in her transaction-based practice. At one point in her career, Howard worked on the estates of Elvis Presley and George Gershwin.
But becoming a lawyer was not her original plan. At age 15, intent on following in the footsteps of legendary celebrity-photographer Annie Lebovitz, she began taking pictures of musicians like Springsteen.
"I first met Bruce right before Born to Run came out, in '74," she says. "He used to hang out with all the surfers, and that's who I took pictures of—surfers and musicians." The venues where performers were appearing would often buy the photos. Asked what it was like to rub shoulders with "The Boss," she replies, "When you grow up with Bruce Springsteen hanging around, and you grow up almost living in The Stone Pony where Marshall Crenshaw and Cyndi Lauper were around, you just [thought of them as] really cool, interesting people. … They're all big deals to me, whether they're Bruce Springsteen or they're the guy playing the guitar in Jon Bon Jovi's band. To me, if you're able to write songs and get up on stage and sing and perform, you're a big deal."
By the time Howard was in college, photographing bands had transitioned into also managing them. She decided to go to law school—though becoming a lawyer was still not her goal. "I wanted to be a rock 'n' roll photographer and I wanted to design album covers," she says. "I figured if I went to law school and I became a lawyer, I could … possibly get a job as a lawyer at a record label and see if I could get myself into the art department."
Once at law school, her direction changed: "I realized that I could help the musicians and do much more for them as a lawyer than I could as a photographer."
Not surprisingly, Howard was the only student in her first-year class at Seton Hall University School of Law with an undergraduate degree in visual communications. "I did not have lofty goals of becoming a partner at a big law firm," she says. "I was just really enjoying myself."
Hungry for information, she read entertainment industry-related biographies and trade publications, and compiled dossiers on industry professionals.
Upon graduation in 1985, she clerked at the New Jersey Supreme Court before joining Budd Larner and working in the corporate department. "I told everyone, 'I'm an entertainment lawyer, I'm an entertainment lawyer,'" she says. "And nobody knew what that meant. So at one point, when the firm won a big construction-bond case, one of the partners came to me and said, 'OK, entertainment lawyer, we want you to plan a party to celebrate it.' And I did."
Party planning wasn't exactly what she had in mind, but she was determined to make the most of it. "I wasn't going to back down from a challenge," she says. "I was going to show him that I wasn't afraid to do anything." So she organized an elaborate party, ordering the Champagne, photographer, and paperweights and posters depicting the amount of the win. At the time, she recalls, "I had to drive an hour to find a color Xerox machine to have the checks blown up." She also learned that you couldn't copy a check at its original size; that was forgery. "But in everything I do, whether I get a traffic ticket or whatever, I try to make it a learning moment." Most important: "[At] that party were the presidents of some of the biggest insurance companies and banks in New Jersey, and probably in the Northeast. And they started sending me clients."
Howard was soon handling everything from Agent Orange defense work to municipal public bidding in the solid-waste industry.
"How in the world does that get you to be an entertainment lawyer?" she asks, then explains. It seems the next-door-neighbor of the secretary of the owner of a solid-waste company had a daughter who had a dance single with Atlantic Records. "My boss said, 'I've got some girl in the office who thinks she's an entertainment lawyer; why don't we try her?'" Howard recalls. "That's how it goes."
Her opposition, she says, was the most prestigious entertainment firm. Her client was a minor who wanted to get out of her contract. Howard knew she could disaffirm the contract because the New York firm had failed to get court approval. But there was one problem: "I didn't know how to do that," Howard says. "So I found a chapter in a textbook about how to disaffirm contracts."
Never one to shy away from cold-calling, she phoned the writer/attorney who had authored that chapter, looking for a form she would need. He didn't have one but asked her to let him know how it all worked out. She reported back with a successful outcome, and the attorney hired her for the Manhattan firm where he worked. She handled international intellectual property rights matters, including work on behalf of songwriters.
"[That] got me into the representation of the Gershwin and the Presley estates," says Howard. Her boss at the Manhattan firm then helped her get a job as vice president of operations-East Coast for PolyGram Music Publishing Group, where she met her future husband, Doug, who was running the company's Nashville office.
"When you're not afraid to embarrass yourself, you can do almost anything," she says, referring to her cold call to the textbook author. "That one phone call allowed me to prevail over the most prestigious entertainment firm. It got me my first real entertainment law job, [and] that ultimately gave me my husband and my child."
But getting from New York to Nashville wasn't easy. When Loeb & Loeb opened a new Nashville office, the head of the entertainment group phoned an attorney friend in New York to do a background check before offering Howard a job. "[He] called his friend and said, 'Have you ever heard of this girl?' He said, 'Yes, I hate her. Don't hire her.' …  He told the story of this aggressive little lawyer from New Jersey who was representing a little girl on Atlantic Records, who disaffirmed a contract that he had failed to get affirmed by the courts in New York."
The outcome? "So, years and years later, looking for a reference for me, a potential employer calls the guy that I had made look bad, to get a recommendation. And because the guy didn't like me, [Loeb & Loeb] hired me. Because that guy beats everybody."
So she joined the firm in 1994, and in early 2001 opened a Music Row location for Stokes Bartholomew, now part of of Adams and Reese.
When the digital music boom hit 10 years ago, she says, "it was just the wild, wild West. The only way innovation happened was to just go ahead and do it. We've all had to go 'extreme entrepreneurial' and figure out: How do we work within a framework of the law and still allow businesses and innovation to survive?"
Widely known as a passionate protector of intellectual property rights in an industry that is constantly shifting, Howard has never been one to follow convention.
"I'm a mutt in the legal field," she says. "In the world of new technology, the rules that apply to copyright law are new and being developed because the technology is getting ahead of the law. … And if you're fearless, you just figure it out."
Richard Green, general counsel for Capitol Records Nashville and EMI Christian Music Group, has been negotiating tough deals across the table from Howard for more than a decade. "She's one of the two or three best lawyers in the entertainment business in Nashville," he asserts. "She's absolutely brilliant."
Howard grew up in Long Branch, N.J., capping, sealing and labeling bottles on the assembly line at the family's vitamin business in Newark. Dinner conversation often revolved around developing new formulas and naming new vitamins. "If there was a reality show called Extreme Entrepreneurs, that would be the way I grew up," she says.
These days, Howard's projects, she says, are "beyond all over the board." She works on music publishing and recording agreements; on various copyright matters in the entertainment industry.
One of the challenges she relishes most is recapturing copyrights for the families of deceased songwriters and artists. "My heart," she says, "is with anybody who has a problem that I can help solve." And yes, she has handled some matters for members of the E Street Band.
An easily bored idea-generator, Howard wears jeans, sneakers and T-shirts to the office and takes more pride in the family photos on her walls than the autographed CD covers. Though she is on the board of advisers for a major technology and entertainment group, and though she cleared 8.5 million digital tracks for a music download service, Howard doesn't own a smartphone and has never downloaded a song. She listens to CDs by Rascal Flatts, Irish folk singer Luka Bloom, Lady Antebellum, and Hall & Oates.
Howard says she has only been star-struck once: the time Daryl Hall and John Oates shook her hand from the stage at a concert she attended in college.
Of all her work for entertainers, Howard is proudest of her fight against piracy
in the karaoke industry.
While monitoring the Internet for illegal use of songs recorded by her client Kristyn Osborn of the hit country trio SHeDAISY, Howard discovered the group's music among others in an unauthorized karaoke package. The infringement lawsuit filed by litigators against the distributor set in motion groundbreaking legal restrictions that now require karaoke manufacturers to pay for copyrighted materials.
"Linda can be very, very tough, and the reason she can be tough is that she's extremely smart and extremely knowledgeable about everything she's doing," says Green. "She's very quick on her feet."
Despite her tight schedule, which includes being a mom (she and her husband have a 5-year-old daughter), Howard makes time for charity work. She recently received her firm's Volunteer of the Year award for her work with social entrepreneurs, local nonprofit organizations, and Music Row colleagues in need. Her current project is helping an 85-year-old ragtime pianist, Johnny Maddox, who owns one of the largest collections of pre-World War II sheet music and pre-vinyl recordings outside of the Library of Congress. The goal is to keep the collection in Tennessee, and find a museum setting to display it. Howard puts as much effort into her pro bono work as her regular work.
"I call myself the Mama Mafia," she says. "Everybody knows I'm desperate to do the right thing for my clients … but I'm also desperate to keep the music business alive. I'm trying to make sure that the entertainment industry and copyright can work together and not kill each other.
"I think we've got a really good shot at keeping it going."
Search attorney feature articles