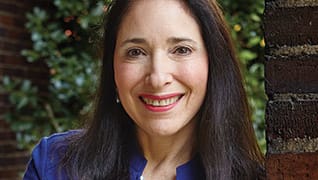 Photo by: Phillip Parker
Steady She Is
Marlene Eskind Moses guides clients through the toughest family law struggles
Published in 2014 Mid-South Super Lawyers magazine
By Nancy Henderson on November 5, 2014
When Marlene Eskind Moses saw her client struggling—the woman was fighting drug addiction and was devastated after losing custody of her child—her social work background kicked into high gear. Fueled by a desire to give the young mother more than just legal advice, Moses helped her get treatment at a rehabilitation center, work on a parenting plan and secure a joint custody agreement with her ex-husband.
"She's doing great," says Moses, 63, founding manager of MTR Family Law in Nashville.
"People need to be empowered to make their decisions and to understand the consequences and to take ownership in the decisions," she says. "I'm very careful to make sure that their situation is not taken over by me. I think it would do them a disservice if I were ever to say, 'Don't worry about it, I'll take care of it,' and then not make them a part of the team in getting through the process and becoming stronger."
One of the most respected family law lawyers in Tennessee, and the state's first certified family law specialist, Moses works hard to safeguard her clients' assets, protect their children and resolve complex issues through litigation, negotiation, mediation, arbitration and collaborative law. She will be president-elect of the U.S. chapter of the prestigious International Academy of Matrimonial Lawyers starting in 2015 for two years and is one of approximately 100 members selected as a diplomate of the American College of Family Trial Lawyers. U.S. News & World Report ranked MTR among its "Best Law Firms" in 2014.
"She has a remarkable ability, perhaps rare among lawyers, to put other people first, to really listen to others and to understand their concerns, needs and objectives," says Andrée Blumstein of Sherrard & Roe in Nashville, who has collaborated with Moses on several litigation matters. "Most important of all, Marlene is a wonderful, unstintingly generous, genuinely kind and caringly supportive person."
A fifth-generation Nashvillian and the oldest of three children, Moses hails from a close-knit family. Her mom was a community volunteer, and her father, a wholesale wine and liquor distributor, developed software applications for the liquor business in the late 1960s, "when [computers] had to have their own separate buildings with air conditioning under the floor and they were huge units that had punch cards," Moses recalls.
But it was a cousin and an aunt, both social workers, who influenced her first career choice.
After earning her master's degree in social work from Tulane University, Moses returned to Nashville to counsel clients in the drug and alcohol treatment program at the Dede Wallace Center, now part of Centerstone. "I have always been interested in people and caring about people, having good relationships with people and wanting to assist," Moses says. "So it really was a great fit."
During trips to criminal court to testify on behalf of clients in recovery, it occurred to her that she might make an even bigger impact as a lawyer. But, she says, "I had no intention of leaving my roots because of my values about family. I mean, that's just the most important thing."
So important, in fact, that she talked her husband, Robert—who worked in the family wholesale company her grandfather started at the close of Prohibition—into taking night classes with her at Nashville School of Law so they could spend time together. 
"My fear was that I wasn't going to see him in the daytime and I wasn't going to see him in the nighttime either, and that I needed to study on the weekends," Moses says. "I thought, 'Well, if we don't see each other for the next four years, that probably isn't going to be very good.'" Robert reluctantly agreed to sign up for one month, then another, until they both ended up with law degrees in 1980, though he never practiced full time.
In her fourth year, she gave birth to their first daughter, Marissa Moses Russ, now a partner in the firm. "We tease her about having gone to law school already," Moses says. During study groups, "we'd be in our living room and I'd hide behind the piano bench and nurse her while we were studying. The guys were great sports about it."
In 1981, Moses went to work in an association of attorneys. Years later she opened her own downtown firm, Moses & Townsend, with then-partner Beth Townsend. She initially represented clients in criminal and probate court.
Eventually, family law—from divorce and juvenile cases to prenuptial agreements and enforcement issues—eclipsed everything else. Along the way, Moses began doing more mediation, arbitration and settlement conferences, and even helped fathers win custody of their children at a time when few were successful in doing so.
These days, Moses is just as likely to handle same-sex parenting issues, cohabitation agreements, surrogacy adoptions, grandparents' rights and, in conjunction with co-counsel in France, England and other countries, abductions and parental conflicts for international clients. Like many attorneys, she spends less time than she once did in court, although a few years ago she began representing a client in an ongoing case with a rare 12-day complex divorce trial involving alimony, property division and custody issues.
In 2009, 15 years after becoming a fellow in the American Academy of Matrimonial Lawyers, Moses was elected president and was instantly catapulted into the public spotlight as media outlets sought comments on trending relationship topics like divorce insurance and Facebook cheating. Despite noteworthy coverage by The Washington Post, USA Today and other publications, she is especially proud of What Should We Tell the Children?, a booklet she produced for separating and divorcing parents that the AAML distributes in the U.S. and the IAML distributes internationally.
Practical and precise, Moses says that by listening she is able to help clients identify goals they didn't even know they had. "I try to be prepared and I try to do everything perfectly," she says. "I don't say that I always achieve it, but I can say that whatever I take on, I really want to do it well."
Greg Smith, a Nashville attorney with Stites & Harbison, has handled dozens of cases as Moses' opposing counsel over the last two decades. "She and her office make a tremendous effort to get to know their clients and the background of their clients and the details of the cases," he says. "Marlene's the kind of lawyer that comes to mediation or trial knowing where her client went to high school, probably knowing where the clients' parents went to high school."
When Russ, now 35, joined the firm in 2007, the duo set a precedent as the city's first mother-daughter private practice team. "She's more of a warrior at this point. I think she's more willing to take on the battles, and I'm probably more conservative," Moses says. "She has somewhat of a Don Quixote spirit about her."
Russ has shaken things up in other ways too. When she joined the firm, she talked her mom into moving the office from its longtime downtown location to Elliston Place in Midtown. It was no longer necessary to be near the courthouse on a daily basis for hearings, she insisted, and Moses agreed.
"Thinking about what kind of environment I wanted, I thought, 'There's no better environment than to have a home-like feeling for family law,'" Moses says, motioning around her spacious, second-floor office in a restored 1911 Victorian house. "I didn't want an institutional building. I wanted a home. … It was in terrible shape, but I liked the bones of this building."
Moses believes in making herself available to clients as often as they need her. She'd much rather answer a cellphone call at an inconvenient time than have a stressed spouse make a wrong decision, like moving out of the marital home in a huff.
She's also a master at staying calm, says Chancellor Carol McCoy of Chancery Court in Nashville and Davidson County. She and Moses became friends in the mid-1980s while they were appointed co-conservators for a husband and wife in a lengthy conservatorship. "She assigns stress to a back seat while she is efficiently organizing a resolution for her clients' concerns. There are few people who can handle numerous stressful cases in domestic relations with such calmness and assuredness. It throws other people off, how steady she is."
Yoga helps Moses stay relaxed and gives her a balanced perspective on life. So does volunteering for Family & Children's Service, where she currently serves as a co-chair of the capital campaign. She has also campaigned for several Nashville judges, including McCoy.
But it is her family that inspires her most. Her children—Russ; Caroline Moses Sprouse, a marketing manager at Nissan; and Ryan Manuel Moses, who works in the family spirits business—and three grandchildren live nearby. "I'm just so lucky," Moses says. "We all get along really well and enjoy being with each other. Nothing pleases me more than to be with family and friends."
Search attorney feature articles