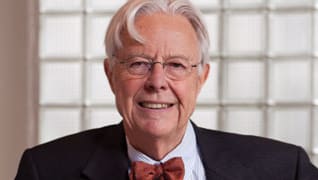 Photo by: Phillip Parker
The Amazing Career of Michael Cody
From guiding billion-dollar public utility arbitrations to indicting the governor to representing Martin Luther King Jr., the Memphis attorney has done it all
Published in 2011 Mid-South Super Lawyers magazine
By Nancy Henderson on November 7, 2011
April 4, 1968 was a landmark day for W.J. Michael Cody. The previous afternoon, the Memphis attorney, then in his early 30s, had met with his pro bono client, Martin Luther King Jr., at the Lorraine Motel. "I was like most people that met Dr. King," Cody says. "I was mesmerized by the force of his commitment and persuasiveness."
He'd seen King's unforgettable "I've Been to the Mountaintop" speech at Mason Temple that evening. And, on the 4th, after Cody and his colleagues at Burch, Porter & Johnson persuaded a federal court judge to lift the city's injunction against King's next march on behalf of the striking sanitation workers, he could finally catch a breather.
After the hearing, Cody dropped off a witness, Rev. Andrew Young, at the motel and began the five-mile drive home. A few minutes later, he heard the news on the car radio: King had been shot on the balcony outside room 306.
That evening, police escorted Cody, blue lights flashing, sirens wailing, downtown to help defuse a simmering riot. As soon as the cruiser arrived at the scene and Cody got out of the car, the officer sped away. "And I looked around and there were liquor stores being broken into and fires, and I was the only person that looked a lot like me in the neighborhood," recalls Cody, now 75. "I was about as afraid as I could be."
Nevertheless, he tracked down civil rights leader James Lawson who peaceably resolved the conflict—foreshadowing Cody's own future career as an advocate, mediator and leader in dispute resolution. The co-author of Honest Government: An Ethics Guide for Public Service, Cody is often called upon to advise his peers on ethics, particularly in the public sector.
"I don't have a real aggressive sort of go-for-the-jugular personality," Cody says. "But I enjoy the study of law, the professionalism of being a lawyer, the idea that you can use the law to make social change."
"His reputation is built on his tremendous legal abilities and also his highest ethical, professional standards," says John Knox Walkup, an attorney with Wyatt, Tarrant & Combs in Nashville, who has known Cody for 40 years. "He also uses the strengths of other people he's working with as part of a legal team."
A child of the Great Depression, Cody landed a leadership scholarship to Rhodes College, where he ran track. "I've run over 80,000 miles since I started in 1953," he says, noting his meticulously written record. "Some people might say it's an addiction."
Cody was president of the student body when he attended a national student congress with representatives from across the U.S. "It's the first time that I had been around African-Americans who were my peer age," he says. The next year, he studied in England—another "broadening experience" that nudged him toward the legal profession and away from the teaching career he had planned.
After his second year at the University of Virginia School of Law, Cody talked legendary Memphis trial lawyer Lucius Burch into hiring him as a clerk at what is now Burch, Porter & Johnson. The position paid nothing, so Cody worked weeknights taking inventory at a plumbing supply company and on weekends collecting tickets at a movie theater. At the end of the summer, Burch rewarded his young protégé with $100. "And that was $100 more than I had expected," Cody says.
He had already accepted a job at a big Philadelphia law firm in his final year when Burch invited him to Thanksgiving dinner. "Philadelphia is not your home," Burch told Cody. "We're in the middle of the civil rights movement here in Memphis, and Memphis needs lawyers that will get involved. Come work for me instead."
Despite the lure of the Philadelphia firm—which had 130 attorneys as opposed to Burch's half-dozen—Cody couldn't resist joining the hometown crusade. "Black women couldn't even try on clothes in the department stores," he says. "It was really a lockdown segregation and a lot of us felt like that was wrong."
In his first court case, he defended a yard worker who took his employer's car for a joyride across the Mississippi state line. Cody lost, but he gained a valuable colleague in Odell Horton, Memphis' first African-American prosecutor. Over the years, Cody developed a federal court litigation practice, defending railroad companies, barge operators and insurance corporations. But, he says, "It really wasn't until I became a United States attorney, and then later an attorney general, that I really felt like yes, the law was the perfect fit for me."
After serving on the Memphis City Council from 1975 to 1977, Cody was appointed by President Jimmy Carter to a four-year term as U.S. attorney for the Western District of Tennessee. On his first day, while moving into his office, Cody's predecessor quipped, "This job has more power than a good man ought to want or a bad man ought to have."
While on the job, he indicted Gov. Ray Blanton for allegedly selling pardons to favored criminals and orchestrated the nerve-wracking FBI rescue of a young woman kidnapped near the Tennessee River. "We didn't know from one minute to the next what was going to happen to her, how we were going to find her, and how we were going to get her freed," says Cody. "I can remember [thinking]: 'If this goes wrong, how am I going to live the rest of my life?'"
In 1984, he became state attorney general. During his four-year term, Cody advised legislators, governors and commissioners on governmental ethics; dealt with complicated issues such as prison overcrowding, higher education and affirmative action; and argued four cases before the U.S. Supreme Court, his proudest accomplishment to date. He won three of them.
Walkup was Cody's chief deputy. "Few, if any, law offices have the variety of legal issues before them that a state attorney general's office has," Walkup says. "And Mike was a resourceful, careful strategist in developing those cases."
When Cody's appointment ended, he joined Bass, Berry & Sims in Nashville. "But I just flat-out got homesick," admits Cody, who moved back to Memphis a year later and gradually shifted his focus to mediation and arbitration while representing international companies with complex regulatory issues. "It's sort of a natural transfer to be an arbitrator, where you're sort of a private judge deciding cases because you've been around the block a long time, or a mediator, where you understand the role of lawyers," he says.
He has since negotiated numerous disputes, including those between powerful rival companies, and between major sports associations and professional athletes. One of the toughest arbitrations lasted 18 months in Denver, where he presided over a public utility dispute with more than $1 billion at stake. The case involved 30 lawyers, 40 expert witnesses, thousands of documents and a final argument that drew so many participants it was held in a hotel ballroom.
"I never got a real kick out of slugging somebody in a courtroom," Cody says. "I would rather get a kick out of handling a lawsuit where I feel like the end result is a good victory for the justice system."
Search attorney feature articles