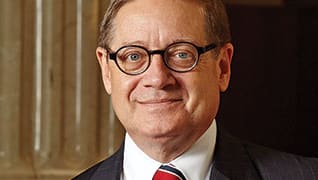 Photo by: Phillip Parker
The GC and the GOP
John L. Ryder throws himself into bankruptcy work, election law and his role as general counsel to the Republican National Committee
Published in 2014 Mid-South Super Lawyers magazine
By Lauren Peck on November 5, 2014
Q: How did you first become interested in law?
A: Probably as a child watching Perry Mason. It just looked like a lot of fun.
Q: What area of law did you think you wanted to get into?
A: I've always liked to go to court. I think that is great fun. My practice has focused on commercial litigation and bankruptcy. Bankruptcy, I think, involves all of the different skills that one has to have as a lawyer. It involves the drafting of documents, negotiating and litigating.
Q: How did you get to bankruptcy from watching Perry Mason?
A: When I started practicing, the firm I was with represented a bank and they sort of threw me into that. The bankruptcy code changed radically about the time I started practicing law, so it was a fertile field for young lawyers at that time to learn the new code and to develop a certain amount of expertise.
Q: What changes were going on?
A: In 1978, Congress adopted The Bankruptcy Reform Act, which gave us our present bankruptcy code. That replaced The Bankruptcy Act of 1898, which had been in effect up until that time, so it was a very thorough revision to bankruptcy practice. I had an opportunity to compete on an equal level with older practitioners. Everybody was starting out learning a brand-new bankruptcy code.
Q: You've done a lot of work with Shelby County.
A: I've been a part-time assistant county attorney since 1978. My first project for the county attorney's office was to compile the private acts affecting Shelby County. That was prior to the adoption of the home rule charter for Shelby County, so any ordinances had to be adopted as a private act by the Tennessee General Assembly.
Over the years, I have managed to develop some degree of experience and some expertise in the area of election law. Beginning in 2009 or 2010, I was assigned to represent the Shelby County Election Commission as a part-time assistant.
I also represent the Memphis & Shelby County Film and Television Commission.
Q: Doing what?
A: The film commission works with projects that come into Memphis to shoot films, television commercials or music videos and provides assistance. There are contracts for the city services that are entered into, there are location agreements and then there are just odd projects that have to be done, like getting access to a site at which the film wants to shoot. This may involve dealing with government entities that own or control that site, or private entities that control or own the site.
Q: What are some films or music videos that have come to Memphis?
A: We did The Firm, Great Balls of Fire, The Rainmaker. John Grisham has been very good to this city by featuring it in many of his novels.
Q: You do an interesting mix of things: bankruptcy, commercial litigation, election law. Was that intentional or has it just developed over time?
A: It's a mixture of both of those. You find areas that you're interested in and that you enjoy some success in and you explore those. You get one case in an area, and if you enjoy it and do well with it, you tend to get other cases or accept other cases. The process also works in reverse. You may get a case and find out that it's an area of law that you don't really want to practice in, that it's not suited to your personality or your level of interest.
Q: Were there any areas like that for you?
A: Divorce practice.
Q: Is there anything you wish you had known as a new attorney that you know now?
A: It's kind of like learning to swim. Until you get into the water, you can be told what it's like, but until you actually get in there, you're not really going to learn it. You have to learn by doing.
The one thing I would say is that what you discover over the years is that civil procedure is extremely important. It's a rule-driven process. My advice to law students would be pay attention.
Q: Was there anything you were surprised by when you started practicing?
A: I actually found the real practice to be much more interesting than the study of law. Law school can be kind of dry—intellectually stimulating, but it doesn't grab you. It's an academic exercise. When you get into practice, there are real people with real problems and you have an opportunity to work with those people and help them address the problems that they are faced with. That's very rewarding. I still think that's exciting 40 years later.
Q: How did the recent recession affect your bankruptcy practice?
A: At this point, I've been through several economic cycles, and this was typical. The bankruptcy business flourishes during a recession and during an economic crisis. In the business bankruptcy area, what it's about is trying to preserve as much value as possible through the Chapter 11 process. You start with the recognition that there probably isn't enough to go around, so how are we going to allocate what is there? How are we going to restructure this business so that there is some chance that the creditors can recover as much as possible under the economic realities of the situation?
Q: Are there any particular cases you worked on that really stand out?
A: I think most of the bankruptcy lawyers who went through it would say that the Julien Company case here, which was [a cotton broker] and the largest bankruptcy ever in Memphis. It was probably the most interesting and had the most interesting cast of characters and a significant number of interesting legal problems.
[Their owner], Julien Hohenberg, stood out. Anybody who knew Julien Hohenberg knew Julien Hohenberg was a character with a capital C. For instance, one of the assets in the bankruptcy estate was a series of videotapes of Mr. Hohenberg. He had hired a videographer to follow him around 24/7 and document his life. Yeah, no ego there.
Q: What issues came up in that case?
A: You had a lot of banks, both U.S. and foreign banks, that had taken security interests in cotton in its various forms. You had security interests in cotton futures, in physical cotton and in all shades of potential ownership interest in between. It was a case in which we got to get seriously into the Uniform Commercial Code and all of its implications.
Q: Were you representing the Julien Company or one of the creditors?
A: I represented a couple of Dutch banks.
Q: What case are you proudest of working on?
A: There are several. I represented the Memphis-Shelby County Airport Authority in the bankruptcy of Braniff Airways. We had a very good result in that case. Ultimately, it went before the 5th Circuit.
I represented the Senate Republican Caucus in the case of Ophelia Ford versus the state of Tennessee. This involved an election contest filed by Terry Roland—who is now a county commissioner—who had run against Ophelia Ford for the state Senate and lost by 13 votes. He filed a contest with the state Senate challenging her election. The state Senate ultimately threw her election out, but she filed an action in district court seeking to have the district court stay the state Senate from taking certain actions.
I was receiver for the Beale Street Historic District for several years. That came out of a case where the city and the developer for Beale Street were locked in some pretty difficult litigation. The judge suggested the appointment of a receiver.
Q: How have you seen your practice areas change over time?
A: In the bankruptcy area, I would say there is less litigation now than there was 40 or 35 years ago. Simply because a lot of the issues that were unsettled when the law was adopted in 1978 have been resolved. It took a lot of time and a lot of litigation for some of those unsettled questions of the law to be resolved by the courts.
In the election law area, particularly since the election of 2000, the amount of litigation has exploded exponentially now that election lawyers talk about winning beyond the margin of litigation. If the margin of victory is not great enough, then somebody is liable to file a lawsuit.
I think Bush v. Gore specifically set a precedent that, "OK, we can all go to court over this." Prior to that, there was a reluctance of candidates to go to court to challenge election results.
Q: You're the general counsel of the Republican National Committee. How did you first get interested in politics?
A: I volunteered for Barry Goldwater when I was in junior high school. Just stuffing envelopes, doing the usual volunteer thing.
As a lawyer involved in politics, I got called on, as lawyers do in either party, to deal with rules and bylaws, matters to deal with when there is litigation. One thing led to another, and I found myself as general counsel of the Republican National Committee.
Q: What does that role entail?
A: There is a certain amount of litigation that we're involved in. Last year, we were involved in a case called McCutcheon v. Federal Election Commission, which challenged the constitutionality of aggregate limits under the bipartisan Campaign Reform Act. Fortunately, the Supreme Court this year ruled in our favor and found that the aggregate limits do violate First Amendment rights of citizens and struck them down.
Much of the work is involved in dealing with rules issues within the Republican National Committee. Those are rules that the RNC operates under, but also the 50 state parties operate under. We field a lot of questions from the state parties on how they can be sure they are in compliance with the rules. Then there are a variety of contract matters that come up. There are trademark matters; choosing the site for the next national convention. We've completed that process and we chose Cleveland.
Q: Do you supervise internal lawyers?
A: Yes. The way that works is that this is a volunteer position. We have a full-time legal staff in Washington. I go up once or twice a month to meet with them.
Q: Have you ever thought about running for office yourself?
A: I did that once [for Shelby County Commission in 2002], and discovered that I'm better as the lawyer for the candidate than being the candidate.
Q: Any thoughts on who looks good as a Republican presidential candidate for 2016?
A: That will sort itself out after the November mid-term election this year. A lot of what the party does is in a more technical area in terms of developing a platform on which the candidate, whoever it is, can run. The Republican National Committee is focused on building the campaign infrastructure for the ultimate nominee to utilize in order to win.
Q: What do you do outside of work?
A: I enjoy reading, classical music, opera and hunting. This is a good area of the country in which to enjoy those things. We have a great opera company, we have a good symphony and we have great duck hunting around here.
Q: With all of your jobs, do you have much time for hunting?
A: No, not nearly enough. The ducks are not in any danger.
This interview has been edited and condensed.
Search attorney feature articles
Helpful links
Other featured articles
Greg Kuykendall fights for his death row clients—and wins
Rosemary Scapicchio wins long-haul cases for Sean Ellis and others
Texas attorneys who switched from prosecution to defense talk about what stays the same: getting the job done
View more articles featuring lawyers
Find top lawyers with confidence
The Super Lawyers patented selection process is peer influenced and research driven, selecting the top 5% of attorneys to the Super Lawyers lists each year. We know lawyers and make it easy to connect with them.
Find a lawyer near you