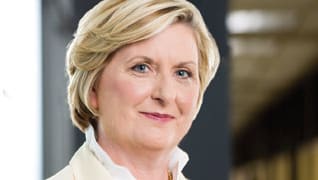 Photo by: Felix Sanchez
AJ: The Whole Person
The Houston employment lawyer would rather keep the peace than go to trial
Published in 2013 Texas Super Lawyers magazine
By Leslie Minora on September 9, 2013
First she heard about it at a state Bar meeting in 2010. Then she heard about it at a lunch presentation. Then she read about it in the novel Sold, which her daughter brought home as a 10th-grade reading assignment.
The book is about a Nepalese girl trafficked as a prostitute, but Andrea Johnson knew such slavery was happening in Houston as well.
She knew she had to step up.
"God was telling me something," Johnson says, eyes filling with tears. "I'm getting all emotional about it because, really, it's a connection between who I am at home and who I am as a lawyer."
When Johnson talks, she sits up straight and looks people in the eye. Her face is framed by short blond hair, and she has the air of someone with no use for disingenuous banter. A careful listener, her speech is measured but often cracks with humor.
AJ, as many call her, has practiced law for about three decades. She focuses on labor and employment law as a partner at Burleson LLP, on the 11th floor of Pennzoil Place in downtown Houston. Her clientele is split between the oil and gas industry and other businesses.
But she recently added another project: supporting and organizing fundraising events for the Tahirih Justice Center. This national organization provides advocacy and pro bono legal services—such as asylum and family law assistance—for immigrants seeking justice for gender-based violence, ranging from trafficking to genital mutilation to forced marriages. Tahirih helps trafficked women and girls sue their traffickers and obtain visas to stay in the U.S. Donations of money and time from people like Johnson keep the organization running.
Johnson grew up in Los Angeles with her parents and brother. She stayed in California through college at UCLA and Loyola Law School, Los Angeles; then moved to Galveston to clerk for Judge Hugh Gibson Jr. at the U.S. District Court for the Southern District of Texas for two years.
"It seemed like an adventure and something fun, and had a lot of promise for the future," Johnson says.
During her clerkship, she met and married her husband, David, who was born and raised in Houston.
"He brings balance, for sure, and a great support," she says.
Johnson suggested they move back to her home state after her clerkship, but he wasn't budging. She remembers him saying something like, "It'll take a mule team to drag me out of this state."
Instead, she and David moved to Houston, where she found her first job with a boutique litigation firm, handling a variety of cases.
At this firm, her boss called out, "AJ!" one day, and the nickname took hold. "Texans love nicknames," she notes. Johnson became a partner at that firm after four years, then left 13 years later and opened her own practice.
In 2008, she joined Burleson, where she has built up her employment law practice.
She and David had their daughter, Corina, in 1994 while she was working at the boutique firm. When her daughter was in preschool, her teacher said she needed extra help. When Corina was in first grade, teachers told Johnson that her daughter hadn't learned the basics of reading. As a result, she was enrolled in a private school with special programs.
"She is perfect in many ways, but she does have learning differences. And learning about what that's like has been an eye-opener and has enriched my life in many ways," Johnson says.
Four years ago, her daughter graduated from middle school, and at the ceremony, awards were announced. "'Best student in Spanish'—not my kid," Johnson recalls. "'Best student in English'—not my kid. 'In science'—not my kid. 'In math'—not my kid." Then came the last award of the evening: the principal's award. "This award is for ethics, hard work, determination, always being there, volunteering, caring for others," Johnson says. The recipient was Corina Johnson.
"That's my kid," Johnson says. "That's the whole person."
In her job representing companies in employment matters, Johnson considers herself a peacekeeper. She does her best to avoid litigation, preferring to foster long-term relationships with clients and urging them to call her with issues before things escalate.
"A little bit of prevention, even though it might cost you some money, far outweighs the amount of angst and money and difficulty that you face if you go through litigation," she says.
She prefers to keep the variables to a minimum and maintain her client's control of a situation. It's a nip-it-in-the-bud approach. Employers often send her memos to review.
"I've developed a skill to write termination memos or disciplinary memos," she says. "There is a way to do those things where you're preserving the esteem, as much as you can, on both sides of the table. … It's hard, very hard for a person to hear bad news about a job. It's traumatic. Believe it or not, it's hard for managers to deliver bad news."
Not every client phone call can be proactive, of course. Some are more like 911 calls. One such emergency came last year from an energy company, concerning the classification of employees and several other related matters. The company was sued over issues involving overtime. Had the client consulted with her in the beginning, she could have pointed out the problem. She helped them resolve the situation and settle various lawsuits for the lowest amount she could negotiate—minimal damage was the goal.
The company is still in business, and its approach has changed. "I get more questions in advance," she says. "They're a great client."
As the first female partner at Burleson's Houston office, Johnson started a women's forum within the firm. She is also a member and past president of Texas Women Lawyers; an officer of the Women and the Law Section of the Texas Bar; and a 2012 recipient of the Garland R. Walker American Inn of Court professionalism award.
Richard Burleson, founding partner of the firm, says Johnson arrives earlier and stays later than most. "I can't think of any more we could ask of her other than what she's doing," he says. "As a friend and a colleague, I just think she's one of the best."
Recently, much of Johnson's energy has been dedicated to the Tahirih Justice Center. She's garnered support for the group through Texas Women Lawyers, which held a fundraiser, and she served as co-chair of Tahirih's 2012 Texas Bighearted Attorneys Campaign, which raised more than $28,000.
When Tahirih's Houston office opened in 2009, director Anne Chandler was told that she had to meet Johnson. "Her reputation in the community is kind of [as] a mover and a shaker of community involvement," Chandler says. "I think I've had six people want to introduce me to her." Now she can tell them Johnson is already on her team.
Johnson plans to represent some of the victims in court in the future, but for now is focused on two other key roles: organizing and fundraising.
 "You send an email and AJ's always going to respond. She's dependable," says Lauren Waddell, a Houston-based family lawyer and president of Texas Women Lawyers. When she first met Johnson at a meeting, she remembers returning home and telling her husband that she had just met the most amazing person. "There's just something about her—very real, but dynamic. Just strong."
Search attorney feature articles