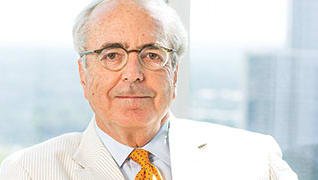 Photo by: Jeremy Enlow
'An Orderly Mind'
Austin litigator Stephen McConnico puts his straightforward style to work for clients ranging from big pharma to a former governor of Texas
Published in 2016 Texas Super Lawyers magazine
By Michael Corcoran on September 6, 2016
Stephen McConnico, the "quintessential gentleman," as colleague Paige Amstutz calls him, has tried over 200 cases through the years and is one of Texas' top business litigators. A trace of his small-town upbringing lingers in his light East Texas drawl. 
On a recent afternoon, from his 24th-floor office overlooking downtown Austin, McConnico is talking Big Mama Thornton, Lightnin' Hopkins, T-Bone Walker, and other colorfully named blues legends. 
"I'd go to Tyler to see Freddie King when I was in high school," recalls McConnico, a partner at Scott Douglass & McConnico, who graduated from New London's West Rusk High School in 1968. "He was from Gilmer, just down the road from where I grew up. It seems like I was always around the blues."    
Living in a small town (1970 population was 899) ensures that you know a little about most everyone, and most everyone knows a little about you. "You learn to get along with everybody, rich and poor; from different ethnic groups," he says, recalling that his high school transitioned from all-white to 37 percent black in one day during his sophomore year. "That kind of upbringing helps when you're facing a jury, I believe. It's like I'm talking to 12 people from my hometown."
McConnico discovered his oratorical skills after a high school football hand injury left him temporarily unable to type. Since that limited his homework, he was sent to speak to students in the Future Farmers of America club on issues such as soil conservation. "I had a knack," he recalls. He also won several Interscholastic League writing competitions.
Still, he insists he was not a gifted student. "I liked to read, and I liked sports," he recalls. "I had good parents, teachers and coaches who encouraged me. So I made the best of the small talents I had. I was all-district in football and track, and was the East Texas high school light middle-weight Golden Gloves champion. Some lessons I learned from boxing have served me well as a trial lawyer:  When you get knocked down, get up. Only take risk with a clear head. Don't hit below the belt."
Next to football stars, the biggest heroes in East Texas were trial lawyers. "Since my father was the mayor [and drugstore owner] and he dealt with lawyers all the time, I was exposed to some of the really good ones. They were larger than life."
But when McConnico went off in 1968 to the University of Texas, he hadn't settled on the law.
"I spent the summer after high school in Washington, D.C., [as a Congressional intern] and it was a dramatic one in our country's history. Robert Kennedy had been assassinated, and then there was the brutality of the Democratic convention in Chicago and Resurrection City. That was a lot for some kid from a backwater town in East Texas to be exposed to." 
The counterculture was in full effect in Austin during his '68-'72 college years, when McConnico got degrees in English and American studies. He also saw everyone from Muddy Waters to the Velvet Underground in the clubs, and caught Jimi Hendrix in concert.  
"I was thinking about going to grad school for English," recalls McConnico, who worked on Democratic political campaigns in '72. "But I had to get out there and make a living, and I thought law would be a good way. I figured at least it would be interesting. And I was right."
He followed an older brother to Baylor Law School and thrived in the trial-oriented system, serving as Law Review editor. 
"Litigation appealed to me right away," he says, "because you're always learning. And I just couldn't wait to present my case to a jury." 
McConnico is one of those people who have common-interest radar. Bring up, say, a book on vintage African-American music and McConnico can jump right in. He knows his stuff. It's one thing to know Jimmy Reed hailed from Mississippi, but only an aficionado knows that Reed's wife fed him lyrics onstage. 
The walls of McConnico's office are filled with photos of legal heroes, including W. Page Keeton, the legendary former University of Texas law school dean whose name McConnico replaced at the end of firm moniker "Scott Douglass and … "
A framed photo of his greatest mentor, former Texas Supreme Court Chief Justice Jack Pope, holds a special place next to McConnico's desk. It contains a note given by Pope to his former briefs clerk on his last day of service, May 27, 1977: "To Steve: Dedicated, industrious, intelligent, productive, possessed of an orderly mind. With my highest regards." Pope, who turned 103 in April, was McConnico's first boss out of Baylor Law School in 1976. 
"I was very lucky to have him to learn from," McConnico says. "He had a tremendous amount of enthusiasm for the law, but he went about it in a very disciplined way. Every case was important to him, and he was always learning, always adapting. It was contagious."
The foundation laid, McConnico set off "to try as many cases as I could right away," landing at Andrews Kurth in Houston. "Howard Hughes had just died and Andrews Kurth represented the estate, so many of their most experienced lawyers were tied up with that," he says. "But they had a large docket of medical malpractice cases." 
McConnico defended doctors for the next five years, averaging one case to a jury verdict per month. "That's unheard of these days," he says, estimating that he now averages one jury trial and one arbitration per year.
Pope and McConnico kept in touch, co-writing two Baylor Law Review articles, and when the justice heard that Scott Douglass was looking for a young trial attorney, he suggested McConnico. "I got an offer you didn't hear much back then: 'How would you like to move to Austin? We'll give you more money than you're making in Houston.'" At age 32, he became a partner. 
"It's funny how things go full circle when you've been doing this as long as I have," he says. "I started out trying all those medical cases; and then, for 35 years, didn't do much of that at all. I tried a lot of oil and gas cases. But recently I've been defending large pharmaceutical companies and identifying with some of the same issues as at the start of my career."
McConnico has also represented some high-profile clients over the years. He's a Democrat but defended then-Gov. Rick Perry against a suit by his 2006 Democratic opponent Chris Bell over alleged election-law violations. It settled out of court.
And in 2015, McConnico represented Texas Supreme Court Chief Justice Nathan Hecht in his appeal of a $29,000 fine assessed by the Texas Ethics Commission, which had ruled that a law firm's discount of a legal bill representing Justice Hecht should have been reported as a campaign contribution. McConnico got the fine down to $1,000, with the settlement specifying that neither Hecht nor the TEC had prevailed in the case.
McConnico has also defended attorneys in trouble over the years, including, recently, former Burleson County D.A. Charles Sebesta, who was disbarred in 2015 for withholding evidence that might have prevented the conviction of Anthony Graves, later exonerated after 12 years on death row. 
He didn't win that one, but in 1998, he handled another big case involving an attorney who faced disbarment. This was the infamous case of Texas State Lotto jackpot winner Hilda Riney Stanley, who had her brief marriage annulled before cashing a $4.3 million ticket. Husband Gifford T. Riney had agreed that no community property was accumulated, and that personal effects should be awarded to the party in possession. But after he learned that his ex-wife was holding a jackpot ticket, he not only sued Stanley for half of the winnings, but accused her attorney, Ron Adkison, of fraud and conspiracy for not disclosing the asset.  
During the week of testimony, McConnico portrayed Stanley as a loving, hardworking woman who had never gotten a break until she bought a lottery ticket with a tip earned from washing a woman's hair at a salon where she worked. Adkison maintained that, as her attorney, he was just looking out for her; and that, since Stanley hadn't cashed the winning ticket, it was just a piece of paper.
The jury deliberated for less than an hour before clearing Adkison of professional misconduct.
"Every trial is really nothing but telling a story," says McConnico. "The first time a client comes into this office, I'm asking myself, 'What's the beginning, middle and end of this story?'"
It's important to know all the details, McConnico says, "but [a trial] is not an information dump. You have to keep the narrative simple."
McConnico's courtroom charisma is no act, says Amstutz. "Steve's persuasiveness is enhanced by [his] courteous and professional manner on a daily basis when dealing with clients, judges and other lawyers," she says. "A lawyer has no greater asset than his or her integrity. You learn that by example."
Casey Dobson, hiring partner at Scott Douglass & McConnico, says the key to McConnico's courtroom success is that he's "disarmingly straightforward. Whereas most lawyers bob and weave and obfuscate about the weaknesses in their case, Steve confronts them head on. He is a truth-teller, plain and simple."
He's also an award-winner, taking home the prestigious Ronald D. Secrest Outstanding Trial Lawyer Award, given for exceptional professional conduct, from the Texas Bar Foundation in 2012.
And he's remained close to his mentor over the years, even representing his former boss Pope in litigation in 1983 to clear the title to land the judge owned next to the Port of Corpus Christi. 
"The first time Jack asked me for advice, it was rather intimidating," McConnico says with a laugh.
Of course, he won the case.
Search attorney feature articles