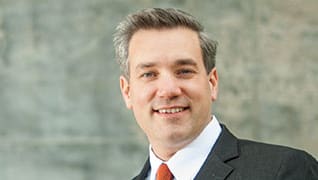 Photo by: Jeremy Enlow
At Your Service
Lessons learned as an Air Force captain have inspired Jeff Whitfield's litigation practice—and his commitment to helping veterans
Published in 2014 Texas Rising Stars magazine
By Marc Ramirez on March 7, 2014
On a chilly Saturday morning in 2012, litigator Jeff Whitfield leaned over a table, armed with a pair of scissors, as he and several other lawyers cut letters out of heavy-duty, glitter-covered paper. Their mission? Assemble a float for Fort Worth's annual Parade of Lights holiday procession. 
"It was Jeff, me, Aleed [Rivera] and a couple of others," recalls business lawyer Marvin Champlin. "It was like kindergartners. … In all my years of being a lawyer, I'd never sat down on a Saturday morning and cut out letters and prepared for a parade. But this was something Jeff really wanted to do."
Whitfield chairs the Texas Lawyers for Texas Veterans' Tarrant County chapter and wanted to make sure the organization's free legal services for vets were touted alongside the cowboy Santas and dozens of other brightly lit floats.
"He leads by example," says Aleed Rivera, the Tarrant County Bar Association's pro bono programs director, "and he follows through on everything he does."
On a more recent day, Whitfield, a litigator at Kelly Hart & Hallman's Fort Worth office, works the room at the U.S. Department of Veterans Affairs' outpatient clinic in Fort Worth, making sure everyone here gets the help they need. At one point, he approaches a young, well-dressed man who looks slightly lost. "Good to see you," he says. "Are you one of our attorneys today?"
Through the monthly program, he and other volunteer lawyers offer free legal advice to veterans and surviving families. Arriving attorneys cite their areas of expertise, then wait as incoming vets are directed to the lawyer who can best answer their questions. Maybe they're facing custody battles, or foreclosures. Those under certain income levels can qualify for pro bono counsel.
Whitfield, a former Air Force captain with a goodness-gracious brand of wholesomeness, keeps a bird's-eye view of the scene.
"There was a special bond with the people I was in the military with," he says. "I like serving vets because I feel like I'm back in that world again."
The youthful-looking, neatly attired lawyer with a fondness for cafeteria food (a remnant of his military service) is a long way from the astronaut he'd hoped to be as a kid. But those hopes took him to the U.S. Air Force Academy, and the experience shows in his devotion to the vets' program and the way he approaches every situation: as a challenge to be navigated.
Champlin, a Vietnam vet and former general corporate counsel at RadioShack Corp., is a frequent volunteer with the program. He says Whitman's disarming manner wins people over. "It's automatic that you're going to like him; there's an empathy there," he says. "I don't know him as a lawyer. It's here that I know Jeff. But because of what I know of him here, I'd recommend him to anybody."
Whitfield, 40, has a resume shaped by global strife. As a cadet, he worked in Washington, D.C., as a legislative liaison the summer of 1996, when terrorists bombed Khobar Towers, an Air Force housing complex near Dhahran, Saudi Arabia, killing 19 and injuring hundreds. Coming off active duty in 2002, he was awarded both a Fulbright scholarship and Rotary World Peace Fellowship; he bundled both into a two-year program at England's University of Bradford, where he studied global-conflict resolution. His mentor was Lord David Owen, the onetime British foreign secretary who tried to negotiate with Bosnian War leaders, including former Yugoslavian leader Slobodan Milosevic, on behalf of the European Union.
"At the end of two years, I actually understood: OK, this is what it means when you hear about diplomats sitting down and trying to negotiate an end to conflict somewhere," Whitfield says.
A few years later, during his last semester of law school at the University of Texas, he earned a position at The Hague, where he spent eight months briefing arguments for the International Criminal Tribunal for the Former Yugoslavia. His path had come full circle.
It all started with a kid named Aleksander Todorov, an exchange student from the former Yugoslavia whom Whitfield's family hosted when both were in high school. The family lived in Haltom City, outside Fort Worth. Todorov joined them in the early 1990s, a time of conflict and crisis as the Soviet Union's collapse prompted upheaval throughout the Balkans; this indirectly affected Todorov's family, which found itself redefined as Macedonian.
Seeing the situation through Todorov's eyes, things Whitfield had read about—wars breaking out and genocide taking place—became real. "That's what was happening with the dissolution of Yugoslavia," Whitfield says. "Kosovo was about to explode, and it would have drawn Macedonia into it. All that stuff was on my radar."
Already, Whitfield had a sense of justice and a flair for the spotlight. As a youngster, he'd accompanied his civic-minded parents to community meetings and recalls feeling miffed that the cross-town junior high had its mascot painted on a local water tower. He and his dad combed the streets, collecting petition signatures, and before long the 13-year-old Whitfield was at city hall. "I spoke to the city council about how we should have our mascot painted on a water tower," he said. "And we got it."
Inspired by the space shuttle flights of the day, Whitfield was determined to become an astronaut. His dad took him to see an astronaut speak at Texas Christian University. "I walked up to him and said, 'How do I become an astronaut?' He said, 'Well, son, if you want to be an astronaut, you gotta go to the Air Force Academy.'"
As a standout Air Force cadet, Whitfield's public speaking skills got him tapped to argue a point of law when the U.S. Court of Appeals for the Armed Forces held a hearing at the academy. In the process, he says, "I realized I was much better at arguing points of law than I was at flying planes, and I enjoyed the thrill of that. That's when I decided I was going to go to law school."
He began piling up credentials; a federal judge who'd seen Whitfield argue that Court of Appeals case invited him to work at his Denver office for the summer; then came the summer on Capitol Hill where, as a legislative liaison, he was besieged with calls from senators trying to find out whether family members of their constituents had been affected by the bombing in Saudi Arabia.
After graduating from the Academy, he spent six more years in the service—first managing the Air Force's acquisitions team in San Antonio, then serving as an admissions rep for the Academy, advising Air Force hopefuls around the Western U.S.—before heading to Britain, then law school and The Hague.
In 2011, after a stint with a Dallas firm representing veterans suffering from asbestos-related cancers, Whitfield joined Fort Worth's Kelly Hart, whose community-minded corporate culture suited him. Most of his work is spent in civil litigation, primarily on the defense side, with cases ranging from family and public law to DUI. One recent case involved a law firm sued for running ads seeking to represent potential victims of an ophthalmologist accused of failing to properly diagnose an eye condition; the doctor claimed he'd been defamed. The lengthy suit, on appeal and awaiting a ruling, revolves around Texas legislation that permits dismissal of so-called SLAPPs, or Strategic Lawsuits Against Public Participation, that might otherwise discourage individuals from exercising First Amendment rights. Whitfield's case is testing the application of that law to commercial speech.
"What the Legislature does not want to happen is [for] people to get sued for doing something they're constitutionally allowed to do but yet the threat and the fear and the expense of a lawsuit prevents them from engaging in their society in the way that the Constitution expects that we can," Whitfield says. "We're trying to sort out where the boundaries of free speech are as compared to commercial speech."
Last year, he defended a woman accused of financially benefiting from her relationship with an accountant who allegedly embezzled from a company that did business in the Middle East. Whitfield faced off against David Anderson of Dallas' Wick Phillips. Whitfield asked to have the claims against his client dismissed for jurisdictional reasons. The court agreed, and the claims were dropped. "Frankly, he had the better end of the argument," Anderson says. "The law and facts were in Mr. Whitfield's favor on that issue, and he did an excellent job conveying his position."
Anderson says he grew to consider Whitfield a friend. "I don't encounter this every day," he says. "[Whitfield] was fair, trustworthy, smart … just a joy to work with, even though we were on opposite sides. I would love to be his co-counsel, rather than going up against him. I just have a great deal of respect for the guy."
Whitfield sees himself as a problem solver. "If I have to help [clients] figure out legislation, that's what I do," he says. "If I have to help them fight in court, that's what I do. If I have to help them negotiate a reasonable settlement, that's what I do. My goal is to help them solve their problem in the best way possible. That's what they trained us to do in the Air Force. … You're a generalist who can understand just about anything, in order to achieve the mission.
"I may not have ended up as an astronaut, but the lessons I learned in leadership and service—those are lessons I use every day."
Search attorney feature articles