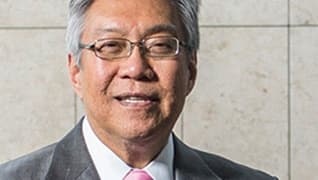 Photo by: Felix Sanchez
Coming to America
Gordon J. Quan helps shopkeepers, laborers and cooks step out of the shadows
Published in 2015 Texas Super Lawyers magazine
By Michael Corcoran on September 1, 2015
Gordon Quan's forefathers loved America so much, they kept coming here.
His grandfather arrived as a teenager, becoming a citizen but traveling back and forth to China. Quan's father was only 14 when he sailed from China to San Francisco's Angel Island in 1941, before later going back to China, where Quan was born. The family went back to the U.S. for good around 1950, after the communists took over in China.
But a rich history of coming to America is not the main reason Quan gravitated toward immigration law. "It really goes back to my own situation," says the self-effacing 67-year-old Houston attorney. When he sponsored his wife, Sylvia, who grew up in Hong Kong and got her green card in the mid-'70s, the three-year ordeal created empathy for others in similar situations.
"Just filling out the forms was so confusing," says Quan, who spent 18 months proving his own citizenship because he was born in China, where his father returned after U.S. Army service to study under the GI Bill. "We were two college-educated people having a real tough time navigating the immigration maze," he says, "and I wondered how people who didn't speak English could handle it." There were only two officers and a clerk to handle all Houston immigration applications at the time.
Jump ahead 25 years, when Quan became the first Asian-American elected to Houston's City Council as an at-large candidate. He helped create the user-friendly Office for Immigration and Refugee Affairs, one of his proudest achievements. "The field of immigration is so important because you're making an impact on the history and destiny of an entire family," says Quan, who served in 2002 as mayor pro tem. His new firm has six lawyers compared to his previous firm, which he co-founded in 2009, FosterQuan (now called Foster), which employs more than 40 attorneys in several offices.
Quan Law Group maintains a limited corporate roster—companies who need help acquiring visas for recently graduated international college students or employees transferring to the U.S.—but concentrates on individuals and small- and medium-size companies. "That's the most rewarding part of this job," Quan says from modest offices near The Galleria in Houston. "Taking that great burden off the shoulders of people who just want a better life."
Gratitude comes regularly, he says, recalling the young professionals who have approached him since his face became recognizable as the city councilman who met Houston's most famous immigrant, NBA center Yao Ming, at the airport and showed his parents around town. "You don't know me," they say, "but I want to thank you for helping my parents stay in this country." These are the sons and daughters of shopkeepers, laborers and cooks whom Quan helped step out of the shadows and be counted.
"Immigrants replenish the vitality of a city," says Quan, whose call-in radio show Coming to America, which he's hosted every Tuesday for eight years, attests to the "hot button" status of the topic. "We need that skilled, professional labor if we're going to stay competitive in the world."
This year an estimated 200,000 foreign professionals will apply for U.S. work visas, but only 85,000 are available.
The timing could not have been better for Quan to enter immigration law when he graduated from South Texas College of Law in 1977. The U.S. Department of Labor had reduced the number of professional occupations for which it granted automatic U.S. work visas. At the same time, changes in U.S. diplomatic relations with China opened up immigration for a lot of Asians. "The immigration law field emerged from those changes in '77," says Quan, whose first job out of law school was with Harry Gee Jr., who had done work for Quan's father, Bill, a grocer-turned-banker. "Before that, lawyers thought of it as a lot of paperwork and not much money."
Gee handed Quan a thick book of rules put out by the U.S. Department of Labor that outlined how people could immigrate based on their jobs. "This is your bible," Gee told him. "Learn it, study it." That's what Quan did. "Within a year I was speaking at conferences," Quan says, laughing. "That shows how the law is so dynamic. I had become an expert right out of law school because I knew the new laws inside and out."
South Texas College of Law professor Naomi Bang, currently on sabbatical, considers Quan a mentor. Besides teaching an immigration class at STCL together for a few years, Quan and Bang developed a federal immigration litigation department at FosterQuan to sue the government on behalf of immigrants whose civil rights were violated, mainly in naturalization cases. "He is a brilliant strategist," Bang says. "He thinks of ways others can't even imagine as options for immigration relief." 
Benito Juarez, manager of Immigrant & Refugee Affairs for Houston's Office of International Communities, credits Quan with creating an open-door policy at City Hall for immigrants to voice their concerns and complaints. "Gordon's knowledge of the law and willingness to listen gave access to so much information," says Juarez. "He brought the Office of Immigration and Refugee Affairs from a community organization to a part of the city government. Having that official city structure behind it made all the difference."
Quan did not set out to become a lawyer. In fact, he couldn't decide which occupation to pursue while an undergrad at the University of Texas in the late '60s. "I changed my major nine times," he says. "Chinese students are supposed to become engineers, so I tried that for awhile. Then I thought I would study pharmacy, which was like a grocery store, only a step up."  Quan grew up working at his family's grocery store in the Hispanic neighborhood of Houston's Magnolia Park. "When I finally graduated [with a degree in history], I had 160 hours. And I also got my teacher's certificate."
Further education—in countercultural idealism—came while living in the only liberal outpost of Texas during the time of the Vietnam War and love-ins. "We were going to make the world a better place," he says. So, Quan got a job as a seventh-grade history teacher in the impoverished Fifth Ward of Houston after graduating in 1970. "It was pretty rough," he recalls. "They had stabbings, fights. One day I had to discipline a kid and 10 or 11 of his friends came looking for me." Discouraged with the classroom, Quan decided to focus on guidance counseling and went to night school to get his master's in education at the University of Houston. It was there he met Sylvia, who was studying hotel management. Around the same time, Quan decided becoming a lawyer was the best way to make real changes.
"Getting my master's was a breeze, but law school was really tougher than I thought it would be," Quan says. "I have to credit Sylvia for showing me how to study. I mean, that's all she ever did, so that's all I ever did." When Quan started his own law office in 1980, Sylvia ran the business side. "My uncles bought a full-page ad in the Chinese newspaper announcing that Gordon J. Quan, attorney at law, was now open for business; and we were busy since day one."
He got involved in city politics when he tried to influence the City Council to pass a resolution that would allow undocumented workers to report crimes without having their resident status examined. "There was some opposition and I realized that no one else was going to carry the water on that issue, so I would have to," says Quan, who made partners of his longtime associates Rebecca Burdette and Jose Perez to reward them for their hard work. This freed him up to spend more time on his run for city hall. He won the election in 1999 with 56 percent of the votes and served three two-year terms, which was the maximum allowed.
"Being on the City Council is supposed to be a part-time job, but it wasn't," he says. "It was important for me to represent everyone, not just Asian-Americans. City government is where the rubber meets the road." The former history teacher was making the difference he'd always hoped for.
During his six years on the council, Houston opened Minute Maid Park, Reliant Stadium, and the new home of the Rockets, Toyota Center. So the job wasn't all work for sports fan Quan, who threw out the first pitch twice at Minute Maid. But the highlight was the arrival of 7-foot-6 center Yao, the gentle giant who quickly became an icon for Asian-Americans. Quan and Sylvia sat in the owner's box with the basketball star's parents during his first home game.
"There was a surly guy who sold newspapers near the office, and I never bought one from him because he seemed to have an attitude against me," recalls Quan. "One day, during the Rockets season, I was driving by him and he yelled out, 'Your boy can play!' And after that, he was always friendly to me."
Twenty years ago, Quan and his parents and siblings visited the Chinese village of Hoi Ping where he, his father and grandfather were all born. "My grandfather lived with us in back of the grocery store [in Houston] until he died in 1971, and so I just thought of him as an old man in dark glasses who cooked for us and helped out in the store," says Quan. "But back in China, he lived in a three-story house and owned land and businesses. When the communists took over, they declared him a capitalist, and so he and his family had to flee. He came back to the United States, where he'd lived as a young man. But they told us that he kept sending money to China to feed the people in his village." During his visit, a distant aunt told him, "The reason you have your blessings today is because of the charity your grandfather did."
Quan hasn't forgotten. "We have to remember that at least one of our relatives went through something, a significant process, to come to America," he says. "We all share that journey."
Search attorney feature articles