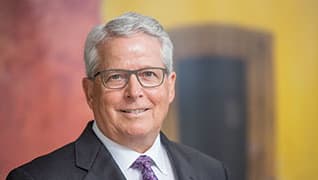 Photo by: Jeremy Enlow
Doug Alexander and the Art of Persuasion
The appellate attorney helps shape the law—and sometimes 'translates' it for judges
Published in 2017 Texas Super Lawyers magazine
By Alison Macor on September 5, 2017
It was the slang heard round the state.
Doug Alexander wasn't trying to disrespect the Supreme Court of Texas, but in 1999, frustration got the better of him as he was arguing for the appellant in City of Fort Worth v. Zimlich.
He swore. Kind of. He said frickin'. 
While this may not seem shocking to most sensibilities, it is the sort of word seldom heard in the hallowed halls of the state Supreme Court. Days later, Texas Lawyer trumpeted the faux pas in its weekly briefing of legal happenings around the state.
It wasn't the first time Alexander had let loose a bit in the courtroom, and it would not be the last. By his own admission, the appellate attorney has also used the phrases "out the wazoo" and "bunch of crap"—although the latter was in response to now-Chief Justice Nathan Hecht's use of the phrase.
"He's comfortable enough in his own skin and with the court that he just lets his personality come through," says appellate attorney Amy Warr, who argued against Alexander in Fort Worth. Partly because of the respect she has for her former adversary, she is now Alexander's colleague at Alexander Dubose Jefferson & Townsend. "Doug kind of feels free to do things unconventionally," says Warr. "He's very fearless."
"To me, the most important thing is to communicate," says Alexander, 64. "It's not to be smooth. I get really excited, and words come out."
Alexander honed his communication skills as a teenager growing up in Santa Barbara, California. His father, Harold, an ophthalmologist, took Alexander to Europe—his first international trip—when he was 13 years old. Two years later, Alexander accompanied his dad to Guatemala, where Harold performed eye surgeries. Then the following year, Alexander went to Nicaragua for three weeks as a volunteer with the Santa Barbara chapter of AMIGOS, a youth organization that runs summer service projects in Latin America. As a 16-year-old, he helped give vaccinations to a community of 800 people primarily living in huts with dirt floors. These trips put Alexander in situations with people he didn't know, and whose language he didn't speak, forcing him to learn how to get his ideas across. 
A year later, he joined the field staff of AMIGOS' international office, and participated in service projects in various countries. While finishing his undergrad degree at Pomona College, the 21-year-old became the regional director of AMIGOS for South America. He negotiated with ministry of health officials in various countries and handled sticky situations. In the process, he learned the delicate art of persuasion.
"In 1974, we were working in Central America and a priest in Columbia saw that a vaccine listed sterilized water as an ingredient. He then went to the local paper to say the Americans are sterilizing local children." Fighting such rumors became an integral part of Alexander's job. 
Alexander's relaxed Austin office reflects his love of international travel. A vibrant area rug from Oaxaca brightens up the corner office, though the light outside is dreary on an overcast April morning. Two walls of floor-to-ceiling windows offer airy views from the firm's downtown location on the 23rd floor of a building on the edge of Austin's entertainment district. Alexander's sleek black-and-glass office furniture is balanced by honey-colored wood accent pieces and a large, vivid photograph he brought back from San Miguel de Allende.
He himself is at ease. Wearing a black polo shirt and dark jeans, he recalls how his experiences with AMIGOS led to a short-lived major in pre-med that shifted to government and international relations at Pomona and, eventually, law school. "I rationalized that becoming an international lawyer would give me a lot of flexibility," says Alexander, who attended the University of Houston Law Center after moving to the city and working at AMIGOS' Houston headquarters.
It was there, during his initial semester in 1977, that he first learned about appellate law. Overhearing some classmates discussing the Philip C. Jessup International Law Moot Court Competition, Alexander's ears perked up. "When I heard 'international,' I thought, 'That sounds good,' but when I heard 'moot court,' I had no idea what that was," he says. Still, he signed up for the well-known competition, mainly because the regionals were being held in Denver in March, which meant good skiing. "But the appellate thing got in my blood," says Alexander, who credits as mentors the late appellate pioneers Rusty McMains and Lee Ware, both University of Houston alums and Alexander's moot court coaches.
However, it wasn't a straight path to appellate law. After law school, Alexander practiced first in San Diego. He began to do litigation—mostly admiralty and maritime—but discovered it was not for him. "It was very interesting, but it was always this pressure-cooker environment." 
Alexander returned to Texas in the early 1980s and took his last deposition in 1987—the first year, coincidentally, that the appellate practice specialization exam was offered in Texas. By 1990, he was certified in civil appellate law. 
"It never gets boring," he says. "I tell people I largely market ignorance. Appellate judges have to deal with personal injury cases, wrongful death, zoning, taxation, constitutional law. They may have backgrounds where they specialize in a particular area, but overall they're generalists. And what I discovered is, in those kinds of cases, I end up being a translator." He also loves the fact that, as an attorney working on appeals, he gets to help develop the law itself.
Appellate law requires a tremendous amount of writing, and Alexander feels his college experience with AMIGOS has helped him write winning briefs. "A lot of what I like about appellate work is the persuasion," he says. "Sometimes I tell people that I was given the tools of advocacy in law school—research, writing—but the art of persuasion I really got working in Latin America." Today, he sits on the AMIGOS Foundation Board of Trustees. He helped start the Austin AMIGOS chapter and served as its first president.
The year he spent clerking for the Hon. John R. Brown, a former chief judge on the U. S. Court of Appeals for the 5th Circuit, also influenced his writing. It was 1980, before the circuit split into the 5th and 11th circuits. Twenty-five judges made up the court, located in New Orleans. "Imagine arguing in front of 25 people. You'd stand up and say, 'May it please the court…' and it was just like sniper fire," recalls Alexander.
"Judge Brown had an incredible legal mind, and his retention was just humbling. He was also totally colorful: He would go to the opera, wear a red cape, and sit in the front row conducting." Brown was also a demanding mentor, but he let his clerks draft the opinions for his high-profile cases. He supervised, says Alexander, "but he gave his clerks a huge amount of responsibility."
Alexander is known for his written work. A 2011 paper he co-authored with attorney Lori R. Mason, now on the faculty at UT-Austin School of Law, "Petition for Review Practice Before the Supreme Court of Texas," advises, "An effective technique for grabbing the attention of the Court in the petition is to employ a 'hook.'" This hook, the paper advises, should be repeated throughout the petition to maximize the chance that a justice will see it. "This technique will not appeal to those writers who rely on a thesaurus to avoid repeating themselves," it also notes.
Alexander credits this bit of advice to two English professors he heard at an appellate seminar in New Orleans. "Their whole point was: You're in competition for memory space, so throw away the thesaurus," says Alexander. "You have to hammer on a theme, and that's particularly important at the Texas Supreme Court, where you're trying to get their attention to actually grant something." 
Former Chief Justice Wallace B. Jefferson, who stepped down from the Supreme Court of Texas in 2013 and joined Alexander at the firm, says Alexander follows his own advice: "The briefs that he files are excellent." Jefferson also admires Alexander's collaborative spirit. "He wants criticism of briefs that he's drafted, and he wants that to be intense."
One of Alexander's most memorable cases was something of an anomaly in terms of appellate practices. In 2008, Alexander offered to help Warr with a high-profile pro bono case. Her clients were 30 women from Yearning for Zion Ranch, a polygamist sect in West Texas. The state of Texas had separated more than 400 children from their mothers, and Warr and representatives from Texas Rio Grande Legal Aid were arguing to reunite the women and their children. "The thing about Doug is he's a really quick study," says Warr. "He can absorb things really fast, and he has a lack of ego."
Texas Child Protective Services had lost in the court of appeals and was working overtime, says Warr, to request that the decision be stayed—which required her and the other attorneys to file a brief in less than 24 hours over the Memorial Day holiday weekend. "This was back in the days of paper filing," Warr recalls. "Even in a 'hurry-up case,' you get two weeks. This type of deadline was very, very rare."
"In appellate law, one of the things that's attractive is you get 30-day deadlines, and sometimes you can get them extended," says Alexander. "It makes for a very calm life." But this time, after receiving a phone call and a letter from the Supreme Court of Texas requesting that the attorneys file a hasty response to the CPS petition, Warr, Alexander, and their co-counsel pulled an all-nighter.
In another unlikely turn, the Supreme Court decided the case quickly—the following day. Alexander and Warr were attending a CLE seminar, sitting on opposite sides of a large hotel banquet room. News of their win rippled through the crowd, and they both left their seats, met in the back of the room, and high-fived.
"You don't get decisions that quick, but we did," says Alexander. "There were a lot of moving parts in that case. It was very, very exciting." 
Back in his office, Alexander was tying up loose ends before he and his wife, Stacy, headed off for a monthlong trip to Aix-en-Provence, France. He planned to work on his French while overseeing several cases long-distance. In one, Alexander represented the city of Houston in a suit seeking to stop the city from using taxpayer dollars to pay same-sex spouses' benefits. He and other attorneys for the city appeared in front of the Texas Supreme Court in March, arguing what was at issue was not whether benefits are a fundamental right, but what qualifies as equal treatment under the 2015 landmark case Obergefell v. Hodges. "If you extend benefits to opposite-sex couples, you have to extend it to same-sex couples," Alexander told the court.
Although the court ended up siding with the same-sex opponents, Alexander says the experience was a memorable one.
"The actual time that you get to stand up in front of the court and argue—particularly in the Supreme Court, where it's discretionary jurisdiction—is relatively limited," says Alexander. "You're standing in front of nine robed justices, so it's a real cathartic experience. To me, that's kind of the reward."
---
A California native who grew up surfing and skiing, Alexander had to find a different hobby when he moved to landlocked Austin from San Diego in the early 1980s. In his 50s, he transitioned to skimboarding, and paddleboarding on Lady Bird Lake. Then, he says, "I decided to commute to work one day a week on my skateboard." He typically uses a 54-inch longboard for that, while his shorter board comes out for House Park Skatepark, the concrete paradise a few blocks from home near downtown. He and other early risers spend their mornings weaving among the ramps, rails, half-pipe and bowl at the 30,000-square-foot skate park. It's not surfing, but skateboarding satisfies Alexander. "It's the feeling of flying, the sense of cutting back and forth," he says.
 "Doug's always in motion," says colleague Amy Warr.
Search attorney feature articles