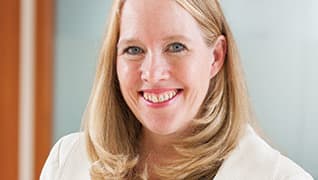 Photo by: Jeremy Enlow
Essentially Allyson Ho
A harp performance at Sandra Day O'Connor's request came early in a legal career that is hitting all the right notes
Published in 2014 Texas Super Lawyers magazine
By Carlos Harrison on September 5, 2014
Many lawyers have appeared before the justices of the U.S. Supreme Court, but Allyson N. Ho is likely the only one who's also played the harp for them.
The concert came while she was a law clerk for Justice Sandra Day O'Connor. The appearance came a few years later, after she had worked for U.S. Attorney General John Ashcroft and as a special assistant on policy to President George W. Bush, on her way to finding her path as an appellate lawyer at both the state and federal levels.
All that from someone who had no inclination toward the law until after she earned her master's and Ph.D., and worked as an assistant professor of English for three years at a Kentucky college.
"Sometimes I feel a little bit like Forrest Gump," she says. "I sort of just found myself in these amazing places."
Of course, as much as Ho might describe her career path as following a series of unexpected opportunities and surprise phone calls, she admits there's more to it than blind luck.
"It's kind of that marriage of just working really hard and being open to opportunities and trying not to have, if possible, these preconceived notions about each subsequent step," Ho says. "An opportunity may come along that doesn't look like it's in lockstep with what others might see as the trajectory of your career, but it might just be an incredibly valuable experience in and of itself, or it may help you develop areas or skills or talents that otherwise you wouldn't that then you can put to use in other contexts and circumstances."
There's also a major un-Gumplike quality she doesn't mention.
"She has one of the biggest brains I've ever encountered," says her Morgan, Lewis & Bockius colleague Brady Edwards, managing partner of the firm's Houston office. "Yet she's one of the most likeable and approachable people that I know."
Her talent, he says, is this: "She has the ability to take incredibly complicated, sophisticated problems and boil them down and explain them in a simple and persuasive way, which is phenomenally useful in court."
The ability to distill complex matters down to their essence is a recurring theme for Ho—both when people talk about her, and when she talks about her particular way of practicing.
"I like to tell people it's very easy to make something complicated," Ho says. "What's hard and so important is taking a complicated area of the law … and making it easy to comprehend without oversimplifying or leaving out. It takes time and effort. I think the reward for doing that is when you're able to draft a brief or deliver an oral argument that helps the court focus on what's really at issue in a case."
Her combined talents make her, in the words of Texas Supreme Court Justice Don Willett, a star among attorneys in the Lone Star state.
"As appellate advocates go, Allyson's the whole package: off-the-charts brilliance, cracker-jack writing, plus she's strategically very adept, knowing how to make targeted arguments that thread often-small needles. And the cherry on top is her winsome personality," Willett said via email. "Maybe her Shakespeare expertise helps explain Allyson's uncommon advocacy skills, including a knack for framing compelling legal stories."
Ho has a broad smile that fills the room—even one as large as her office on the 32nd floor of a downtown Dallas building, with two walls of glass and a view that seems to spread across all the green in Texas.
Growing up in Houston, though, as the daughter of an architect and a writer, a career in law couldn't have been further from her mind. Ho loved reading and writing. She followed her passion to college and got a doctorate degree in English literature. She was still following that path when she took a job at Asbury College. There, teaching in bluegrass country between Lexington and the big bend in the Kentucky River, Ho felt the pull of the law.
 "I was serving as the faculty adviser to the college newspaper, and First Amendment issues were raised there," she says. "I was intrigued by those issues."
The more she thought about gaining tenure and spending her life in academia, the more she thought the law offered something with more practical application.
"It looked to me like a perfect marriage of sort of what I loved about the academy—from an intellectual and research and reading and writing standpoint—but also a little more engaged," she says.
She headed to law school at the University of Chicago and, in a typically all-out effort, was a member of the law review, articles editor for the legal forum, editor-in-chief of the student symposium issue of the Harvard Journal of Law & Public Policy, and winner of the school's Ann Watson Barber Outstanding Service Award and its Casper Platt Award for best paper written by a law student. She topped all that off by finishing with high honors and making the Order of the Coif by graduating in the top 10 percent of her class.
"Usually, my mantra is you've got to aim for perfection," Ho says. "Because if you aim for perfection and you miss, you'll hit excellence."
She also made friends with another law student, a Taiwanese immigrant named James Ho. Like her, he was a movie buff with a strong love for the United States and the law. Their friendship blossomed into marriage in 2004. It also gave her new regard for her homeland.
"I think it's given me a much more palpable and deep appreciation for both what immigrants bring to America and for what America offers to immigrants," she says. "I think when you see someone like my husband who learned to speak English watching Sesame Street arguing the case before the United States Supreme Court as the solicitor general of the state of Texas, you really appreciate the promise of America and see that the opportunities America offers are just as real today as when the founders came."
Now, as parents of twin toddlers, she says, the key to balancing family with a pair of high-powered careers is focus.
"It's almost like a brief-writing: just clearing away what is unnecessary and focusing on fundamentals. … I think loving what we do, loving our family, loving our country—I think it's a passion," she says. "And I sometimes think it's less about balancing than it is about separate seasons of your life. You go through seasons where this is your focus, and then you go through other seasons where this is your focus."
Before they married, they went to Washington, D.C., where he became an associate with Gibson, Dunn & Crutcher and she became a law clerk for the first female Supreme Court justice.
There, Ho found her passion for appellate work. And heard the words that would become something of a guiding philosophy for her career: Justice O'Connor's emphasis on the importance of hard work and "being open to whatever opportunities come about."
It was there, too, that O'Connor discovered that Ho played the harp—or at least had in junior high school—and got her to put on a musicale for some of the justices and their clerks.
"She found a harp for me to practice with. So I practiced. And I played the harp. Another law clerk played the flute. Another clerk played the piano."
After her clerkship ended, Ho went into private practice. Then, in October 2004, came a call inviting her to work for Ashcroft, overseeing the Justice Department's homeland security and immigration enforcement and reporting to the attorney general on issues of review and litigation in those areas. "It was," she says, "just an incredible opportunity to work for someone that I long admired."
A year later, Ashcroft stepped down. Ho thought she would go back into private practice, but the phone rang again. This time, it was an offer to work not as a lawyer, but as special assistant to George W. Bush, advising the president on all areas of legal policy.
 Giving the president briefings and sitting in on other briefings, she says, was "like a great oral argument—with really insightful, challenging questions from the president and other senior officials—and an exhilarating 'iron-sharpening-iron' atmosphere, focused on presenting all points of view and considerations relevant to the president's decision-making."
Heady stuff for a 39-year-old barely five years out of law school. It shaped her in lasting ways.
 "I almost feel like that job—not being a lawyer—taught me more about being a good lawyer," she says. "It really helped me hone my craft in terms of being simple and straightforward and figuring out what's really important and getting down to that."
Her supervisor at the White House, Tevi Troy, says her ability to write clearly and explain things simply made his job that much easier.
"She's also incredibly hardworking," Troy says. "I couldn't believe the hours she would put in—and this was in the White House, where everyone was putting in long hours."
When the White House job ended in the summer of 2006, Ho and her husband decided it was time to come back to her home state, and moved to Dallas. He went back to Gibson Dunn, she to Baker Botts. When her husband became solicitor general, the man he replaced, now-Sen. Ted Cruz, recruited her to work at Morgan Lewis, where she co-chairs the firm's U.S. Supreme Court and appellate practice.
It put her in a position to sit second-chair to Cruz at the Supreme Court, representing home-appliance manufacturer SEB in a patent infringement case in which they won a majority decision. Eight of the justices affirmed the jury's decision in Global-Tech Appliances Inc. v. SEB S.A. that infringement inducement (leading another party to infringe on an existing patent) had occurred, but the justices noted that the lower court's standard of proof for this accusation should have been higher—"willful blindness" instead of "deliberate indifference." In this case, the Supreme Court felt the higher standard had been met. But even though SEB prevailed in its accusation that Global-Tech had caused the infringement on an SEB deep fryer, the decision raised some questions in the patent-law community as attorneys sought to interpret its impact.
Ho is slated to argue her first two cases before the high court next year. She has already served as lead counsel in multiple petitions to the court, including the long-running and closely watched case of Mount Soledad Memorial Association v. Trunk. At issue: the ordered removal of a memorial cross on federal property as a violation of the amendment prohibiting governmental establishment of religion. At press time, Ho, who represents the association seeking to keep the cross in place, was expecting a decision soon on whether the high court would hear the case.
The joy of her job, she says, is in its challenge and its diversity.
"I work on everything from federal procedural issues that arise in a variety of contexts to the First Amendment to the dormant-commerce clause to environmental law to labor and employment law to contract interpretation," she says. "And that's last week."
She laughs. "Next week is a whole new area."
"One of the things I really love," says Ho, "about the practice of law is: The reward for eating the most pie is more pie, but if you love pie, it's great."
Search attorney feature articles