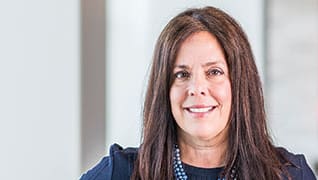 Photo by: Jeremy Enlow
Everything Yvette Ostolaza Needed to Know She Learned at Sears
The Dallas litigator says the pathway to relationship-building is through customer service
Published in 2018 Texas Super Lawyers magazine
By Carlos Harrison on September 6, 2018
Yvette Ostolaza taught herself English as a young child by watching Sesame Street. A daughter of Cuban immigrants, she has been overachieving ever since—fudging a bit on her age to get a job at Sears to fund private high school (and making valedictorian, of course), then crying her way into college (sort of). On a full academic scholarship. 
Now managing partner of Sidley Austin's Dallas office, Ostolaza sits on the international corporate law firm's management committee, dealing with complex litigation and sensitive internal investigations for private equity funds, directors and corporations ranging from MGM Resorts to Neiman Marcus to Vistra Energy. According to Texas Lawbook research reported in The Houston Chronicle, she pulls in $1,000 an hour, one of only about 15 trial lawyers in the state to do so.
Alaina Brooks, executive vice president and chief legal and administrative officer at EnLink Midstream, says great lawyering isn't even the best thing about Ostolaza—it's "the counselor piece" that's especially rare. "Anything where I really need to address risk, think through a process, prevent a problem, or [if] a case is particularly of concern," says Brooks, "she is the person that I'm going to turn to to work on that." 
Ostolaza is also a fierce advocate for others from diverse or disadvantaged backgrounds—immigrants, women, people of color—and living proof that, with the right opportunities, they can chart their own courses. 
"I am passionate about mentoring everybody and having people have their dreams," Ostolaza says. "I'm not saying that to be politically correct; I honestly mean it. I do feel that, with the first-generation people and the women, I have a particular talent because I've been there and I know the issues they face."
Ostolaza's parents came to the United States as teenagers during Operation Peter Pan, the mass exodus of Cuban children sent off the island by their parents to escape Fidel Castro's rule. The couple met, married and went to work. Ostolaza's mother was 17; her dad 20. They had their only child a year later. 
The family lived in what Ostolaza describes as a working-class immigrant Miami neighborhood. Her parents' first language was Spanish, but she picked English up on her own, with a little help from Big Bird. Once in school, she showed similar enterprise, getting into the gifted program in fourth grade. In middle school, Ostolaza was selling Avon products to her classmates. 
Ostolaza's parents didn't want her attending the public high school in her neighborhood due to safety concerns, so she applied to a private school. Shortly after Ostolaza was accepted, her mother was diagnosed with breast cancer. 
"Although we had insurance, back then it didn't cover the things it does now," she says—notably radiation therapy and reconstructive surgery. The family would need to scrape by from their carpet-cleaning business and, later, their print shop. Ostolaza pitched in by going to a nearby Sears store and bumping up her age—just a few months—on the application. She got the job, in customer service. 
"I always say that I've learned almost everything that I needed to know in life about dealing with difficult people, clients, customers, human beings from my stint at Sears," she says. The money from her two years at Sears helped pay for her education.
Her mother survived the cancer, and her parents now live near her in Dallas. Despite all the stress involved, Ostolaza was valedictorian at her high school. But she didn't enroll in college. Not yet. 
"I was engaged to get married, like every good girl at that time, and so I didn't see a path where I could afford college," she says. "The idea was that I go to some community college, little by little, in a couple of years. It wasn't that I didn't think I was going to college, it's just that I didn't think of a four-year university as something that I could do. I was getting married."
She had a date picked, in December. She had her bridal shower. 
Then she had a dream.
"I was walking down the aisle; my dad was on the other side, and I was like, 'Why am I doing this?' Then I woke up and I thought, 'Wow! If I'm having dreams that vivid, that should tell me something.'"
She broke off the engagement that summer and applied to the University of Miami. When she went for the interview, an admissions officer told her it was too late for that year.
"I just started crying," she says. "I said, 'You know, if I don't go to college now, I probably will never go.' I showed them my ring. I told him the whole story, much more information than he probably wanted."
They not only let her in, they gave her a full academic scholarship. But she kept working.
"I worked throughout college," she says. "I never did not have a job. I worked at the personnel pool, Miller Brewing; I worked at airlines—Midway Express and People Express."
That last job meant working the airport ticket counter from 5 a.m. to 9 a.m., then heading to school for a day of classes.
Still, she got her undergraduate degree in three years, with honors. 
After graduation, Eastern Air Lines offered her a marketing job. It paid well. The travel was nice. She got promoted fast, to district manager, then international sales manager. 
"I went boom! Boom! Boom!" she says. "And then bad sorts of things started happening in the airline industry."
Takeovers. Mergers. Layoffs. 
She saw her boss, a career employee in his 50s, get his pink slip and cry. She decided to quit and go to law school.
Sidney Sheldon may deserve at least some of the credit. 
She had read one of his books, Rage of Angels, a few years earlier. It's the story of Jennifer Parker, a young prosecutor torn between romance with a rising politician and a Mafia boss. Steamy stuff, but it made Ostolaza realize something she'd never thought of before: Hey, women could be lawyers.
At the time, she says, Perry Mason was the only lawyer role model she knew. Female characters were the ones she saw on I Dream of Jeannie and Bewitched—"asking permission from whomever the male figure was. … There were no female lawyers. Mary Tyler Moore was a big thing, and you had to sort of pick: Be single [and independent] or be married. You couldn't do both."
Jennifer Parker planted the seed. The airline layoffs clinched it.
"I was like, 'This is not long term. I need to be more on my own and be an entrepreneur,'" Ostolaza says. "Law was the perfect profession. You can always hang the shingle, even if you're not with a big firm."
There was one problem: "I had no idea what lawyers did. I thought they were all trial lawyers, that people went to court. I did not know there were corporate lawyers."
When she found out what they did, she liked that aspect of the law. A criminal defense internship, including jailhouse visits with clients, cemented her decision.
"My grandmother was glad when I decided not to do that anymore," she recalls.
Texas came with a wedding ring. She met her husband, Dallas finance and real estate attorney Peter Dewar, when they were summer associates at Kemp Smith in El Paso. He was a Texan. They married during her last year of law school. When she graduated, she says, "He had lived a year in Miami, and so I thought it was only fair. I said, 'Well, let me try Texas.'" 
She started at the Dallas office of Weil, Gotshal & Manges as a summer associate, handling commercial litigation, finance services, arbitration and employment law. She stayed for 21 years, rising to partner, management committee member and co-head of the firm's 160-lawyer complex commercial litigation practice, building a reputation as a litigator in both federal and state courtrooms and in tackling delicate internal investigations in corporate boardrooms. 
"Usually at the beginning, those can be a little bit tense," says Stephanie Anderson, Dallas market leader and managing director of AlixPartners. "They don't really want to go through with the investigation, but they have to. And she does a really good job of building relationships with all of them and really making them understand the underlying evidence, but also helping walk them through what is the right solution."
A notable case came in 2010, when NPR hired Ostolaza to conduct its internal investigation following the firing of Juan Williams, who was fired two days after making controversial remarks about Muslims while on air with Bill O'Reilly. Ostolaza was the lead in the highly publicized investigation that ended with, among other things, the news division head's resignation.
In 2013, Ostolaza shook the local legal community when she led the migration of 33 attorneys and 20 staffers from Weil to Sidley Austin, including all the women partners in the Dallas office. While that aspect drew much attention, Ostolaza says it was overblown. 
"We were close friends," she says. "We could not imagine not working together. We had been each other's support system through children and through marriages and through everything, and so I think that's the story."
She notes that men were part of the migration as well.
Accolades along the way have included the Dallas Women Lawyers Association's highest honor, the Louise B. Raggio Award, given to Ostolaza in 2009. It noted in a press release that "her contribution doesn't stop at being a world-class attorney. Ms. Ostolaza has been one of the foremost pioneers in advancing the cause of women and minorities in the legal profession … helping [Weil] establish one of the most innovative and successful diversity initiatives in the legal industry, serving on the firm's Diversity Committee, helping the firm establish groundbreaking recruitment programs for women and minorities, and also mentoring associates." 
It's something she strives for with her clients as well.
"I feel that it's a priority to get more diversity in the boardrooms," she says. "I have found, in advising boards, that it is extremely important to have a diversity of thought, for companies to have different perspectives." 
 Mark Rosenberg, principal at MHR Fund Management, says of Ostolaza, "She just had a huge effect on the way I think about things, in a very strategic and helpful way. She looks at things from a very humanistic perspective, and I think she gets people. So she looks at motivations. She looks at alignment. And she looks at human nature. She doesn't look purely at the law."
---
The Yvette Clutch
Yvette Ostolaza may be the only attorney to have a designer purse named after her. 
"I was looking for a name for the bag and I thought, 'What better inspiration can you have than a very strong, dynamic woman who's very stylish and just loves life?'" says friend and client Bruce Hoeksema, founder of Italian design house VBH Luxury. "She had done a lot for me and for the company, and I thought it was an appropriate gesture and honor."
And so, five years ago, the Yvette clutch was born. Hoeksema's handbags are frequently seen on runways and red carpets, and in the hands of celebrities such as Sarah Jessica Parker, Gwyneth Paltrow, Beyoncé and Michelle Obama.  
Decorated with a distinctive, flowing floral pattern of punched whorls, curls and swirls, the Yvette debuted in a variety of leathers, including alligator and python, and a range of colors from blush to blue. Going price: $1,450 to $4,950. 
But good luck finding one—fashion is a fickle and ever-changing thing, and the Yvette line has been replaced by newer models. But Ostolaza still has her private collection.
Search attorney feature articles