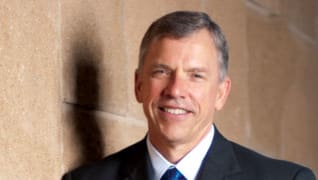 Photo by: Jeremy Enlow
Family Law in the Age of Facebook
Be careful what you post—Plano family law attorney Rick Robertson has seen e-communications come back to haunt
Published in 2011 Texas Super Lawyers magazine
By Paul Sweeney on September 12, 2011
Call her Ms. Smith. She was single, fun and interested in men, she declared on her Facebook profile. Photographs on her page depicted her canoodling with her latest boyfriend at a Dallas cocktail lounge. A Budweiser sign is prominently displayed overhead.
But for Rick Robertson, the family law attorney who was representing her soon-to-be ex-husband (call him Mr. Smith) in a divorce and child-custody dispute, Ms. Smith's Facebook postings afforded a Perry Mason moment.
Until then, Ms. Smith had successfully been denying her husband full visitation rights with his infant son on grounds that he was "abusive and had alcohol issues." After Robertson asked for—and got—Ms. Smith's Facebook password in open court, however, the discussion no longer turned on Mr. Smith's moral character but on her own.
Ms. Smith's statements and postings on Facebook "came back to bite her," Robertson says. "The woman was clearly not single, but still married. She was also the mother of a 1-year-old son."
The result? Ms. Smith undermined her credibility and accusations toward Mr. Smith. Robertson's client won full visitation rights and ultimately gained leverage in securing more favorable terms in a divorce settlement. Even so, as Robertson emphasized while sitting in his tastefully appointed offices overlooking the manicured fairways of Gleneagles Country Club's golf course in Plano, a posh suburb just north of Dallas, divorce court is not the place for clear-cut legal victories.
"In family law," Robertson says, "we're dealing with people's lives. We don't measure success by the $5 million we've won for a client in a truck accident or an airplane crash. Unlike those cases, divorce is not an ending but a beginning. People are embarking on a new phase of their lives."
At 58, Robertson has been practicing family law—not just divorce, but the full panoply of matrimonial cases, including prenuptial agreements, alimony, child support, child custody and visitation, property division, paternity tests, domestic violence, and restraining orders— for more than three decades. He is co-author (with two other lawyers at his firm) of Protecting Your Assets from a Texas Divorce.
 With his rich, deep voice, courtly manner and distinguished appearance—"He's a gentleman of the old school," says Bob Sullivan, a Dallas family law attorney and frequent courtroom adversary—Robertson is known in legal circles for his persuasive presentations, often employing PowerPoint and electronic discovery. Those qualities and skills have also made him popular with both the Texas and national news media. Most recently Robertson has been sought after for authoritative comments on wrecked celebrity marriages as well as the legal havoc that can result from the careless use of electronic communication, such as text messages and emails, Facebook and Twitter.
"I've heard that one in five divorce cases now involve Facebook," he says. "People are using the social network site to reconnect with old flames."
At KoonsFuller, where Robertson is both vice president and co-managing director of the Plano office, he has worked closely with partner Ike Vanden Eykel to shape the firm's growth strategy. Over the past 13 years, the firm has expanded to 29 attorneys and four offices in the Dallas-Fort Worth Metroplex, up from one office staffed with seven lawyers. KoonsFuller is now the largest family law firm in the Southwest.
There is no shortage of business. Texas is not the state with the highest divorce rate—Nevada holds that dubious distinction—but the prevalence of marital dissolution and the state's sheer size lends truth to the George Strait song "All My Ex's Live In Texas."
In 2009, according to the most recent figures compiled by the Centers for Disease Control and Prevention (which tracks such matters), 179,776 Texans marched down the aisle while 76,909 went to Splitsville. "I jokingly say we never run out of 'domestic untranquility,'" says family law practitioner Sullivan. "It's a little like being an undertaker. You never run out of clients."
It can be a lucrative practice area. A 2009 survey by the State Bar of Texas reported that the average legal fees for a family law practitioner in the Dallas area was $219 per hour. Robertson's standard rate is $495 an hour.
For many of the well-heeled couples breaking up in North Texas, divorce means battling over assets that include stately, multimillion-dollar mansions with their circular driveways, columned porticos and porte-cochères. Collin County, which includes KoonsFuller's suite of Plano offices, is the second most affluent county in Texas. Its median household income in 2009 was $77,905, reports the U.S. Census Bureau, compared with the statewide median of $48,286.
Along with excellent representation, Robertson's clients are promised maximum discretion and privacy. A Dallas-area judge who knows Robertson says: "Most of his clients are not household names. They're the nameless, faceless rich: investors, oilmen, corporate executives and wealthy doctors."
While unwilling to name names, Robertson can tell some good yarns. For example, there was the divorce case of a former NFL player. "His wife had claimed she had a six-year relationship [with him] before their marriage, which would have made his earnings community property in Texas," Robertson says. "I was able to get that reduced to six months."
Then there was the woman who was married to the same man for almost 50 years. Shortly before their golden wedding anniversary, she sued for divorce. After the marriage was legally dissolved, she broke into tears. Robertson feared she was suffering pangs of remorse, but she told him, "I just wish I'd done this 20 years ago."
And there was the husband Robertson represented whose wife flew off to Las Vegas to get married to her boyfriend. When suing for divorce, Robertson's client learned that he was not his wife's second husband, as he'd been led to believe, but the fifth. That made the Las Vegas marriage, which the woman ended up getting annulled, her sixth.
It gets more complicated. While they were married, the wife had insisted that her husband convert to Catholicism and sign an affidavit promising to rear their daughter in the Catholic faith. Later on, the woman went to law school, converted to Judaism and claimed the daughter's school was anti-Semitic. The daughter had to switch schools because of her mother's accusations, leading the father to seek out legal means to ensure the mother could no longer interfere with their child's education.
"The lesson," says Robertson, "is that people continue to be connected. In this case, the conflict didn't end until the daughter turned 18. In the meantime, my job is to minimize the conflict."
Robertson doesn't accept every case that is presented to him. There was the woman who took her husband's car to the repair shop to fix a flat tire. While rummaging through the trunk for a jack and a spare, she happened upon paper bags containing over-sized lady's lingerie and pornographic magazines. It turned out that the other woman for her spouse—a middle-manager at an electronics firm—was, in fact, him: a secret cross-dresser who answered ads for "swingers." Robertson felt the woman was expecting too much when seeking legal assistance, so he declined to offer his services.
Married with two grown children, Robertson credits much of his own professional success and stability to his upbringing. He grew up in Austin in the 1950s and 1960s as the oldest of five children of a state government employee and a homemaker. The only real hardship was the death of his brother, who died of bone cancer at 21. "It was very much like The Waltons," Robertson says of his formative years. "Everybody went to school and church, and I made good grades and was an Eagle Scout. My dad had a master's degree and my parents were very active in the community. They practically adopted my high school friends who were always at the dinner table. It gave me a sense of how a family could function."
As an undergraduate at the University of Texas at Austin, he piled up extra hours of academic credits taking courses in music, English and engineering before graduating with a degree in business. That curiosity manifests itself in his wide array of extra-legal hobbies and pursuits. He sings in a barbershop quartet, acts in community theater, flies airplanes, bicycles, and avidly listens to books on tape while taking brisk walks.
He never expected to become a divorce lawyer. Taking his first job after UT School of Law in nearby McKinney, he expected to become a plaintiff's attorney. Once on the job, however, he was handed divorce cases, which he accepted mainly because "I had to make a living."
Several decades later he is an active member of the state bar, teaching continuing legal education classes and mentoring younger lawyers. He is held in high esteem by colleagues and adversaries alike. Ron Massingill, a Dallas family law attorney who has lawyered both alongside and opposite Robertson since the late 1970s, says, "If I have a case against Rick, I tell my clients: 'It's going to mean a lot of hard work. Rick is someone who will always be well-prepared, and he will put the interests of his clients first.'"
Yet because Robertson is known as an honest broker, especially one who does not hide his clients' assets, Massingill says, it's also more likely that he'll be able to reach an out-of-court settlement that's fair to both sides. "The last case I had against him," says Massingill, "involved a Texas oil [man] and his wife and it went to mediation. By not going to trial, we saved both sides together an extra half-a-million dollars."
In the electronic age, though, there is only so much that Robertson can do for his clients if they are careless or foolish (as some members of the U.S. Congress have amply demonstrated in recent months). He now issues a "Do-and-Don't" fact sheet warning clients embroiled in divorce proceedings, custody disputes or the like not to provide ammunition to a current or ex-spouse. Be circumspect, he admonishes clients, in the use of home computers, email, Twitter and Facebook, blogs and myriad other forms of e-communication.
For example, he warns that spyware could be installed on your computer—meaning, "without your knowledge, someone else may be able to monitor all of your computer conduct." The same goes for cell phones and smartphones. He cautions that any transmission sent by voicemail, email, instant message or text message "can be obtained by the opposing counsel."
The bottom line, he says: "Take pains to protect your privacy if you do not want to see your private life on an exhibit in a courtroom."
Search attorney feature articles