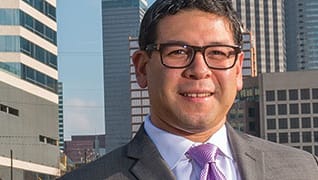 Photo by: Jeremy Enlow
Far from Pearsall
How Manuel Berrelez worked his way from his hometown to Yale to Dallas
Published in 2017 Texas Rising Stars magazine
By Michael Corcoran on March 8, 2017
When Manuel Berrelez was in kindergarten, his mother pointed to the name across the front of Ted Flores Elementary School (then Ted Flores Kindergarten) in Pearsall and told him, "Ted Flores was your great-grandfather." 
For decades, Flores was the school's janitor and groundskeeper. After he passed away, the facility was renamed for him. "Your great-grandfather didn't have a high school diploma; and yet, because of hard work and dedication, he has a school named after him," Gloria Berrelez told her son that day. "Imagine how far you'll go with a great education." 
He went far. Today, Berrelez is a business litigator at Vinson & Elkins in Dallas, and hiring partner for the office.
"From my mother, I got the value of an education," says 39-year-old Berrelez. Gloria started taking college classes while she and Berrelez's dad were raising four children, earning a degree in education in 1992. She has been a public school teacher in Texas for 25 years. Berrelez went back to school himself—in a way—in 2013, when he defended Dallas school board candidate Miguel Solis against a lawsuit that questioned his residency status. 
The school board had been deadlocked 4-4 on whether to fire school reformer Mike Miles—who had promised a widespread housecleaning—as district superintendent. "There was a lot at stake on that one," says Berrelez, whose client, a Miles supporter, won the election, after which the lawsuit was dropped. 
The case established Berrelez and his co-counsel, Jeronimo Valdez, as formidable young attorneys because they won out over iconic attorney Lisa Blue, an experience that a Dallas Observer writer likened to a bear showing up at your campsite: "great story later, but you have to live to tell it." The writer declared that the bear was beaten by "the two wolves" hired by Solis. 
Berrelez met Vinson & Elkins' Dallas managing partner John Wander in 2009 at a casual breakfast meeting, during the recession. "We weren't looking for any mid-level lateral associates, but I subscribe to the view that you always hire talent, especially if it's hardworking," Wander says. 
Initially, it didn't seem that way. The cards Berrelez laid out on the table were that he was starting a family and wanted to slow down a little. For a second, Wander thought: Uh-oh. "Then he said to me, 'I billed 2,700 hours last year; I'd like to get it down to around 2,500.' We were right to hire him," says Wander. "Manuel is a real pillar for the future." 
During his eight years at V&E, located in the heart of the Dallas arts district, Berrelez has focused on fraud and fiduciary duty claims, contract disputes, banking regulatory matters, securities litigation and other business torts. But since 2013, when he won a case defending a banker against the Office of the Comptroller of the Currency (OCC), Berrelez has specialized in representing financial institutions and their directors against federal and state regulators. "I can relate to clients who need my help. I've been in their shoes, and that experience makes a difference in how I approach each case."
The banker in that case was Patrick Adams, who founded T Bank in Dallas in 2004. The OCC charged him with unsafe and unsound banking practices. His career in banking was on the line when he hired V&E, which assigned Berrelez.
"I believed in my client and I felt he was being picked on," says Berrelez, who seized on the opportunity to present his defense on the first day of the trial, when the government's attorneys called Adams as their second witness. "I kept him on the stand for two days," Berrelez recalls. 
The feds appealed, and the comptroller ruled that, essentially, the judge had applied a wrong legal standard, Berrelez says. But the government dropped the charges. "I think they were just trying to make an example out of him, and it didn't work," says Berrelez, who draws an unlikely parallel to his own life, growing up.
"I saw myself in Patrick Adams' shoes," Berrelez says. "He was in danger of losing everything he had worked so hard for." 
A star quarterback and salutatorian of his class in high school, Berrelez had wanted to attend Yale ever since a couple of graduates from the Ivy League school had spoken at his middle school. He was recruited by the university and offered a scholarship based on his grades and financial need (Yale doesn't offer athletic scholarships). 
Then trouble: Berrelez was arrested on a charge of criminal trespass. It was a misunderstanding, but during the college application process it's not good to have a police record of any kind. Yale was especially interested in Berrelez as a student-athlete, with recruiter Kevin Ronalds later telling the San Antonio Express News, "When I got back from Texas, I told some of the coaches that Manuel will be the governor of Texas someday." 
But Ronalds had not seen Berrelez in handcuffs a few months earlier, led through the crowd at his high school football field by police officers who'd been called by the high school principal. 
The trouble started the week before the homecoming game. His team had an away game, so Berrelez parked his truck at the school and took the bus with the team. "When we got back, I discovered that my truck had been vandalized," he says. It had been egged and keyed. "The word got around school on Monday who had done it, so I confronted him and there was an altercation." The fistfight in the hallway got both students suspended for a week, which meant Berrelez couldn't play the next game. He wasn't even supposed to set foot on school property. But Berrelez says he worked out an agreement with the vice principal so he could watch the game from the stands in street clothes—but the principal said the vice principal lacked the authority to make an exception.
"My mother was so distraught," he recalls. "We hired a lawyer from Carrizo Springs named Manuel Montez, and as he walked us through the process, you could feel the relief. My family had a voice." 
The school district dropped the charges, the arrest was expunged from Berrelez's record, and he ended up getting a four-year scholarship to Yale. And the experience—watching Montez put his mother and father at ease—was the first time Berrelez seriously considered becoming a lawyer.
His first year at Yale found him "in way over my head," he recalls. In an English class, the other students had read all the classics he'd only heard of. "They seemed better prepared for Yale, but I just told myself, 'That's OK, you'll just outwork them." That's what he learned from his father, Manuel Sr., a former laborer who worked his way into management positions. Both parents now live near Dallas and work for the Hurst-Euless-Bedford school district, Gloria as a teacher and Manuel Sr. as the district's warehouse manager.
At Yale, Berrelez at first played up his Texas roots, wearing boots and sometimes even a Stetson to class, but he mostly roamed over to the library. After a mediocre freshman year, Berrelez graduated with honors with a history degree in 2000.
Before going to Yale Law School, Berrelez got married and worked for a couple of years in Dallas as a financial analyst. His wife, Carmen, was a year ahead of him at Pearsall High. Their families go way back, but the couple didn't start dating until the summer before Manuel's freshman year at Yale.
In 2002, they moved to New Haven, Connecticut, where Berrelez started law school and Carmen taught special-needs kids for a couple of years. "My wife, basically, put me through law school," he says. Part of the time, she worked as a curriculum developer for a charter school. "She even got a second job as a store clerk," he notes.
Perhaps good karma helped, then, when Carmen got a ticket to watch her beloved Longhorns win the college football national championship against USC in January 2006. Here's how it happened: After Manuel graduated in 2005, the couple moved to Pasadena, California, where Berrelez clerked for Judge Raymond C. Fisher on the U.S. Court of Appeals. Judge Fisher had four tickets to the Rose Bowl that he couldn't use, so he gave them to his clerk, who brought Carmen and her best friends from UT. They were sitting in the end zone where Vince Young scored the winning touchdown in what is often acknowledged as "the greatest college football game of all time." Berrelez's ticket is framed on the wall of his office (which will move, along with the rest of V&E Dallas, in 2018 to the Uptown neighborhood.)
A job with Susman Godfrey brought Berrelez back to the Dallas area in 2006 and began his career as a trial lawyer.
"Manuel is a passionate advocate with a knack for homing in on essential elements of the case," says Ophelia Camiña, a partner at Susman Godfrey, where Berrelez started his career as a trial lawyer in 2006, moving back to the Dallas area. After he went on to Vinson & Elkins, he and former mentor Camiña squared off when her team represented plaintiff GlobeRanger and his team defended Software AG, USA and Software AG Inc. in a trade-secrets case. GlobeRanger accused Software AG of reverse-engineering radio-frequency identification software that GlobeRanger had licensed to the U.S. Navy, and creating a competing software company. After a three-week trial, a jury ruled in favor of Camiña's client, awarding $15 million. 
Although the battle was hard-fought, the adversaries in court remained friends. "Manuel represents his clients zealously, but he's also reasonable and a gentleman," says Camiña. 
He's also a family man who coaches soccer teams for his daughter, age 7, and son, age 5. The kids go to school at the innovative Spanish House, where students (mostly Anglo) speak only Spanish in kindergarten, then add about 10 percent of English each year until they speak both languages in 5th grade. 
"It's ironic, because when Carmen and I were growing up in Pearsall, it was considered important to speak correct English in school. That's how you got ahead in the world," says Berrelez. "I haven't spoken Spanish since about kindergarten. But it's important to us that our children learn to speak the language." 
Regrets? He can only think of one. "My grandfather Gabby tried to teach me how to play the guitar," he says. "But I wanted to play baseball instead. I really wish I'd stuck with those lessons."
Music brings Berrelez joy. Since he doesn't play it, he helps support music education, serving as board vice president of the world-famous Dallas Winds, an orchestra without strings. 
Walking to a window of his 38th-floor office, he points to a spectacular building two blocks away. "That's the Meyerson Symphony Center, where the Dallas Winds perform." Many of the most accomplished musicians in the world play there, he says, but it's also a special place where relative novices get to take the vaunted stage. Dallas Winds sponsors a band camp every summer for DISD kids. The culmination of that week is a concert at the Meyerson Center. "It's one of my favorite concerts," Berrelez says. "The pride you see in those families in the audience and the determination of those kids onstage—you really get the feeling that anything is possible." 
Search attorney feature articles