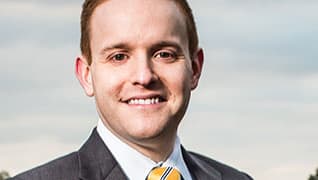 Photo by: Felix Sanchez
From DJ to J.D.
Former reporter, campaign manager and disc jockey Adam Milasincic holds one other title: No. 1 on his Bar exam
Published in 2016 Texas Rising Stars magazine
By Michael Corcoran on March 4, 2016
The call came from a Texas Supreme Court justice, delivering the news that Adam Milasincic, now a business litigator at Houston's Ahmad, Zavitsanos, Anaipakos, Alavi & Mensing (AZA), had topped all the other 2,463 test-takers on the 2011 Texas Bar.
"To tell you the truth, I didn't get a sense that I was acing the test," says Milasincic. "My main feeling was one of relief that it was over." But ace it he did, as he found out from then-Justice Dale Wainwright.
Soft-spoken in person, Milasincic "has got a fire in his belly like you wouldn't believe" in the courtroom, according to AZA partner John Zavitsanos, the Z in the middle.
Though 31-year-old Milansincic didn't enroll in law school until two years after college, he's already made a name for himself in Houston by suing and defending some of the largest corporations in Texas, often in the energy sector.
His recent cases include: representing six former Continental Airlines pilots in a suit against their union, in which the pilots claimed they were shortchanged seniority after a merger with United Airlines; and representing the family of a volunteer firefighter who died in a 2012 training exercise in Beaumont. They are suing the facility and training organizers, claiming negligence. Neal Wade Smith, 46, was unresponsive after completing a "smoke divers" drill and suffered heat stroke. "A legitimate training program would obviously include some difficult exercise," says Milasincic, "but this was just fraternity-styled hazing."
"There is no question that Adam punches above his weight," says AZA's Tim Shelby, who was co-counsel with Milasincic on a recent precedent-setting case representing a natural-gas processing company. "He understands strategy and can boil down cases into easy-to-understand jury concepts. Both of these skills are very uncommon for an attorney who's just five years out of law school. Some never get there."
Milasincic credits his background in journalism and political consulting with fine-tuning his communication and advocacy skills. "I greatly appreciated my time at a great law school, but I think as far as the practical day-to-day lawyering and convincing a judge, convincing a jury, I probably learned more through journalism school," he says.
The summer before his senior year at Kent State, Milansincic covered local politics and utility companies for the small-town Oil City, Pennsylvania, daily, The Derrick. "I wrote a series on [natural gas] rate hikes, going to legislative hearings and interviewing citizens, and the reaction from consumers was great," Milasincic says. "But it was also gratifying when the spokesperson for the utility company said the reporting was tough but fair."
He loved getting his stories placed "above the fold," he says, but started thinking about becoming a lawyer during his last semester in college: "I realized I could make a bigger difference."
First, Milasincic worked as a campaign manager for state Rep. Brian Ellis, a fellow Butler High grad, and took a public relations job with a Pittsburgh real estate agents association. "I think taking two years off from school really motivated me for law school," he says. At the University of Virginia Law School, Milasincic received the highest grades of his first-year class and became articles editor for the law review.
"He's one of the two or three best writers at the firm," says Zavitsanos, who recruited Milasincic from Baker Botts, his first job out of law school. "He's compelling in a way that doesn't sound hokey." And he doesn't lean on legalese.
"I try and look at each case from different perspectives," Milasincic says. In a 2014 suit against oilfield service giant Schlumberger, Milasincic used the Texas Citizens Participation Act, a free-speech statute, to get a trade-secrets lawsuit dismissed.
Schumberger had sued Milasincic's client, Charlotte Rutherford, its former intellectual property attorney, claiming she used the company's confidential information to help her new employer, Acacia Research Corp., launch two patent infringement suits against Schlumberger.
Milasincic's argument in Schlumberger Ltd. v. Rutherford was that the so-called "Anti-SLAPP" (strategic lawsuit against public participation) statute applied, because Schlumberger objected to Rutherford participating in a lawsuit, which is protected speech, just like a political protest or a letter to the editor.
Schumberger had to prove, up front, that Rutherford had used the company's trade secrets. The judge ruled she hadn't done so and partially dismissed the case. Judge Ravi K. Sandill also slapped Schlumberger with $350,000 in legal fees and $250,000 in sanctions.
Claiming the anti-SLAPP statute is an unconstitutional violation of the state open-court doctrine, Schlumberger appealed the decision, which reverberated statewide. But the appeals court left in place the trial court's rulings. The remaining claim was pending at the trial court.
Milasincic grabbed the legal community's attention again in 2014 when he de-fanged an argument by opposing attorneys while representing Plains Gas Solutions in a breach-of-contract case. The AZA client filed in state court, but Susman Godfrey's client removed the case to federal court, where defendants had won similar cases before, under terms of the Outer Continental Shelf Lands Act. Milasincic pored over the Shelf Act and developed an argument that natural-gas processing plants like his client's would not fall under "production, exploration or development" phases of mineral extraction as defined by the act. The case went back to state court in a precedent-setting ruling.
"Anybody can find and quote case law, but the real opportunity to shine is when you have to create arguments from scratch," says Shelby, Milasincic's co-counsel in the Plains Gas case. "Adam took a very complex issue, built our arguments from the ground up, and explained this obscure statute in a way that made our position appear to be almost intuitive." The case goes to trial in state court in August 2016.  
Milasincic says he left Baker Botts to join AZA because there was more plaintiff's-side work and "a greater opportunity to try cases right away." With a growing stable of over 40 attorneys, many of whom still get carded, AZA has earned a reputation as an aggressive firm. Milasincic was recruited not only for his test scores but because, Zavitsanos says, "We like lawyers that have a chip on their shoulder, who maybe came up the hard way."
That would be Milasincic. He comes from a working class family in the Rust Belt, growing up in Butler, Pennsylvania, population 13,000, 35 miles north of Pittsburgh. His father owned a restaurant and a roller skating rink, where, for a time, Milasincic was the DJ, playing mainly dance and pop hits of the day.
But journalism had been his passion since he was 10 years old and published a newspaper for friends and family. He became editor-in-chief of his high school newspaper in ninth and 10th grades. In his senior year, he served as campaign manager for an unsuccessful state Senate candidate.
Looking for a fresh locale, Milasincic came to Texas during law school to intern for Judge Lynn N. Hughes of the U.S. District Court for the Southern District of Texas. "Pittsburgh has one of the highest concentrations of lawyers in the country, and I really fell in love with Houston," says Milasincic. It's also where he met Michelle, his wife of 2 ½ years.
Milasincic doesn't miss the Pennsylvania winters. Sports is another matter. He subscribes to the NFL Sunday Ticket so he never has to miss a game with his beloved Steelers. While he was working for The Derrick, he took a photo—which was published in the paper—of Steeler Hall-of-Famer Lynn Swann, whose spectacular catch in the 1976 Super Bowl led Pittsburgh to a 21-17 win over the Dallas Cowboys.
He maintains an interest in Pennsylvania politics, but asked if he has personal aspirations in that arena, Milasincic smiles and shakes his head. "I'm too busy to even think about it."
Search attorney feature articles