Going With the Flow
Water has guided James Muela's life and practice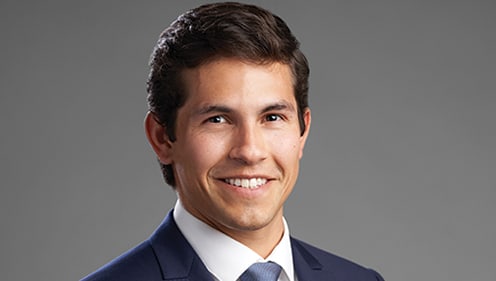 Published in 2023 Texas Rising Stars magazine
By Alison Macor on March 17, 2023
James Muela has always been drawn to water. The 33-year-old attorney has fond memories of growing up in Austin and spending time at his grandparents' home on Lake Austin; family lore has it that he was fished out of the lake many times before he learned to swim.
Today, he is a member of the Water Practice Group at Lloyd Gosselink, one of the oldest environmental law firms in the state. And while his caseload often encompasses a variety of natural resources, much of what he does these days deals with water—like representing cities, as well as utilities and water supply corporations; or working with governmental entities in charge of regulating water, developers who need water for new developments, and even private landowners interested in their water rights.
It's a testament to Muela's passion that he can make the difference between groundwater and surface water sound almost poetic. "I think of groundwater, which for the most part is beneath the surface, like liquid gold," he says. "Surface water is probably what you don't want your kids or pets to drink. But groundwater, at least in Central Texas, is so clear, so pure."
This passion inspired him to pursue environmental studies as an undergraduate at Trinity University. After graduation, a job as an environmental scientist sent him all over the state digging holes and doing land surveys—often on large ranches where development of roads or mines was slated to occur.
"Basically, I was a grunt, and did whatever they needed me to do," Muela says, adding that he was sometimes part of a team that would scout areas for endangered species. "They would drop me and a geologist into the hole using a crane, and we'd look for salamanders in the walls. It just made me happy to be surrounded by all of that nature."
But the intensity of the work, which often had him in the field for days at a time, took a toll. "You get to see parts of Texas that most people never get to see, and that's why I appreciated the work so much," he says. "But you are conducting studies and surveys to comply with the laws as they are currently. There wasn't an opportunity to enact change and move toward a system that might be a little bit better."
So Muela enrolled in law school at Baylor, where he and his classmates liked to unwind by canoeing on the Brazos River that flows past the Waco campus. After graduation, Muela did stints at Bell Nunnally in Dallas, and Winstead in Austin, before jumping at the chance to join Lloyd Gosselink, where he had clerked as a law student.
The desire to effect change that drove Muela to become an attorney is still on his mind today. "In the past few years, we've seen Texas explode in population. It's been fun to watch. I always love when people come to Austin and say, 'I fell in love with the city or with Texas,'" he says.
But some counties are seeing natural resources being overburdened as their population grows. "People are noticing substantial drops in the amount of water their wells can pull, and sometimes they need to punch their wells a little bit deeper in the ground," Muela says, disheartened that some people assume the way they operate now can continue into the future. "It's not sustainable unless we come to the table. If we don't figure something out, eventually, everyone's going to be suffering."
Despite his growing concerns, however, Muela remains hopeful. He's been pleasantly surprised, for instance, by how quickly his clients have become knowledgeable about the legal issues related to water conservation. There's also an important date on his calendar: In May, Muela will be getting married. And, at some point in the future, he hopes to make a "dream" trip down Devils River—whose spring-fed waters are said to be so pure they're drinkable—in the southwestern part of the state.
"It's easy to be pessimistic about the future, but there's cool stuff going on," he says. "People are trying to be good stewards of what we have."
---
Muela's Central Texas Spots
Whirlpool Cave: "There are very few opportunities in the world to have total silence, total darkness. That's one really cool thing about Central Texas—these beautiful caves. Sometimes they have a lot of life in them."
Barton Creek Greenbelt: "There's trails that go all over, there's bluffs that you can climb up to and look out from, there's rock climbing. I absolutely love going down to the Greenbelt. I live right next to it."
Secret Beach at Roy G. Guerrero Colorado River Metro Park: "The best beachhead or river access point to put in a boat, or to just bring a cooler and hang out by the water."
Search attorney feature articles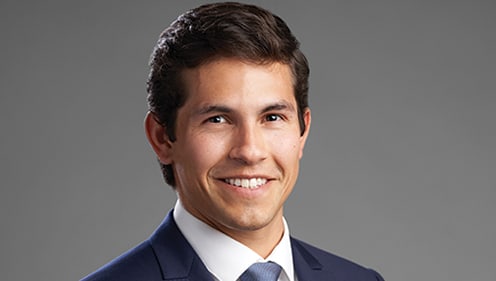 Featured lawyers
Helpful links
Other featured articles
Discovery with Oderah C. Nwaeze
When Andrew Lindemann argued a 10th Amendment case before SCOTUS
How Tara Knight and Hugh Keefe became Connecticut's criminal law power couple
View more articles featuring lawyers
Find top lawyers with confidence
The Super Lawyers patented selection process is peer influenced and research driven, selecting the top 5% of attorneys to the Super Lawyers lists each year. We know lawyers and make it easy to connect with them.
Find a lawyer near you