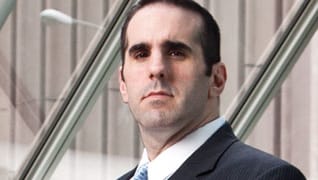 Photo by: Felix Sanchez
Helping the Defrauded
Nobody fights harder to recapture lost savings for his clients than Jason Braun
Published in 2012 Texas Rising Stars magazine
By Erin Carlyle on March 9, 2012
As he pored over the paperwork in his Houston office in late 2009, Jason A. Braun felt his indignation rising. He stared at the numbers: the black-and-white reckoning of an elderly man's legacy, more than $20 million of it plundered.
Braun's client was gifted with a mind that had been so sharp that he could accurately predict whether distressed companies could be salvaged. By himself, he did the types of complex financial valuations that usually took teams of accountants.
Then dementia and failing cognitive abilities erased those skills. He could no longer understand the financial documents he once mastered. So he was forced to rely on the guidance of a family broker.
"They put all of their faith and trust in their broker," says Braun. "He was, in some respects, kind of like a son."
Unfortunately, the broker steered the family toward risky investments, private placements in startup companies—the sort of ventures that Braun's client had always avoided. When the family lost piles of money on the gamble, they called Braun to help.
Braun filed an arbitration claim against the broker and others and went looking for the paper trail. Braun, 38, called up the firms where the private placements were made, and visited a CEO of one of the startups. Then, when Braun was having difficulty obtaining documents from the brokerage firm and other opposing parties, he subpoenaed the Financial Industry Regulatory Authority Inc. for more documents. By that time, the regulatory authority had launched its own investigation of the brokerage firm. All the while, Braun was on the phone with the family two or three times a week, offering words of comfort.
The result of Braun's labor was a couple hundred thousand pages of documents produced; a demand for damages in excess of $60 million; and, last July, a satisfactory settlement was reached with the brokerage firm.
"He's extremely hardworking, very, very diligent, a bulldog," says Ann Ryan Robertson, a Houston attorney who mentored Braun at Ajamie. "There was always the joke that he never took a vacation. He's one that is 24/7."
That intensity showed up early, on the sports field, as Braun excelled enough to earn a scholarship as a nose tackle to Wayne State College in Nebraska. Injuries sidelined him but he graduated with academic honors.
At Creighton University School of Law in Omaha, where he finished near the top of the class—a success due, at least in part, to his habit of always sitting in the front row.
"Jason has always been very focused and wanted to absorb as much information and knowledge as he could," says Megan Ruwe, a close friend and classmate of Braun's. "He was definitely considered to be a gunner. He was the definition of it."
Starting out in junior college in his native Orange County, Calif., Braun had originally planned on becoming a high school coach and history teacher and earned an associate's degree in physical education. His relentless curiosity and work ethic were on display back in those days when he worked as a waiter at Red Lobster. His attention to customer service earned him high marks from a secret diner sent from the company's corporate headquarters.
At Ajamie in Houston, defending investors against financial fraud has become Braun's bread and butter. He's currently helping clients bilked by Texas financier Robert Allen Stanford's $7 billion Ponzi scheme, and representing a limited partnership that invested in one of the many feeder funds that lost out because of Bernie Madoff's massive Ponzi scheme.
"They all feel like somehow they were at fault—that they did something wrong," says Braun. "That's what pisses me off so much. Not only were these people victimized, they were also made to feel it was their fault."
Braun is well-positioned to understand the pressures his clients face from unscrupulous brokers: In his first two years post-law school, the bulk of his work at Haynes and Boone was defending brokerage firms. That knowledge quickly came in handy at Ajamie, where he became heavily involved in claims against Securities America Inc., a division of Ameriprise Financial Inc.
Braun helped clients like Dan Rogas, a former offensive lineman for the Detroit Lions and Philadelphia Eagles. Rogas, in his 80s, lost $500,000 when a longtime friend and broker advised him to dump conservative stocks and bonds for a private placement with Medical Capital Holdings, a company that misappropriated funds, investing them in a yacht, an Internet porn business and a film starring Cheech Marin. In total, investors like Rogas lost $400 million. Thomas Ajamie, the firm's managing partner, says he couldn't be happier with Braun's approach to the job.
"Jason outworked them," he says of the recent settlement in the case. "The guy takes initiative. He works hard, he's sincere, clients like him. To me, that's what you want."
Braun sees parallels between the competition inherent to the law and that of the football field—a perspective that surfaced in his "Tough Love for New Associates" article for Texas Lawyer. Essentially, Braun's piece counseled young attorneys to quit their whining, work hard, and treat the first few years of their careers like boot camp, learning what they can from the more experienced lawyers.
The piece was picked up by the ABA Journal and The Wall Street Journal's Law Blog, and wended its way to AbovetheLaw.com, where it elicited 141 comments—mostly from outraged, overworked young lawyers. Nonetheless, the Young Lawyers Committee of the Bankruptcy Law Section of the State Bar of Texas invited Braun to present his views to recent law grads.
Meanwhile, Braun co-authored a lengthy, thoughtful piece on improving communication between partners and associates, which he presented to the Houston Bar Association. He's now revising the piece for publication.
"My goal is to have some firms and some lawyers modify their practices," Braun says. "If you have better communication, and you have better morale, you're going to be more efficient—and you're going to save the client money."
His interest in law firm culture is not just at the macro level; Braun also takes it upon himself to create a positive environment at Ajamie. As the founding and only member of what he jokingly refers to as "The Morale-Builders Guild," he recognizes colleagues' birthdays with a bag full of sweets—and the stuffed animal he deems the best match for their personality. "The [idea] is to make people laugh and create a family atmosphere," he says, "with the point always being to raise morale."
"Jason is very paradoxical in that regard—he's kind of a big kid in terms of his sense of humor and how he interacts in the office," says Robertson. "But as far as preparing his cases and leaving no stone unturned, he's the quintessential professional."
Search attorney feature articles
Helpful links
Other featured articles
The problematic past (stolen antiquities) and problematic future (AI) of art law
The arrest that made a lawyer out of Nina Ginsberg
Cannon and Dunphy have built powerful legal careers from lessons they learned growing up in Wauwatosa
View more articles featuring lawyers
Find top lawyers with confidence
The Super Lawyers patented selection process is peer influenced and research driven, selecting the top 5% of attorneys to the Super Lawyers lists each year. We know lawyers and make it easy to connect with them.
Find a lawyer near you