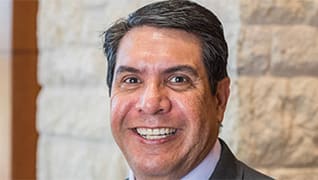 Photo by: Jeremy Enlow
Helping Them Upward
For Michael Rodriguez, that goes for clients and community
Published in 2019 Texas Super Lawyers magazine
By Marc Ramirez on September 6, 2019
It was by accident—literally—that patent attorney Michael Rodriguez met the person who would have the greatest influence on his career.
In the early 1990s, Rodriguez, an electrical engineering grad fresh out of Texas A&M University, was working for TXU Energy in Fort Worth when he got into a wreck in a company vehicle en route to a construction site.
At the energy company's legal firm, the accident case file landed on the desk of lawyer Melody Wilkinson, who in the weeks to come would meet with Rodriguez as the case unfolded. The two became friends and talked law as they tried to hit every Tex-Mex joint in Tarrant County.
"He was fascinated by the legal system," recalls Wilkinson, now a 17th District Court judge. "And, unlike some corporate clients, he took it upon himself to initiate contact and say, 'Let's go to lunch.' He was always very inquisitive, a problem-solver. I thought, this is a potentially great lawyer in the making."
Wilkinson prodded Rodriguez to consider a career in law, telling him he would be a natural. Eventually, he decided she was right and began studies at the Texas Wesleyan University School of Law (now Texas A&M School of Law) in 2002. At one point, Wilkinson, who by then was managing the Fort Worth office of a Boston firm, hired him on as a clerk. "The whole time, she encouraged me," Rodriguez says. "She said, 'With your engineering and law degree, you need to be a patent attorney.'"
Now 50, El Paso-born Rodriguez is not only that, but managing partner of Munck Wilson Mandala's Austin office. He's also a decorated Navy veteran, onetime pro-baseball hopeful, Hispanic community advocate, and father of three. Meeting him in person, the first thing you notice about him is his composure: calm and confident, with the measured polish of a military man.
"I call him the gentle giant," says Dana McKool of Dallas' Grand Paws Pet Sitter, who called on Rodriguez in 2015 when a pet-sitting competitor entered the market with a similar name. "He's David with the five stones, going against Goliath. But he doesn't walk in like he's the big tough guy; he's got a soft veneer about him. He puts people at ease."
Rodriguez, who joined Munck Wilson in Dallas in 2008, opened the Austin office in 2016. "I constantly bump into people who are pursuing their dreams," he says. "And I love seeing people's visions come to reality."
Example: Terrance Berry of Dallas, experienced in cellphone tower maintenance, came to him around 2011, excited about an idea he wanted to patent. Berry paid Rodriguez what he could afford, and "we sat down and I drafted his first patent application with him," Rodriguez says.
Berry aggressively marketed that first concept—installing Wi-Fi routers within street lane markers to bypass cellphone towers—and now, as co-founder and CEO of wireless telecom firm Neutronic Perpetual Innovations, he has obtained many additional patents. "Anyone who hears his ideas thinks he's on the edge of something great," Rodriguez says. "He has experienced massive growth for a guy who came in with just an idea. He's got multiple patents and filings around the world. And that's not something he could have done when he first walked in the door."
One of the things Rodriguez likes best about his practice area is the positive energy. In many areas of law, he notes, people approach lawyers after a negative experience: Somebody has wronged them or has filed suit. "They're in a bad place," he says. "But a lot of times with patent law, when we meet clients for the first time, they have hope and ambition; there's happiness on the horizon. And I love that I can help them upward, instead of traversing a really bad situation."
Rodriguez knows what it means to nurture such hopes—even when they don't work out. The son of a railroad foreman, he is the youngest of five brothers who excelled at sports. For him, it was baseball, and he spent hours learning from his Uncle Guillermo, a former minor-league player he knew as Tio Piloto for his habit of always wearing an old-timey leather airplane pilot's hat. "He was still playing in adult leagues and would come and mentor me," Rodriguez says. "He was a huge influence."
Under his uncle's tutelage, Rodriguez would make his high school's varsity squad as a sophomore, playing first base and catcher. The following year, a star performance behind the plate on a night when major league scouts were in attendance led to some pro interest, but Rodriguez's father was adamant a potential sports career not come at the expense of a college education.
So he studied engineering at Texas A&M, where he figured he would join the team as a walk-on. Then one day in 1987, during a pickup game of baseball, Rodriguez took a sharply thrown ball to the hand that shattered his bones—along with those dreams of professional baseball. "Everything just broke," he says. "That felt like a sign that baseball was not meant to be."
He redoubled his focus on education. Then in law school, he was inspired after 9/11—and by his father, who had served during the Korean War as a Marine—to make good on a longtime goal of joining the service. Because Rodriguez was now in his 30s, the Navy said he would need to possess a unique skill that could be put to use in the military. I'm an engineer, he told them. He was assigned to the Civil Engineer Corps and deployed with the Seabees, but the Navy allowed him to delay his deployment by a month so he could take the bar exam before shipping off to Iraq in July 2005.
"Most attorneys remember the day they passed the bar," Rodriguez says. For him, the news was a bit delayed. "I was in Iraq, opening up my email," he says, "and there was Melody, congratulating me. She had seen the bar announcement. So I heard about it from the very person who'd gotten me into it."
Rodriguez would eventually attain the rank of lieutenant commander while earning two notable commendations, the first in Iraq under then-Gen. Stanley McChrystal as part of a joint Special Operations Task Force. The second came after he joined Munck Wilson, married his wife, Lillian, then was again deployed, serving under Gen. David Petraeus. "I spent my first wedding anniversary in Afghanistan," he says.
On this day in April, Rodriguez waits in the foyer of the Austin Independent School District's performance hall, a blue-suited force of steadiness amid a swirl of long dresses and the clippity-clop of dress shoes on tile floor as a state choir competition prepares to get underway. He is there to support daughter Taylor, 13, who rose at 4:45 a.m. to practice, having become serious about her passion.
"She's like I was with baseball," Rodriguez says. "Very loose, but determined. Normally she's giggly, but today she's got her game face on."
Taylor is the oldest of three siblings Rodriguez and Lillian adopted five years ago, after fostering them the previous year. "We believed that, while we could start our own family, there were so many kids who needed homes," he says.
Last year, when migrant children were being detained at the U.S.-Mexico border, Lillian organized a food and clothing drive, and "we filled up two cars and drove down to McAllen to donate to Catholic Charities." His wife, he says, "is passionate about improving our planet. I'm more of a pragmatist. For example, we have solar panels on our home. My wife does it because it's zero carbon emissions, and I do it because it saves me money on electricity. But if we're harming our planet, well, it's the only planet we have, so we have to make it livable."
It was to give Lillian the chance to pursue environmental science studies at St. Edward's University that Rodriguez proposed moving to Austin. The firm took it one step further, asking him to open and manage an Austin branch. For a techfocused firm dealing with patent, trade secret, trademark and other intellectual-property issues, embracing a high-tech hub made sense.
He feels grateful that his father pushed him so hard to get a degree, which is one reason he is involved in Austin's Hispanic community with agencies like Con Mi Madre, which empowers young Latinas and their mothers through education. Another is that Rodriguez's own grandparents immigrated from Mexico. "Education is the best ticket out of a low-income area," he says, reflecting on his family's blue-collar background. "It allows you to be highly successful. I believe in giving back to the community, but more important, in helping the community to lift itself up."
He's shown his devotion to that concept as a 2017 graduate of the Hispanic Austin Leadership program, which educates Hispanic professionals about issues plaguing their local communities and marshals their abilities toward problem-solving. Rodriguez served on the education team, specifically working with homeless youth and focusing on getting their parents employed.
Rodriguez has also served as a mentor to subsequent classes of the leadership program.
"What I love and admire most about Michael is his selflessness," says Alice McMillan, director of strategic initiatives for the Greater Austin Hispanic Chamber of Commerce. "He's very humble. You can feel the warmth in his spirit and the wisdom that he brings just by being who he is.
"The team he mentored this year built a mobile school to reach kids in areas that didn't have access to pre-K and kindergarten. He has also mentored teams the past two years that work with special-needs kids. He also mentors Startup Superstars, which is a high school entrepreneurship competition. He's doing a lot of great work, and I'm so happy that he chose us."
Seeing how far Rodriguez has come, Wilkinson marvels at how her friend was able to balance his military service with the legal education and career she helped inspire.
"He is such a tribute to our profession," she says. "I am just so honored to have planted that seed and played a small part in his growth. He's done wonderful things with his life, and he wants to provide opportunities for others, the way he feels opportunities were provided to him."
---
Grand Stand
For small-business service providers, reputation is paramount. So in 2015, when Dana McKool of Grand Paws Pet Sitter in Dallas felt her brand was threatened, she went straight to Michael Rodriguez.
They had met in 2006, when she cared for his dog. That encounter, she says, allowed her to see Rodriguez interact with his family and showed her he was someone she could count on.
McKool told him a competitor had entered the market with a similar name. Clients were getting confused, she said. "For small-business owners, their names are everything," Rodriguez says.
The situation seemed straightforward: McKool's company had been in the market for more than a decade. Rodriguez sent a letter requesting that the other company change its name. They heard back from a lawyer, who said they would comply only if McKool paid $14,000. Rodriguez pushed for talks, but the lawyer wouldn't budge. Rodriguez assured McKool that the facts would prevail.
"He does not get rattled," she says. "He said, 'Dana, we don't argue with people. We present the facts, and the facts will always win.'"
After two months, Rodriguez filed suit. The next day, the other company's husband-and-wife owners called to say they wanted to meet with McKool and her husband. "Within two minutes," she says, "they said, 'We don't want a dime of your money.'" They were happy to change their name and said they had no idea their attorney had escalated things. "They not only fired their attorney, they completely trusted Michael and his team to draw up a fair agreement," she says.
The couples spent hours talking about pet-sitting experiences, and McKool forgot that Rodriguez was waiting to hear how things had turned out. "That's the only time, I think, that Michael got a little nervous," says McKool. The couples have now become friends and share referrals.
"We were just this little peon pet-sitting company, but he really cared. He made us feel like we were just as important as a huge company."
Search attorney feature articles