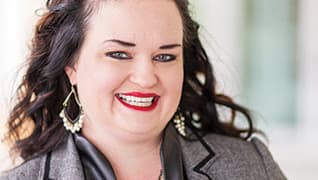 Photo by: Jeremy Enlow
Hopeless Romantic
Natalie Gregg is a lover of fairytale endings 'trapped in a divorce lawyer's body'
Published in 2015 Texas Rising Stars magazine
By Marc Ramirez on March 6, 2015
Natalie Gregg likes tidy endings. Sure, divorce is a messy process, but her goal is a harmonious settlement that encourages positive co-parenting.
Still, part of the Allen family law attorney's job is to give her clients a reality check.
"I tell people that divorce is a death," she says. "It's the death of a portion of your life. That's when they stop and cry. But I want them to acknowledge that it's not just tonsillitis. I have to change my Kleenex box every day."
Gregg's clients—or their stay-at-home spouses—are mostly highly educated professionals with large estates who are typically in their first marriages. Her most lucrative clients are Collin County millionaires: doctors, dentists, engineers and corporate executives. In addition to couples who simply fell out of love, there are white-collar career types with serial-cheating spouses, and others who've endured years of emotional abuse. Some come to her in a delicate state, outlining their situations and asking, "I should get divorced, right?"
Unless abuse or crime is involved, Gregg won't try to make that decision. Her role is to listen and help her clients meet their goals. "I cannot choose for you," she says. "I will not walk for you. I can't be in your shoes. But just like a doctor, if somebody's not going to take the antibiotic, you can't do anything for them."
Once the client decides, Gregg puts her formidable energies into trying to resolve things long before the case ends up in a courtroom.
"She keeps her eye on the ball, and she's reasonable," says family lawyer Ike Vanden Eykel, CEO of KoonsFuller in Dallas, whose firm contends with Gregg on a monthly basis. "Some people make unreasonable demands at all times, and those are lawyers you can dismiss pretty quickly—but that's not the case here. She's very able to reach accords. We don't have the big fights I can tell you about because we're able to work together and get things done."
But she's also tough. On a recent day in a downtown Dallas courtroom, Gregg, wavy jet-black hair pulled back in a ponytail, politely but forcefully digs in her heels as she and opposing counsel approach the bench. "They're trying to make it all about money and child support," she tells the judge. In the meantime, her client's main concern is a troubled daughter with falling grades, who has cut off contact with her mom, and who has been missing college-prep tutoring sessions while staying with her wealthy father. Just yesterday afternoon, the girl's mother learned that her daughter had just started seeing a new counselor and taking medication—without the mom's input. "There's no co-parenting going on here," Gregg says.
The judge grants Gregg's motion for a hearing continuance to process the new information and strategize. Later, outside the courtroom, Gregg meets with her client, pleased with the result. "We got what we wanted," she says.
Jessica Perroni, Gregg's senior associate, chimes in: "She did good."
Asked whether Gregg's lawyering style is more forceful or restrained, Ken Koonce, her former boss, chuckles.
"I would definitely put her more on the aggressive end of the scale," says Koonce, who hired Gregg at a Dallas nonprofit legal-aid center about 10 years ago. "But she's always courteous. She's matter-of-fact, like: 'This is what we want, and this is why we think we're going to get it.' She just addresses issues head-on, and she doesn't mince words."
There's a softer side to Gregg, too. Over lunch, she exclaims over pictures of her recently acquired bichon frise, which she's named Tinkerbell. The dog was a gift for her 37th birthday. In law school, she had another bichon, named Bella. She also has a penchant for happy endings. "I love Disney movies and romantic comedies and anything that ends well," says Gregg. "I'm a hopeless romantic trapped in a divorce lawyer's body." In law school, comparisons were made to a popular movie. "People said, 'You're like a brunette Legally Blonde,'" she says.
That preference for happy endings may be why she gravitated toward collaborative law, in which divorcing spouses agree to settle matters privately, away from the courtroom. While it's not for everyone, Gregg believes couples who utilize the process generally spend less money and achieve better results and co-parenting situations.
Going to court isn't always what people expect. "There are so many terrible consequences," Gregg says. "They're like, 'I want my day in court.' I say, 'What does that mean to you? It's not going to be pretty. It's going to be he-said, she-said. You know, it's not going to be Law & Order; it's not going to be Matlock.'"
Clients who choose the collaborative process can make decisions for themselves. "There are no constraints," Gregg says. "It's as extensive or as confined as their imaginations."
Collaborative divorce is a team approach, involving mental-health and financial professionals. The disadvantage is that, if clients ultimately decide to pursue litigation, they are required to hire new lawyers. "I've gained confidential information in a protective setting," she explains. "That would give me undue advantage."
Gregg, who was honored by the National Academy of Family Law Attorneys in 2014 as one of Texas' top 10 family lawyers under 40, blogs for sites including StackStreet and The Huffington Post on issues ranging from technology's effect on married relationships to who should get the wedding rings in a divorce (usually the person whose finger they were on).
Born in Honolulu to a military doctor dad and homemaker mom with a master's degree in humanities—"she cooked like a rock star," Gregg says—she grew up in Dallas and attended Catholic schools all the way through high school. Accepted to Brown, she instead opted for San Antonio's Trinity University to be closer to her boyfriend, now husband, Jeremy Gregg, before transferring to Dallas' Southern Methodist University. She graduated magna cum laude in 2000.
Gregg thought about taking a break before law school, but her dad, who had a modest upbringing and graduated at the top of his medical class at Northwestern, had other ideas.  "He said, 'If you really want to do it, you're going to do it now,'" Gregg says. And then he cut up her credit cards.
She worked her way through SMU's Dedman School of Law as a tutor, hostess and law clerk, including working full time at a firm during her final year. Her first job out of school was with a firm focused on medical malpractice defense. She felt unfulfilled. "I was always the most hated person in the room," she says.
Meanwhile, she'd been volunteering at a church-run legal clinic in Dallas. "All our intake was family law," she says. "Spouses doing crazy things. People needed help. I was fascinated. I thought, this is what I should be doing."
A year later, she did just that, taking a job with the legal services arm of nonprofit Central Dallas Ministries—now CitySquare—and trading a 64th-floor office for a desk with an outdated PC and all the family-law cases she could handle. The program offered free and low-cost legal aid to the needy; Gregg became one of just a few attorneys working for director Koonce.
"My first day there I asked, 'Where's the guy who does my faxes?'" she recalls. "And they said, 'That would be you.' 'Where's the guy who does the mailing?' And they said, 'That would be you.' … I didn't realize how different it was." When her dad told her, "You're doing God's work," she quipped, "Yes, but does God pay?"
But she felt like she was making a difference. And suddenly, instead of feeling micromanaged, she had a boss who didn't meddle. "Ken let me grow," Gregg says. Though she recalls struggling at first in the short-handed environment, Koonce says she thrived, grasping issues more clearly and exercising better judgment than most lawyers with her limited experience.
In 2009, Gregg went out on her own, initially borrowing space in a friend's office above a Papa John's; two months later she rented an office from another lawyer. "I always thought I'd do it when I turned 40," she says. "My husband said, 'Why are you waiting?' We had just gone through a really bad recession. But my husband says divorce is recession-proof, which is true."
Asked if starting her own practice was scary, she says she was a little worried going into it. But once she opened her doors, she says, "I was so busy, I never had time to look up and worry about it."
By 2010, Gregg was ready to claim her own territory. She set up shop north of Dallas in Allen, which—in addition to being near her parents—was one of North Texas' fastest growing communities. Since then, she's taken on three associates, two paralegals, a law clerk and a receptionist.
Gregg has a favorite saying from the late Judge R. Lewis Nicholson: "You can love your kids or hate your spouse, but you can't do both." Nicholson, a Dallas County family court judge known for his "bah, humbug" disposition, "was the most unfuzzy guy you could ever meet," Gregg says. "He was one of my favorites because he really cared and was just incredibly smart about the law. He had this knowledge that he would distill into these little sound bites." She recalls the day when circumstances required that she get a temporary restraining order signed for a client and she had to bring her 6-month-old daughter to the courtroom, discreetly pocketed in a papoose beneath her blazer. "He called me on it," she says. "He said, 'Ms. Gregg, is that a baby in your jacket?'" He let her stay.
Marriage is hard, Gregg reflects. Sometimes, busy couples let happiness take a backseat to maintaining a routine for the sake of the kids. But that may not be the best thing for anyone. Looking out for kids is a driving force for Gregg, whose brochure pictures a preschooler holding a bouquet. Gregg says she has reduced pro-athlete clients to tears by telling them, "I know you hate [your wife] right now, but she gave you the most beautiful gift in your life."
Search attorney feature articles