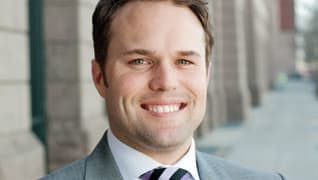 Photo by: Jeremy Enlow
How Christian Dennie Stayed in the Game
When life threw him a curve, the sports attorney found a new way to play ball
Published in 2013 Texas Rising Stars magazine
By Michael Hoinski on March 8, 2013
Christian Dennie always wanted a life in the world of sports. At first, he thought baseball might be his ticket. Playing center field for Sam Houston State University on a scholarship, he was doing great until the first game of his junior season, when a pitcher for Tulane University tried to pick him off.
"I dove back into first base, and my arm was on the ground before my chest hit," Dennie says. "It tore my shoulder out of the socket." Still, he was back in less than two weeks and played the rest of the season—even though, at the time, "I couldn't throw more than 90 feet."
Doctors advised Dennie to reconsider his goal of playing professional sports, but he was determined to stay in sports in some capacity. Law school seemed a good path. After all, plenty of big names in the sports world are attorneys. There's NBA Commissioner David Stern; former NFL Commissioner Paul Tagliabue; and several college athletic directors and conference commissioners.
So Dennie signed up for the LSAT—he took it in Austin on the day his team played the University of Texas—and in 2001 enrolled at the University of Oklahoma College of Law. While there, he got a job in the university's compliance department, working his way up from making copies and sending faxes to interpreting NCAA rules and creating athlete-agent policies.
Meanwhile, he says, "I literally sent letters to every Major League team and would call every team every week. I really just struck out."
That was Dennie's introduction to the incredibly competitive realm of the business side of college and professional sports.
Unsure if the job at Oklahoma would take him where he wanted to go, Dennie took a clerkship at Hayes, Coffey & Berry (now Hayes, Berry, White & Vanzant) during law school, and after he graduated was hired by the firm to handle commercial real estate litigation. Then an opportunity presented itself to become a compliance coordinator and adjunct professor of sports law at the University of Missouri.
"It was one of those things where: Am I going to regret this decision for the rest of my life if I don't make it?" Dennie recalls. "I'll never forget the conversation I had with Missouri's AD, Mike Alden. He said, 'What are you doing? What's wrong with you? Why do you want to take this big pay cut?' And I was very straight with him. I said, 'Because I want your job someday. I want to be an athletic director.'"
Missouri gave Dennie a chance to try his hand at a variety of things, from announcing softball games to serving as liaison for visiting athletic directors to working on a lease agreement involving a golf course. But after having a baby, Dennie and his wife decided to move back to Texas to be closer to family. A buddy told him about the collegial atmosphere at Barlow Garsek & Simon in Fort Worth.
There, Dennie, 32, has achieved his goal of becoming a major player in the sports world—though not as he originally envisioned. Instead, he has a thriving sports law practice at Barlow, where since 2010 he has lured business that might typically be expected to go to a larger firm.
"When we met him, all of the partners were immediately intrigued with his infectiously pleasant and entertaining personality," says firm co-founder Elliott Garsek. "Our firm has a unique culture of attorneys who are friends with each other. We work as a unified group and Christian is certainly a part of that. He likes people and people like him."
Dennie's guy's-guy ethos has played an integral role in his development of this new law section at BG&S, one which Garsek says very few firms can offer at such a sophisticated level. Dennie has represented a diverse clientele, including recruiting services, sports-equipment retailers, pro sports franchises, NCAA conferences, and student athletes—for whom he has handled investigations, compliance matters and drug-test appeals. He has also helped develop policies for handling accusations of sexual harassment and misconduct, and he's written operating manuals and coaches' contracts.
"He's always been the best at what he does," says client and middle school chum Fred Castro, an assistant women's basketball coach at the University of Tulsa. "He was varsity in soccer, baseball, basketball and football. It wasn't which sport is he good at, it was which sport did he feel like playing that day."
Castro went to Denton High School in North Texas, and Dennie went to Billy Ryan High School across town. They were alpha-male competitors growing up but became great friends at the University of Oklahoma, where they were roommates while Dennie went to law school and Castro attended the aviation program.
Now Dennie represents Castro in his quest to become a head basketball coach. In addition to handling legal matters, Dennie has connected Castro with headhunters and put together marketing materials to define the coach as a brand. Dennie also landed Castro in the 2012 Villa 7, a partnership between Nike and Virginia Commonwealth University's Center for Sport Leadership involving "speed dates" between college athletic directors and 22 elite assistant coaches.
"A lot of it is networking," Castro says, "and that's where Christian has been a huge help."
Dennie also negotiates for the Professional Golf Referees Association in its collective-bargaining-agreement proceedings with the PGA Tour.
Mark Dusbabek, a PGA Tour rules official, enlisted Dennie through Garsek, who had become friends with a member of the referees union at the Crowne Plaza Invitational at Colonial golf tournament in Fort Worth. Dusbabek was looking to completely overhaul the union—pay structure, benefits, bylaws—and thought Dennie had the background to handle it. A former linebacker in the National Football League, Dusbabek was sold on Dennie's experience playing competitive sports, figuring he would have perspective on the officials' time and dedication.
"Christian is the kind of guy you want to have a beer with and hang out and talk sports," Dusbabek says. "But when you need to be serious, he can bury you with information and statistics. He was very creative as far as what he saw that we currently have and what he could change and offer. He found things in the previous deal that weren't as advantageous as they could be."
Says Dennie: "If you do good work, and you do it in a humble way, people are going to respect that."
Search attorney feature articles