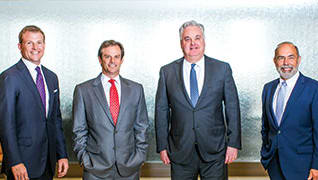 Photo by: Jeremy Enlow
If it quacks like a duck …
… It's probably Lynn Tillotson Pinker & Cox, working its magic on a jury
Published in 2015 Texas Super Lawyers magazine
By Carlos Harrison on September 1, 2015
The ducks, the Grinch and the Beatles: They each have a connection, of sorts, with Lynn Tillotson Pinker & Cox.
The Dallas boutique litigation firm, which has taken on Lance Armstrong, defended Visa, and racked up an impressive string of multimillion-dollar victories in its 22 years, won the largest verdict of 2014 in Texas. At $319 million, it was the third-largest in the nation. The total judgment was for $535 million.
For that one, thank the ducks.
The case involved an alleged partnership to build a pipeline to carry crude oil from Oklahoma to the Gulf Coast. It hinged on whether, even without a formal contract, Energy Transfer Partners of Dallas and Enterprise Products of Houston had formed a partnership through their actions and communications, including a non-binding letter of intent. ETP alleged that it was a partnership, and that Enterprise Products had backed out and entered into another agreement to do the same work with a different company.
Mike Lynn, representing Energy Transfer Partners, contended the companies had the binding business equivalent of a common-law marriage: "We reduced the case down to: If it quacks like a duck and acts like a duck, it's a duck."
And Lynn didn't just say it. He showed the jurors pictures of ducks. One showed a single mallard. The other showed the same duck, but with a sign hanging from its neck that read "NOT A DUCK."
The jury awarded $319.4 million in damages. The judge added $150 million in disgorged profits and $66.4 million in accrued pre-judgment interest. The case is on appeal.
It was classic LTPC: The firm creates a simple, memorable story and hammers it home.
"Mike Lynn really taught me: Step back; start with a blank piece of paper," says managing partner Eric Pinker. "What is the jury really getting out of this? What's the message? What's the story?"
The Energy Transfer case also serves as an example of the kind of stake-the-business litigation they're known for; and, more importantly, are known for winning.
"We put $100 million worth of revenue on the line in a patent infringement case and we took it all the way to a jury verdict. There were no reservations about the work that had gone into it, the level of preparedness, the thoroughness," says Keith Clark, about a case he was involved with before he became general counsel at Snelling Staffing Services. "They don't miss any of the conceptual arguments. They've run down all the different avenues. They are dialed-in."
LTPC's reputation alone can make a difference, says Mark Shaw, vice president, general counsel and corporate secretary at Southwest Airlines. 
"People know they're serious, they're good, and it's not going to be an easy road if they want to go into court with those guys."
That's what Lynn had in mind when he formed the firm.
Lynn grew up in Arlington, parts of which were still segregated, with three siblings and a civil rights advocate for a mom. "She never let any of the four of us drink out of a white water fountain or go to the white restroom," he says.
Small wonder To Kill a Mockingbird had a profound effect. After reading it, Lynn decided he wanted to be Atticus Finch.
He went to the University of Virginia, where he met his future wife, now-U.S. District Judge, Northern District of Texas, Barbara M.G. Lynn, and persuaded her to join him in law school at Southern Methodist University.
After graduation, he joined what is now Akin Gump Strauss Hauer & Feld. A couple of years later, he went to his mentor, Jack Hauer, and said he wanted to try more cases. Hauer told him he should get a job with the district attorney so he could get trial experience. 
The district attorney sent him away, saying, "I don't hire silk-stocking attorneys."
Hauer sent him back.
"He told me, 'You go down there and sit outside his goddamn office until he hires you.'" Lynn did. For two weeks. Until his first assistant "took pity on me and hired me."
A couple of years and close to 50 cases later, Lynn went back to Akin Gump. Then, in 1993, he went on his own.
"I likened it to jumping out of an airplane, not knowing if you had a parachute on," he says.
He had $45,000 in capital, a 386 computer, "a secretary who couldn't spell," and a vision.
"I made the decision I wanted to do high-end commercial litigation. I would do both sides of the docket. I did not want to do run-of-the-mill commodity litigation," he says. "If I starved, I was going to starve, but I was going to do the kind of litigation I wanted to do."
From the start, Lynn's strategy involved zeroing in on the essence of a case—the story he would present to jurors—and just plain working harder than anyone he was up against.
"Since I was unknown and untested, it was easy to sneak up on people. People didn't prepare as well," he says. "I don't take risks. I know who I can beat, and I know who I should be able to beat. That's why I try those cases."
In case you hadn't guessed, he is also competitive.
He answers questions about his firm via cell phone, partway along a 700-mile hike on the Appalachian Trail. That he's 65 and has two prosthetic knees only informs his journey. He has biked chunks of Death Valley on four occasions. He was also, in his youth, "captain of every soccer team I was ever on."
And, in a way, still is.
"The firm runs, in my estimation, basically like a family and a soccer team. Nobody ever wants to be on the second-best soccer team," he says. "We are the best soccer team—at least in Texas, and if we're best in Texas, we're probably best in most states.
"We are relentless, and we are creative." They are also, sometimes, a tad irreverent, as he acknowledged at the close of the court filing Lynn calls simply "The Grinch Motion."
It began:
     "Every Lynn down in Lynn-ville
     Liked Christmas a lot . . .
     But the Grinch,
     Who lived at Akin Gump,
     Did NOT!"
Lynn wanted to delay proceedings in a case until after the Christmas holiday. Opposing counsel asked the judge to ignore the request. Lynn fired back, in rhyme.
     "The Grinch hated Christmas!
     The whole Christmas season!
     Now, please don't ask why.
     No one quite knows the reason.
     It could be that his arguments weren't going quite right.
     It could be, perhaps, that his clients' wallets were too light."
It was, in all, almost three-fourths as long as Dr. Seuss's original How the Grinch Stole Christmas!, and ended:
     "Irreverently submitted,
     Michael P. Lynn"
The judge granted Lynn's request.
Underlying the audacity, the innovation and the story is painstaking preparation, all aimed at sorting out what will be important to the jurors.
"You can only know what your story is after you've read all the documents and after you've read all the testimony and after you understand what the facts are," says Pinker. "I think we do a very good job, informed by experience, at identifying things that are going to matter and keeping a laser-like focus on that."            
Born in New Jersey, Pinker moved to Texas with his family as a child. He went to University of Texas in the liberal arts Plan II program, thinking he might continue on to engineering. The law, though, to him seemed more "intellectually challenging."
He wound up at Akin Gump after law school, and left to join Lynn in 1994. His first case in the new job involved a breach-of-contract case, which he successfully handled, obtaining a $30 million settlement for his client.
That was just the beginning. In all, he's won $120 million for clients and defended others against $250 million in claims.
Jeff Tillotson's Texas roots run deep. He's descended, on his mother's side, from a signer of the Texas Declaration of Independence, who lent his name to what is now Navarro County.
He's also responsible for one of LTPC's biggest defense wins.
An Internet startup sued Visa for $800 million, claiming defamation by one of the credit card giant's vice presidents, who posted more than 400 critical comments on the smaller company's Yahoo message board. The startup's shares dropped during that period of time.
Tillotson didn't contest the existence of the postings; he challenged their impact.
"The issue was, how do you convey to people that there's many different things that might have caused this problem, not just the one thing your client did," he says. 
The firm calculated that there were some 60,000 other postings on the website, so Tillotson showed the jurors a photograph of Dallas Stadium, with 60,000 fans in the stands. Then he had crowd noise piped in. It got louder and louder as he drove home his point.
"Imagine 60,000 people in a stadium," he told the jurors. "The plaintiff is trying to tell you that one voice you hear in the entire crowd, that's the one that's motivating the team, not the whole crowd."
 It worked.
"You knew you hit pay dirt when the other side spent the remainder of the trial asking witnesses, 'Now that's not like a crowd noise, is it? That's something different,'" he says.
Trey Cox, the newest of the name partners, wrote the book on getting the jury's attention. Literally.
A college linebacker at Washington & Lee University, Cox toyed with the idea of becoming a coach, but decided to stick with his original plan of going to law school.
"It was a different time," he says. "Coaches didn't make anywhere near what they make today."
He followed his future wife—Erin Nealy Cox, who later spent a decade as an assistant U.S. attorney—to Dallas, and got a job as an associate at what was then Lynn Tillotson & Pinker.
His book, Winning the Jury's Attention: Presenting Evidence from Voir Dire to Closing, gathers together the concepts he learned over the years and now teaches students in his SMU law school classes. It's a blueprint of the firm's trial strategy.
"How do you make points that stick? How do they stick with jurors? How do they stick with your audience? I want them to be memorable and to carry over," Cox says. "And I think that kind of permeates the firm."
Cox used the techniques so successfully to fight lawsuits trying to block wind farms in Texas that the rulings he achieved pretty much made people stop filing them. It began with a first-of-its-kind case, with neighbors complaining that the $1 billion Horse Hollow wind-power facility was a nuisance because, basically, they could see it. The giant turbines ruined their view, they said.
Cox wrestled it all the way to the state Supreme Court, which declined to review it, insisting that "the right to your view ends at your driveway," he says. "Texas is very much a property-rights state. And what that means is, if I want to have a bass boat or a rusted out pickup truck in my front yard, then I get to have it in my front yard and you can't tell me no."
The turbines were no different, he argued. The court agreed. 
All the partners stay active in trial. So do associates. The firm's philosophy includes hiring the best talent it can, and giving the young lawyers trial experience—and responsibility—immediately.
"We don't hire second chairs," says Lynn. "We hire first chairs."
The firm now has 30 attorneys, and plans to add more. The growth forced it to move its offices in 2010, doubling its space.
It announced the move with typical flair, recreating the cover of The Beatles' Abbey Road album for marketing materials. The poster now hangs in Lynn's office. Lynn is in John's spot, in the lead crossing the street. Pinker takes Paul's place, third in line with no shoes.
"The firm has always been edgy," says Lynn. "We don't like being your uncle's law firm."
Search attorney feature articles