In Godwin They Trust
Take the most daunting of legal challenges, such as the asbestos litigation that Halliburton was facing, and Don Godwin will find a solution. He always does.
Published in 2003 Texas Super Lawyers magazine on October 22, 2003
Updated on March 17, 2011
Don Godwin never dreamed of being a lawyer.
He recently negotiated Halliburton's historic $4 billion asbestos settlement, and his client roster has included some of the wealthiest men in Texas, but when he was growing up in a working-class family in Wilmington, North Carolina, Godwin was not even sure he would attend college. His father, Lewis E. Godwin, a car salesman for a local Pontiac dealership, was hard-working, but the family had "limited resources." While still in high school, Godwin got a job at the local Winn-Dixie, a regional supermarket chain, working his way up to manager of the produce department, then the grocery department. "I was going to be perfectly content being a manager at a Winn-Dixie food store," he says.
Winn-Dixie, though, inadvertently put him on a new path. A year after high school the company gave him a working scholarship that allowed him to attend Wilmington College (now the University of North Carolina at Wilmington), where he majored in accounting, setting his sights on becoming a CPA. Shortly before his graduation in 1969, one of his professors suggested his career prospects would be enhanced by a graduate degree and helped him obtain a second scholarship, this time to Memphis State University. Toward the end of his studies there, another professor suggested he consider becoming a tax lawyer. "I'd never known anybody who was a lawyer," he says. "I'd never thought of law school as an option." Through his professor's connections, he obtained yet a third scholarship, to Southern Methodist University in Dallas. "Once I was told I could have a scholarship, that was the reason that caused me to want to go to law school. I only applied to one school."
Arriving in Dallas in a ten-year-old Pontiac, armed with his master's degree in accounting, Godwin was still very much a small-town boy, awed by the city's size and energy, but he saw in the city ample opportunity for someone with ambition. When he left Wilmington, it was a small town of about 10,000, with limited opportunities for someone without family money or connections. "There were some very fine families there, but it seemed that most of the people who were doing well in town were either good friends or related to each other," he says. "I knew there was another side of town from my own. I just didn't know how I was going to get over there." In Dallas, he decided, there was a better chance that hard work and talent might be rewarded. Even today, he says, "this city is wide open with opportunities." After graduating from SMU in 1973, he obtained a position with Lyne, Klein, French & Womble, "doing the typical things young tax lawyers do: reading a lot of the Internal Revenue Code and writing legal memoranda to the boss."
Then came an epiphany.
In his first year, he was invited by one of the partners, Dawson French, to assist with research in a trial. "It was the first time I'd ever been in a courtroom." During the case, French allowed Godwin to examine a few witnesses ("I loved it," he remembers), and that was the end of his career as a tax lawyer. After the case, which they won, French told the other partners, "Don needs to be doing trial work."
"For almost thirty years after that, that's what I've been doing," Godwin says.
Of course, one doesn't go from knowing not "one soul in the state" to representing Dallas Cowboys owner Jerry Jones, restaurant entrepreneur Norman Brinker, oilman Ray Hunt, and H. Ross Perot overnight. As he started to build his career, Godwin found himself turning to his father's example to drum up business. "My father never had a hobby, never had a sport. His work was his hobby. He still works six days a week. I watched my dad over the years. He'd come home at night, after having been at the dealership all day, and he would sit down and call people, talk to them, and I'd sit and listen to him. I realized, my dad cares about these people, cares about them having cars, having choices."
Though today car dealers—or lawyers, for that matter—aren't the first thing to come to mind when one thinks of caring professions, in Godwin's father's world, personal relationships were the basis for business. Godwin's father sold several cars over the years to James Jordan, a supervisor for General Electric and father of basketball star Michael Jordan. Godwin considers it a matter of great pride that after Michael Jordan signed with the Chicago Bulls, he went to Godwin's father and purchased new cars for himself and his family. "He told my dad he was there because my dad had always treated his dad right. It was a great day for my dad."
Like his father, Godwin considers personal relationships to be the key to doing business. "People want it to be personal. They want to know that it's something more than a sterile relationship of attorney-client. They want to know you care." In turn, he says, "people will usually do business with people they like. I truly believe that if people like you, they're more likely to do business with you." But, he emphasizes, you have to ask. "Most lawyers," he says, "are too proud to ask for the business. . . . You not only have to do a great job, you've also got to let people know you'd like their business."
Even today, when he brings in more business than he can handle, he still seeks out clients. He carries his business-card wallet "when I wear blue jeans, when I wear shorts, when I'm in a suit." He advises young lawyers to meet as many people as they possibly can ("One day the bank teller may be president of the bank"), to belong to as many organizations as they can, and to make themselves a presence in their community. When he and his wife were starting out, he recalls, "We bought a lot of hot dogs while entertaining clients at the bowling alley Friday night. We grilled a lot of hamburgers. If you want to be a rainmaker, you can't wait until you're five or six years out of law school (to make connections). You have to start doing it early on."
His style has rubbed off on his associates. "The only job security any of us have in this kind of economy is to have a book of business," says Robert Wiegand, who has been with Godwin Gruber four years. "I wouldn't expect Don to keep me around if I was dead weight, if I wasn't partially providing for myself."
Godwin founded his firm in 1980 with Jim Maxwell and George Carlton. Maxwell, Godwin & Carlton later became Godwin, Carlton & Maxwell, as Godwin gained a reputation as a trial lawyer, and then Godwin & Carlton, after Jim Maxwell left the firm in 1992. The firm grew to more than 110 lawyers, but from 1992 to 1994, it shrunk to about half its previous size. Although some who left at the time cited Godwin's management style as a contributing factor (one former shareholder claimed Godwin wasn't an 800-pound gorilla but a 1,200-pound one), none challenged his legal abilities. Since that period, Godwin has concentrated on what he does best: litigation and trial work. By 1999, Godwin & Carlton was expanding again. That year, G. Michael Gruber joined the firm, which became Godwin Gruber in 2001.
Godwin's reputation in the Dallas law community rests on his ability to draw big-name clients, his trial skills, and his ability to negotiate with adversaries. "You don't get much out of negotiations if you can only see your side," he says. He maintains a healthy respect for plaintiff's lawyers and their clients, which he believes has contributed greatly to his success. "So many defense lawyers like to look down on plaintiff's lawyers. . . . I've never looked down on plaintiff's lawyers. Because of my family background, I've always been for the underdog."
Of course, even in Texas, it's a bit of a stretch to imagine Halliburton as an underdog. When asked the obvious question, Why then didn't he simply become a plaintiff's lawyer?, he laughs. "I would have probably liked being a plaintiff's lawyer," he says, noting that he can become "righteously indignant" when necessary, but "early on I needed the guaranteed paycheck."
Despite Godwin's reputation in Dallas, he is relatively unknown outside it. He does not chase press, preferring to leave the limelight to his clients. "We don't need a lot of press. When a general counsel looks good to his CEO because of some work we did, then we look good—and we'll be hired again." His reluctance to try cases in public has also helped him maintain his low profile, even though he has had a number of high-profile cases over the years. He was part of the team that successfully defended Houston attorney John O'Quinn in his 1998 disbarment trial. During the mid-nineties, when it seemed like not a week went by without a Dallas Cowboys member getting into legal trouble, he represented several players. He maintains that the less you say in public, the less chance you have of hurting your client, and the less chance you might prejudice a jury against you. "With high-profile clients, their careers can be damaged by what a lawyer says. I'd rather say too little than too much."
Godwin still follows his father's example; his job is his hobby. He hits the treadmill each morning before arriving at the office at 7:15 and commonly puts in twelve-hour days. His tastes and habits are relatively modest: oatmeal for breakfast, tuna and crackers for lunch, understated Danish modern furniture in his office. Among his few concessions to power are a monogrammed cuff under his banker's-gray pinstripes and the luxury boxes he maintains at the American Airlines Center, home of the Mavericks and the Stars, and at Texas Stadium, home of the Cowboys. "We go to a lot of games," he says.
At 56, Godwin has no plans to slow down. It is only in the last two years that he has begun to take Saturdays off, and for most of 2002, even that was put on hold by the asbestos deal. The firm has expanded from three to four floors in the Renaissance Tower, which gives them 125,000 square feet and the potential to expand from 145 lawyers to 160. The expansion hasn't made Godwin Gruber the largest law firm in the building (that distinction goes to Winstead Sechrest & Minick, which leases about 220,000 square feet) but he can take comfort in the realization that 145 lawyers is a pretty respectable size for a trial firm.
Godwin says he works as hard as he did as a young lawyer. "You're only as secure as the last case you've worked on," he says. "I run scared every day." 
Other Featured Articles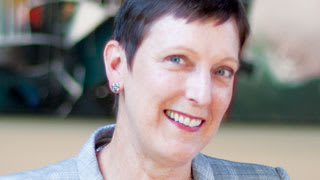 A Civil Defense
Don't underestimate the cordial Nancy Sheehan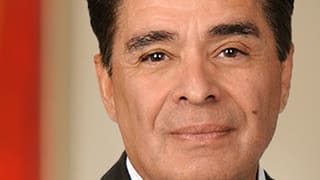 No Summit is Guaranteed
Joseph Chairez's pro bono work has helped immigrants, at-risk kids and Sherpas Featuring Joseph L. Chairez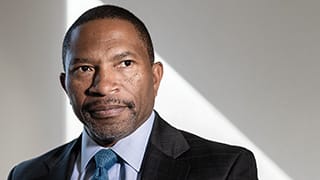 The Difference Maker
The passion and decorum of J. Bernard Alexander III Featuring J. Bernard Alexander, III