Military Man
Former Marine Patrick J. McLain has 10 kids and a strong sense of right and wrong
Published in 2013 Texas Super Lawyers magazine on September 9, 2013
Updated on September 13, 2013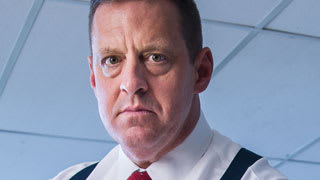 Three of Patrick J. McLain's four passions—the law, the military and Catholicism—are represented on the conference room walls of his Dallas office. Framed certificates announce admissions to all four branches of military appellate courts, and volumes of federal statutes fill shelves of a wooden case: Semper Fi: The Definitive Illustrated History of the U.S. Marines, sits near The Book of Saints: A Day-by-Day Illustrated Encyclopedia. Movies in the small collection by the TV include True Grit, Patton, A Man for All Seasons and The Passion of the Christ.
He keeps the signs of his fourth passion closer. Photos of his family peer down from the bookshelf behind his desk. It's a crowded display, though not as crowded as one imagines the McLain household must be for Thanksgiving dinner. Images of 10 children ranging in age from 10 to 32 are arranged next to the Asian money tree plant his wife tends for him.
McLain is a bear of a man with boyish looks and blond hair, which he wears just slightly longer than Marine regulation. He fights for clients and breaks down as he talks about a recent case in which he didn't win the outcome he felt was deserved.
"These are your cases. These are clients you love. You want to win for them," he says. "I do truly love my clients, and I want the jury to know that I love them."
Criminal defense attorney Jay Ethington works just down the hall from McLain in a building a few miles from Love Field Airport in Dallas. "[McLain has] a strong sense of right and wrong," Ethington says. "He has to believe genuinely in the client's rights and what their position is. If he believes the client has done something wrong, well, then, he focuses his attention on reasoning with the client to try to resolve the case to their benefit."
McLain's best-known client may be Lt. Cmdr. Matthew Diaz, a Naval JAG officer who leaked the names of the detainees at the Guantanamo Naval Base to a human-rights public interest law group. The military charged Diaz with distributing classified national-defense information. He faced up to 36 years in prison. Instead, he got six months and was drummed out of the service. Nonetheless, McLain looks troubled as he discusses the outcome. In his view, Diaz is no traitor; just the opposite.
"Matt Diaz said 'no,' knowing there is a consequence to that. But he said, 'We can't torture these people anymore, and they have a right to habeas corpus and this indefinite detention is not right. This is not us,'" McLain says. "He is a true American. He's every bit as much an American as our patriots in 1776, as those who fought slavery in the 1840s and 1850s, [as] Martin Luther King. He's every bit as much a symbol of what America stands for."
Other clients, whom he won't name, include active-duty personnel and nonmilitary civilians facing sexual assault, drug or firearm charges that could potentially end their careers, put them behind bars or both. The charges vary widely, but McLain sees a common pattern and a common cause. To him, the accusations represent abuses of authority by the government.
"I served my country well," he says, "but I now fight for citizens who are being treated wrongly by that very same government."
He gets particularly rankled talking about sexual assault cases in the military. The increasing attention of the president and Congress on the military's ways of handling these cases are, to him, a "witch hunt."
"This is not about sexual assault. It's about control over the military culture," McLain says. "A guy and a gal get drunk, and if the woman says it was rape because she was drunk, they say, well, the guy was drunk! They were both drunk. Why isn't she prosecuted?"
He similarly battles on behalf of people arrested for carrying firearms at airports. He sees it as an infringement that provides negligible security benefits and tramples the Constitution.
"It is demeaning for free citizens—particularly your grandmother and your 5-year-old daughter—to be felt up by TSA agents," he says. "I'm a Second Amendment absolutist."
He feels as strongly about his religion. His metaphors are filled with biblical references, such as when he compares showing jurors irrefutable proof to "seeing the holes in the hands and the side that caused Thomas to believe."
Originally, McLain set out to be a paleontologist but switched to medieval history by the time he met his wife at the University of Dallas, which they both attended. Two weeks after their first date, he asked her to marry him. Nine months after the wedding, they had their first child.
He went to the Catholic university on a whim. "I was not a practicing Catholic at the time," he says. His experience there, however, brought a newborn devotion that marks his thinking and his words. A rosary dangles on the bookshelf near the family photos, and when he talks about a court-martial case in the Middle East, he recalls it lasting "from Christmas to Palm Sunday."
Married in 1979, the newlyweds struggled financially as McLain pursued a graduate degree in political philosophy. In 1982, he joined the Marines.
"A bunch of my friends had gone in the Marines," he said. "So I said, 'You know, I'm going to do that. That's just something every guy should do, is serve. And I'll do a few years, get a little more financially stable, put some money in the bank, and then we can go back [to school].' I just ended up liking it."
He started off as an officer in communications-electronics, in command of a platoon at Camp Lejeune. Three years later, he became a Marine recruiter in Omaha, Neb. He applied for the Funded Legal Education Program—which pays for tuition and books for active-duty personnel—and the Marines paid his way through law school at the University of Texas in Austin. "I just fell into this providentially," he says. "I had the skills to do the job well, but I didn't know it. I really would've rather been in South Dakota dusting off dinosaur bones, but it didn't happen that way."
After graduation in 1990, McLain became a prosecutor as trial counsel in the military. In the way of the military, he switched back and forth between the roles of supervising defense attorney and supervising prosecutor. He spent three years as a court-martial trial judge at the end of the 1990s, but asked to go back to the other side of the bench until he retired from the Marines in 2002.
He spent a year as an assistant U.S. attorney in Dallas, then went out on his own in 2004, building a practice that takes him around the country and the world defending clients in military and civilian courts.
"It really is a calling," he says. "We're called to people in the most desperate time of life. It's kind of like a surgeon facing daily cases of stage IV cancer. We're called in to save people in a crisis they probably won't ever have again in their life. And you're the guy called upon to fix it. And just like a physician … sometimes you can restore them to full health. And sometimes you can only restore them so far."
He goes into every case, he says, with a simple faith in the justice system.
"If the prosecutor and the defense attorney do a good job, the jury will find the truth," he says. "I trust the jurors."
Attorneys who have worked with him say there's more at work in McLain's courtroom victories than his reliance on the capability of jurors.
"He's far and away one of the hardest-working individuals I've ever met in my life," says criminal defense attorney Jeff King. "In a lot of cases—I've seen this firsthand—he literally just outworks his opponents."
King was still in the Marines himself when he met McLain. Now, they share office space.
"I've walked into his office and caught him asleep with his hands on his keyboard. This would be 10 o'clock at night or 5 o'clock in the morning," King says. "He also, somehow, has raised this incredible family. … I'll walk into his office, and he'll be just out of court. That evening, at 6:30 at night, he has one of his kids on FaceTime, going over his homework with him."
In Thomas Edison's quote about the ingredients for genius, that's the perspiration. Air Force Capt. Rachel Van Maasdam says McLain also has the "inspiration" part.
"He definitely thinks outside the box," she says. In one case she prosecuted, an Air Force medic was accused of smoking marijuana. McLain's defense was that the medic's wife put marijuana in her cigarettes to help with her fibromyalgia, then left her cigarettes in a common bowl, where the airman could accidentally pick one up.
McLain "put her on the stand, obviously, to say that," Maasdam says. But he also had her demonstrate how she would fill her cigarettes with marijuana." The jury acquitted McLain's client.
Like Maasdam, Christopher Cazares has worked both with and against McLain in court-martial cases. Now a solo practitioner in Honolulu, Cazares says they worked together in the military to defend a relatively new airman charged with distributing drugs to other service members. "It was the impossible-of-impossible cases," Cazares says. Part of McLain's strategy, he says, was to put on a series of character witnesses who described the airman's leadership potential. The airman was found guilty, but instead of being kicked out after his sentence was done, he was allowed into a return-to-duty program, completed his enlistment, and left with an honorable discharge.
"Patrick definitely saw a diamond in the rough, where he was able to hone in on the beauty of an individual and allow the members to see, from his perspective, exactly what made this individual great," Cazares says. Lesser counsel, he says, "just see what the writing is on the wall—the clear writing on the wall. With Patrick, the writing is never clear-cut. He's always thinking of creative ways to reach an outcome that benefits his client."
McLain says that's how he would like to be remembered.
"I think my real legacy in life is … that there's so many people out in the world whose lives have somehow been improved by the fact that I was able to be their advocate and fight for them when everybody else, including their family and friends, wouldn't get near them."
Other Featured Articles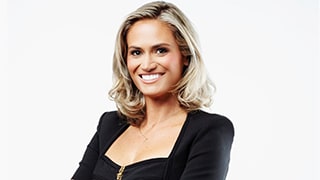 A Gun in the Courtroom and the Attorney Who Sounded the Alarm
Talking with Lauren Varnado about the much-publicized ordeal Featuring Lauren Varnado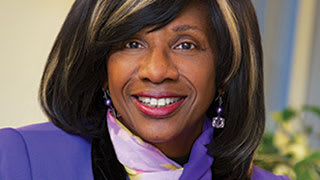 Q&A: Paulette Brown
We caught up with the American Bar Association president after her keynote speech at a recent Minnesota Black Women Legal Network event to talk about diversity and mentorship in the legal world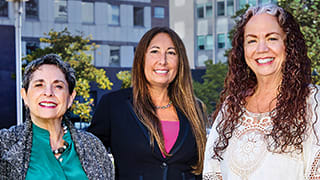 Innovation & Collaboration
Three Maryland family law attorneys reflect on 112 combined years of practice Featuring Linda J. Ravdin, Marni B. Schwartz, Darcy A. Shoop