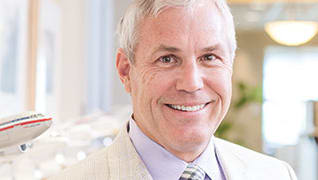 Photo by: Jeremy Enlow
Mission: Control
Aviation attorney Michael L. Slack, a former NASA engineer, shoots for industry reform as well as client compensation
Published in 2014 Texas Super Lawyers magazine
By Nancy Rommelmann on September 5, 2014
"I didn't care about anything other than the space program—that was my world," says Michael L. Slack from his office in Austin, recalling how he grew up in front of the television watching the Mercury, Gemini and Apollo missions; and how, just weeks after he graduated from high school, Neil Armstrong stepped on the moon. Steps Slack planned to follow in.
The trip from space-struck kid to one of the nation's top aviation litigators includes stops at NASA, Belize and an airstrip where an "old geezer" offered a tip that would change Slack's life.
Few practice areas require springing into action as quickly as aviation law. With eight attorneys, a full-time nurse practitioner and a clinical psychologist on retainer, and a self-imposed mandate to protect clients from the media, Slack & Davis—where Slack is managing partner—has the components to get people through the horror that is the death or injury of loved ones in an air disaster.
"They have never been through anything like this—nothing like this—and they are about to take this leap of faith with a law firm they don't know," he says. "All you can tell them is: I can't guarantee the results but I can guarantee you 100 percent effort and the best staff I can assemble, and we'll be a part of your support group. And at the end of the case, you'll be prepared for the transition into the next phase of your life."
Slack thought he knew the next phase of his own life after getting his bachelor's degree in 1973 and his master's in aerospace engineering at Texas A&M in 1974: He headed straight for NASA.
It was a heady time at the space agency, "a lot of vibrant energy and the high of tremendous accomplishment," as Slack recalls. He worked on the Apollo-Soyuz Test project and applied for the astronaut program. But the late 1970s ushered in deep funding cuts, and what Slack saw as "the mundane drudgery" of the shuttle program. "I started thinking, maybe this isn't the destination job."
He considered getting a Ph.D in aerospace. A family friend who was a judge convinced him a law degree would be more useful. Taking the LSAT in 1980 ("on the last Saturday of the year it was offered," Slack says), he did well enough to get into all three schools he applied to, choosing the University of Houston so he could keep working at NASA during the day.
That plan lasted a month. While Slack was scuba-diving around shipwrecks on a vacation to Belize, another member of the diving group, a White House counsel in the Carter administration, convinced him he needed to leave NASA and focus on law school.
"He said I was crazy not to go to Austin [but] I'd already turned UT down," says Slack. Moot point to the counsel. "He went with me in a skiff from the cay we were staying on to Belize City. We had no cell phones in 1980. Just to get a call to the University of Texas admissions office was quite a chore, and he just said, 'I'm so-and-so, I'm assistant White House counsel, I want you to pull an application; I want you to reinstate this applicant.' They did!"
In August 1980, Slack quit NASA, drove from Houston to Austin on a Friday and started classes Monday. Several weeks in, while renting a plane—he'd taken flying lessons during college using money saved while working summers in the oil fields—he met the man who introduced him to aviation tort law.
"I was turning in the keys to the plane," says Slack, "and the old geezer behind the desk says, 'I think you need to meet this gentleman over here,' and he introduced me to Tom Davis," an aviation attorney and father of Slack's current partner, Mike Davis. The elder Davis, a pilot himself ("with a much, much nicer plane than the one I was flying," remembers Slack) offered him a position as a law clerk, based on Slack's expertise as an engineer.
"He was dependent on experts to tell him technical [aspects]; now he had somebody in the office to explain things to him," says Slack. "I got to see what Tom did as an aviation lawyer, so I got a great education outside of law school."
With no job offer from Davis upon graduation—"at that point I'm really an unskilled lawyer," says Slack, who in 1993 would found Slack & Davis with Mike Davis and Tom Davis—he headed to Dallas to work at Windle Turley's busy aviation law practice. "I was 32 years old when I started as a lawyer—years older than my classmates. I needed something to bootstrap my way faster," he says of his decision to stick with aviation law. "Hands-on practice and exposure to complex problem-solving in the [aerospace] industry—that was kind of my get-out-of-jail-free card."
The complexities of aviation litigation also allowed him to do what he never could at NASA: meet the client. "One of the things that I was missing in my career at NASA was people contact. When I became a lawyer, I realized right away: This solves that," says Slack, although the people he was in contact with were often in shock.
"All death and injury cases bring emotion, but aviation cases bring emotion that is compounded," he says, citing what the families of those lost on Malaysia Airlines Flight 370, which disappeared on March 8, have been through: false hopes, misinformation, governments playing CYA, anguish.
"The emotional roller coaster is very real in aviation cases," says Slack. More, the public nature of an air disaster—we watch coverage of crashes large and small on the nightly news—adds to the pain. It's his job to make sure the jury is aware of all this. "I learned at a very early stage, you ought to embrace the emotion and work with the emotion—because we know the defense is going to run from the emotion."
The first thing he and his colleagues do, he says, is "understand where the clients are in the process." Was the crash a week or six weeks ago? Is it a death case or an injury case, the latter tending to require very lengthy treatment, recovery and rehabilitation? What external factors might come into play—inaccurate press reports, attempts by well-meaning people that might actually aggravate and create problems for his clients, confusion over where to place blame: the airline, the Federal Aviation Administration, the weather?  
"We have to essentially undo a lot of what's said in the public domain," says Slack. He holds special censure for what he calls "the fool of the day, all kinds of experts that pop out, like there are on CNN every night," ready to float theories in order to hit the news cycle. "That impacts [the clients] because they are lay people and they take that at face value. The only thing I can do is to tell them to call me and I will help them understand whether it's valid or not."
In addition, clients can experience grief, anger, frustration and fear that financial ruin is imminent. Slack says it is the firm's job to strap in alongside for the whole ride.
"It's a holistic, long-term approach with a deep empathy for what is at the heart of the problem: the loss of a key loved one," he says. "We want to help the client transition into counseling. We're their support group for two to four years. We're not just going to give you a check and put you in a taxicab. We are going to set up a system and a scheme so the outcome is for the remainder of your life and the remainder of your children's lives."
Equally important to Slack's clients is that the types of air accidents that affected their families do not, insofar as possible, happen again. It's a mission that dovetails perfectly with Slack's skills and sensibilities.
"I decided more than 15 years ago, we want to look for something that we can ask for in every case as a change in the behavior or a modification," he says. "Now, sadly, in the civil justice system, you can only in a death or injury case get an award of money, OK? You cannot require the manufacturer to go back and redesign a defective component. … But we are going to be in a position where we can have a conversation: Here are some things we want. We want to see a redesign of the fuel system so the spontaneous fires do not occur; or make sure helicopter pilots are not flying too low. Because most lawyers don't engage with them with that kind of dialogue, the first impression is, 'They're crazy.' But we're serious. We do want to have that conversation. We're looking for ways to modify the behavior so the incident is not repeated."
In one products liability case against a helicopter manufacturer, Slack says, "The make and model of helicopter we were dealing with had design deficiencies that made it very vulnerable to post-impact fires in low-deceleration, survivable impacts," he says. After negotiating the settlement, he dealt directly with the company and its owner, securing a commitment to design changes, including a modified fuel design.
Making global changes to the aviation industry is paramount to Slack, who in April received the Outstanding Aerospace Engineer Award from Dwight Look College of Engineering at Texas A&M University, in part because of his commitment to see safety measures reach as far as possible. In the helicopter case, for instance, Slack further insisted on the ability to conduct site inspections of the manufacturer's facility. "In essence, we stepped into the shoes of the regulator for a period of time to demand design changes and confirm compliance pursuant to a settlement agreement," he says. The result? There have been no post-impact fires in units equipped with the modified fuel design improvements.
Aircraft-accident investigator and reconstructionist Tommy McFall has worked with Slack for more than 30 years, first as a federal investigator for the National Transportation Safety Board and now as an independent investigator, assisting Slack & Davis with aircraft accidents on a case-by-case basis. "I have found that the more an attorney knows about aviation, the better I like to work with him or her," says McFall. "Mike's combination of experience in engineering and aviation are remarkable, and his NASA background adds another element of expertise."
Don Swaim has worked the other side of the aisle from Slack for 25 years. "We sort of grew up in the aviation practice together," says Swaim. "Mike's background is definitely a plus. He obviously understands the engineering and the piloting, but one of the things that makes him truly formidable is his preparation."
"I take a very aggressive deposition when I have the chief engineer [on the stand]," says Slack. "I want them to feel that this is not just a casual question-and-answer but there's a lot at stake here. That it matters that a memo was stuffed back in the file cabinet 20 years ago that says 'don't do' what you did 20 years later. I want that answer. Why did you not correct the situation? Why did you continue to let your pilots fly close to thunderstorms? I don't want just that dust-off answer, the one that the defense lawyer prepared him for. I'm not going to sit there and listen to prepared speeches—and occasionally it gets me sideways with some of my colleagues. But we're there representing the family. It's their only chance for us to ask these questions."
Flight safety: the life mission of the boy who once dreamed of flying, and the man who does.
"I'm flying tomorrow to Dallas on a business trip. I have a turbocharged Skylane with modern instrumentation," says Slack, who also keeps a WWII aircraft in Kissimmee, Fla., a T6 in which he does rolls and aerobatics and which he says is "sheer joy" to fly.
"Sometimes people look at me and say, 'How can you do this work and still fly?'" he says. "I say, you know, I think I'm better at what I do because I do fly."
Search attorney feature articles