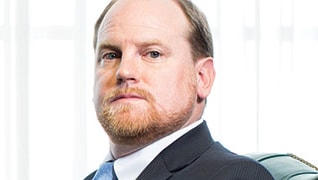 Photo by: Felix Sanchez
Moving Walls
The hard hats in personal injury lawyer Matt Matheny's office are not for decoration
Published in 2015 Texas Rising Stars magazine
By Michael Corcoran on March 6, 2015
Signed football helmets in glass cases line the walkways on the ground floor of Provost Umphrey Law Firm in historic downtown Beaumont. The Dallas Cowboys are especially well represented in this de facto Hall of Fame wing. Firm co-founder Walter Umphrey has been a fan since the "Dandy Don" Meredith '60s and often takes his partners and associates to games in the company jet.
In recent years, however, the fan-player dynamic has been flipped, and it's former Cowboys and other NFL veterans cheering on the team of lawyers quarterbacked by 36-year-old Matt Matheny. Provost represents more than 200 former pro football players in a negligence suit against the NFL, alleging the league was slow to react to evidence that football concussions can cause permanent brain damage.
Matheny, who joined Provost right out of Baylor Law School in 2003, is among dozens of lead attorneys on the high-profile, multi-district litigation case being handled in Philadelphia. 
The soft-spoken Matheny quickens his cadence when he talks about what he calls "this cut-and-dried case of negligence." Says Matheny, "It's time for the NFL to admit in court that they have known for years about the connection between multiple concussions and CTE [chronic traumatic encephalopathy]. … Some of these guys being allowed—or forced—to return to play before it was medically safe has resulted in brain injuries that they and their families must endure for the rest of their lives."
Beaumont attorney Rick Hatfield of Harris Duesler & Hatfield, who has argued several cases against Matheny, says the NFL will be going against a lawyer who does his research with zeal. "I've seen him taking depositions from medical experts, and it seems like Matt knows almost as much as they do."
Matheny's office was once a delivery bay, back when the 1923 brick building housed the Steadman Fruit Co. Amidst the mandatory sports memorabilia and photos of his parents; his wife, Julia; and their two young children, Matheny's office décor includes two hard hats hanging from a peg. They're not for decoration. With a majority of his personal injury cases being in the areas of railroad, maritime and industrial, Matheny spends much of his time with workers. Provost represents the United Steelworkers Union, too.
His heroes are his parents. He always wanted to be a lawyer like his father, Mike, who is a bit of a local legend. Meanwhile, the influence of his mother, Sarah, a professor at Lamar University for 40 years, prompted him to expand his interests at a liberal arts school for his undergraduate work. He chose Rhodes College in Memphis, Tennessee, because it fielded a Division III soccer team. An all-state goalie in high school, Matheny lettered in soccer at Rhodes from 1996 to '99.
He met Julia, a Houston native, in the Hill Country near Kerrville, where his family owns a summer home. Between his junior and senior years in college, he was a counselor for a boys' summer camp; Julia, on break from Vanderbilt, had a similar role at the adjacent girls' camp. The couple married the year he graduated from law school, and Julia is now a staff attorney for the 9th District Court of Appeals in Beaumont.
Matheny's father, an attorney in Beaumont for 50 years with a four-year stint as a judge, was first known for his civil rights work for the NAACP in the early '60s. The younger Matheny grew up in courthouses the way other kids might have found their place on fishing boats or baseball fields.
But it wasn't until his first case for Provost, where he clerked between his second and third years at Baylor, that Matheny knew without a doubt that lawyering was in his soul as well as his blood. The client was Jerry Caldwell, a conductor for the Union Pacific Railroad. His car was rear-ended in the railroad parking lot in North Little Rock, Arkansas, by a co-worker, which Provost says led to spinal surgeries and an inability to ever work again. The railroad felt the other employee had not been negligent, so Provost, which also has offices in Houston and Nashville, was hired to represent Caldwell.
Matheny says he was just the typist, filer and gofer during the 10-day trial, but he recalls, "That case really lit my fire to become a trial lawyer. I couldn't believe the way this man had been treated by the company he had devoted so much of his life to." When Caldwell was awarded more than $1 million, Matheny remembers being overcome with a sense of pride at the positive effect lawyers could have on real people's lives.
Retired District Court Judge James Mehaffy, now in private mediation practice, presided over the first trial at which Matheny argued, though it was at the behest of the judge that Matheny took over for the lead attorney, who had been delayed. "He didn't hesitate," Mehaffy recalls. "He was a natural. He took charge."
Though Matheny is best known for his work in the courtroom, where he backs up oratory with well-researched facts, he is also often called to investigate accident scenes, such as when Provost was hired to represent the families of seven workers killed in the 2010 explosion of the Tesoro oil refinery in Washington state. Though Matheny's work was done before the case went to trial, the findings of his investigative team were the foundation of the lawsuit, which Tesoro settled for an undisclosed amount.
Unlike his role as a college goalie, when it comes to law Matheny plays all over the field. He's taken a wide range of cases, from huge negligence suits to a worker trying to get disability pay after an injury. "He's not one of those guys who'll ever think, 'This case is beneath me,'" says Hatfield. "He'll take smaller cases and bring the same dedication as he does for the multimillion [-dollar] litigation."
Matheny's mentor, his father, retired two years ago. "My father is a great storyteller, and he once told me a story that had a big impact on me growing up," says Matheny. "It was about two soldiers from a U.S. Army unit in World War II who had been killed in France. The nearest cemetery couldn't accept the men because they weren't Catholic, but they said they could bury them on the other side of the wall and still tend to the graves. After the war, a couple of soldiers went back to the village in France, but the graves weren't there. So they stormed over to the cemetery to see what was going on."
The soldiers were shown that the graves were still there. After France had been liberated by Allied troops, the cemetery leaders decided to move the walls to include the non-Catholics.
"Isn't that what we as lawyers try to do? To adapt so that everyone is included?" Matheny asks. "You're looking for any way to win. But no matter how brutal it gets, at the end you extend your hand."
Search attorney feature articles