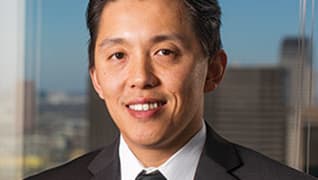 Photo by: Jeremy Enlow
Not Playing the Safe Card
For health care lawyer Richard Cheng, that's the one to avoid
Published in 2016 Texas Rising Stars magazine
By Marc Ramirez on March 4, 2016
As a boy, Richard Cheng sometimes thought about becoming a lawyer. Then he ruled it out. "It wasn't really encouraged in the home," says Cheng, whose dad thought it was a bad idea. He wasn't the only one. "I had this conversation with an older Chinese gentleman; each of us was told by our father, 'Don't bother with law. Nobody in their right mind will ever hire you as an attorney because of being Asian-American.'"
Instead, Cheng became an occupational therapist, working at post-acute care facilities, community hospitals and in outpatient therapy. In the process, he developed relationships and insights that continue to serve him as an attorney. "I learned to communicate with administrators," he says. "To know what their issues might be at a facility level, to know their concerns on a daily basis, what their financial goals are. It prepared me to be able to see the world through their lens."
Cheng, 39, now co-heads the health care practice group at Shannon, Gracey, Ratliff & Miller in Dallas, the firm he joined last May. About 80 percent of his work involves representing health care providers. He also has a mix of hospitality industry clients including a large national hotel chain, several restaurants and bars.
His is a world of acronyms. When companies are charged with violations following audits or investigations, providers hire Cheng to appeal their cases before administrative law judges. Other clients look to him to anticipate regulatory issues during acquisitions or restructuring. And he spends a lot of time advising health care providers and vendors in regard to the Health Insurance Portability and Accountability Act.
When one very large health care system was in the midst of acquiring another in a 2013 deal worth over $7.6 billion, Cheng was hired as a special counsel to help identify regulatory issues. "My job was to help them do regulatory due diligence," he says. "Just the sheer size and sophistication of it was a challenge."
 Cheng also handled a regional hospital system's acquisition of an imaging center and has led multiple change-of-ownership deals for skilled nursing-home facilities along the Interstate 35 corridor.
"Because he was trained as an occupational therapist, he has combined that with law to work with both health care providers and the legal area, so each one can see the other side," says retired scientist and professor Neal Latman, who taught Cheng in the occupational therapy program at Texas Tech University's Health Sciences Center. "That's really what he is: an interpreter for each side."
Cheng has a 46th-floor office with a blimp's-eye view of southwest Dallas. Slender and matter-of-fact, he's neatly dressed with striped socks and shiny, laced black shoes. He's a long way from the 19-year-old who volunteered at Plano Rehabilitation Hospital in his freshman year at college before going on to get his occupational therapy degree.
Cheng spent four years in that field, but halfway through started to think it really wasn't what he wanted to do with the rest of his life. What he did enjoy, he realized, was managing the process, identifying regulatory gaps, deciphering the business of the industry. It was time to reconsider law.
 "I got to a point in my life where I wanted to give it a chance," he says.
He earned his law degree at Nova Southeastern University's Shepard Broad Law Center. There he found inspiration in mentor Barbara Kornblau, an instructor in the school of Allied Health, who, like him, was one of the rare licensed occupational therapists who went on to become a lawyer. Kornblau took him on as a teaching assistant; years later the two would co-author the legal issues chapter of an occupational therapy textbook.
"He was someone who chose a path nobody wanted to do, and was able to get where he wanted to go," says Kornblau, a health policy and advocacy consultant. "He had his own drive and motivation and didn't need a lot of supervision."
After getting his degree, Cheng practiced law in Minnesota, then moved back to Texas and worked as in-house general counsel for a pair of health care companies. He then went to the Dallas office of Anderson Kill before joining Shannon Gracey in May.
He lives with his family in Frisco, north of Dallas. As for his kids' future, he says, "I just want them to find something they're happy doing. I don't want them to work in an environment they're apathetic about. That's essentially committing spiritual suicide." Occasionally he visits high schools to talk to students about the legal profession. "The practice of law is different than practicing law," he says. "That's something young law students don't realize."
While someone might be well trained as an attorney, in other words, there is more to the job—what Cheng calls "the inner workings of the profession."
"It's street smarts, where the pitfalls lie," he says. "Stuff they don't teach in law school. They're not taught to identify opportunities, or to create opportunities." Opening new doors for himself was something he did at both Century Rehab Inc. and Senior Care Centers, where he was in-house general counsel, creating legal departments—"not because an ad was posted, but because I was in a position where I could create that, and I did."
Oil and gas attorney Roger Beecham, a Shannon Gracey veteran who has taken Cheng under his wing, says, "There's two things you have to do as a lawyer: Complete a client's work in a satisfactory and timely manner, and get out there and market your legal services. He's very good at both. You don't get a lot done sitting in your office if the phone doesn't ring."
And since Cheng chose his path, support has also come from his father, part of whose initial concern came out of an unwillingness to see his son give up a well-paying occupational therapist job for the hardship and expense of law school. "Once I got in, he was completely supportive," Cheng says. The two recently had a video chat about that time period, Cheng adds, and though his father rarely admits having second thoughts," he said, 'One of the mistakes I made was to discourage you.'"
The bias his father feared never came to pass, at least as far as Cheng knows. He tries to encourage people to judge him on his merits. Sometimes, he has had to work hard "to establish a comfort level with groups that may not have dealt with a minority."
Cheng's self-awareness has allowed him to chart his own path, trumping conventional wisdom by leaving the stability of an in-house position for the more volatile world of private practice. As it turns out, he's comfortable relying on street smarts.
"I've done everything but play the safe card," he says. "I've played very maverick-type cards. I've always had a high threshold for risk."
Search attorney feature articles