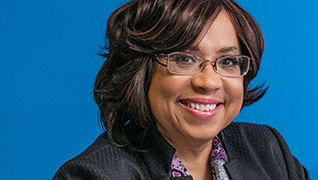 Photo by: Jeremy Enlow
On Becoming Perry Mason
Rhonda Hunter started out her career as Della Street—but soon realized she could aim much higher
Published in 2016 Texas Super Lawyers magazine
By Carlos Harrison on September 6, 2016
Rhonda Hunter has a mission: "to end racism in Dallas." 
She chuckles. But she means it. 
Hunter, a family law attorney at Farrow-Gillespie & Heath, was the first minority president of the Dallas Bar Association, and she used her inaugural speech to light a fire under the legal community.
"When she gave that speech, I thought that Dr. Martin Luther King Jr. was alive," says Dallas attorney Ron Massingill. "I mean, holy smoke! That was a firebrand speech. It got everybody's attention; nobody was sleeping."
Hunter is used to fighting for equality. She's been doing it since she was a girl.
Her dad, Charles Hunter, a professor and pastor, was a local legend. He co-founded The Amigos, a Dallas organization that aimed to build connections among the races by bringing diverse groups of men, women and their children together for social gatherings in private homes and public places. 
Hunter's brother Byron, a filmmaker, recalls those events. His parents, he says, taught their children to "understand what the world is, but at the same time know that, as opposed to opposing it and winding up fighting, you have to know when to integrate and create change from the inside."
The Hunters were the first black family in their section of Dallas' Oak Cliff neighborhood. Byron remembers having their windows shot out with BB guns. His sister, who was the first African-American student at her junior high school, remembers the slurs hurled at her from passing cars as she walked home.
But, she says, "by the second semester, I decided to change and wear an Afro. Probably just for fashion. But it really gave me a sense of power. People were afraid because of the haircut."
Now, recalling those days as she sits in her office 37 floors into the Dallas sky, she laughs. She does that a lot, exuding an air that is simultaneously friendly and intense. Hunter has an easy smile.
At her high school, she was one of the first two black students. "It got to be a bit tiring, being in that type of an environment," she says.
She switched to the fully integrated Skyline High School, where she found a stimulating intellectual environment. And she discovered a passion. 
She was 15. At the Mary Lois School of Dance, she found her love for modern dance and knack for choreography. She stuck with both, and wound up teaching at the school for more than 30 years. 
Going to college was never in question. "My dad had five degrees," she says. But at the University of Texas at Austin, she wasn't quite sure what she wanted to study.
"I had a number of majors," she says. "Government was the one I got the degree in."
What she really wanted wasn't listed in the course catalog. She enjoyed reading Perry Mason novels, but it wasn't the fictional attorney's occupation that called to her. She was drawn to Mason's loyal assistant, Della Street.
"My goal was to be an executive secretary," she says.
So, when she graduated, that's what she did, working for the regional manager of Dallas Public Library system. But she saw something in the woman she worked for that made her want more in life.
"She would come into a room and people would just …" Hunter says, straightening stiffly in her chair to demonstrate. "When I saw her come into that room and saw that kind of reaction and the power that she had, I said, 'I want to be her.'
"I had been reading those Perry Mason mysteries and I had become Della Street. And then I realized I could be Perry Mason." 
At Southern Methodist University, "the only law school in Dallas" at the time, she says, she was one of just five African-American students in the law school. 
"The next year's class had zero," she says. 
After a brief stint in Atlanta, "following a boy," she came back to Dallas and worked as an assistant city attorney. After three years, she went to a private firm, where an attorney introduced her to family law, the area of practice she would stick with for the rest of her career.
When the firm imploded three years later, she hung a shingle and became active in the Bar.  
"I was over there every day, because I had a business plan to have a lawyer referral-based business," she says. 
Many of those days, too, she recalls, "I was the only person of color."
That year, 1986, is also the year the local Bar began its annual comedy/variety fundraiser, called Bar None. She started choreographing the dance numbers—a task she's still performing.
"She's been the dance teacher for a bunch of lawyers like me who have two left feet," says personal injury attorney Al Ellis, a past president of the Dallas Bar, who performed in many shows and still works on fundraising for the event. "I didn't come out a good dancer, but at least I didn't make a fool of myself." 
It's also a way for her to help minority law students pay their way at Texas law schools. Bar None has raised over $1.7 million for scholarships for minority law students since it began.
Hunter also became active in Dallas' African-American Bar, the J.L. Turner Legal Association. When she became its president, that gave her a seat on the board of the Dallas Bar Association. 
When her term ended, someone suggested she run for secretary-treasurer of the Dallas Bar. 
"No one had had a contested race for secretary-treasurer in the 10 years before that," she says. "So I said I'd run. [Then it was] contested! … So here I am, fighting again." She won.
She worked her way up: vice chair, then chair, then vice president—and in 2004, she became the first African-American president of the Dallas Bar. More than that, she was the first of any minority group to lead the organization. 
"Being the first minority president of the Dallas Bar is huge," says workers' compensation attorney Michele Wong Krause, creator of the Dallas Minority Attorney Program. "Whenever you're the first of anything, you have to do everything twice as well as anybody else."
Hunter set an ambitious agenda. And expected to get it done. Her mother had taught her never to take no for an answer.
"I've never said no to Rhonda," says Massingill, "because it's just easier, if she asks you to do something, to just say yes and go ahead and bite the bullet and do it and get it over with—without trying to argue to her about why you don't have time or why you can't do that, or some other flimsy excuse—because she's not buying it. She asks because she expects you to do it."
Massingill has seen that same determination in the courtroom, where he has faced off against her. 
"We get into the courtroom, or depositions like we've had before, and, I mean, it's really a knock-down, drag-out," says Massingill. "But as soon as the bell is over, you can see her later that day or the next day and it's friendship.
"It's never a handshake with Rhonda Hunter. It's always a hug and a kiss on the cheek. Always, every time. But, boy, when you're in a courtroom or a deposition, it's no hugs and kisses there."
She brought the same intensity to the Dallas Bar. 
The year Hunter became president was the 50th anniversary of Brown v. Board of Education. So she launched a program to teach local students about the monumental case. It involved more than 200,000 kids. 
She co-founded the Bar association's Minority Attorney Business Development Initiative to train ethnically diverse lawyers in the business of running a law firm. She also developed the Bar's Diversity Summit, aimed at increasing the recruitment and participation of attorneys of color, and its Minorities at the Podium program, whose goal is increasing the diversity of speakers at legal seminars and educational events throughout the state. All three programs won American Bar Association Partnership Awards for the Dallas Bar. 
 And, as Hunter promised in her inaugural speech, she initiated an evaluation of racial and ethnic bias in the courts in Dallas County. Its recommendations included increasing diversity on juries, offering more services to minority criminal defendants, improving availability of interpreters, and developing diversity-awareness programs.
Five years later, Hunter became the first African-American to run for president of the state Bar association. She lost that one. 
"Somebody had to be first [to try]," she says.
Hunter also created a language camp aimed at raising the reading level of children in the juvenile justice system. She is a frequent speaker and an adjunct professor of family law at the University of North Texas Dallas College of Law, and continues her family law practice as a partner at Farrow-Gillespie & Heath, where she has worked since 2012. 
"I sometimes think there's two of her. I don't know how she does it all. She's involved in everything," says Ellis. "I think her impact has been great. Certainly as a role model for African-American lawyers, but also for all young lawyers."
And, says Hunter, her mission remains the same. 
"Remember," she says, "my goal is to end racism in Dallas." 
Search attorney feature articles
Helpful links
Other featured articles
Marc Kaplan looks back on his days in the Jimmy Carter administration
Jeff Anderson on law school, legal tactics and his ultimate goal—deposing Pope Benedict XVI
Dan Gustafson doesn't shy away from representing society's biggest pariahs
View more articles featuring lawyers
Find top lawyers with confidence
The Super Lawyers patented selection process is peer influenced and research driven, selecting the top 5% of attorneys to the Super Lawyers lists each year. We know lawyers and make it easy to connect with them.
Find a lawyer near you