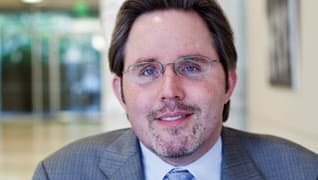 Photo by: Felix Sanchez
Persuading in a Raw, Simple Way
Toby Cole advocates for personal injury clients by being himself in the courtroom
Published in 2012 Texas Rising Stars magazine
By Alison Macor on March 9, 2012
Toby Cole appreciates a challenge. But the 39-year-old trial attorney, a partner at Midani, Hinkle & Cole in Houston, had his doubts when he received a call in 2007 from Perry Monroe, the father of deceased United States soldier Christopher Monroe. Nineteen-year-old Christopher had died from injuries sustained at a military security checkpoint in Iraq when he was run over by an armored car operated by employees of Erinys Holdings Ltd., a British security contractor. The vehicle severed Christopher's right leg, and his body was thrown more than 30 feet. The elder Monroe had contacted Cole after learning about his experience representing Iraq veterans. Indeed, two of Cole's clients had received national attention when they were featured on the ABC newsmagazine 20/20.
Although he was moved by the tragedy, Cole had reservations about the case. For one, it presented jurisdiction challenges: It was a suit against a British company and based on an incident that had happened in Iraq approximately two years earlier. It would be difficult to hold the overseas company responsible in a suit filed in the United States. Additionally, the U.S. military had already investigated the incident and ruled that its own soldiers were at fault in Monroe's death. But when Cole learned that Erinys had briefly opened an office in Houston years earlier in an effort to recruit contractors, he got excited.
"Jurisdiction allowed us to get discovery," says Cole, and he built the case from there.
"Toby did a masterful job of getting jurisdiction," recalls fellow partner Mark Midani, who worked with Cole on the case. "I didn't give the case much of a chance, but sure enough, we got jurisdiction and the judge let us do some discovery, and that's obviously what tilted the case in our favor and why we got such a good settlement."
They settled the suit in September 2009 for $1,999,999. "They just weren't going to pay $2 million," Midani says. Regardless, he, Cole and the client were pleased.
"It wasn't about money for the family," says Cole. "It was about responsibility."
Cole understands the unique needs of clients who have suffered a catastrophic injury. In 1990, two days after graduating from high school, Cole dove into the shallow end of a swimming pool and broke his neck. He was diagnosed as a quadriplegic who has no range of motion below his mid-chest. After the accident, Cole spent three months at The Institute for Rehabilitation and Research Memorial Hermann, a facility in his hometown of Houston. A few months after his discharge, he enrolled at the University of Houston as a freshman. Within 7 ½ years, he had earned an undergraduate business degree, an MBA, and a law degree from the university.
Cole is humble about his achievements. "There was really nothing else to do," he says. On this particular fall morning, Cole is relaxing in one of the physical therapy rooms at Quentin Mease Community Hospital, a Houston rehabilitation facility where he regularly volunteers and visits with newly injured spinal cord patients. Dressed in a well-tailored suit, Cole recounts his career, as Omarr Jackson, one of Cole's three assistants, sits nearby.
"I never planned on going to law school at all," says Cole. "I was getting a degree in business, and I knew as I got closer to graduating that just getting an undergraduate degree, I wasn't going to get a job where I could afford to have [an assistant] go to work with me." During college Cole relied on his parents, siblings and extended family as well as hired assistants to handle his personal needs, which included driving him to school and taking lecture notes for him in class.
While in law school, Cole interned at the 1st Court of Appeals of Texas in Harris County and then clerked for two local firms. His business background made him a natural for corporate work. But he was drawn to the personal injury cases. "I knew what it was like to be up at 2 o'clock in the morning and to be really hot and having to make the decision, 'Do I want to wake my dad up?' So I know what people are going through, to some extent, when they're injured," says Cole.
While taking a trial advocacy course taught by personal injury attorney Jack McGehee, Cole asked for advice. McGehee told him to find a position with a defense firm, where he would have greater trial opportunities, and to stick with it for five years before switching to plaintiff's work. And, after observing Cole interact with a witness during a mock trial, McGehee offered another suggestion: Watch the aggression.
"Toby channels his whole persona through his face and voice, and when he tried to get aggressive, it just didn't work," recalls McGehee, who credits Cole with helping him to realize that the "standard methodology" of being a trial lawyer doesn't apply to every attorney. "All of us use our entire body language with people, and sometimes we mask our true feelings behind our gestures and animation. Toby can't. Toby's win during law school was to learn to just be himself, and not try to learn the tactics and antics that other people have the benefit of learning to help their burden of persuasion. Toby persuades in the rawest, simplest form."
Cole took McGehee's advice to heart. He joined Karotkin & Engvall as an associate, taking his first deposition the day after he was sworn in. He worked on a number of defense cases in a variety of areas such as waste management and scaffold building. During his first case, Cole witnessed the inadvertent effect his own injury could have on a jury. His client, a waste management truck driver, had rear-ended another vehicle. The driver of that vehicle, who had suffered minor injuries, according to Cole, told the jury that, among other things, the accident had made it next to impossible for him to play with his son. The jury wasn't sympathetic, and they returned a verdict of "guilty" in favor of Cole's client even though, Cole says with a chuckle, their task was to answer only yes or no to the question, "Do you find the driver negligent?"
"They didn't award any damages at all, so we won the case," says Cole.
"Sometimes Toby looks more injured than our client," says Midani. "It shouldn't be that way, but it's something that just happens and we have to be careful of it, especially doing personal injury." Midani first met Cole while opposing him on a case. Cole impressed him with his ability to connect with Midani's client during a deposition. After the case was settled, Midani joked that Cole should contact him if he ever wanted to represent plaintiffs. Cole seized the opportunity and joined the firm in 2005 to focus on personal injury cases.
One of his first clients was 23-year-old Tyson Dever, who was rendered paraplegic after his car was hit by a cement mixer. "I was Toby's client, and there was work to be done, and he took care of that," says Dever, who today is a motivational speaker. "But there were also times where Toby would just pick up the phone and ask how I was doing. After living life able-bodied for 22 years, there's a lot of questions that come up. Toby was a great resource for me. It wasn't just a client-lawyer relationship, and that just shows that Toby truly cares about his clients. He cares about what he does, and he takes it very seriously."
That same year Cole began representing Kevin Smith-Idol, a civilian contractor for KBR Inc. who was shot in the knee and hip during the ongoing 2004 Good Friday attacks in Iraq, when Iraqi insurgents ambushed KBR's convoy of military supply trucks. The case, along with two other cases, received national attention in part because of the injured contractors' inability to collect benefits from insurer AIG. In the end, Smith-Idol won all of his entitled benefits (the companion cases are on appeal). "Knowing guys like Kevin are entitled to these benefits, it's just horrific," Cole says. "They worked overseas because they wanted to do their part. Then they get hurt, and AIG just flatly refuses to pay any of their benefits or lost wages."
Cole attends monthly support group meetings for spinal cord injury patients at Quentin Mease, and acts as a mentor, a resource for information, and, says occupational therapist Myrla Vanegas, a source of hope, especially for the newly injured. "Their whole world has stopped," she says. "But then comes Toby. People can see in him more than what they can see here. They can see a future in Toby."
For Cole, the time he spends at both facilities is a way to give back. "I was so lucky. I had so much family, so much support," he says. What Cole enjoys most about being a volunteer and a mentor is getting to spend time with each person and, if he's lucky, to share in their journey from "the front end, when they're so scared, to months or years later, when they're stronger. I just love it."
But the challenge these days, says Cole, is always the next case, the next client. "This is the person I need to help now. This is the family I need to help now. It's the fight that I have coming up that's always the most challenging."
Search attorney feature articles