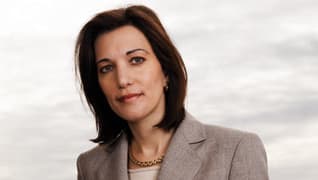 Photo by: Craig Washburn
Power Broker
Diana M. Liebmann has quietly become one of the top wind energy lawyers in Texas
Published in 2011 Texas Rising Stars magazine
By Paul Sweeney on March 11, 2011
It happened several years ago. Diana M. Liebmann, who heads the electric power practice in the San Antonio office of Haynes and Boone, was driving across West Texas with her daughter when they came upon a wind farm. Pointing to the clusters of wind turbines, Lauren, who is now 13, asked, "Mommy, are those your windmills?"
"Yes," Liebmann replied, explaining that the windmills belonged to her clients: "Mommy worked on them, but I didn't actually build them." 
But if she didn't actually build forests of wind turbines, which are as tall as Douglas-fir trees and now as common a sight as oil wells in the region, Liebmann's advocacy and regulatory expertise on wind generation have played an important role in their existence, survival and expansion.
And when it comes to wind energy, Texas rules.
Recent statistics compiled by the American Wind Energy Association show that at the close of the third quarter in 2010, the Lone Star State had a generation capacity of 9,727 megawatts (MW), more than twice its closest competitor, Iowa. That's enough electricity to keep the lights and appliances on in 2.6 million homes.
Liebmann, who has been closely engaged in regulatory issues since she worked as a legislative aide in Austin 18 years ago while in college and law school, understands the maze of laws and regulatory actions governing electricity like few do.
Patrick Woodson, chief development officer at the Austin offices of E.ON Climate & Renewables North America, a subsidiary of one of the world's largest energy companies, says that huge sums of money can hinge on regulatory proceedings. Recently, he notes, his company was faced with what he calls "unfair protocol revisions" proposed by the Electric Reliability Council of Texas (ERCOT), which manages the flow of electric power to 22 million Texas customers and represents 85 percent of the state's electric load. The constorium is overseen by the three-member Public Utility Commission of Texas (PUCT), which is appointed by the governor and answers to the Legislature. ERCOT wanted the company to retrofit its wind turbines to meet new voltage requirements. Woodson was grateful to have Liebmann as a troubleshooter. "She was very persuasive at helping us bring some reason to the process," he says. "She advocated that they take their time and look again at the protocol. It was finally determined that there was no need to make the changes. It saved us a couple of million dollars for each retrofit and a lot of unnecessary time."
Liebmann has also made a name for herself with advocacy work before the PUCT. Her efforts have led to some sweeping policy decisions. While at her former law firm, Davidson & Troilo, she teamed up with senior partner John Davidson and consultant Riley Rhorer, an electrical engineer, to represent a Brownsville municipal utility and, in the wake of deregulation, rewrote the rules that were ultimately adopted, on how the transfer of electricity is paid for. Though located at the bottom tip of the state, just miles from the Texas-Mexico border, the utility company depended on electrical-generation sources it operated in the state's northern tier. Even before deregulation, Brownsville was paying "wheeling costs" to each transmission company along the line. Costs stacked up in what was known as "pancaked" pricing.
Liebmann and her team persuaded the PUCT to adopt a system of "postage-stamp" pricing, in which a statewide tariff would pay for the electricity to be ferried to a market, no matter the distance or number of carriers. Several utilities appealed the decision in court, but in 1999 the Texas Legislature adopted postage-stamp pricing with landmark legislation—ultimately restructuring the retail segment of the utility industry.
The consequences have been significant, says lawyer James G. Boyle of Austin's Herrera & Boyle, who specializes in representing municipalities before the PUCT. "Postage-stamp pricing has helped spread the construction costs of transmission lines across all the ratepayers in ERCOT," he says. "It's helped develop the modern transmission system in Texas, which has been good for wind power and for almost everybody."
Slender and athletic-looking with a buoyant, upbeat demeanor, Liebmann often punctuates sentences with a bright smile and bursts of laughter. She was born in Venezuela but grew up in Houston, the daughter of a geologist whom Liebmann's mother met at Texaco Inc., where they both worked. Longtime friend Steve Davis, a product manager at Advanced Micro Devices in Austin, played drums alongside Liebmann in Stratford High School's marching band, where she was flag captain her junior and senior years.
She was an "All-American girl," Davis recalls—a "high achieving" one with "a formidable intellect and leadership skills." Her interests were broad, he says. "She was always easy to talk to and thoughtful. … One of the few people I could talk to about esoteric subjects like philosophy, government and business."
At Southwestern University in Georgetown, Liebmann began her college studies as a political science major, double-minoring in chemistry and German. She initially wanted to be a research chemist, but became fascinated with government. She counts Alexis de Tocqueville's Democracy in America as an influence, describing, as she says, "how important the rule of law is to the establishment of rights and freedoms in a civilized society."
During college and while at the University of Texas School of Law (Class of 1996), she worked for state Rep. Rene Oliveira, a Brownsville Democrat. "She was a brilliant, remarkable young woman," Oliveira, now a lawyer, says. "She could grasp some of the most arcane tax and energy issues that we were dealing with at the time. It was amazing to me how agile and quickly her mind works. And her writing skills were superior to anyone I've ever had on my staff."
At Haynes and Boone, where Liebmann heads the energy practice, she's valued as a rainmaker, says Lamont Jefferson, the firm's administrative partner in San Antonio. "Through Diana, we've attracted some of the largest energy generation companies in the world as clients," he says. "But she's also a team player. She's selfless. Her clients are the firm's clients."
Married to Will Liebmann, a corporate attorney at Cox Smith, Liebmann spends much of her spare time in community service. Two years ago, as president of the Arc of San Antonio—which helps the developmentally disabled and their families—she helped spearhead a capital improvement campaign that raised funds that enabled the organization to acquire and renovate property and open a second center.
She also teaches Sunday school to 3- to 5-year-olds. It's just one more place she's generating electric energy. "We have a lot of fun teaching our lessons, especially when we use the hand puppets," she says. "But that is a whole different story."
Search attorney feature articles