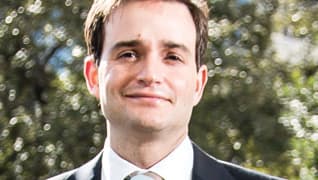 Photo by: Felix Sanchez
Raising the Bar
Trial lawyer Ryan Zehl has a rare combination of tenacity and people skills  
Published in 2013 Texas Rising Stars magazine
By Pat Evans on March 8, 2013
Ryan Zehl has dimples when he smiles, and jurors tell him he looks like one of their kids. But the personal injury attorney is a man on a mission when he stands in front of a courtroom and lays out what went wrong, who's to blame and how the jury can fix it.
"He thinks fast, learns fast, works fast, talks fast and moves fast," says former state Supreme Court Justice Scott Brister, who hired Zehl as a clerk after law school. "I liked that. Yet perhaps his greatest gift is his ability to understand and relate to people."
In December 2011, Ryan Zehl and co-counsel landed an $18.8 million verdict—the largest accident award in Texas that year—against Greyhound Lines Inc. on behalf of two women seriously injured when a bus flipped on an icy road. The driver was ticketed for driving at an unsafe speed for conditions, and phone records showed that in the three hours before the accident, he had made 17 cell phone calls, a violation of Greyhound policies.
After the three-week trial, Zehl asked jurors why they had assessed $9.6 million in punitive damages, double what the plaintiffs had requested.
"Most of the jurors [11 out of 12] actually wanted to award $500 million, but punitive damages must be unanimous in Texas," says Zehl, co-founder of Fitts Zehl in Houston. "Even in today's cynical world, people still believe companies should follow the rules.
"It's not just about the plaintiffs. It's about you, me, all of us. This horrible accident could have happened to anyone."
Ron C. McCallum, with the Law Offices of Ted Lyon & Associates in Mesquite, was co-lead plaintiff's counsel in the case. Zehl's client received $7.1 million; McCallum's won $11.7 million.
"Ryan Zehl's ability to help the jury understand complex legal issues is just one hallmark of his success," McCallum says. "He can think on his feet, and he stayed up working until 3 in the morning almost every night during trial. It is this dedication to his client and his natural ability as an advocate that will propel his career."
Beyond vehicular law, Zehl is known for handling offshore accidents and pharmaceutical litigation. He represented four oil-rig workers injured in the 2010 explosion of BP's Deepwater Horizon. Newsweek named his firm one of 10 "Leaders in Maritime Law" for 2012.
He has a number of cases involving the diabetes drug Avandia, manufactured by GlaxoSmithKline, and recently reached confidential settlements with the same pharmaceutical company on Paxil cases related to infant heart defects.
"Fighting for women whose children were born with heart defects had the most emotional effect on me. These mothers thought Paxil was safe to take, their doctors thought the drug was safe, but their newborns wound up with heart defects," Zehl says.
In Zehl's sophomore year of high school, he had a brush with the law: He was charged with a misdemeanor after one of the participants in a fight he was trying to stop filed a complaint against him. Not wanting his parents to know, he defended himself, reasoning he knew enough law from watching TV. He did such a good job, the judge—who later recommended Zehl for law school—found Zehl not guilty and told the young man he had done far better than most lawyers who came into his courtroom.
Which, of course, got Zehl thinking about law school. "John Grisham's A Time to Kill had an effect, too," he says. "I wanted to be that kind of lawyer: Matthew McConaughey representing the underdog."
During his second year at the University of Texas, Zehl's father, a Houston ophthalmologist, died after a long battle with multiple sclerosis. Zehl's mother, whose heritage is half Italian and half Iranian, had limited familiarity with U.S. law and finances. Zehl suddenly found himself wrangling with insurance companies, brokerage firms and others who had eyes on his father's money.
"Mom always told me, 'Do your best and God will do the rest,' but I felt my family's life was in my hands," he says. "As the oldest, I had this compulsion to take my father's role. You might say I became desensitized to stress because I was making decisions at such an early age. People shouldn't have to fight so hard … you should be able to get your insurance benefits, you should be able to access your investments."
Zehl's crusade on his family's behalf steered him toward plaintiff's law. He chose South Texas College of Law in Houston because of its respected moot court program. In his third year, Zehl was asked by a dean to fill in at a major national tournament. He picked a tournament partner, Josh B. Manes, and they stayed up two nights writing a last-minute brief—but skipped practice sessions, assuming, as last-minute substitutes, they would only help coach the team. Then another team dropped out, and they got the chance to argue.
"In court, Ryan was a real bulldog," remembers T. Gerald Treece, vice president and associate dean at South Texas College of Law. "No matter what the obstacles, he and Josh adapted, overcame and won the Evan A. Evans Constitutional Law Moot Court Competition in 2001. Many students have a gift of intelligence, but few have the intellect and tenacity that Ryan possesses."
As for Zehl's people skills, Justice Brister, who now heads the appellate section at Andrews Kurth, jokes: "If I had been given half of his relational IQ, I never would have lost a bar poll."
After Zehl's clerkship at the Supreme Court, he joined Dallas firm Gardere Wynne Sewell, which tapped him for appellate cases—work that taught him to distill legal issues into understandable concepts. "That's what trial lawyers do," Zehl says. "All this information I collect over several years of investigation on a case is something jurors have to understand in one day."
In 2007, Zehl and his former University of Texas Silver Spurs buddy Bryant Fitts launched their own firm. Fitts, who had been doing defense work and wanted out, serves as managing partner, taking on the business side of the firm while also working on mass tort cases. Zehl also handles mass torts and takes on the firm's personal injury cases. "We formed our firm to improve the lives of people who had terrible things happen to them," Zehl says. "I had spent over two years representing giant companies that had enough money and lawyers to solve just about any problem that could arise. No matter how late I worked, I never left the office feeling I was actually making a difference."
Zehl is a board member for the Houston Trial Lawyers Association, and believes in the need for change to the state's 2003 tort reform laws, which he feels unfairly affects plaintiffs in medical malpractice lawsuits.
"If you are a young, stay-at-home mother with three children, but you are brain-damaged in a routine surgery, the way Texas law works now, your injury is only worth $250,000 in compensation. But if you are employed and suffer that additional economic loss, your case is worth much more. Pain, suffering and disability are capped at $250,000, but those are often the most important things," Zehl says.
At their young firm, Zehl and Fitts keep raising the bar. If goals are met for such things as number of trials won and target total for recoveries, says Zehl, higher goals are set for the next year: "It sounds like punishment, but it's what keeps us motivated."
Asked what one word best describes him, Zehl comes up with: "Relentless. I don't know where I get my high expectations, because I am my greatest critic. There are all kinds of seminars teaching lawyers how to win, but at the end of the day, you have to be yourself."
Search attorney feature articles