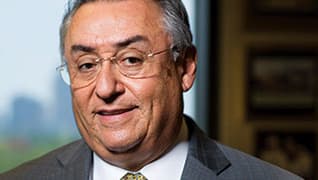 Photo by: Felix Sanchez
Ricardo G. Cedillo's Shining Armor
The business litigator has suited up for clients ranging from Blockbuster to Playboy
Published in 2014 Texas Super Lawyers magazine
By Alison Macor on September 5, 2014
Like many successful trial lawyers, Ricardo G. Cedillo is a storyteller. He understands how to craft a narrative, build a scene, provide closure.
Case in point. The San Antonio attorney is telling the tale of his first memory of meeting his father, Rodolfo, around age 3. "A man showed up," he says, "and I was introduced to my dad, who had been living and working in the U.S." Throughout the 1950s, the Cedillo patriarch was a participant in the Bracero Program, established by the U.S. and Mexico to capitalize on the agricultural skills of Mexican laborers. Rodolfo followed the crops, working in Texas, California and Indiana.
"We lived with my grandparents in San Buenaventura, Coahuila. There were four children, and I was the baby of the family," Cedillo says. His father had returned to Mexico in the summer. "I'm clinging to my mom, scared, and she kept saying, 'No, no. Go over there. That's your father.'"
Rodolfo kept calling to his youngest child, motioning Ricardo over. The reluctant toddler gradually warmed to his dad. "I remember that vividly," says Ricardo. His father continued to work as a migrant until he secured the promise of a job as a mechanic and filed the necessary paperwork to move the entire family to the U.S. "He had a plan, he had a method," says Cedillo. "My dad wasn't impulsive."
Family is on Cedillo's mind. His mother, Maria Antonia, passed away in February. His father died seven months earlier. Family photos cover a long tabletop in Cedillo's spacious corner office in McCombs Plaza, a six-story office building in midtown San Antonio. A quilt decorated with a U.S. flag, hand-stitched by Cedillo's mother, softens a dark leather sofa across from his desk, which looks out over Brackenridge Park.
Cedillo, 61, wears a pristine guayabera discreetly monogrammed with his initials. He is thoughtful and deliberate, with a disarmingly boyish laugh. On a recent day, he pops gumball-sized cinnamon jawbreakers from a Mason jar on his desk to soothe a cough. Cedillo has successfully represented such high-profile commercial clients as Hugh Heffner's Playboy Enterprises, which was involved in a contract dispute with a Spanish-language distributor; and media mogul Sumner Redstone's Blockbuster video chain, which faced an antitrust suit.
The fruits of his labor are visible throughout his office. He favors fine cigars. Knights of all sizes, including a full suit of armor, are perched around the room. The collection is not only a nod to Cedillo's professional responsibility, as he sees it—to be a knight in shining armor to his clients—but it's also the mascot of one of his favorite charities, Holy Cross of San Antonio. A college prep school on the city's West Side, Holy Cross has educated two generations of Cedillo men, including Ricardo and his four sons. Two of his brothers teach there today.
Cedillo's office is also just a few blocks from Trinity University, where he earned his master's degree in urban studies. A course on the urban legal process inspired Cedillo to write his thesis on the distribution of storm drainage services in San Antonio, where his family moved when he was about 5. The family came to the United States as resident aliens and later became citizens. His parents eventually opened La Fama Bakery, which became a popular West Side spot for shift workers from nearby Kelly Field and neighborhood politicians seeking his parents' endorsement. The kids worked at the bakery from an early age. Cedillo was translating for his dad during bank-loan discussions while he was still in elementary school.
In his master's thesis, he correlated expenditures for city services in neighborhoods that had restrictive covenants on race and ethnicity. "In the neighborhoods without restrictive covenants, money didn't get spent. On the West Side, the restrictive covenants were 'just' against the blacks, so the Hispanics settled there. That got me interested in law," says Cedillo.
He was headed to the University of Texas School of Law with his fianceé, who was to start a master's program at the Lyndon B. Johnson School of Public Affairs, when she was offered a spot at MIT. So Cedillo applied and was accepted to Harvard Law School. "My father hit the roof," says Cedillo. "He worked real hard to make sure the family stayed together." By then the family included several younger siblings. "He said I was a horrible example to my little brothers and sisters. He pulled every guilt trip he could. … I was the black sheep of the family for many, many years because I ended up at Harvard Law School."
While attending law school at Harvard, he spent a summer working for the Chicago firm of Ross, Hardies, O'Keefe, Babcock & Parsons. "Dick Babcock was the zoning law guru in the United States. Ross Hardies had gotten the contract to rewrite San Antonio's zoning code," says Cedillo. Despite the project's "hometown" focus, he was on track for a full-time position at the firm after graduation, which would have confirmed his father's fears that he was gone for good.
His then-wife had also accepted a job in Chicago. Soon after, she was offered a similar position back in San Antonio. "I think we ought to go home," she said.
It was the spring of 1979, and most law firms had already made their hires from among that year's graduates. Cedillo arranged an interview during his spring break with Groce, Locke & Hebdon, one of San Antonio's largest firms. Charlie Smith, who was chairman of the litigation section at the time, recalls being amazed at Cedillo's achievements. "Here's a guy that was raised on the city's West Side, where his parents ran a bakery," he says. "He would get up at 3 or 4 in the morning on the way to high school and college, and he'd work at the bakery before he'd go to school. He went to St. Mary's University, then Trinity, then he got accepted to Harvard. When you look at the humble beginnings from which he came, that impressed me."
Cedillo started at the firm a few days after graduating from Harvard. His early cases dealt with insurance defense, for which Groce Locke was known. "Ricardo was like a sponge," says Smith. Cedillo's mentors at the firm were an ambitious group that included future U.S. Sen. John Cornyn. Then another associate, John Lewis, began handling a few commercial cases. "The Deceptive Trade Practices Act and lender liability was really exploding," recalls Cedillo. "I transitioned out of insurance defense, and by the time I left, I was doing nothing but commercial litigation."
He brought much of that caseload with him when he started his own firm in 1986—along with J. Russell Davis and his father, Norman Davis—which is now Davis, Cedillo & Mendoza. Over time, Cedillo has built a reputation for successfully defending underdog clients. "I've either got a controversial client, an unpopular client, sometimes a despised client, and sometimes all of those three in a very hostile venue," he says with a chuckle. "And yet we happen to win." He defended the Church of Scientology International at trial against harassment charges brought by the spouse of a former church member; the case is on appeal.
In 2002, several independent video retailers sued Cedillo's client, Blockbuster, claiming the mega-chain got better pricing deals from a number of Hollywood studios. The result? A defense verdict.
Four years ago, Cedillo defended Playboy Enterprises in Texas' Rio Grande Valley against accusations including breach of contract brought by Editorial Caballero over rights to publish and distribute a Spanish-language version of Playboy magazine. "I think we busted a jury panel because all of the Catholics said, 'I can't be fair.' But we did OK," says Cedillo. The verdict awarded Playboy damages, costs and fees in excess of $2 million. "I don't think people think of us when they have an easy case. A lot of people can do easy cases. We just get the hard ones."
Cedillo encountered a similar situation in the mid-1990s while working on Chromalloy Gas Turbine Corp. v. United Technologies Corp., an antitrust case involving the repair of jet engines. Fred Bartlit of Chicago's Bartlit Beck Herman Palenchar & Scott had retained Cedillo as local counsel in the firm's representation of United Technologies, since Chromalloy was headquartered in San Antonio. "We were an underdog because United Technologies was from Hartford, Connecticut; and Chromalloy, a local San Antonio company, was saying we tried to drive them out of business," says Bartlit. "Normally, I get a local lawyer who knows the local landscape, and I rely on him just to be sure that I operate in court consistent with local practice and [that] I don't do something dumb. But Ricardo was the real deal. He was not just a local lawyer who knew the local practices. He was a highly skilled trial lawyer who could do anything I could do, just as good as I could, so we split up the work. He took witnesses, and we got an amazing win.
"When I meet general counsel from General Motors or any big company in America, I say, 'If you get in trouble down in South Texas, get Ricardo Cedillo. Ricardo regularly wins cases down there that nobody thinks can be won.'"
Bartlit credits some of Cedillo's success to his ability to relate to juries. "He is a real person with great warmth," Barlit says. Of the trial lawyer's role, he adds, "We're teachers; we're not bosses, we're not big shots, we're not actors."
For a time Cedillo was a teacher outside the courtroom. It was the career his parents dreamed of for each of their seven children. Cedillo earned his teaching certificate at St. Mary's University, where he double-majored in English and political science. In 1974, he began teaching juniors and seniors at John Marshall High School. In his honors government class, Cedillo required students to present a weekly oral report about something they had read in the latest issue of Time magazine and allowed the students to speak about any subject by getting on their feet and leading a discussion. "But because most of them were picking out the Watergate fallout [for discussion], my department head disagreed and said I was emphasizing negative things going on in America and told me to stop." He did, but decided it was time for a career change. "I just said, well, I don't think this profession holds a whole lot for me and decided I needed to do something else."
Lamont Jefferson, a partner at Haynes and Boone in San Antonio, has known Cedillo for many years, first as a fellow associate at Groce, Locke & Hebdon and then as a partner at Davis, Cedillo & Mendoza in the 1990s. "Ricardo is very much from the old school of lawyering," he says. "He can outduel just about anybody in an extemporaneous sort of debate. You know what's coming if you stand up and object or interrupt. I've been on both sides with Ricardo, and it's almost better to just let him go. He's much better in a confrontation. He's a good adversary."
The two attorneys have worked together on some very high-profile cases, including litigation involving the $26 billion Clear Channel merger in 2009. "We were sitting at counsel table, both in first-chair position, and Ricardo turns to me: 'Isn't this funny? Two guys from the West Side of San Antonio,'" recalls Jefferson.
Cedillo never forgets his roots. "I still keep bakery hours," he says of his lifelong habit of rising early and working late. "My parents instilled a work ethic in all of us that I think has made all the difference in the world. Nobody outworks a Cedillo."
Search attorney feature articles